Awesome news…it's finally time to announce this awesome photo session giveaway I've been wanting to do for quite sometime.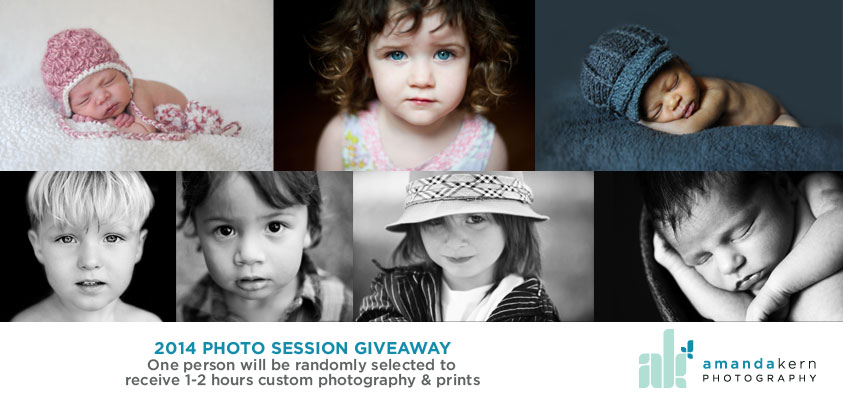 Now seems to be the right time to share some awesomeness with you all. I've spent a lot of time reflecting lately as it hit me that this month six years ago I  began pursuing photographing professionally. I didn't know it then, but my obsession and love of photography has only grown and surely that first year or two I spent a lot of time learning and finding my place in this world of photography. Over the past six years I've photographed 125 newborns and countless families who I feel blessed to have their trust in my photography. Long before I would even allow myself to consider beginning a business or thinking about the "business" side of photography I promised myself I would pursue it from my heart…and yes, find ways to give back. And I have…though I still struggle to understand so many of the trials over the past several years my heart has begun to understand there's a greater purpose in everything and surely it's only opened my heart more to give. Since 2009 I've photographed more than 25 angel babies for Now I Lay me down to sleep, I've participated in Help-Portrait photographing homeless and less fortunate families, I've helped countless families in "need", and since my son Chance was born with spina bifida I've been blessed to get to know close to 50 babies, kids and adults living with spina bifida to help create awareness of the birth defect. Many of you have helped support me in fundraising efforts for a variety of non-profit causes raising well over 20k to help quite a few amazing causes that needed support. Yes, I'm not so sure this journey would be quite as awesome without all of you out there who continue to admire and support my work…and I sincerely appreciate each of you out there following along or who have crossed paths with my camera and helped give me more experience.
Just this past year I passed the 2,500 "like" mark in facebook, so to honor this 6 year journey I've been on I'm quite excited to announce that I will be giving away a photo session including prints or a mentoring session in 2014. I'm a firm believer that the best business happens through recommendations from friends and family…word of mouth "advertising" is often far more reliable than any form of advertising. But those that know me know I truly adore social media and it's helped me reach so many of you…so in order for me to announce a winner I need your help in reaching 3,000 "likes" in facebook. Yes…this giveaway will require your participation in facebook to help me reach my goal.
Here's the exact things that I will need you to do if you want to be eligible for this giveaway:
"Like" my facebook page...I really only wish to "give" my photography to those who have an interest in it.
"Like" and/or share the photo in facebook that is announcing the photo session giveaway.
Comment on the photo that announces the giveaway in facebook. You MUST comment to be eligible…feel free to tell me a bit about your family, if you're having a sweet newborn you'd love me to photograph, or just that you're interested in winning. The winner will be picked RANDOMLY so what you type really won't influence the selection. Just like a few years back …my kiddos will help me share the official selection of the winner on video…and I have to say – they are excited to do this again. Please only comment on the photo in facebook if you wish to enter this giveaway. Please be sure your preferences in facebook allow you to receive messages in facebook from those who aren't friends, otherwise I won't have a way to get in touch with you if you win.
My own hopes are to begin to reach more families so if you can help by "inviting" your friends and family to my page…again I won't be announcing a winner until my facebook page reaches 3,000 "likes"…so this contest could take a day or two…or it could take a few weeks or months. Entries will end on the day my facebook page reaches 3k "likes" and we hope to announce a winner within the next day. If you've never "invited" friends or family to a facebook page you can use a computer to do this easily….here's a screenshot: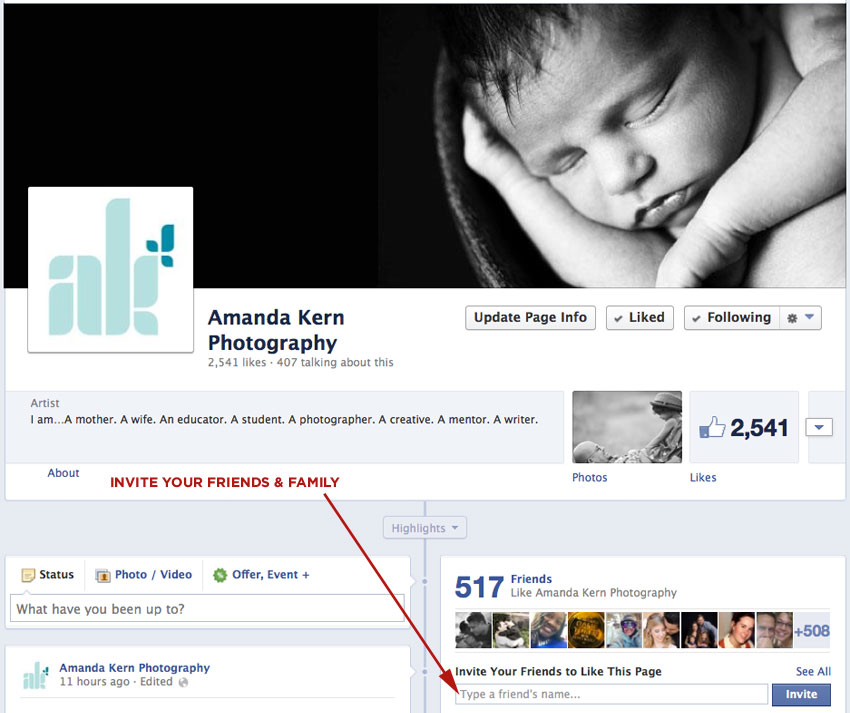 IF YOU'RE THE WINNER…
If you're chosen as the winner you will have two options to choose from.
OPTION 1: FREE PHOTO SESSION
A free photo session with me that will last 1-2 hours for you, your family, or someone you wish to give the session to. There are no limitations to the number of people who can be included – just keep in mind the session will only last 1-2 hours….so if you have 1 child or 2 or 6 or 7…I'm going to take good care of of capturing as many moments as we can for your family if you win.
The session will be valid through December 31, 2014.
You will receive all edited photos in HIGH DIGITAL RESOLUTION format. Yes, I said FREE. That means I earn NOTHING from giving. Photos will be formatted in color and black & white.
You will be given permission to print and share online all digital photos for personal use.
You will receive professional prints from your session including: (1) 16″x24″ gallery wrap canvas, (4) 8″x 10″ prints, (4) 5″ x 7″ prints, and 4″ x 6″ print proofs of all edited images.
*By participating if you win you agree that photos may be used in my portfolio.
**You must be in the immediate Orlando area or willing to travel to Orlando if you win.
***The value of a custom photo session w/high resolution photos and prints is $1,000.
OPTION 2: PHOTO MENTORING SESSION
I've received a lot of requests and inquiries over the last few years for me to offer "mentoring" sessions. I've lost count of how many people have asked me "how" to I do something or if they could just spend an hour or two with me to see how my photography and/or editing approach. If you are chosen as the winner you have the option to select the mentoring session and it will be customized to meet your needs.
A free photo mentoring session with me that will last 2-4 hours. This includes the opportunity to sit in and participate in a photo session with me.
The session will be valid through December 31, 2014.
The mentoring session will be customized to meet your needs and could include tips on photography, editing or a combination of both.
*By participating if you win you agree that photos may be used in my portfolio.
**You must be in the immediate Orlando area or willing to travel to Orlando if you win.
***You are suggested to have a digital slr, photoshop and lightroom. If you don't a mentoring session can still be offered but it may make more sense if you have access and/or a little previous experience to these things.