I've finally paused from my busy schedule to write this post…one that I feel has been in the works (or at least in my mind) for quite some time now. After just having a baby myself a little over a year ago and now working with so many expecting and new parents I am often asked "What gift do I get a new parent?" Surely we could resort to some gift registry where the parents, often times unsure themselves of what they need, may have made a list of things they'd like. There are the typical gifts like diapers, strollers, carseats, bottles, and the list goes and on and on with what a parent may need for their new little one in order to ensure they're adequately provided for. But lets face it, after a while those gifts fade in a parent's memories. Being a tad bit of a sentimental person I've found myself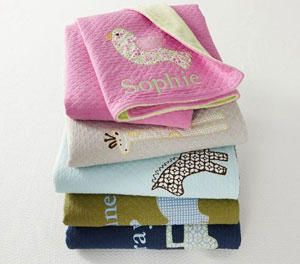 reflecting on some of the gifts we've received just before our after the birth of our children and I thought it might be worth noting some of the things most valued…not to say the other items weren't needed or valued, but these stand out as more memorable gifts that years from now when my kids are fully grown I am thankful I had for a variety of reasons.
1. PERSONALIZED OR HANDMADE BLANKETS
All of my kids have received handmade blankets from relatives or blankets. They are quite memorable. Even just this evening tucking my son Jaylen into bed he chose from the tons of blankets we have in our home one of the handmade baby blankets while Chance was tucked in with another handmade blanket. If you aren't great at making items like blankets and don't know anyone who is skilled in blanket making the next best idea that I totally adore are the personalized blankets you can purchase from a variety of vendors. One of my favorites is pottery barn kids. I really adore my children's handmade blankets, they're one of the things I will never toss in the trash or give to good will. In fact, when they're all grown and have children of their own I certainly plan to pass the blanket on as I know it'll bring special memories to them.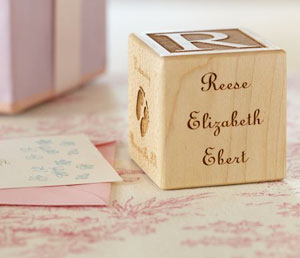 2. PERSONALIZED KEEPSAKE ITEM WITH BIRTH INFO
Okay, every parent has to have something that includes their child's birth info on it. Whether it be an illustration or something printed or perhaps this super cool block. Parents will truly appreciate anything that has their child's name, birthday, weight, height, and time of birth. Surely they'll remember it forever, but as the years pass by, especially if they add more children to the family, the numbers get hazy and it sure is nice to look at the keepsake item as it brings back memories of that very moment their child was born. Best of all…it can be passed on to the little one when they're all grown up. You can find this block at a lot of places online. I've seen it recently on pottery barn kids.
3. FINGERPRINT/FOOTPRINT KEEPSAKES
There are a lot of different keepsakes out there that help parents keep their child's footprint or handprint. Sure they may have them stuck on a birth certificate, however, there are some pretty creative ways parents can have these little prints preserved so they can save them forever. I've seen everything from frames to memory books. I have my children's hand and feet print hanging in a few places in my home still and I have no intention of ever taking them down. Every time I look back on them now I think of how little they once were. We have a couple of these pearhead frames in our home. They can be found online and I believe also at babies-r-us.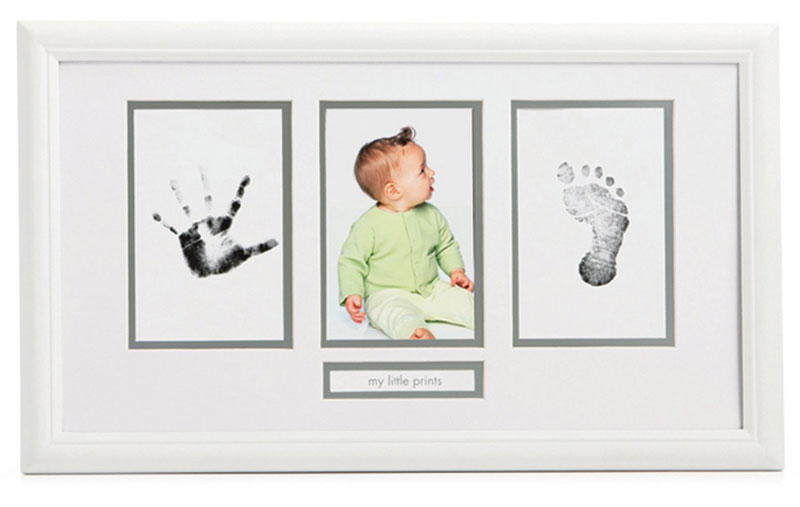 4. MEMORABLE CHILDREN'S BOOKS
I could probably write a post about nothing but my favorite children's books. But if I were told I could only save one of my kids children's books this is the one I'd save…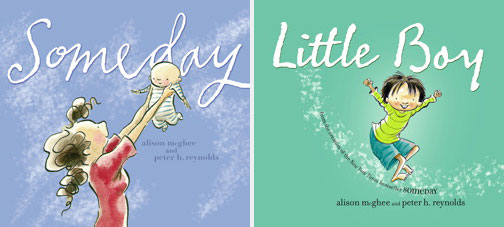 Okay, it's two books…"Someday" and "Little Boy" by Alison McGhee and Peter Reynolds. Someday is intended for girls and Little boy is intended for boys. It essentially is a story about a little baby growing…everytime I read them  with my children it makes me heavy hearted to think of how quickly time escapes us and reminds me to treasure the moments with my children even more. Any parent would treasure these books that not only have a beautiful heartfelt message but have the most lovely illustrations to go along with the story.
5. WHAT TO EXPECT BOOK SERIES
Lets face it, parenting isn't easy. If you're looking for gifts to get first time parents this series of books by What to expect will help for them to have on hand.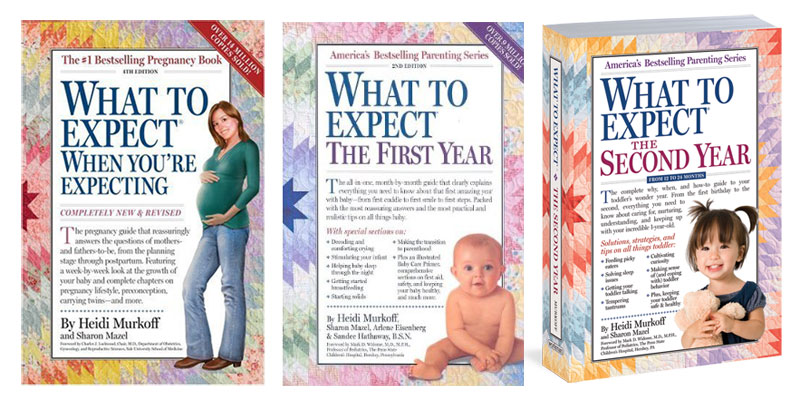 I don't know how many times when I was pregnant or in the first year or two after having my kids that I didn't need to resort to these books to help me understand pregnancy and raising a baby. It's not as easy as it seems and these books are a great resource for new parents.
6. WRAP/BJORN
Of all the items on my list of things I felt I needed for the baby the absolute most memorable survival piece for me was my Baby bjorn. In fact, Chance is nearly 15 months old and I still use it religiously to tote him around…here we were back in February with the bjorn.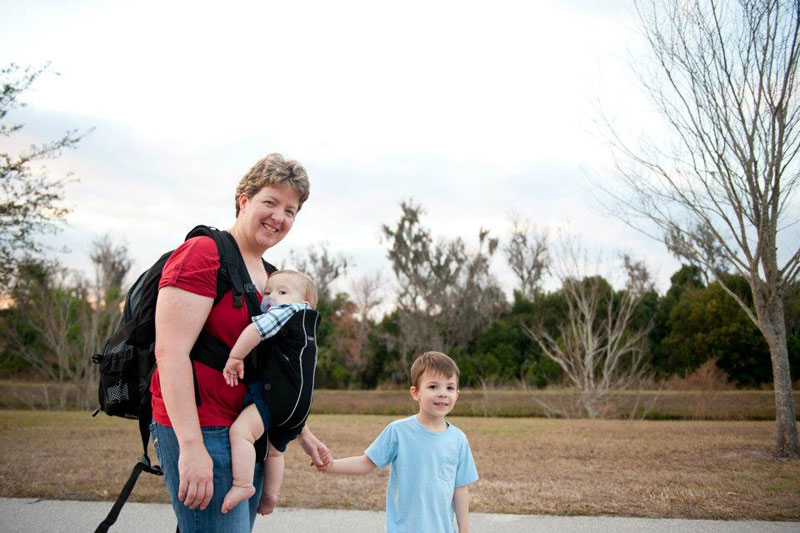 I used the bjorn with Jaylen as well and lasted until he was nearly 15 months old and he got a little too hefty for me and had an interest in moving around on his own. When I had Chance I already knew how much I relied on the bjorn. It allowed me to carry my baby and still have my hands free to get so much more done…like run errands…or even better…take photos.

With Chance we resorted to the Bjorn synergy…it's seriously one of the most used baby items that is not only used…but remembered. Okay, I'm realizing my days of wearing this little guy in the bjorn are numbered and there'll come a day that I'll truly miss it. I know some parents are highly opinionated on the wrap vs. bjorn topic…whichever route you prefer…I definitely support toting a baby one way or another in a wrap or bjorn…for me that memory of carrying my little one is one that will remain years from now.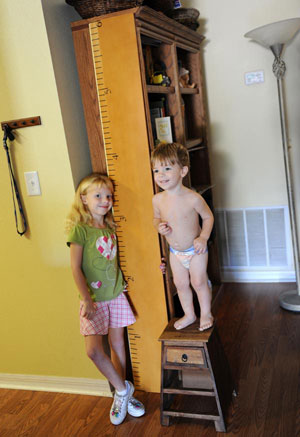 7. Growth Charts
Yes, I'm sentimental, hence, the need to obsess over closely monitoring how much my babies are growing. Back in 2009 we invested in the Pottery Barn kids ruler growth chart. Before expecting our third child we knew we were going to have next to no room for three different growth charts so we elected to purchase this one that we could record all of our children's heights on. We took a candid photo back then…oh, my how much they've grown in 2 1/2 years! I've seen a lot of other creative ideas for growth charts at babies r us and pottery barn kids. I'm sure online you may find a lot of DIY ideas to create your own growth charts. I know this ruler idea is so popular and pottery barn kids seems to keep them in stock for only a short period of time so many people have begun to create their own (and probably for a lot less money). The growth charts are popular with my kids. I swear every week Hope and Jaylen go up to them and say "look I'm bigger now". Or even better, they are waiting until they're big enough to ride the rollercoaster so they exaggerate their height by a few inches every time they measure themselves in hopes that soon they'll get to ride the big roller coasters.
8. KEEPSAKE BOX
Most parents would treasure some sort of keepsake box to store all of their baby's first memorabilia. Before the first year of their child's life is over they'll have so many things they wish to hang onto. This box is a great way to help them keep things like their baby's hospital items, pictures, important documents, pictures, etc. I really adore this new keepsake box on Pottery barn kids web site.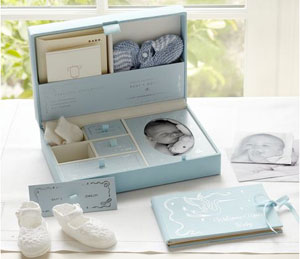 9. Cloud b turtle or ladybug nightlight
We got this night light for the kids after Jaylen was born. It's absolutely adorable and offers just enough light to accompany your little one at night. My kids think it's pretty neat that it also projects the constellation onto their ceiling.

10. Newborn photos.
Okay, as a photographer this is pretty obvious that of all the things that I value, I value my children's photos the most. Days, weeks, months and years pass us by and by the time our children are all grown parents will appreciate having the photos to look back on when their babies were so little. I never truly got serious about photography until a few months after my son Jaylen was born. Sure I took a lot of photos of both Hope and Jaylen, but now that those moments have passed us by I truly wished I had known professional newborn photographers then because back then I didn't have the experience I now have. I know most expecting parents are overwhelmed with so many changes and expenses that sometimes photos get pushed to the side as a desirable but extra expense that they may not be able to afford. I think about all the things we wasted money on with all the kids and I still think the photos are among the priceless possessions that I don't know what I'd do with out.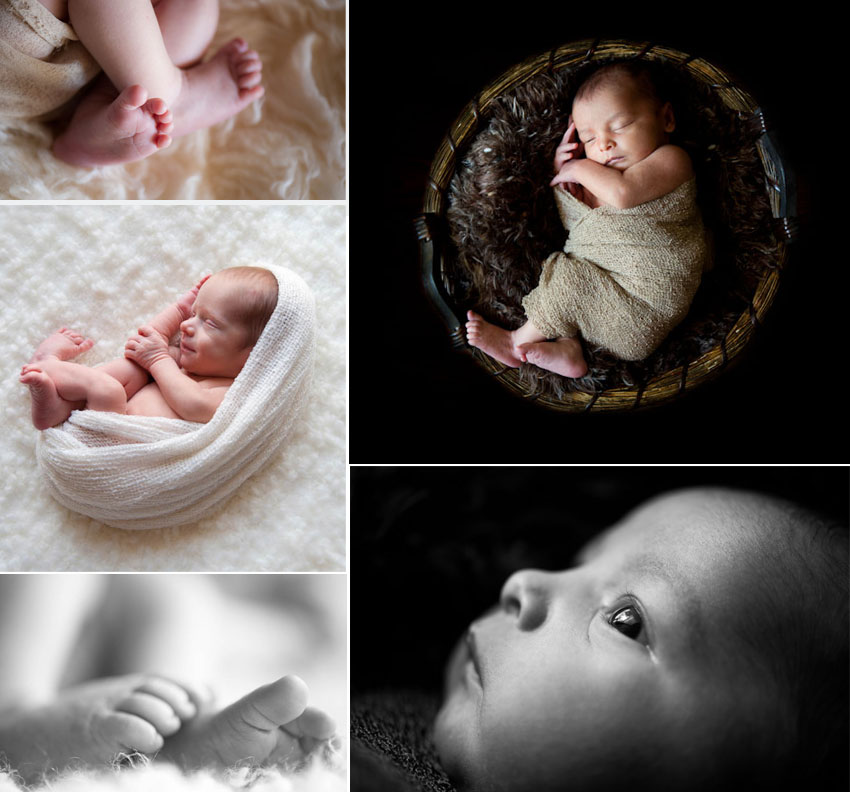 If you know of someone expecting a little one I assure you one of the best gifts you can give is the gift of their baby's first photos. Not at a department store, but with a trusted and experienced photographer that specializes in photographing newborns. In the last few years there has been an increase in photographers specializing in newborn photography and I am sure most would do the same as I do for families who wish to give a gift and offer a gift certificate for a newborn session. Newborn photographers schedules are based on a schedule that is time sensitive so be sure to contact them as early as possible because they typically only commit to a set number of sessions a month due to the unpredictable nature of when baby's decide to be born. As much as I adore all the photos I've taken of my first two children I definitely wished I had invested in professional newborn photos to help me remember their itty bitty moments as a baby.
NOTE: We're still looking for newborn models for an upcoming workshop. If you know of anyone expecting in the first two weeks in June be sure to spread the word about our call for newborn models for this workshop.
I'm sure I could go on and on about ideas to give expecting parents…but this list includes the things that are among the most memorable items for me as a parent. I certainly still value all the other items and gifts we received, but as the years pass I think these things will still stand out more in my memory because of how sentimental they were or how much they've helped me as a parent. Hopefully somehow they've helped you whether you're an expecting parent or know someone expecting.