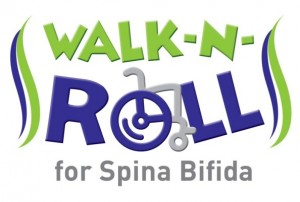 We're just a few days away from Orlando's 1st annual Walk-N-Roll for Spina Bifida event so I figured I'd take a moment to update you all who might be planning to join us at the event.
The event is taking place at Blue Jacket Park in Orlando, Florida on Saturday October 29th, 2011.
Registration begins at 8am.
Kick-off begins at 9am.
Games, Activities, & Music will be between 9-11am.
Door prize drawings will be held at 11am. If you haven't heard they have some pretty big door prizes this year!
This map was shared with me by those planning the event coordination. It might help you all see the walk area and locations you can park.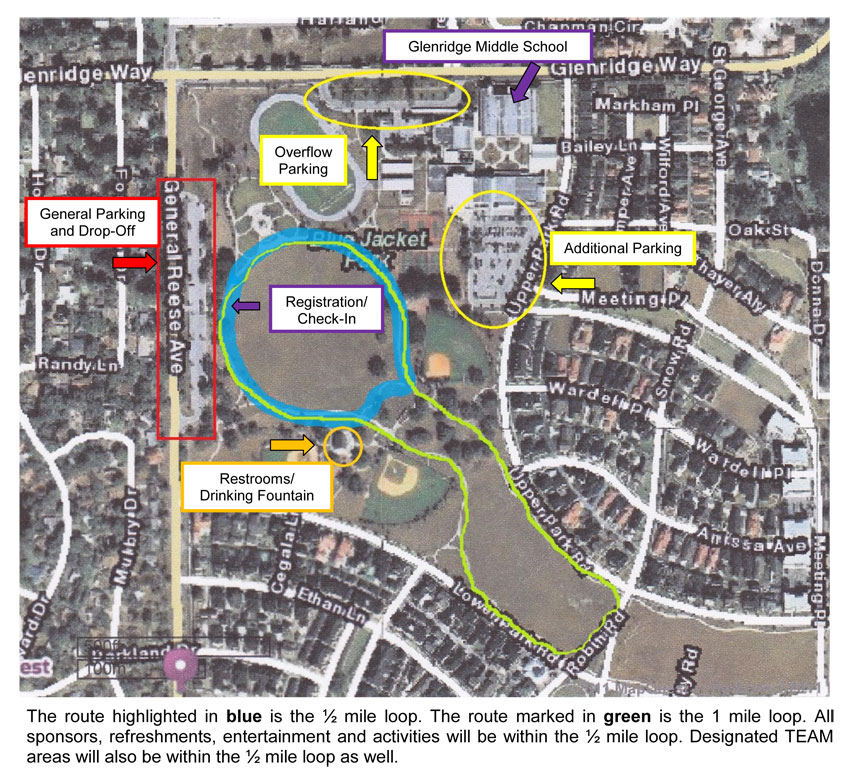 Additional information was shared today from those involved in planning the event that I wanted to be sure I shared.
A FEW TIPS BEFORE YOU ATTEND THE EVENT
When you arrive please check-in at the Registration tent located near the main parking lot of Blue Jacket Park.
If you have raised additional money, please bring the pledge forms and money to registration. It would help those collecting funds tremendously if you go ahead and place the forms and money in an envelope; however, envelopes will be available at the event. The pledge forms can be downloaded from your MyHQ (personal fundraising page). Additional forms will be available at the event.
There are separate registration lines for the individual participants and teams.
Following check-in, if you are a member of a team, you will be directed to your team's assigned location which has been marked. Additional space is available for individual participants to bring a blanket, chairs, etc.
A group picture will be taken near the fountain at the beginning of the event.
Please feel free to walk as many times around the park.
Complimentary snacks and drinks will be provided, but you may also bring your own!
When do I get a WALK-N-ROLL t-shirt?
WALK-N-ROLL t-shirts are provided on the day of the event to all participants (walkers and rollers) who have raised or donated a minimum of $100 per person. We encourage you to wear your t-shirt on the day of the WALK-N-ROLL to raise awareness about Spina Bifida and recognize other participants. We do our best to provide enough sizes of t-shirts to fit all participants, but because this is not an exact science, some may need to select a size up or down. We apologize, but there is no guarantee that we will have enough t-shirts for all, since many participants will not register until the day of the event. T-shirts will be distributed to those participants who registered online and remaining t- shirts will be distributed on a first come, first served basis; however, we will order more t-shirts for our eligible participants. Teams may also choose to design their own t-shirts. Custom t-shirts help teams to stand out and be recognized during the event. Custom buttons, hats, or neck scarves are other ways for participants to show enthusiasm and support their team.
How does the t-shirt incentive work with TEAMS?
While we want to provide all team members with a WNR t-shirt, please remember that COLLECTIVELY enough funds MUST be raised to meet the $100 PER TEAM MEMBER; however, the number of t-shirts distributed to a team CANNOT EXCEED the number of registered members (registered online or at the event).
For example:
If a team raises $1,200 and it has 5 team members (registered online or at the event), only 5 t-shirts will be provided.
If a team raises $1,000 and it has 12 team members (registered online or at the event), only 10 t-shirts will be provided.
Also, t-shirts will be reserved for those members that have registered online, but we are ordering few extra to accommodate those team members who may register at the event and these will be given out on a first-come, first-serve basis. If we run out of t-shirts, we will order more.
How far will I have to walk/roll?
Our location offers two choices. You may choose the 1?2 mile loop or the 1 mile loop, with the same beginning and ending points.
How long does the WALK-N-ROLL last?
A brief welcome and announcements will begin at 9AM. After the National Anthem is sung, the WALK-N-ROLL will begin. When participants return from their choice of paths, they will enjoy live music, complimentary snacks and drinks, and games and activities. The drawing for the fabulous door prizes will be at 11AM. We will begin cleaning up after that, but you are welcome to stay and enjoy the day.
What if it rains?
The weather usually cooperates in October for a comfortable day. However, Mother Nature is unpredictable and the WALK-N-ROLL event will take place rain or shine. Please check the weather conditions and dress accordingly for being outdoors.
A FEW TEAM CHANCE UPDATES…
A huge thanks to everyone who has signed up to join Team Chance and to so many of you who contributed to the fundraising efforts for the Walk-N-Roll. As of tonight Chance's team has raised nearly $4,000 of the close to $40,000 raised to date for the Spina Bifida Association of Central Florida…that's 10% of all the funds raised…not too bad considering there are currently 40 teams signed up and hundreds of individuals registered. I can't thank you all enough for helping be a big part of something pretty amazing and special to me & my family.
As a reminder, if you plan to join us the day of the event it's encouraged that you register before the day of the event so that you don't have to stand in lines the day of the event. If you're joining Chance's team you'll see his team on the Walk-N-Roll web site, just visit the link to "join" his team. The registration process is fairly self explanatory.
Chance's team shirts have arrived. I will only have a limited number on hand the day of the event so be sure you arrive early. I don't have the time to coordinate a massive order and collect donations – there just isn't a simple way and still ensure I don't over or under order so the shirts will be distributed as fairly as possible to those that have helped us the most and to those present showing their support. I am sure if there's that much of an interest we could always get more printed someday. Then again…there'll always be more Walk-N-Roll events and more cool new super Chance t-shirts.
My baby boy proudly sported his team t-shirt today for you all.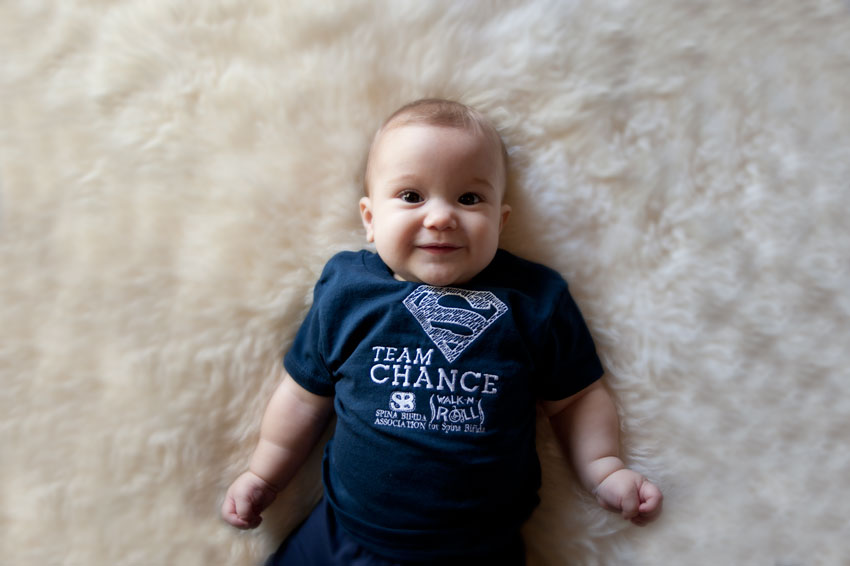 We took a good 100+ photos…Chance is quickly catching on and showing his personality…it's pretty evident he had enough of me taking his photo.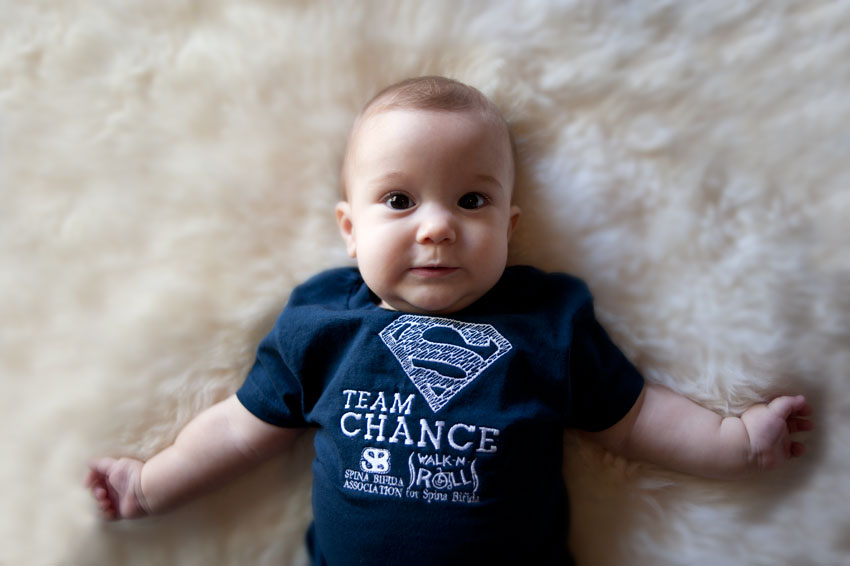 Something tells me we shouldn't be too hard to find the day of the event…just look for the superman logo!

Our family looks forward to seeing you all at the event. I suppose as the Walk-N-Roll finally passes it's another point of us embracing him having spina bifida rather than fearing it. He's here for a very special reason…and I think he's done a pretty good job of proving just how miraculous his presence is. Thank you all for surrounding us with your support through all the challenges we've faced with this little guy.
Yes, son…look up because we'll make it through all this spina bifida stuff together…and still find plenty to smile about….now it's time to celebrate you.