"Give me your faith. Let me show you my strength." ~unknown
The break between semesters has certainly flown by this year. I suppose it seems like a big chunk of it was filled in the hospital or doctor's offices. I've always enjoyed returning to Valencia every fall…the renewed energy that fills the campus the week prior to classes starts is quite uplifting.
Yesterday we had our annual welcome back to campus. It's an opportunity to reunite with colleagues, attend meetings, and begin getting caught up for the fall semester. If you've followed me in facebook, twitter or instagram you likely saw a peek at a few memorable moments yesterday.

I was reminded yesterday that a meeting isn't a meeting if it doesn't include notes from my colleague Kristy Pennino…which always give reason for us to smile.

In between meetings we took a trip past the art gallery on east campus and fell in love with the upcoming exhibition, Graphic by Design. Several local graphic designers with amazing talent have their work on display. Us design obsessed professors agreed it's by far one of the best shows we've seen on display at Valencia. I was quite inspired by the quote, "give me your faith. let me show you my strength" found in Bryan Kriekard's work on display. It seems quite fitting for me after this past year. The design work is on display now and the opening reception is September 9th from 630-830pm at the Anita S. Wooten gallery so be sure to check it out if you have an opportunity to stop by. In addition to preparing for the upcoming fall semester my mind is equally consumed with my return to course work at SCAD. If all goes as planned I should return this fall. It won't be long and I'll be working on my thesis proposal. Thanks to Kristy I have been immersed in the book do good design by David Berman which I've found quite inspiring for some of the potential topics for my thesis proposal. In just a day I've made my way halfway through the book and would definitely recommend it to any graphic designer.

This morning marks the annual Academic Assembly at Valencia where all full-time faculty and staff gather to be inspired and updated. President Shugart always spends the morning with us giving us a thorough update on the college's mission and what's ahead for us all each year. Every year, even amidst tough economic times, he greets us filled with hopeful and inspiring thoughts. One of the most memorable moments of the morning was at the end of the Academic Assembly when President Shugart introduced us to Valencia's future students…a group of elementary school students performing on stage for our faculty. It was a precious sight to see young children on stage,  nearly the same age as my daughter Hope, singing and performing. I'm a little guilty of doodling during longer meetings and I found myself doing that at the Academic Assembly. Many great thoughts were shared with us this morning…I managed to jot down a handful that I'm sure I'll remember for quite some time.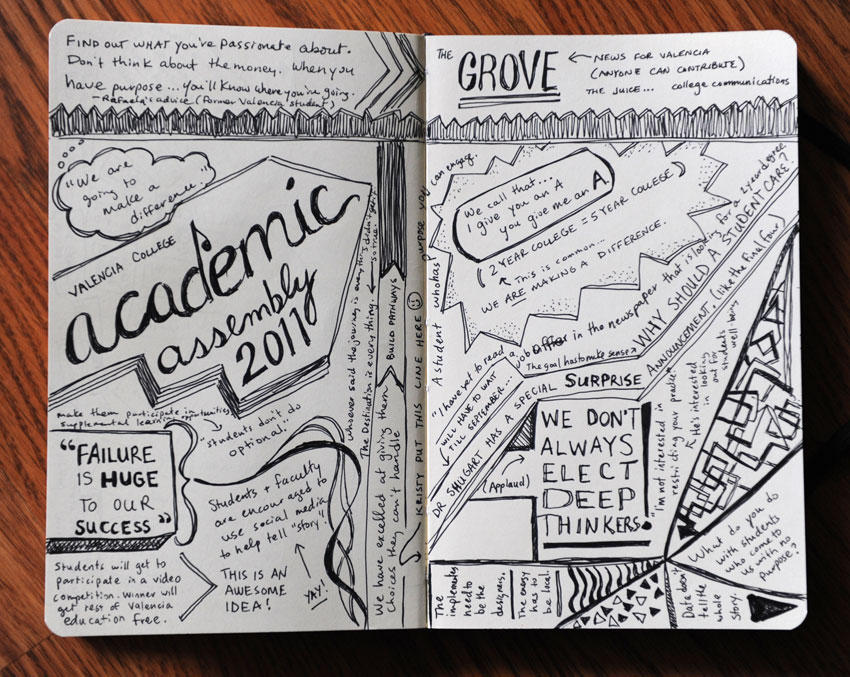 One of the exciting new things that has come this fall is Valencia's new news site dubbed "The Grove". It gives everyone at Valencia an opportunity to participate in sharing news to update us on the great things going on at the college. You can subscribe to it by RSS or for us faculty & staff the "news" is being emailed each Tuesday…sort of like a "newspaper".
I finally finished another crazy to do list. If you ever want to know what's in my mind I suppose you can just check out a mindmap.

I finally finished doodling this thing yesterday as I was preparing for the fall semester. Next week I'll great five new classes full of students…of course many other things will be keeping me busy along the way. But busy is good…I wouldn't have it any other way. I'm glad the break is behind me…it has definitely been one of the more challenging "breaks" (if you really want to call it that)…so thank goodness busy times are ahead.