"Success is the ability to move from one failure to the next with no loss of enthusiasm." ~Winston Churchill
It seems like an eternity that I've been waiting to share these photos with you all. It should come as no surprise that I'm a little obsessed with typography, I believe it is a prerequisite to be a designer. This time last year I was in the midst of planning the printing of my business cards and elected to have them letterpress printed with the awesome guys at Mama's sauce. As a designer I've always admired letterpress printing so it was a treat to get to see my cards printed first hand last year. As I did Mama's Sauce's owner, Nick Sambrato, allowed me to photograph the process of my cards being printed and some sweet letterpress wood cut type. As I photographed the letters last year I recall thinking…"how awesome would it be to photograph a newborn on letterpress type?" Yes, I'm sure it's a thought only a typography obsessed designer who also coincidentally does newborn photography would think that.
So about a year ago I began what I'd consider a bit of a letterpress obsession, collecting what has since become a pretty decent size collection of letterpress wood cut letters with the intent to build a collage for the day I anticipated to someday have another child. I admit collecting the letters became a great distraction on days when I wasn't so sure if we were ever going to conceive this little one and once getting pregnant it became an enthusiastic journey for me to collect enough letters to pull off this crazy idea I had in my head. Yes, if you've been around me this past year you've likely heard a tad bit about my ideas and obsession with letterpress wood cut type that I'm anxious to finally share. You may even have heard or seen our holiday cards this past year that were inspired by this letterpress collection. Many of you have asked where I've found all the letters and I have to admit it was a time consuming hunt looking online on various sites such as ebay and etsy. Some letters are dated back as far as the 1850s. I've since learned what a prized position it can be to own rare letterpress woodcut type. I suppose for me it is not just exciting because of my design and typographic interests but because all the work put into this typographic collage I think of as a part of history.
Yesterday I photographed Chance at 25 days old on top of the letterpress collage that I created. I spent most of the last year collecting close to 1000 letters to create this collage that is about 2′ x 3 1/2′. I didn't begin assembling the collage until the night prior to Chance's birth and just finished it this week. When creating it I intentfully added meaningful words, like Chance's first & middle name, each of our names, miracle, spina bifida, kern, blessing and more. So here it is, finally, my letterpress baby.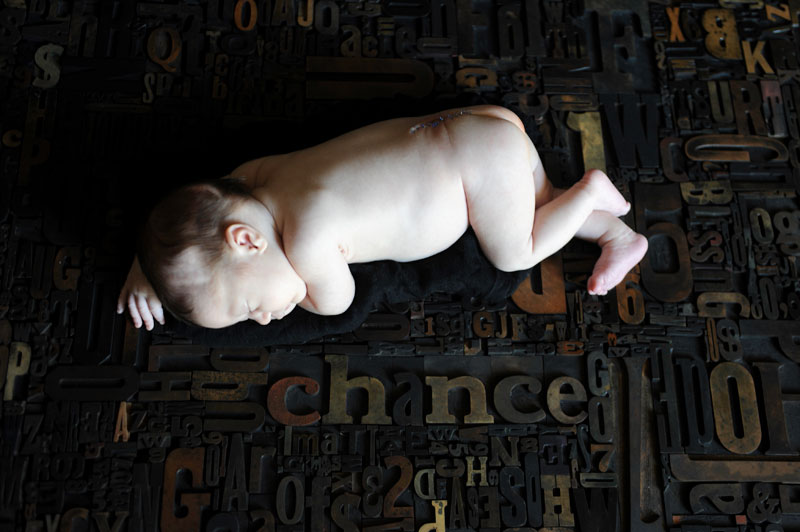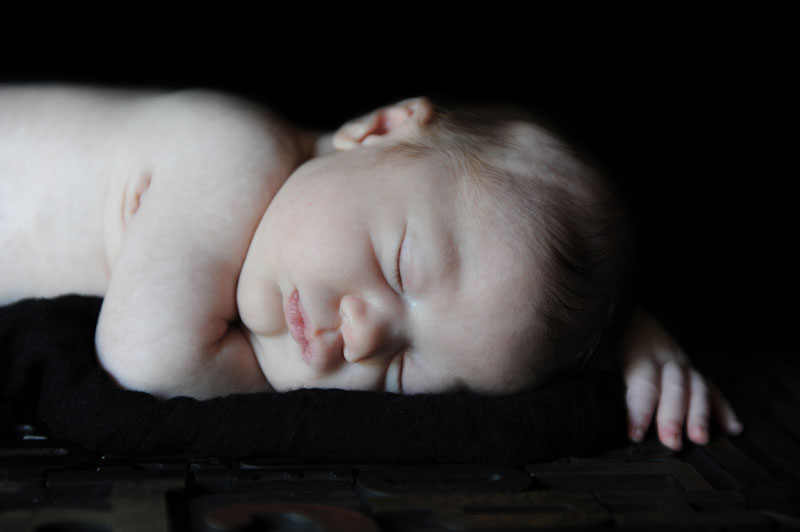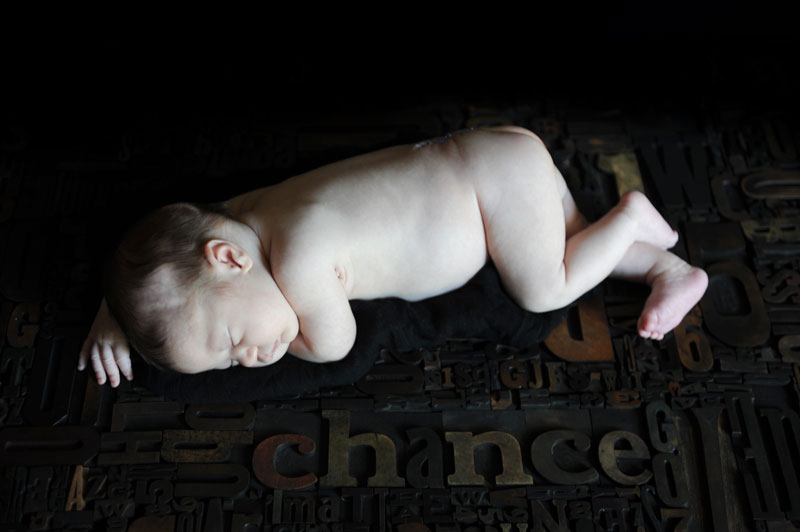 No matter how uber cool it looks, I know that photographing a baby on wood cut letters isn't something most would even consider doing with a baby. It was by far one of the toughest newborn photo ideas I've ever had to do out of the 70+ babies I've photographed in the past 3+ years. It took several attempts over a good hour or two of Chance fighting me every step of the way until I finally got him comfy. Needless to say it makes these photos that much more unforgettable for me.
I have this feeling I'll have some designers who will enjoy taking a closer look at the collage. The slideshow below includes additional photos of the collage to help you all get a better sense of what went into making it.