"May peace be your gift at Christmas and your blessing all year through." —Unknown
On Christmas eve I thought I'd pause to send wishes to you all for this holiday season…yes, a wish for…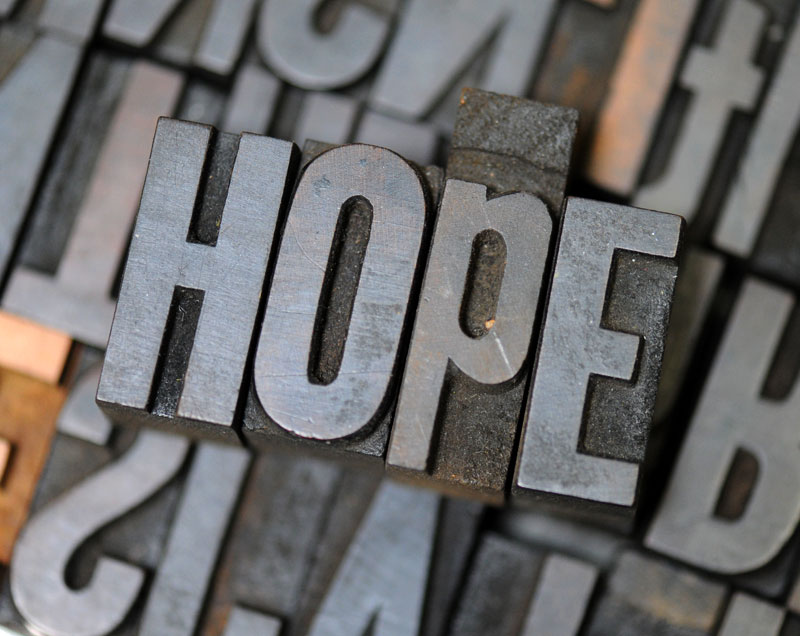 Now if you have been around me enough this year, you've likely heard of my obsession of letterpress wood type as the word "hope" is typed above. It really has nothing to do with Christmas, but this year for our family it had so much to do with the creation of our holiday cards. This week we sent out our cards that hopefully will reach everyone we've sent them to by Christmas. We sent out close to 100 cards to close family, friends, co-workers, and those of you who have been huge supporters of my photography this year. I'm sure I've likely missed many of you so hopefully sharing the process behind our Christmas cards will help you enjoy them just as much. If anything I hope that sharing a glimpse of the making of our cards may help you all see how much work goes into our cards. I know there are other companies such as tiny prints, shutterfly, and minted that help make some fun cards but I think once I share the process you'll find that none of those companies really could ever offer what we've done these last few years since we began making our Christmas cards on our own.
I admit since my business cards were printed earlier this year I've become a bit obsessed with letterpress wood type and have managed to gradually build a collection that I do have other creative plans for. But we started with using them as a basis for our Christmas cards. Due to the variety of sizes of type that I acquired and such a close deadline I elected not to print our cards letterpress but instead we printed the letters first separately like a wood block or linoleum print. We assembled letters into small collages inside of small boxes and rolled ink across the letters before printing each collage a few times. Like years past Hope and I worked together on our card design, but in the beginning I admit I was unsure how the first few prints would turn out so I spent quite a bit of time testing prints in the beginning.
After our very first print Hope and I got pretty excited and we both ran to take a photo. Yes, she's a tad bit like me.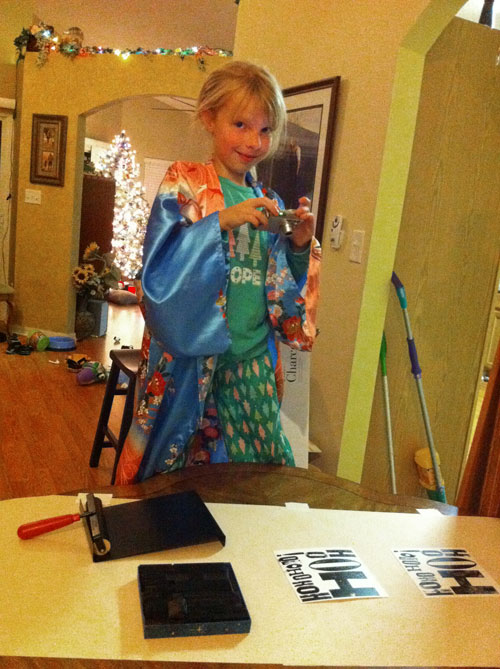 The goal wasn't really to spell anything specific, though I admit it was tough not to make collages without trying to spell a few words or position the type in a fun unique way. In the end the goal was to print as many letters as we could so that I could eventually use all the letters when I began designing the cards. Hope even helped build the collages. She insisted on making a print just for her teacher…how many teachers are this lucky to get a super awesome wood type print from their third grader? She really is awesome!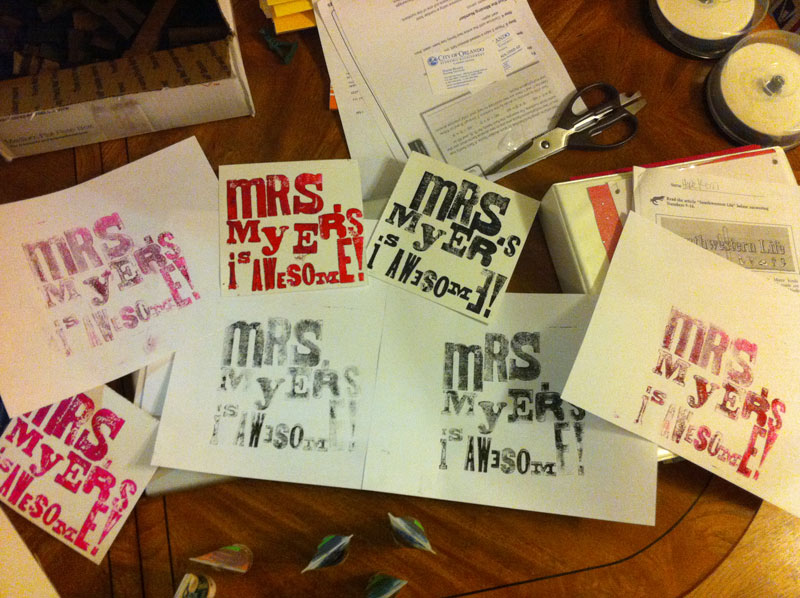 During our second night of printing I began to let Hope not only create the collages and assist me but I let her roll the ink and pull the prints all on her own. This gave me time to clean every single letter which was a tedious process.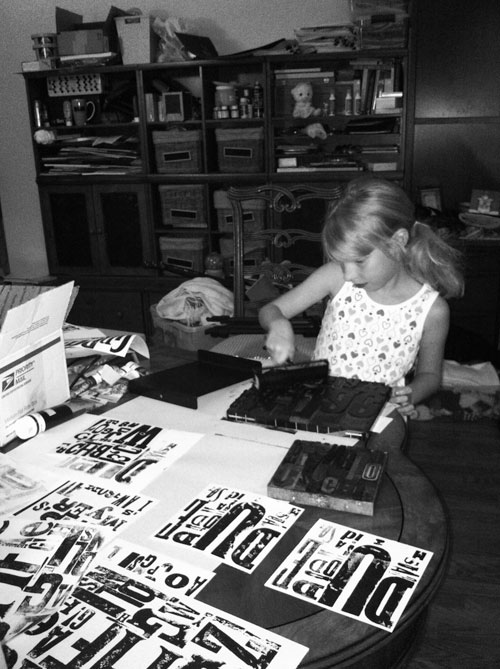 I wish I could have captured Hope's enthusiasm on video the first time she rolled the ink and pulled her first print all by herself. She was incredibly proud.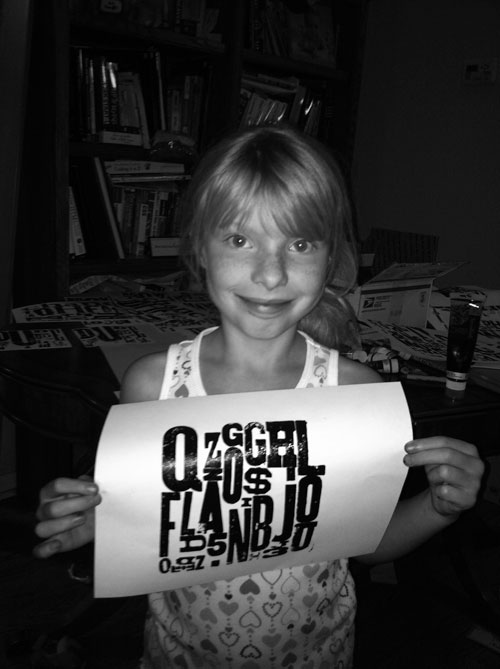 We haven't counted all the letters yet, but I am guesstimating we likely printed about 1,000 letters. Creating the collages became a time consuming, yet very fun mission.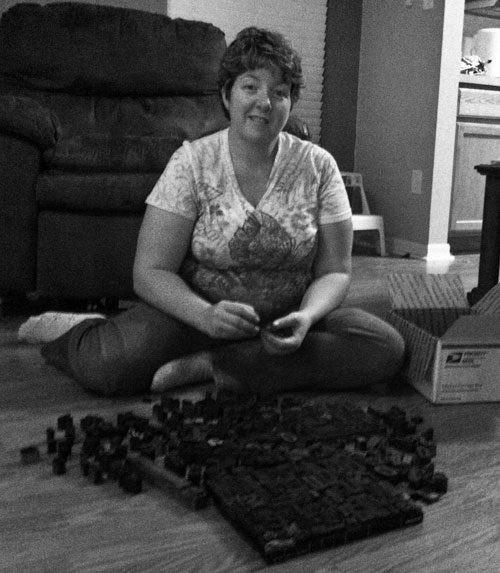 A glimpse at some of our prints. We made a little over 60.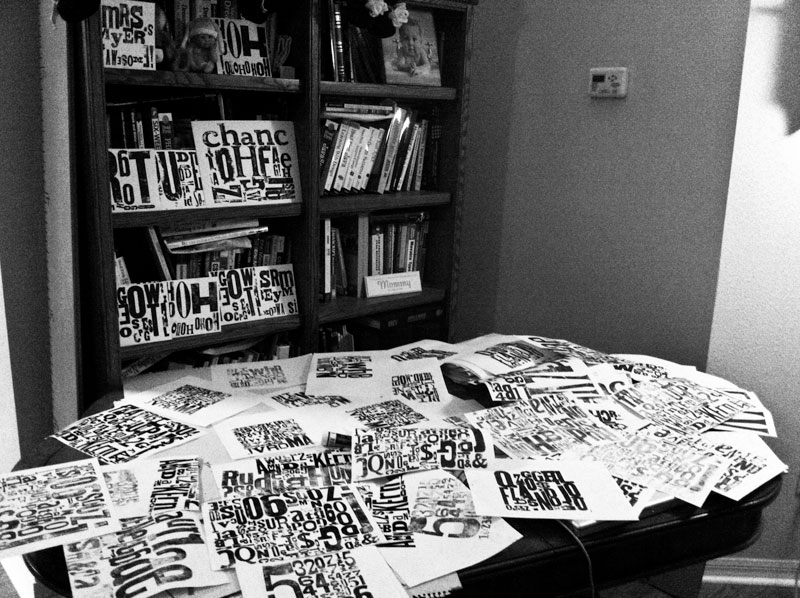 We spent approximately 8-10 hours printing all the letters and scanning the prints in order for me to be able to reuse the prints in photoshop towards our Christmas card design. I suppose I should stop torturing you all because I know many of you possibly haven't seen our cards. They were designed in photoshop and printed professionally as a trifold card on a semi-glossy paper that was UV coated. The front has a quote that holds so much meaning for me this year…yes, peace is something I wish for us all in the year ahead.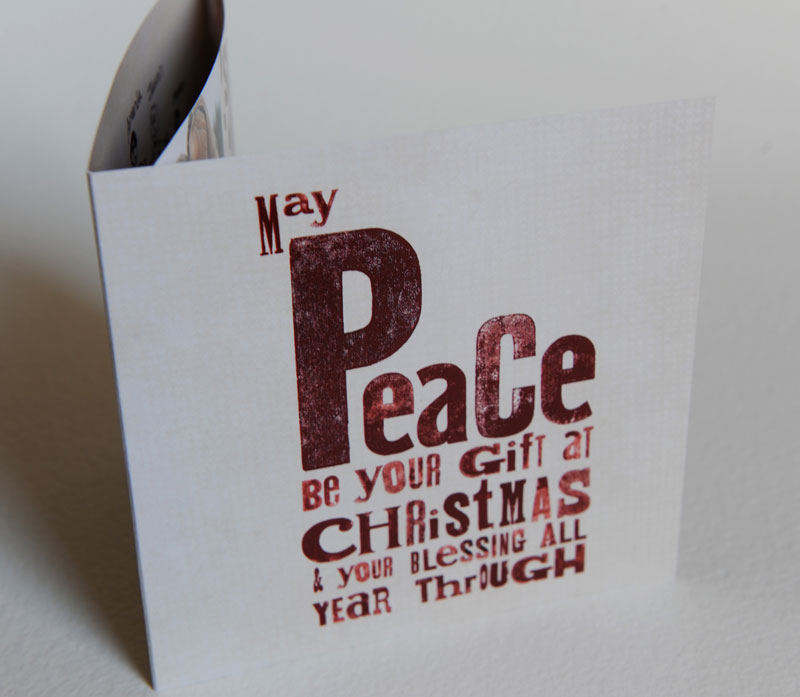 Opening the card is a glimpse of the kids with some of our fun type used behind the imagery.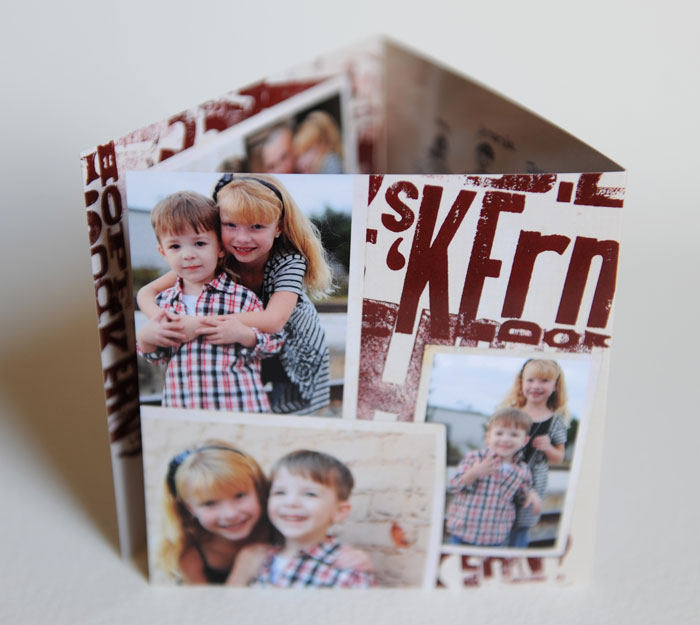 The left side as the card is opened has a few more photos of the kids and our family. Yes, I say our kids…we've made sure to include baby #3 in our holiday cards this year. Last year I recalled sharing our 2009 holiday cards with everyone wishing for our next little one…so this year it certainly was exciting to make sure we included our little one in our cards.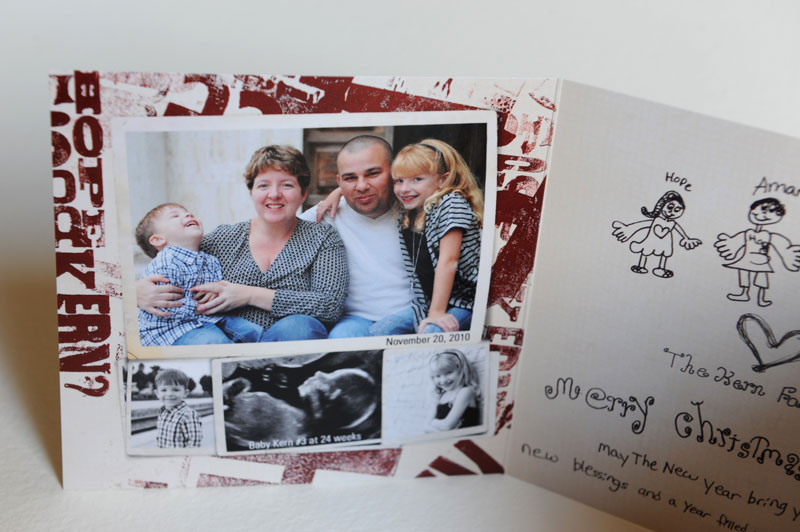 Yes, there's a reason I create my own cards. It's not to share my photography or design work…it's because I like to have the kids involved in making our cards. Right now Hope is still my big helper and thankfully this year she had so much fun and it was far less work to keep her involved in the making of our cards. Yes, if you're one of my students or have ever worked with me…I know I have high expectations but I find myself pushing Hope more than anyone I work with. This year it was a breeze to work with her on drawings and writings. Often times she'll draw or write things several times so we have a few choices. She again drew an illustration of our family. Yes, Hope, me, Jason & Jaylen. Notice she didn't omit the fact that I'm pregnant in her illustration and she insisted on writing "Hope" on my shirt…I suppose as a way of claiming me.

She had fun again writing decoratively. In the end I find it's her drawing and handwriting that really help make our cards special again this year.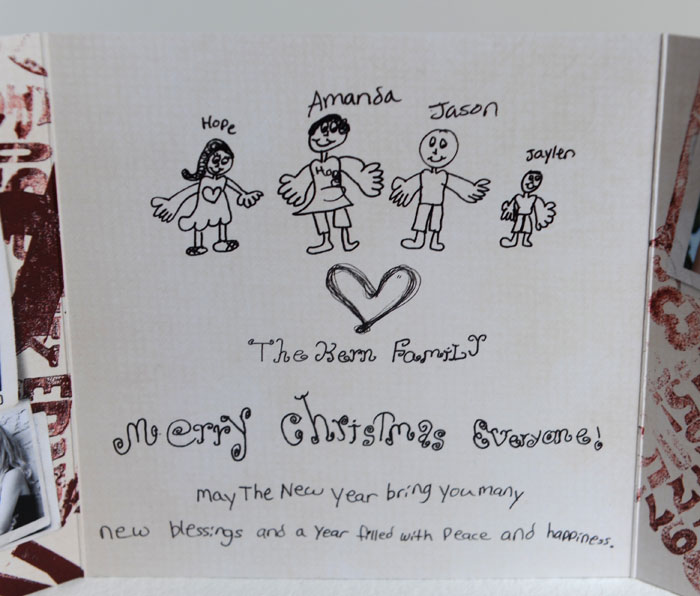 A quick glimpse of the inside of the card.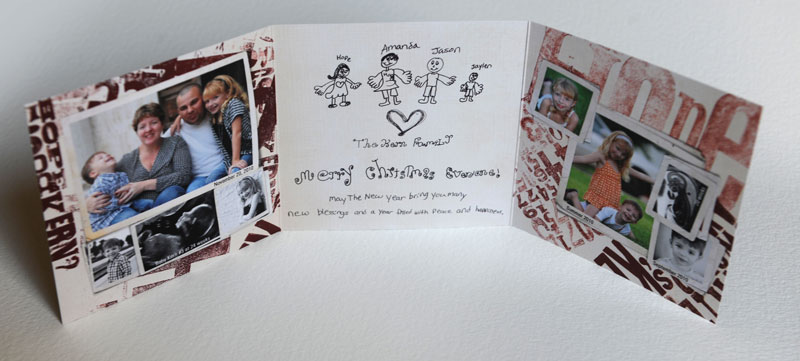 On the back I made sure to give Hope lots of credit for helping make such an awesome card this year which includes another illustration she created of herself. It's so much fun to see her illustrations of herself evolve over the years.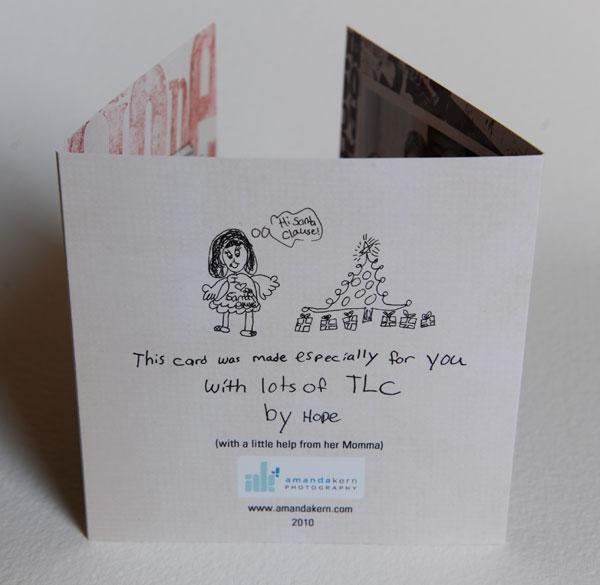 Hopefully you all enjoy the cards this year. I wish I could send them all to everyone, but obviously that'd be unrealistic. If I've missed you, perhaps I don't have your address so send me an email if I've overlooked you this year.
DEAR SANTA
I've enjoyed seeing another letter Hope's written to Santa. Though many of the kids she goes to school with are beginning to doubt Santa, she's still a believer and I adore her letters to Santa. Yes, this letter begins with her asking Santa for "products". The first few days after she wrote this I shook my head and thought "products"…why is my kid asking for products? I've since learned that the last two weeks before the holiday break that her class has learned all about "products"…so it makes perfect sense I suppose. Yes, the first thing on her list is to find out what the baby is…unfortunately Santa can't help her with that one…she'll have to wait until late February just like the rest of you.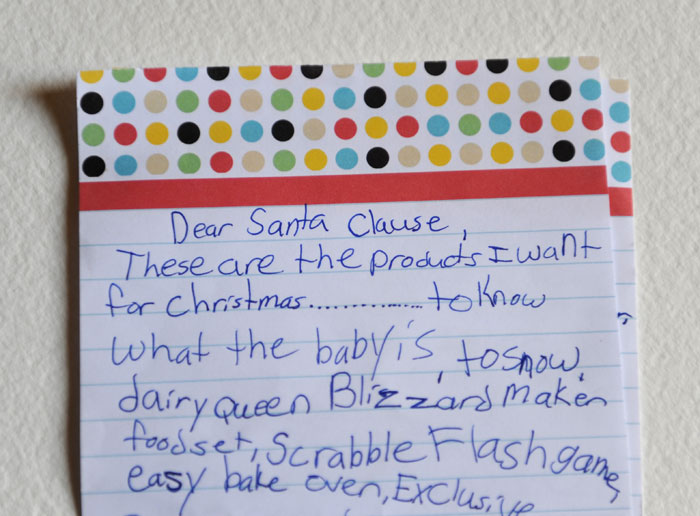 Her letter was written on smaller paper this year and spanned across two pages filled with virtually every toy known to man. She literally wrote her letter while she had the toys r us web site open. I had to laugh at her addition to the letter a couple days later…she wanted to make sure her dog wasn't forgotten by Santa and the last half the year she's asked for a "slinky dog" like in toy story. Yes, she ends it signing her full name.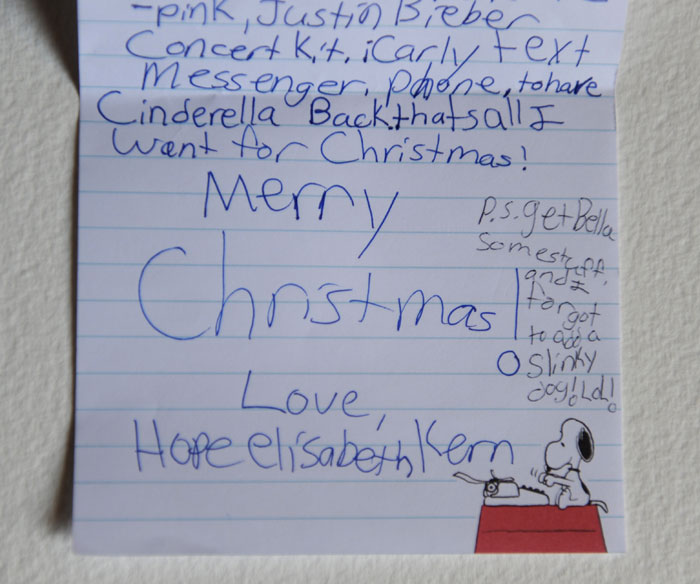 Hopefully this holiday post reaches you all in good spirits as Christmas is upon us. It's been another challenging year but the year is coming to a close with us feeling so much more "hope" than last year and continuing to pray for "peace" for us all in the year ahead.
Best wishes to you all…I hope you all enjoy the joy that comes this time of year!