It's really hard to believe that Christmas is just five days away. It can't really be Christmas already, can it?
It still does not feel like Christmas for us this year. Rarely are there years that pass by that our Christmas tree isn't up the day after Thanksgiving, or that the outside of our home isn't lit up with holiday decorations, or that I'm not out in October doing holiday shopping – that is until this year. This is the first year since the kids were born that we've had a tough time believing it's Christmas time or celebrating the holidays. Now that all I hear on the radio is holiday music it's tough not to realize it really is Christmas time and I suppose I find the Faith Hill song "Where are you Christmas?" continues to repeat in my head. I suppose after all that's happened this year it's a little tougher to accept that it's time to celebrate the holidays, the time has definitely come far before we're ready.
The holidays are normally my favorite time of year where it's time to open our hearts and share our kind spirits with all those who have touched our lives. Since we had the kids I have to admit that the holidays have typically been that much more exciting, especially seeing how excited the children get. One thing we've done every year since Hope's been able to write is write a letter to Santa. She's at the age where she has listed just about everything she's seen on a commercial but I've got to admire that though she has many toys listed she's has such a huge heart and is quickly beginning to understand that Christmastime isn't just about Santa bringing lots of toys. I thought you all would enjoy seeing Hope's letter to Santa. Because her brother is too young to write his own letter she added him to her letter too. And rather than mailing it right away, I held onto it for a few days and she continued to add to the letter as the days passed.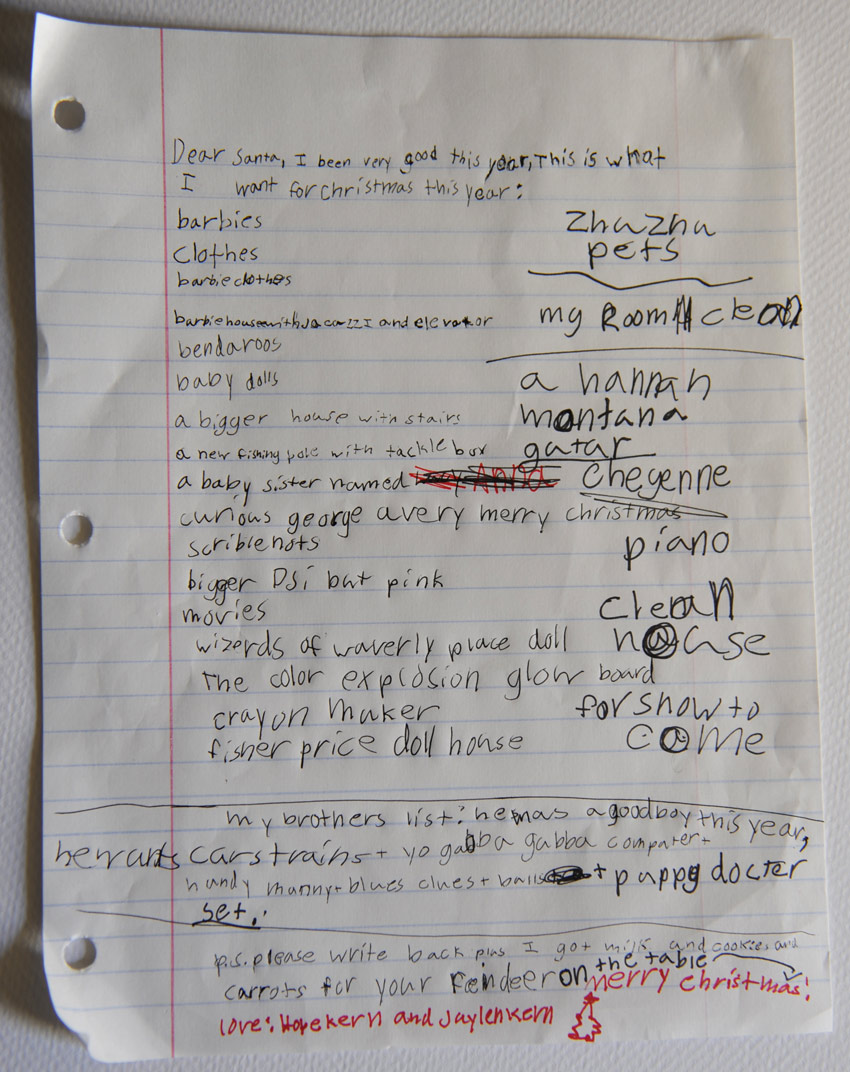 Yes, the letter tears at my heartstrings. Out of all the things she has listed, she made sure to include "a baby sister". When she was making the list she was watching Charlie Brown's holiday special so she originally wanted to name a baby sister Lucy and then she changed her mind and eventually ended up with Cheyenne, the name of one of her friends from school. A few times we've been out and people have asked her what she wanted for Christmas and that's always the first thing she tells everyone.
I suppose this time of year really isn't about letters to Santa, receiving or giving gifts. As the holidays approach us it reminds me of the real reason for Christmas. I don't claim to be the most religious person in the world, but this year more than any year before I find myself reminded that we're celebrating the birth of Jesus…yes just like my own children, he was a miracle too. As tough as this year has been I keep reminding myself just how bless we are. But I have to admit that it's tough not to think about how if I hadn't have miscarried in October that this would have been the first Christmas I would have been pregnant. Or how by the time Christmas arrives that I would have been around 19 weeks along. Yes, it's tough not to miss the little one I would have had this year. And it's tough not to imagine how different life might have been if things had worked out like we had hoped.
Yes, I'm still wondering how Santa is going to bring my baby girl a baby sister and a bigger house with stairs. Heck, even a clean house would be nice this year. Dear Santa, are you listening?

Finally, it's time that I present you all with the 2009 Kern family holiday cards. For our friends and family or those who've been following me you all will recall that since 2006 Hope and I have put a lot of work into making sure we made memorable holiday cards to send out to everyone. (check out our 2006 cards, 2007 cards, 2008 cards) This year after we designed our cards I had them professionally printed on Pearl paper with a UV coating. Most of our cards are already in the mail, but we thought we'd share a few photos because we know we've likely missed sending them out to a few of you. Hope and I were so excited to finally receive our cards a little over a week ago – here we were just after we received them: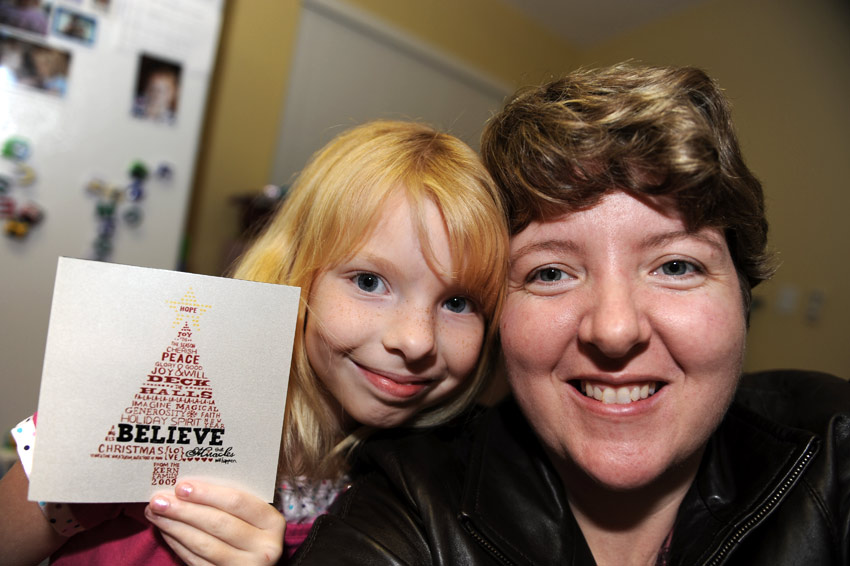 Hope has helped me design our cards every year, however, this was the first year that she didn't design the cover. She's getting to the age where it's a little tougher to get her full cooperation and the ideas she had just weren't working for what I had in mind. As the days passed I finally came up with the concept to do a completely typographic front of our card – which was definitely a little too complex for Hope to create. I used words from the letter written to Virginia in "Yes, Virginia there is a Santa Claus" as my inspiration and pulled several key words and phrases to fit into my card. This included one of the most powerful messages, "Christmas is not a time nor a season, but a state of mind". The word "believe" really stood out in my mind these last few weeks as I came up with the ideas for the front of my cards and so the message "Angels Believe that Miracles will happen." became the theme that I hoped everyone would see as they admired the typographic cover that was completely rendered by hand. And yes, it was only fitting that I put "hope" at the top of the tree – as far as I'm concerned it's the most important thing for us all to have these days.
Here's Hope admiring the inside of our trifold card.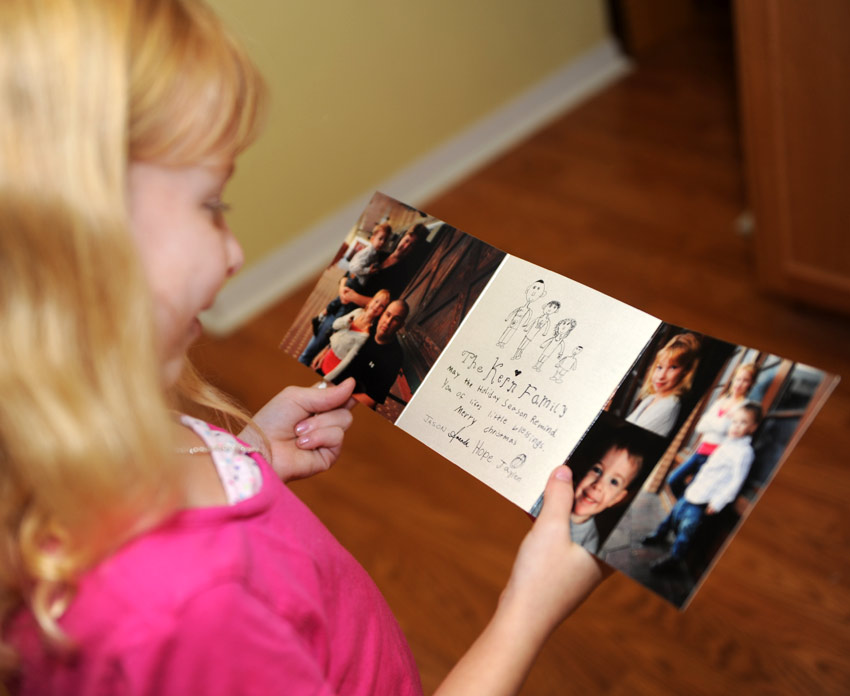 Yes, I made sure to save myself the work of having photos printed separately – instead I had them designed right into the card. Here are a few of the photos if you didn't get to see them yet.
Here's our family photo taken by Hope. (see her holding the remote?)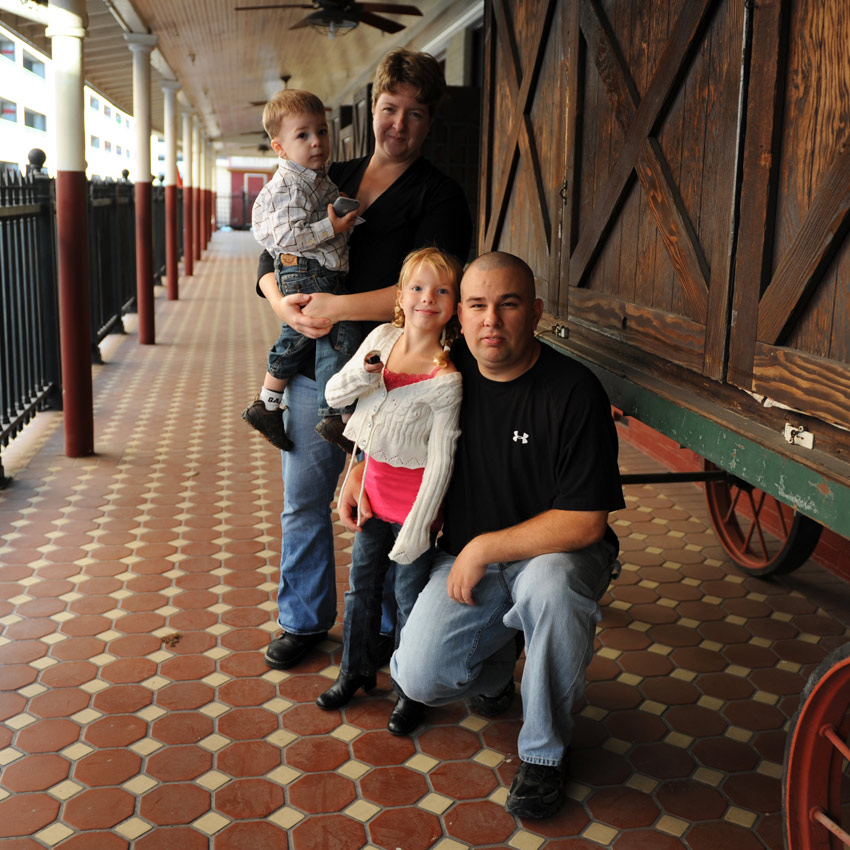 Here's the inside center of the card that was made by Hope, though each of us signed our names. Jaylen even scribbled a little something for our card this year! It's becoming a tradition that Hope illustrates our family – this year she made sure to draw Jason wearing a cubs shirt, me with a camera, she was holding a picture and she thought it was funny to draw her baby brother crying. The inside continued with my theme for our cards with the saying "May the holidays remind you of life's little blessings." This year more than any year before I am reminded of how blessed I am…I have two little ones that I'm now absolutely convinced are miracles.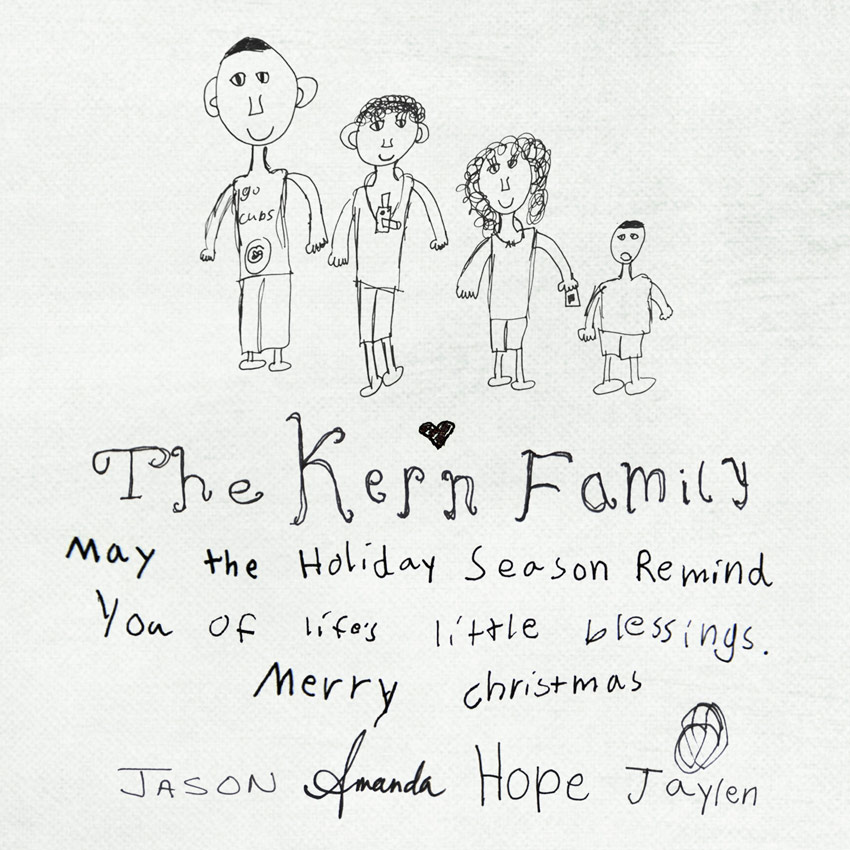 Here are my two little blessings.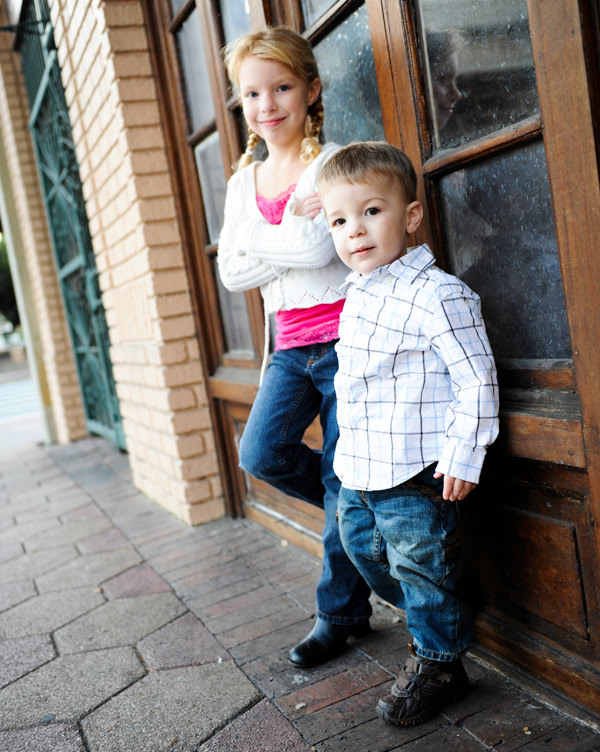 Because it was a trifold card we had lots of room for photos and writing. Here's Hope admiring another part of the card.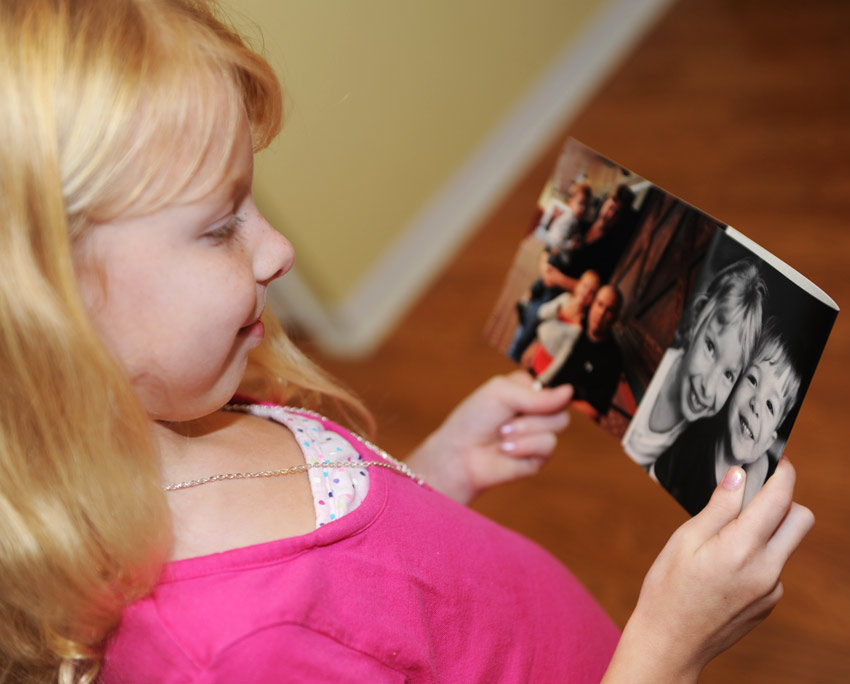 Yes, that's one of my favorite pictures of Hope & Jaylen and on the Pearl paper the photo looked pretty sweet. Here's that photo of them looking so stinkin' cute.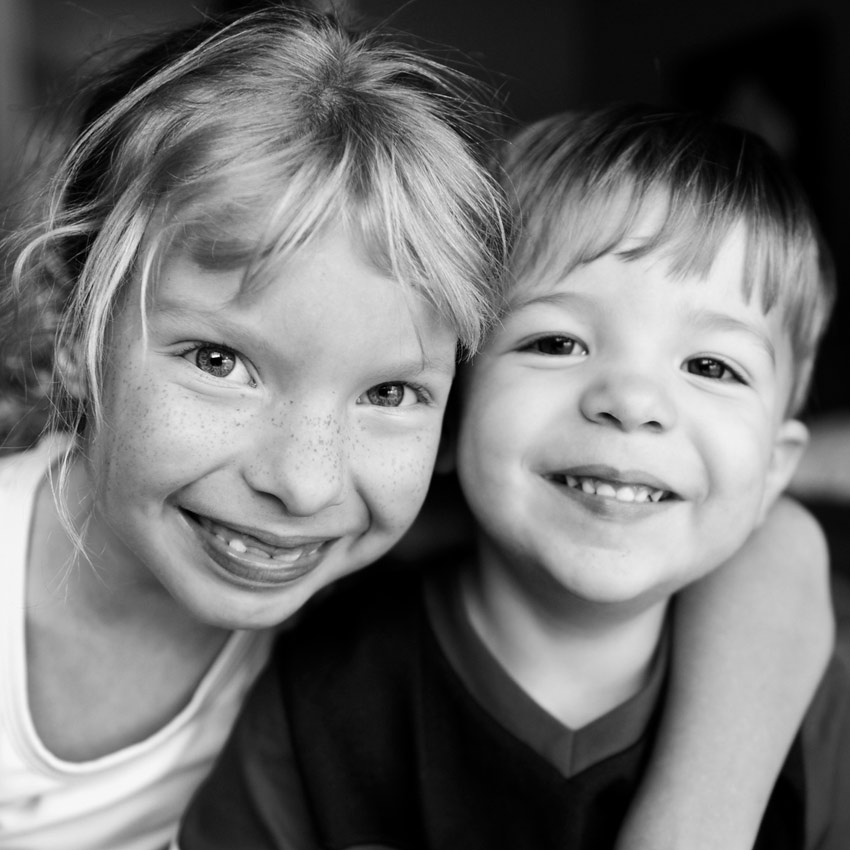 Of course we made sure to personalize the back of our card too so that everyone knew all the hard work my baby girl put into this card. She drew a picture of herself as a superhero and wrote her name in curly decorative letters.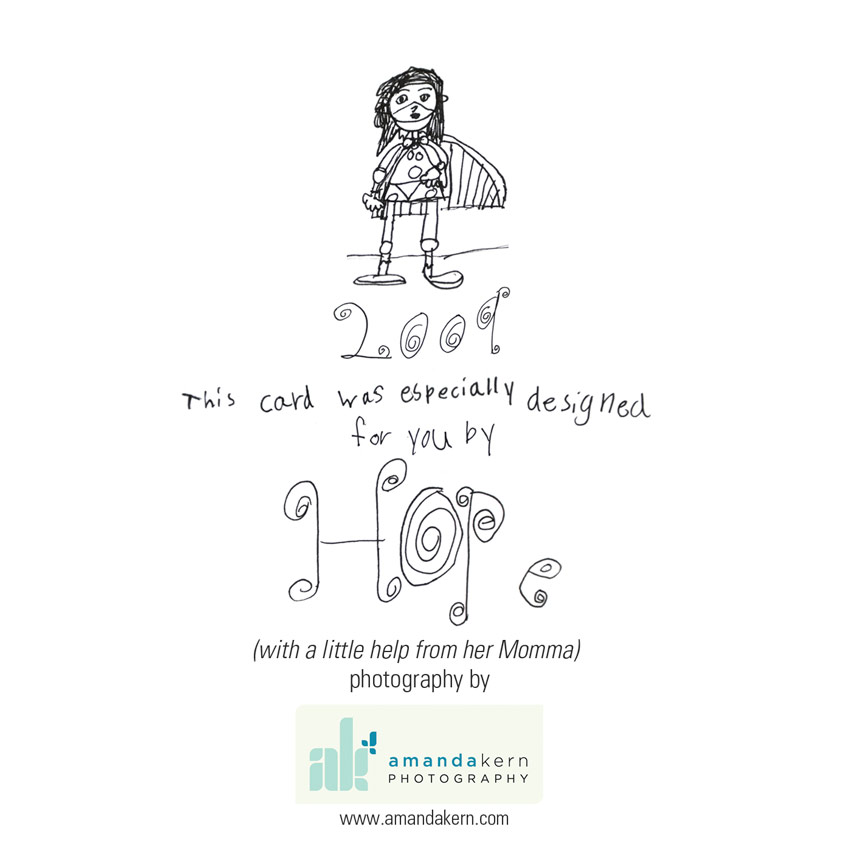 We hope you all enjoy this little peak at this year's holiday cards. And really, if any of you have a connection with the big man please let him know that if he can't make things happen this year, maybe by next year he'll have a enough time to make miracles happen.
We hope you all have a memorable Holiday season…may you all be blessed with the the best life has to offer.