"Courage is not the absence of fear, but rather the judgement that something else is more important than fear." – Ambrose Redmoon
In just under a week I've stepped in to help the Now I Lay Me Down to Sleep organization to fulfill the need for three photoshoots for little ones who have passed away or were expected to pass away shortly after birth. Yes, I have to admit that it's one of the hardest things I've ever done but undoubtedly one of the most touching experiences I have ever been a part of.
Yesterday morning I received a call from the Orlando coordinator that there was a little one who passed away around the 29th week of the mother's pregnancy so I as I awaited the call for the baby to be born yesterday I received another call from another local hospital that another family also needed my help taking photos of their little one who was still living but wasn't expected to live long due to a birth defect. It was an honor to meet the family along with their little girl.  After taking many photos for the family I took one last photo of this beautiful little girl's foot prints along side her pretty pink blanket that I was told was made by some of the "pink ladies" at the hospital who make special keepsakes for the parents to keep. I must say that some of the most touching photography I've done has been in the last week, work which will remain private to respect the privacy of the families. However, after taking this photo of the family's little girl's footprints the parents welcomed me to share this one photo publicly.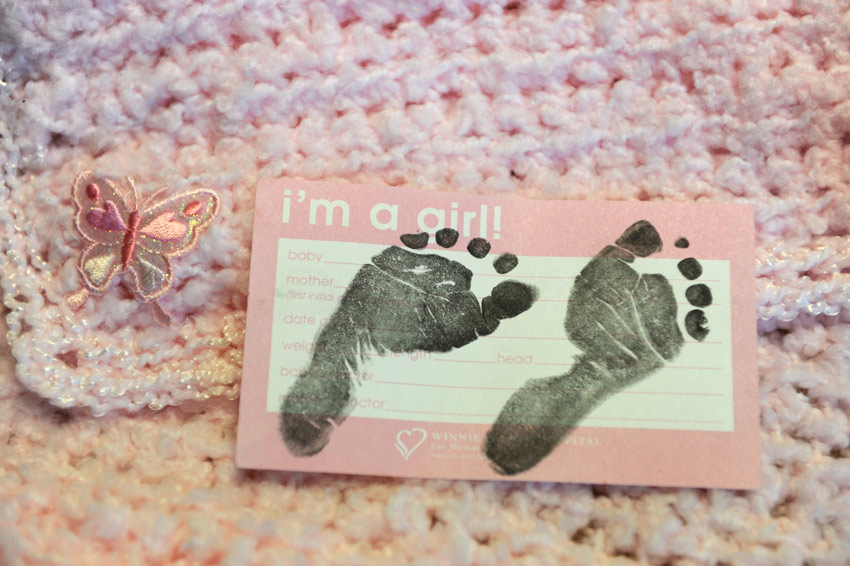 Yes, it in itself is so touching, knowing that we're looking at little footprints of a precious little angel. As I look back at photos like this one I took yesterday, I just continue say lots of prayers for the families.
The rest of the day I awaited the call from the hospital about the other family. It wasn't until around 4:30 this morning that I received word that the little one was born. I met with an amazing mother, father and grandmother who spent time cherishing their last moments with their son. He was just three pounds and had the tiniest fingers and toes. But just like every baby…he was perfect in every way. A perfect little angel who I was honored to meet.
I highly doubt you'll hear about all the times I volunteer with Now I lay me down to sleep, however, I hope I've pulled a few heartstrings, especially with those of you who are also talented photographers. I know how tough it is to even consider volunteering towards such a generous, yet challenging and sensitive cause. I've been there…I was the one who waited a whole year to volunteer because I was nervous to participate in such an emotional and sensitive effort. For the longest time I didn't have the courage to step up because I knew how heartbreaking seeing experiences like these would be. But after all I've lost over the years through the three miscarriages I've come to realize that there is something so much more important than fear. I've been told I have a gift and something far more powerful than I can explain has driven me to help other families who have lost just like I have. Now that I am volunteering I must say that though it's tough, it's one of the most touching things I've done. In fact, I have walked away from every single photoshoot counting my blessings and finding myself more appreciative of life. Every family has been so appreciative and though it's tough to photograph such sensitive and heart breaking moments – I just know in my heart that the work I'm doing will continue to touch the families for many years to come as they remember the little ones they've lost. And yes, I'm very surprised that there aren't more volunteers in the Orlando area – so if you're experienced with photography you should definitely consider volunteering.
As much as I'm saddened seeing these two little angels over the last day…I'll continue to say my prayers for the families. I'll be photographing newborn #40 later this morning so it's time to move forward because I know the day will bring lots of smiles.