"We do not remember days; we remember moments."  ~Cesare Pavese
Anniversaries remind us of big moments in our lives. This week has been a week of anniversaries for us. Though our wedding anniversary is today, I awoke this morning reminded that today was also the month anniversary of the day I found out I found out I was pregnant. Yesterday was the week anniversary of finding out I miscarried and tomorrow will be the week anniversary of surgery, the moment I began to truly let go of the thought of that little one I had begun to hope for. So I have to admit I started the day feeling filled with reminders of all that has happened this last week and to add to the recent bad luck, I'm coming down with a little cold. So yes, most of today I have felt blah.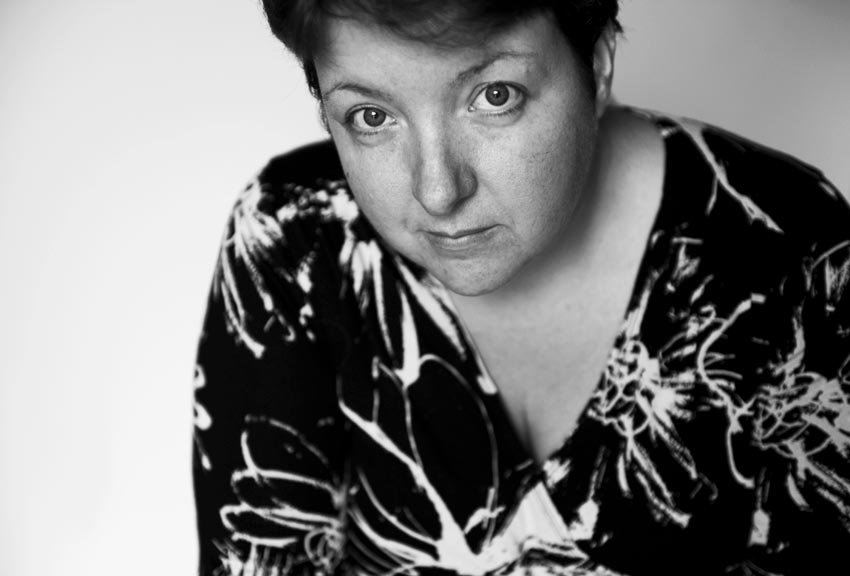 Despite how crummy I felt I promised myself I'd spend today reflecting on this amazing love that has only grown over the years. Twelve years ago today Jason and I got married so I spent a bit of today looking through old photos to remember some of the moments that have brought us to where we are today. Hopefully you all enjoy my trip down memory lane during my personal reflection of our amazing relationship.
Jason and I met in the spring of 1996 while we were both in the military stationed in Fort Drum, New York. He'll likely tell you that I was the annoying girl in his platoon who he ended up falling in love with.

Jason and I were both military police in the same platoon at Fort Drum. Our unit was highly deployable and if we weren't in the field doing training it seemed like we were deployed. The first six months we dated no one knew we were dating and we preferred it that way because they likely would have made one of us switch platoons.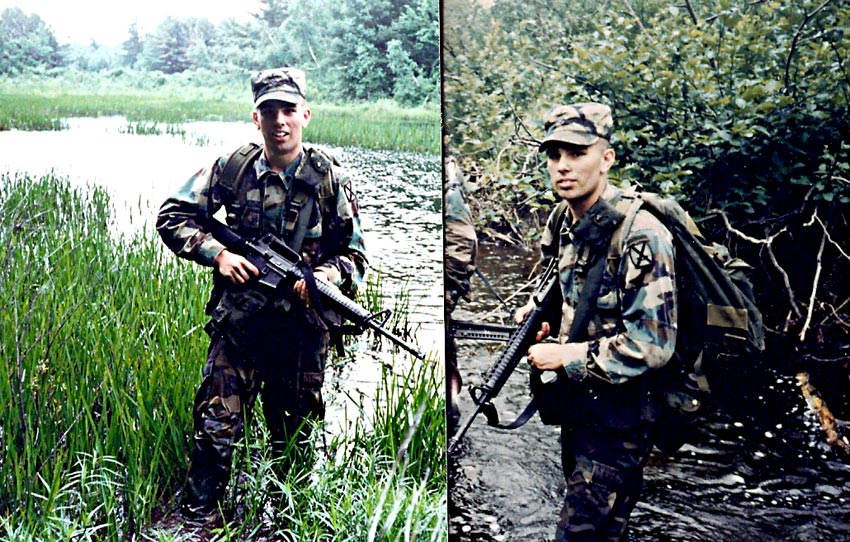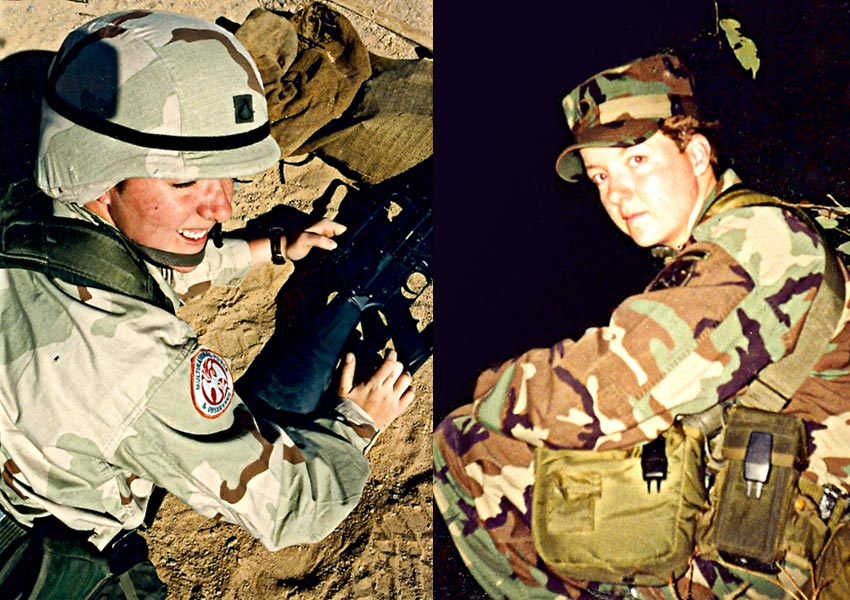 By the holiday break of 1996 he agreed to come home with me to visit my family, but first we went on our first skiing trip together. I still give him a hard time because I fell and tore ligaments in my knee skiing so he brought me home to meet my parents for the first time in crutches. Over the holiday break in 1996 he proposed to me during our trip to Disney. Of course I agreed to marry him. I still to this day laugh remembering how many times my mother use to tell me she felt sorry for the guy who ever married me, because I was that picky and such a perfectionist growing up. I definitely think I was blessed to find someone so special who was willing to put up with me!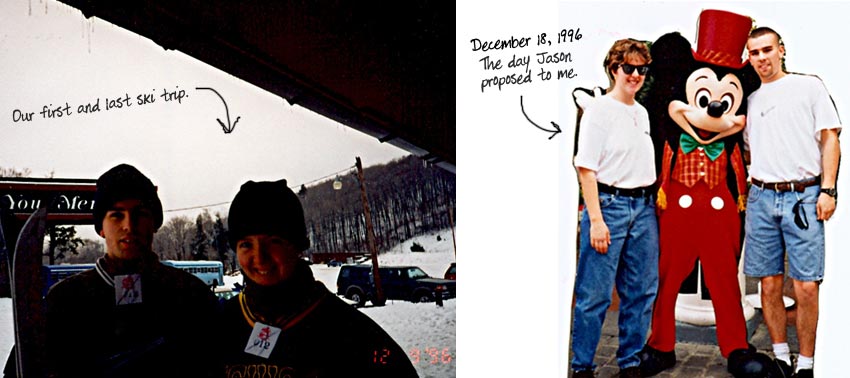 When we returned from our holiday break in 1996 we returned to be deployed to Sinai, Egypt as a part of the Multinational Forces peacekeeping mission to promote peace between Egypt and Israel. Because no one knew we were dating we deployed together still in the same platoon. During our visit we were definitely concerned about our safety, but there was far more down time than we had imagined a deployment would hold. The deployment actually ended up being one of the most memorable experiences in our relationship.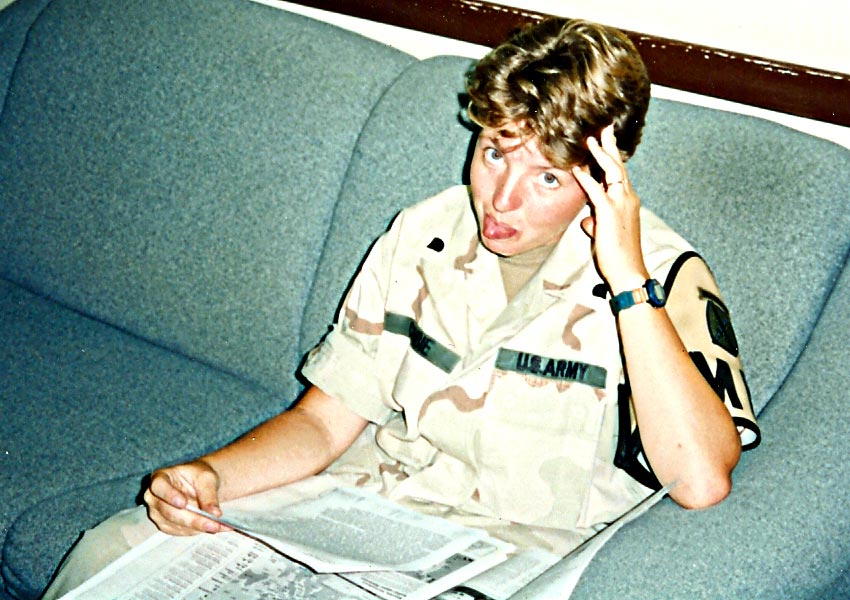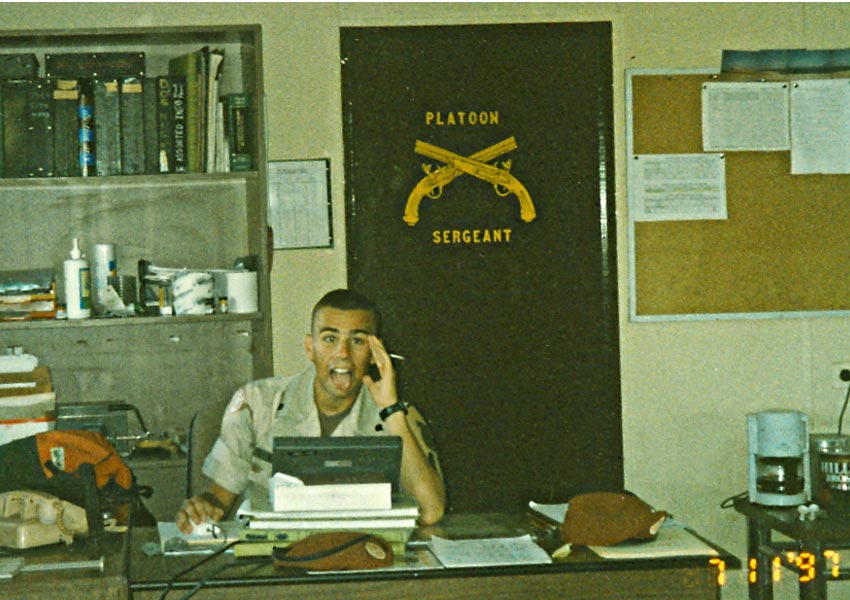 During our time deployed in Egypt we had amazing opportunities to visit the pyramids in Cairo, Egypt and we took a week long trip to Jerusalem, Israel.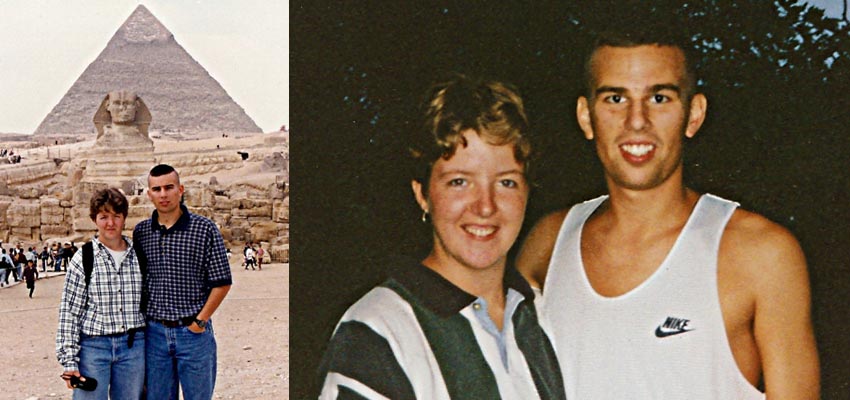 We returned from Sinai in July 1997 and four months later we got married. I still can't believe it's been twelve years.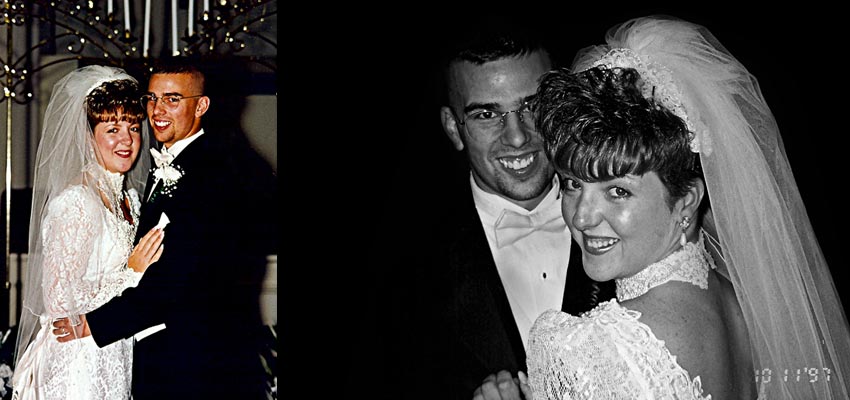 We knew before we got married that we didn't want to stay at Fort Drum because we knew we'd likely deploy again and likely not together. We still had a few years left on our enlistment obligation to the military so Jason reenlisted for Fort Rucker, Alabama so we could get out of the military at the same time and so we could live a little closer to my family.  By this time he was working as a traffic accident investigator and I was in the field with my unit on the day he reenlisted. They were kind enough to let me come back all camo'd up for a few minutes to be present for his reenlistment.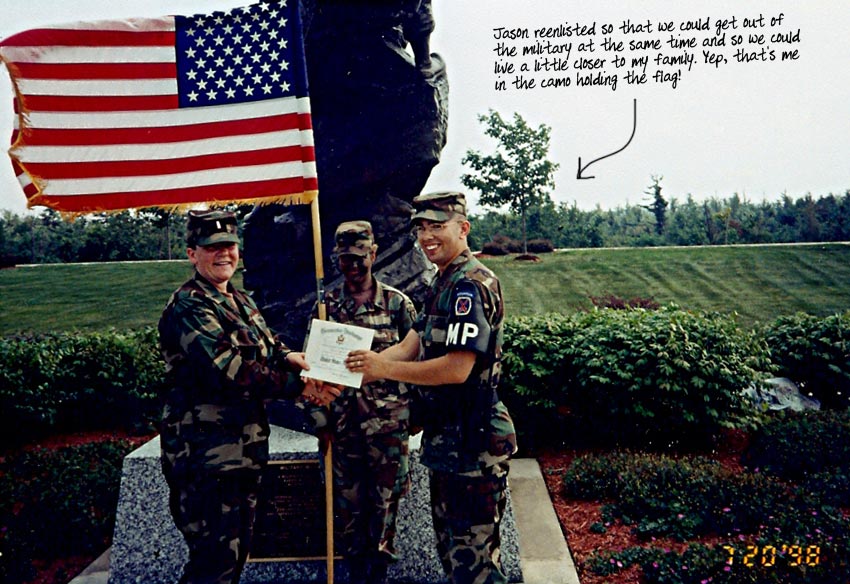 We spent nearly 2 1/2 years at Fort Rucker, Alabama. Jason worked as a traffic Accident Investigator and was a part of the special reaction team while I spent most of my time as a military police investigator. We were quite relieved to work in a unit where we did not deploy, but we did often work complete opposite schedules.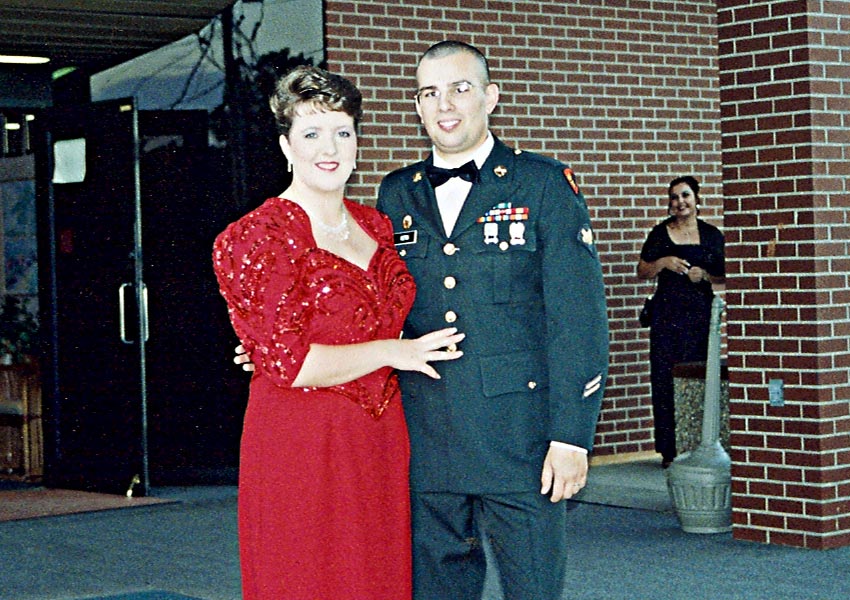 We knew when we got married that in our eyes the military was not the place for us to raise a family. Before being stationed at Fort Rucker we had decided that we were ready to have children but we feared how the constant changes and deployments would affect our family. While we were at Fort Rucker was when we endured those first two miscarriages and at times we wondered if we'd ever be blessed with a child. We remained firm in our agreement that we'd get out of the military once our enlistment was up because we saw so many more opportunities for us outside of the military and we didn't want to put any children we might have through the changes and deployments the military would bring. Just a couple weeks after our window to reenlist passed us I found out I was pregnant with Hope. I remembered being so fearful of how in the world we'd make it out in the "real world" with a little one. But I kept reminding myself that God challenges us for a reason and that if it was meant to be it would be. In November 2001 we were blessed with Hope Elisabeth.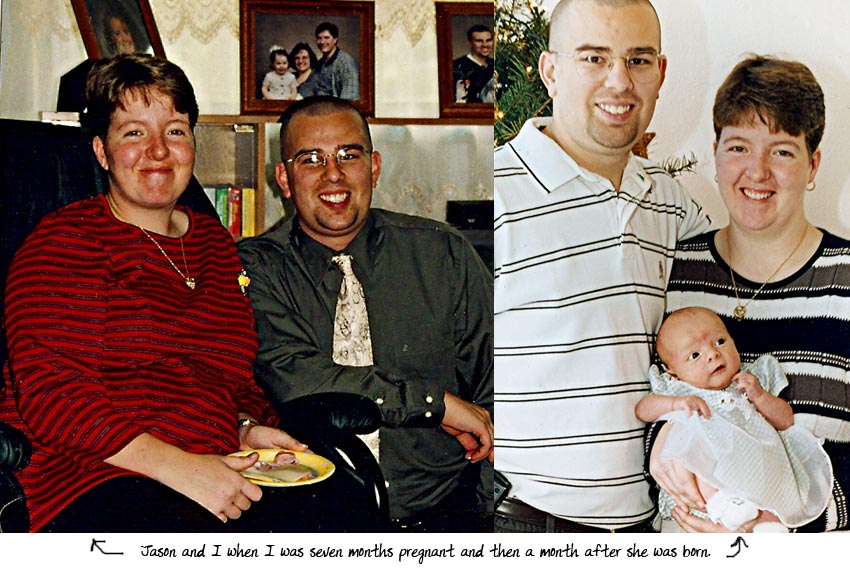 After having Hope our lives were filled with so much joy, but it was still far from easy. It was a tough transition out of the military for us. I stayed home the first two years after having Hope but remained in school fulltime virtually the entire time. With Jason being the only one working it was certainly challenging at times for us to make ends meet. One of the toughest moments we've had to go through was giving up our two golden retrievers just 4 months after Hope was born in order to conserve as much as we could financially but also because we felt as though they just weren't getting the attention they deserved. I suppose it was more heartbreaking for us because during the time we tried so hard to have Hope and miscarried those two dogs helped lift our spirits. But we quickly moved on and raised this little girl of ours that we came to love so much.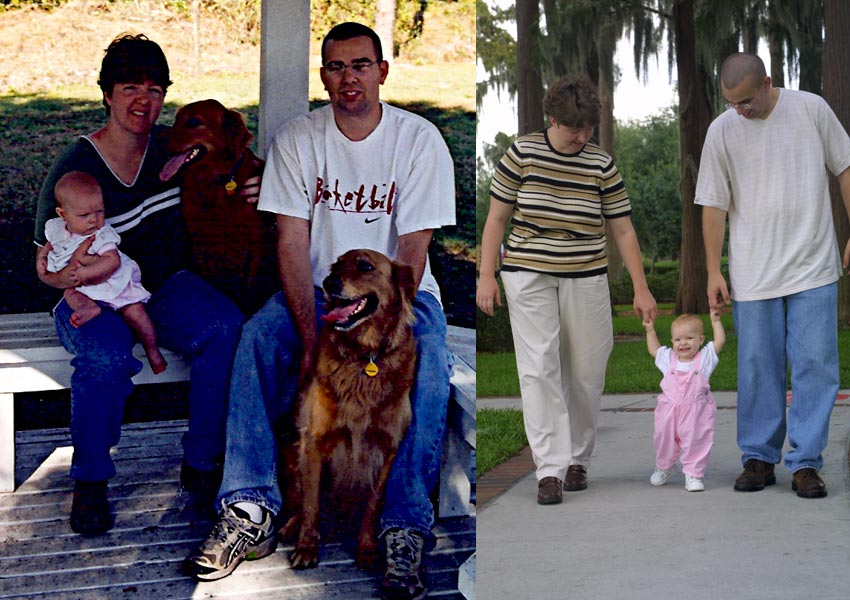 As the years passed we decided our family had room in our hearts for another child and though it took far longer than we had hoped, in 2007 I got pregnant with Jaylen. By this point I had been teaching fulltime for a few years at Valencia and was about to begin my bachelor's at SCAD. Of course for me the hardest part was figuring out how I'd love another child half as much as I loved Hope. We spent nearly six years together raising only Hope and loved every minute of it.
Two years ago tomorrow we added this little guy to our family. Jaylen is the son Jason and I always dreamed of and he's perfect in every way.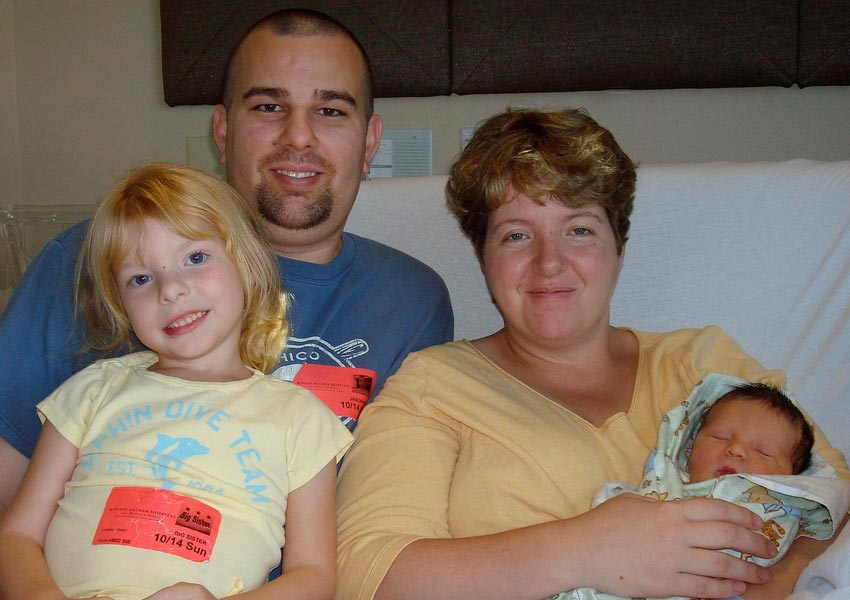 Before Jaylen turned a year old we made sure he too was sporting cubbie gear because to be a part of the Kern family it's a must that you're a cubs fan.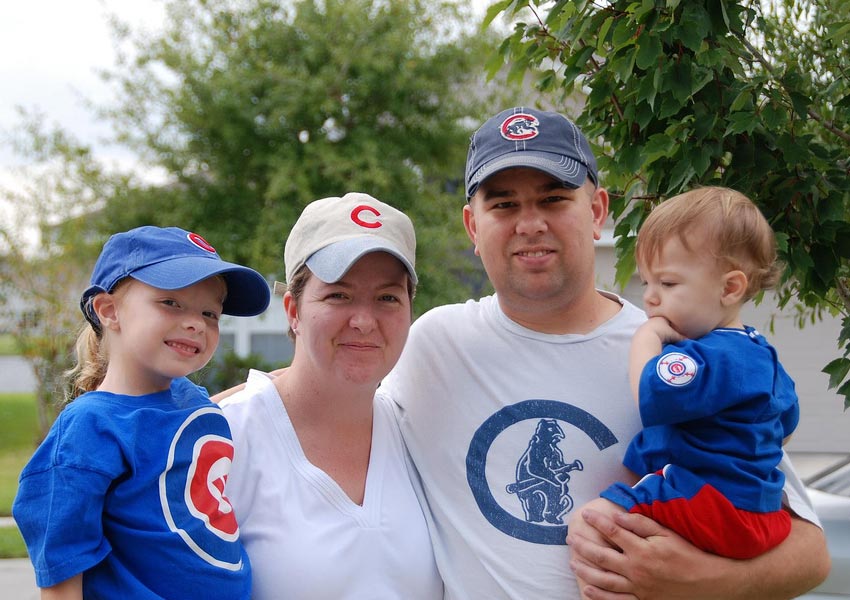 As I've said before, Jason has been my strength..and my biggest supporter. So many times he's helped see me through the tough moments but also through the busy moments. The last several years I've found myself getting busier and busier and I keep having the desire and need to do more. Every step of the way he's encouraging me. I couldn't do half of the things I do without all his support.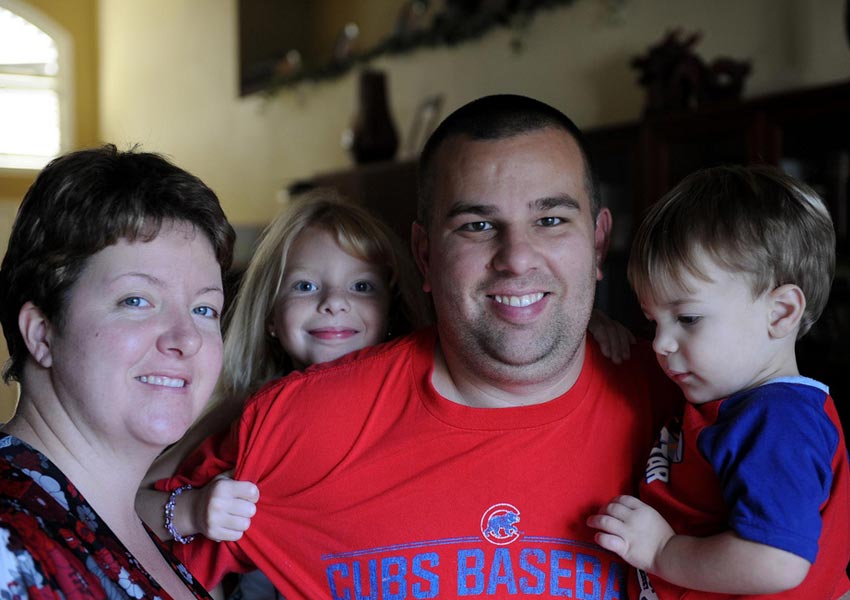 So here I find myself 12 years later reflecting on us. Our marriage. And the amazing love between us and the family we've begun. Yes, twelve years later I did what I should have done every year on our anniversary. I took a picture of us. We're both feeling under the weather…but here we are 12 years later still totally in love.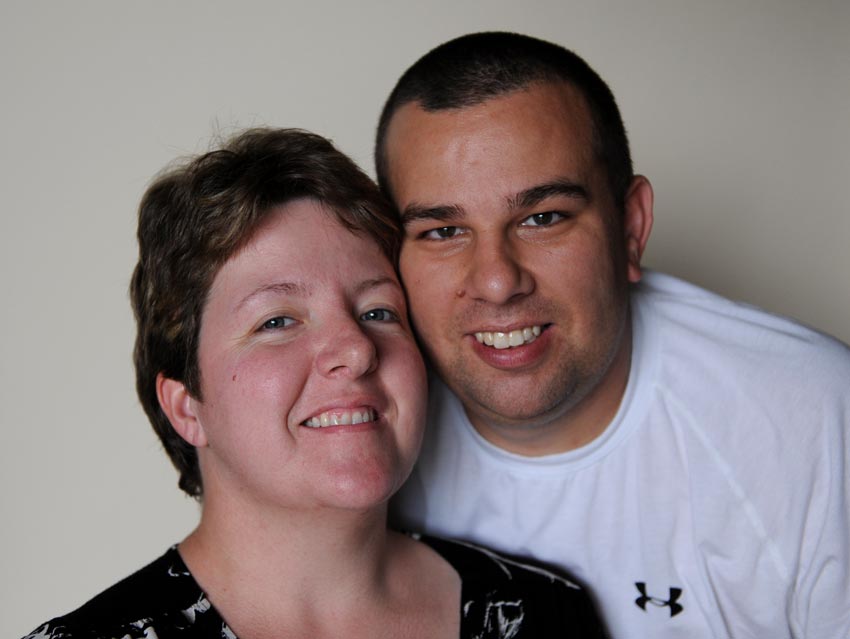 A LITTLE ROOF UPDATE
We're thankful that it did NOT rain today and we hope you all avoid doing any rain dances these next few days until our roof is fixed. Jason climbed up onto the roof today to take a look. It's tough to tell for sure what's causing the leak. We're thinking it could have stemmed from the piping coming from the roof that we believe eliminates the air from the dryer.  We noticed a very slight curve in part of the roof too. Of course me and my darn pictures, I told Jason I wasn't holding the ladder for him to come down until I went inside to grab the camera so I could take a picture of him. I'm so glad I did too – this moment of him sitting on the roof just says it all when it comes to the past week.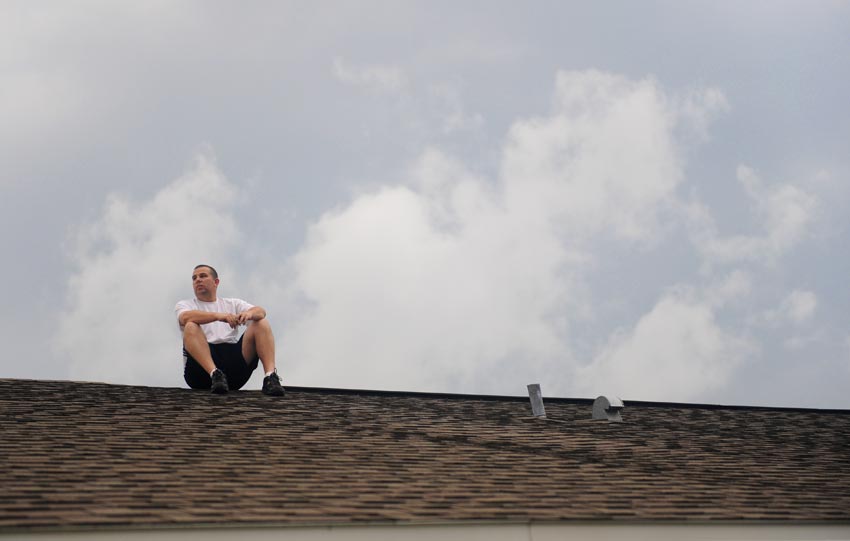 So if you know any one who fixes roofs let us know! We do plan to call the builder tomorrow and we're praying that everything will be covered under warranty. Fingers crossed that things start going our way soon.