"Sometimes not being in control is the most beautiful thing in the world." ~unknown
As I've fallen a little complacent in updating my blog lately I've had some of you wondering how things are going. Life has been busy. Crazy. And full of…well, life. With Chance going through so many medical moments this past year I suppose it's worth sharing a bit of an update as we just went through his second spina bifida clinic earlier today.
We feel blessed that we're close to breaking a record in how long Chance's shunt has lasted without a revision. The longest we've went without a  shunt revision or shunt related surgery is 4 1/2 months…exactly 138 days. We've felt blessed that he's been out of the hospital for so long now and we're only about a month away from breaking that record. Yes, by this time next month…right around his birthday we'll be ready to celebrate if this shunt continues to function well for my baby boy.
I have to admit having him go through so much this past year has left me incredibly nervous, especially when he begins to present some of the symptoms of a potential shunt malfunction. Sometimes I worry that I'm overreacting when I begin to worry but I continue to be reassured not to doubt my instincts and that it's better to be safe when concerns arise. Just one week ago we found ourselves worrying about Chance's shunt as it began to swell a bit around the area on his head where it's located and along the tube that drains the fluid from his head to his belly. That night he was very irritable and had me up nearly every hour and his soft spot kept going between being full to soft. To be safe Chance and I took a trip to the ER Saturday morning and he underwent a CT scan and an x-ray to confirm that his shunt was intact and draining properly. It wasn't quite where we wanted to be for several hours last weekend but we were able to rest a lot easier afterwards knowing everything was okay. This darn shunt of his definitely keeps us on our toes as we watch this little guy grow.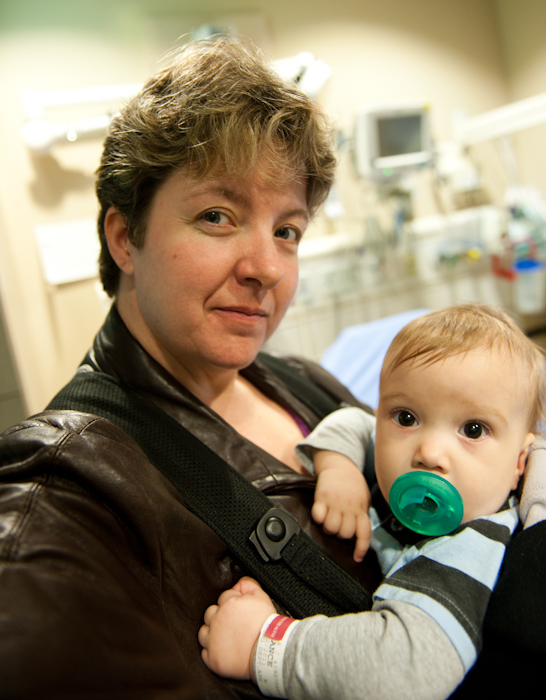 It's hard to believe Chance is nearly 11 months old. We've been enjoying watching a lot more of his personality shine through.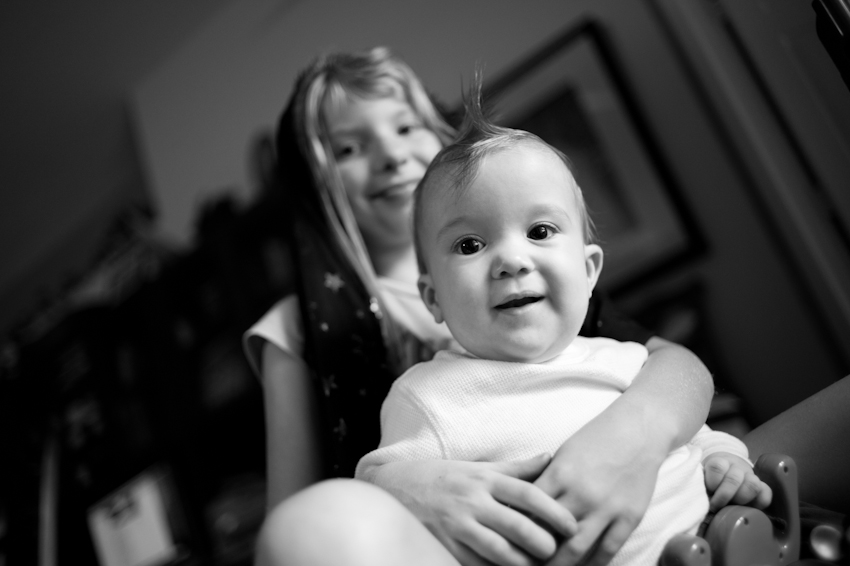 His big sister has been a huge help. A couple days ago she thought it'd be fun to have Chance sport a faux hawk. I suppose it's fitting for super Chance to look "cool".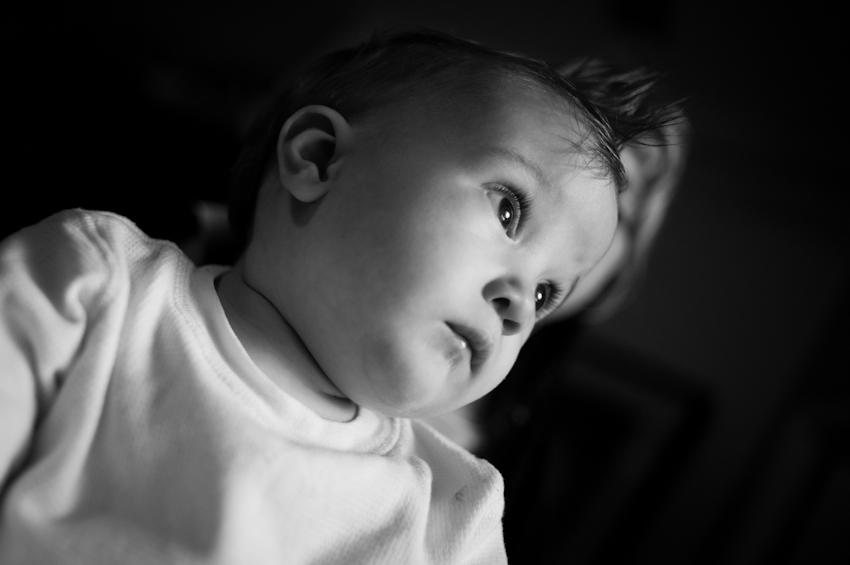 Hope has begun to refer to him as the "chancinator". Yes, not only does he have super powers…but this kid is tough…I suppose like the terminator.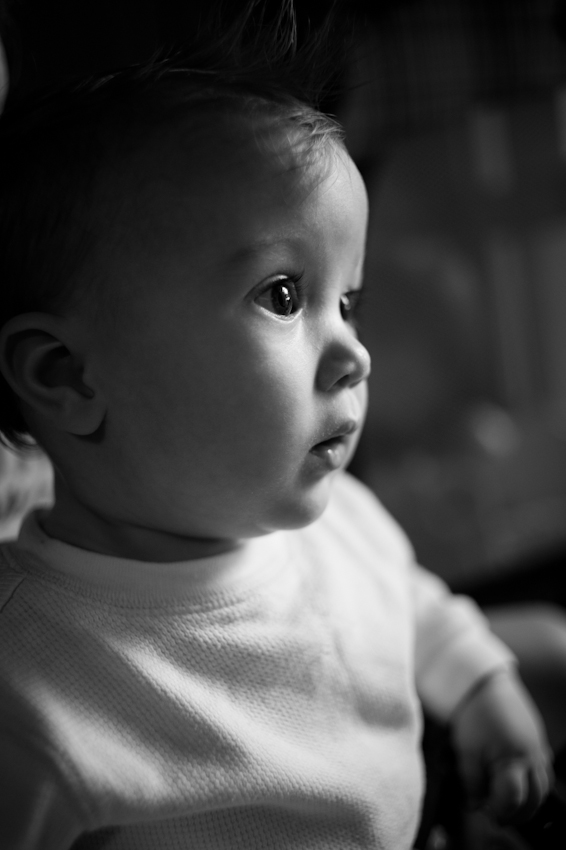 This morning we went to the spina bifida clinic for Chance's second clinic since being born. Right now he is scheduled to go every six months and due to his spina bifida we see a list of specialists that help us ensure he's receiving the best care possible. When we arrived we took Chance to get weighed in. Suzanne Mckee who leads coordinating the spina bifida clinic in Orlando scooped Chance up just before she weighed him and shared with him some of his photos that are hanging in the clinic. I don't think he quite realizes it yet but he's loved by quite a few people in the spina bifida community and has helped bring a lot of optimism to the spina bifida community. Yes, baby boy…you have super powers to touch the lives of so many people…we sure are blessed to have you here.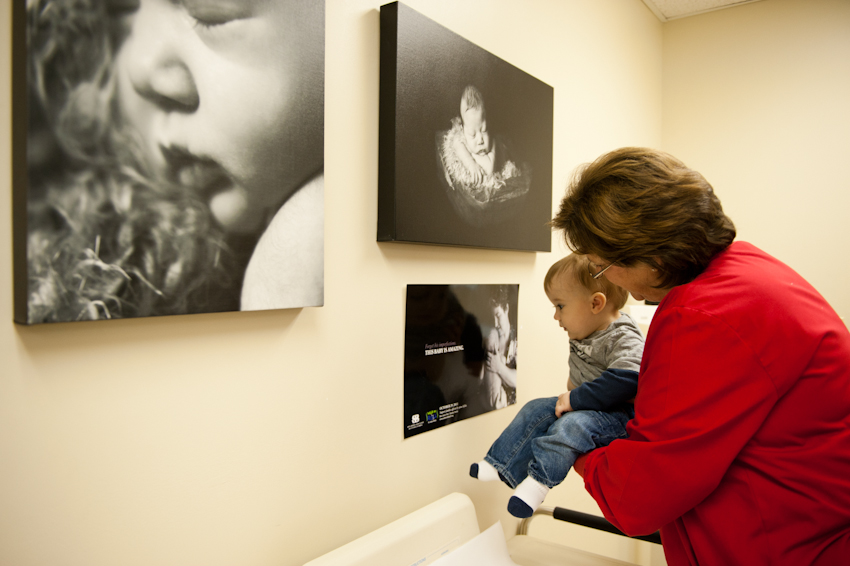 I have to admit that I found myself growing quite nervous before clinic again. It's a day that we get to chat with all the doctors about Chance's care and as he grows we anticipate that we may need to adjust to the changes spina bifida may bring to his (and our) life. Thankfully as the day went on I was reminded that it would be a memorable experience…it sure helps to have such amazing people caring for our baby boy.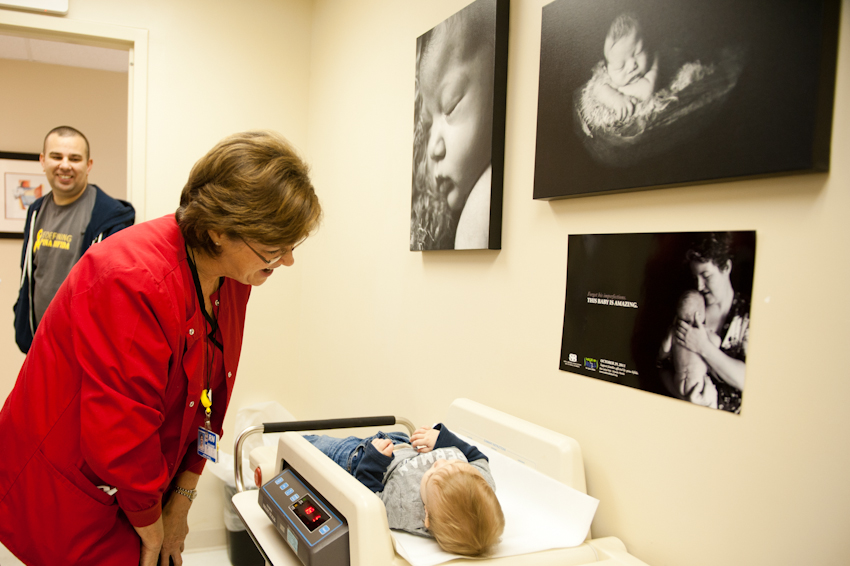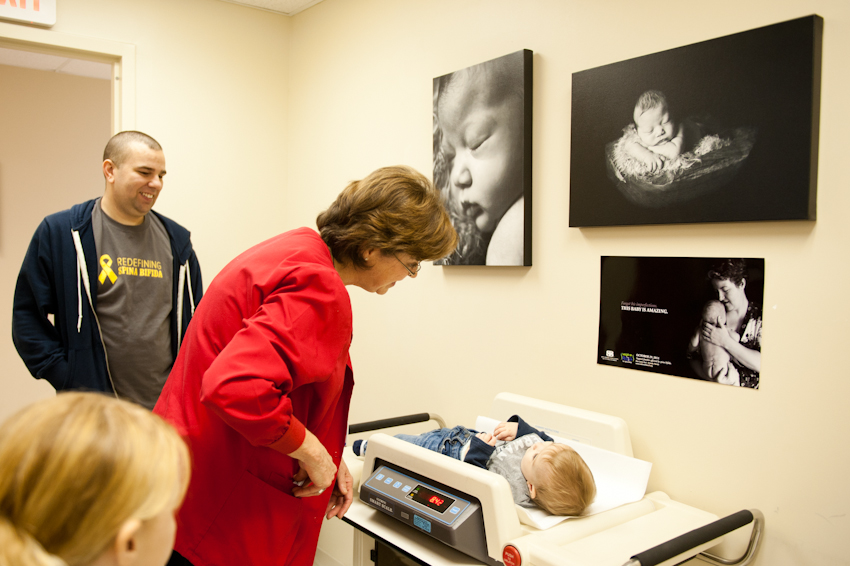 With as much as Chance has been through we've grown quite close to so many caring for our baby boy, especially Chance's neurosurgeon. Hope absolutely adores her and made her this sweet note. We really do think she's the best neurosurgeon in the universe!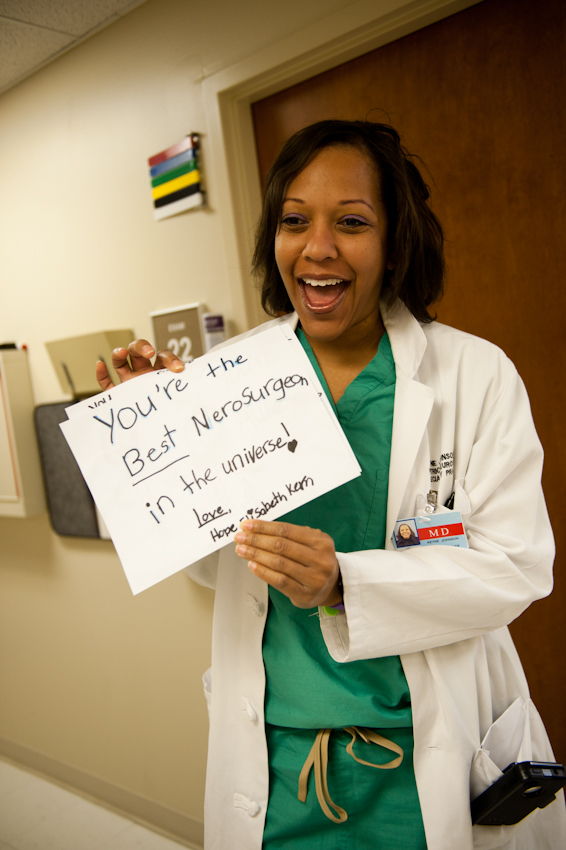 I was a little surprised that I was able to hand Chance over the Suzanne today…he's gotten really attached to me and is going through major separation anxiety these days. So it's uplifting when anyone besides me holds him and he's not crying.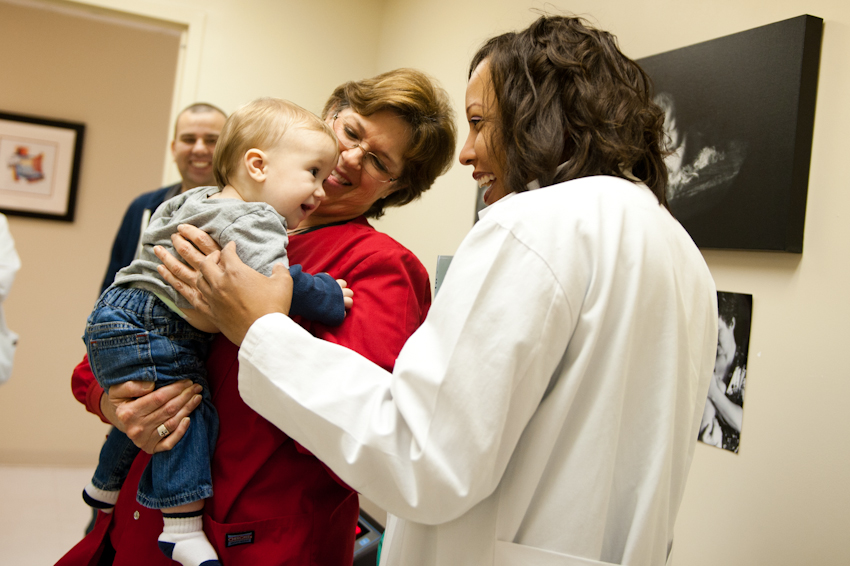 So it was no surprise to see him crying in the arms of most others, including his favorite doctor Dr. Johnson. Okay, perhaps he remembers all the surgeries…the rule is we're not allowed to say the "s" word around my baby boy because we don't want him to ever have to undergo another shunt revision or surgery again.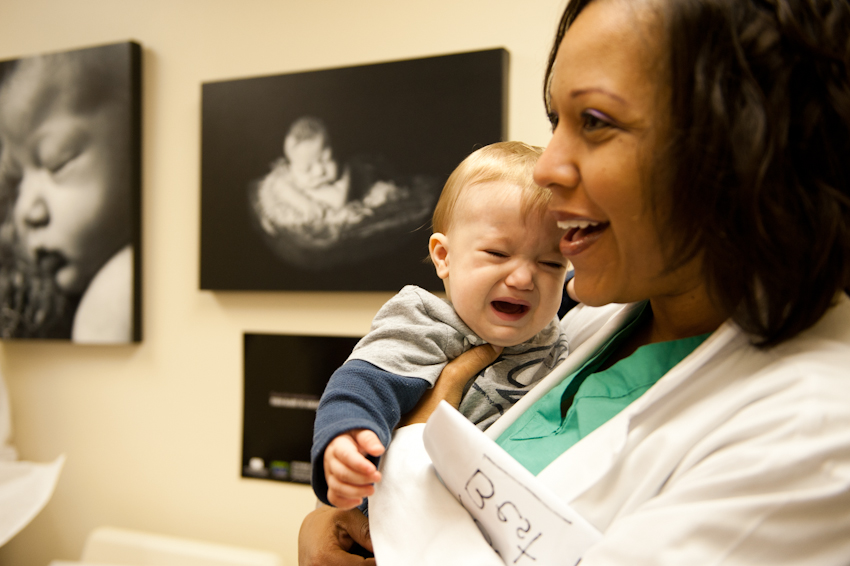 Hope was out of school today so she got to accompany us to Chance's clinic. She found her doctor's coat and sported it this morning. Chance's doctor has made that much of an impression on our baby girl that she has begun to proclaim this year that she's going to be a neurosurgeon someday.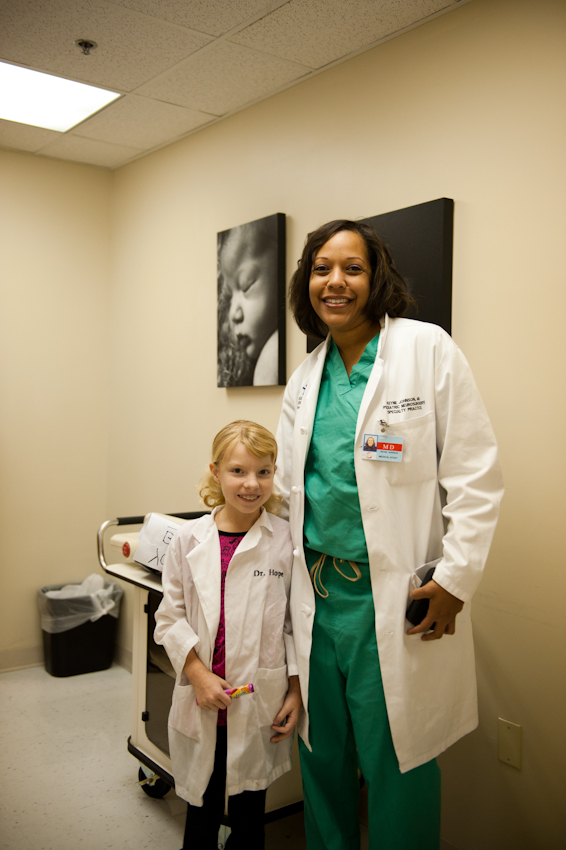 Dr. Johnson is not only great in caring for my baby boy but she has become such an awesome role model for my baby girl. As she had to take care of other patients she gave Hope instructions on how to care for all the patients in the spina bifida clinic.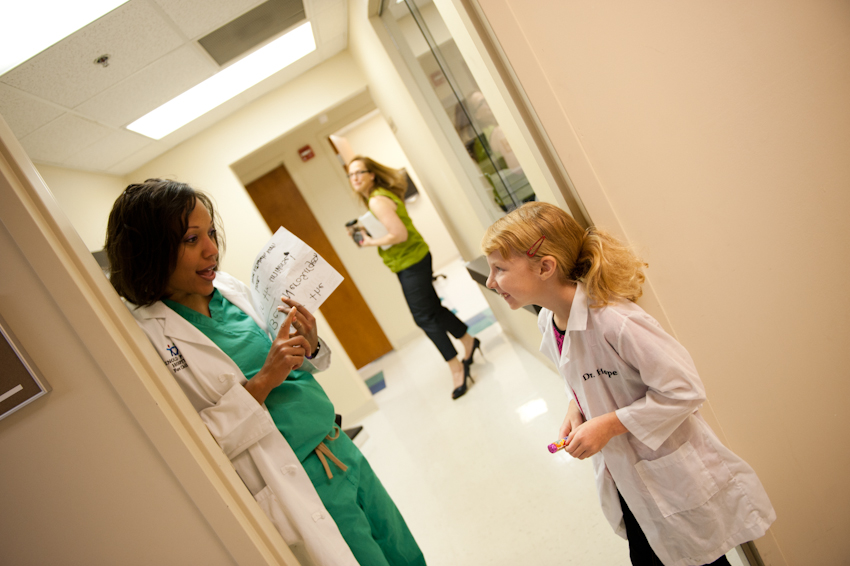 As I began to head to clinic I recall hearing her throw all sorts of big medical terminology out at Hope to remember and we all just laughed…yes, the morning was memorable.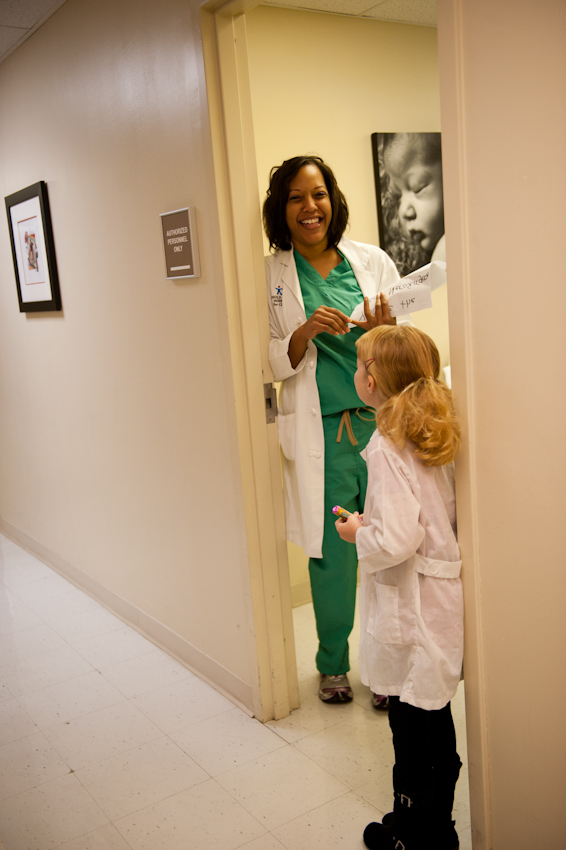 We headed off to clinic and as we waited to see about a half dozen specialists we waited. Hope got lots of attention from all the doctors who were thrilled to see her aspiring to be a doctor some day. Some even gave her a little bit of responsibility and by the end of the morning she ended up being nudged to consider being a neurosurgeon, nephrologist, urologist and a few other types of doctors. Yes, Dr. Hope had a lot of fun today.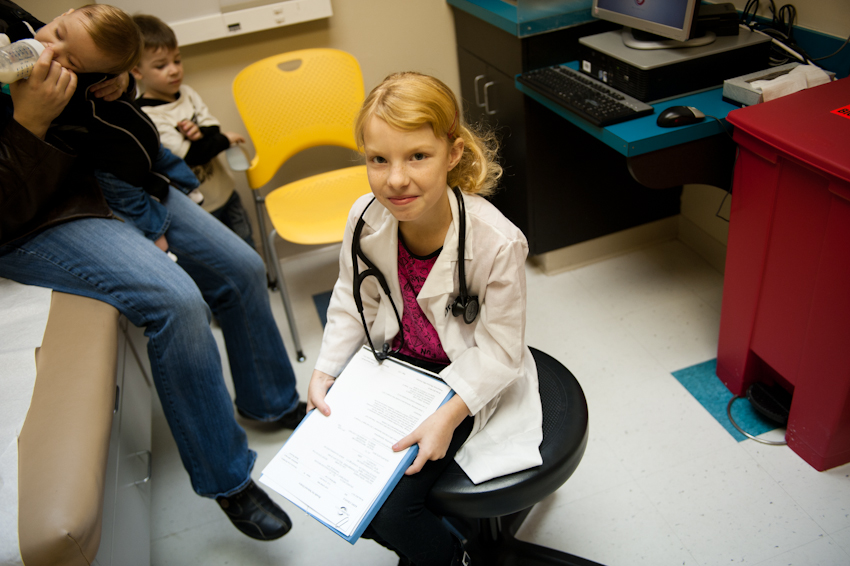 The morning went fast. In between waiting to meet with doctors we got to chat and catch up with a few of the other families we've become connected to since Chance was born. I recall when I was pregnant with Chance being scared of all these doctor's appointments…yes, they still make me a bit nervous but the last two spina bifida clinics have almost been a lot like a mini reunion with other families with children with spina bifida who have become a lot like family to us. Chance was quite content most of the morning…he slept for a good hour or more of it.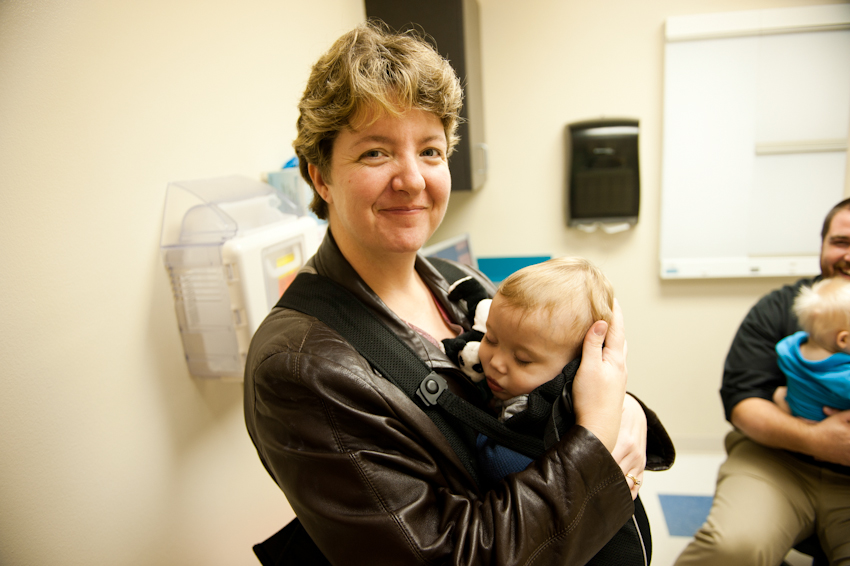 You'd think the kids would have been acting up with as much as we waited…but they were amazing and had fun. Jaylen enjoyed having Jason with us this morning…they goofed around a bit towards the end of the morning and Jaylen was incredibly happy to get all the attention.
Before we went to the clinic I had considered letting the kids perhaps spend the morning playing elsewhere with some of their friends…but I'm glad they accompanied us. Being in a doctor's office all morning all morning might not be the ideal place for kids but being at the clinic really feels like a family event for us to be together for. This baby boy of ours is going to need lots of love and support in the years ahead and it's going to take all of us…thankfully the kids did amazing.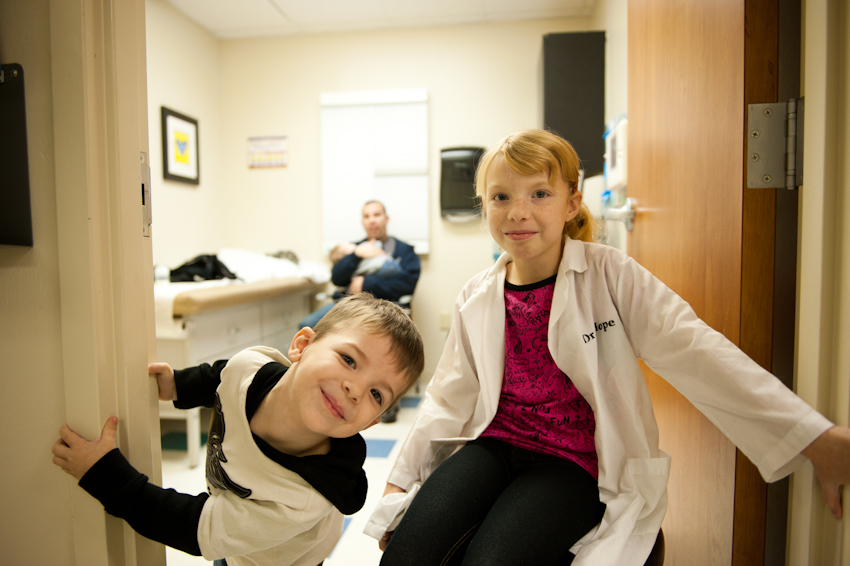 By the end of the morning we found ourselves relieved that Chance's second spina bifida clinic went well. I suppose all the photos are great but that you all might be interested in how Chance is doing now that we've talked to the doctors more…so here goes:
Chance's shunt is doing well. All the tests came back great and now we just keep praying that it keeps working well. It still continues to get poofy or swollen at times but it's likely due to growth changes and congestion that he's had in the last week. We'll just keep watching it closely and praying for no more surgeries.
Chance's kidney and bladder tests came back great. The doctors seemed thrilled to tell us how well he's functioning in these areas. With spina bifida bladder and bowel problems are common. It's still too early to tell how he may be affected with these concerns but right now we are thankful that he's able to void on his own without assistance and that he hasn't had any urinary tract infections. His bladder and kidneys are growing well and look very healthy so we'll keep caring for him like any other baby and pray we won't have to intervene any.
We met with the doctors and physical therapists and to discuss his physical therapy. He's still challenged with sitting. He can sit independently but he wobbles and will throw himself back out of fussiness. We're told that's likely behavioral and that it'll take time for him to correct. He's still not crawling but his upper body is incredibly strong and he can pivot around and slightly scoot on the floor enough to reach for toys. Though he's behind in comparison to other babies his age, for a baby with spina bifida we were reminded that they will all be different and we just need to be patient and work with him the best we can around his capabilities and in his own time he'll show us just how much he can do.
Chance underwent an x-ray this morning of his hip to ensure neither of his legs were dislocated. During the last clinic there was a concern that one leg might have been dislocated but the x-ray this morning confirmed it was not. We got to chat with the doctor this morning about his orthopedic function and this far we'll keep working with getting him strong enough to want to move. He's still no where near standing on his own so we have to wait and see how he'll be when he reaches those milestones. They suspect that he may need AFO braces eventually to help give his legs a bit more support to stand but we'll wait a bit longer to see just how much he can do on his own.
Yes, I was reminded before we took Chance to his clinic how tough it is to not be in control of all these uncertainties that come with him having spina bifida. I recall last night really thinking all over again about how much I wished he didn't have spina bifida…but he does, and we can't change that. And now today after clinic as I breathed a huge sigh of relief I was reminded that not being in control really can be a beautiful thing…we'll just have to keep trusting that the Big Man above is control and will take good care of our family and this amazing little boy of ours.