"History, despite its wrenching pain, cannot be unlived, however, if faced with courage, need not be lived again." ~Maya Angelou
I know many of you have been waiting for an update. Before I share moments from today I thought I'd take a brief moment to share something quite special to our family this year…the Walk-n-roll for spina bifida is just one month away. Chance's team still needs your support and would love to have you all join us in person and/or through a donation. All donations go directly back to the spina bifida association in central Florida to help the families locally affected by spina bifida.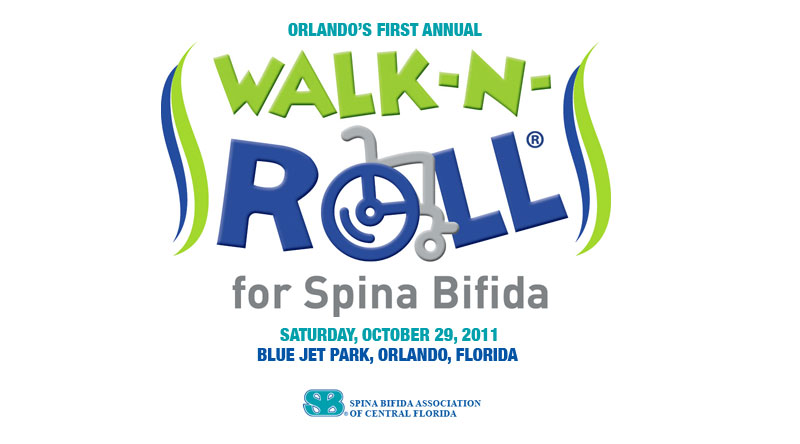 It might not seem like that big of a deal to you all who might not be affected by spina bifida, but if you've somehow stumbled upon my blog and seen just how much my baby boy has been affected by spina bifida hopefully you all realize that we are just ONE family affected by spina bifida. Our local community needs far more support and if we raise enough funds it's likely we'll receive a lot more support from the national chapter to ensure families locally are provided the best possible support system and resources possible. So if you have a moment and would like to join "Team Chance" head on over to the Walk-n-roll page to join and perhaps you can help by making a contribution to help the spina bifida association. I'm driven to do much more to help the many other families who are or have struggled with similar challenges as we have faced this past year.
DAY 2 OF RECOVERY
In comparison to Chance's previous surgery recoveries, thus far he's doing quite well. He has had fussy moments where I could tell he's uncomfortable or in pain but he seems to be adjusting well and for the most part I'd say he seems to be doing better recovering than he did after most of the previous shunt surgeries. This morning he laid in his bed as calm as could be…at just 7 months old he seems interested in tv.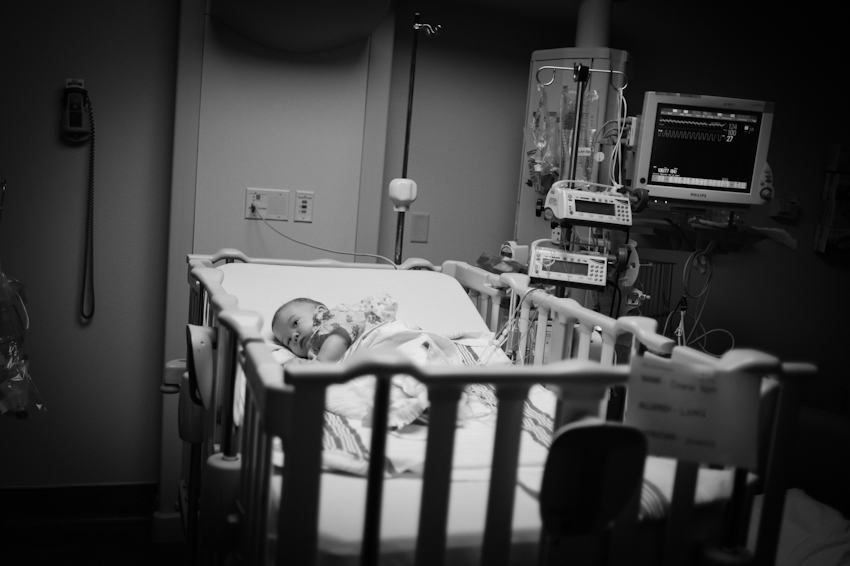 He smiled more often this morning…a sign that he's feeling a bit better.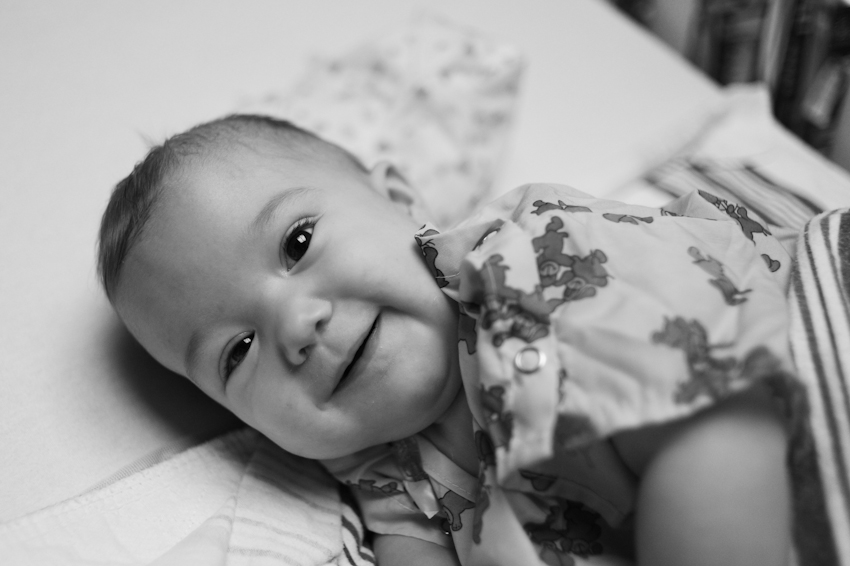 He has been more tired today than on a typical day, which is understandable. A common sight for me today was seeing his sweet face through the crib. One moment he stares and the next he's sound asleep.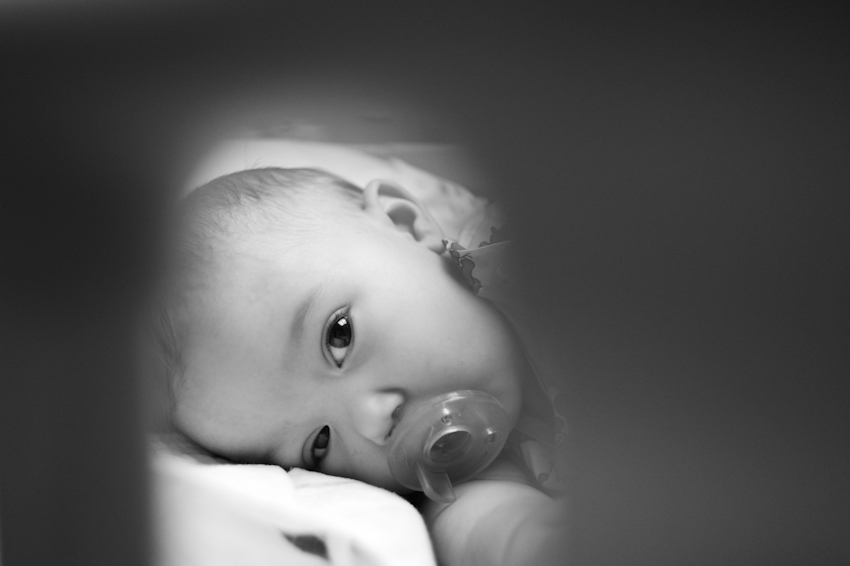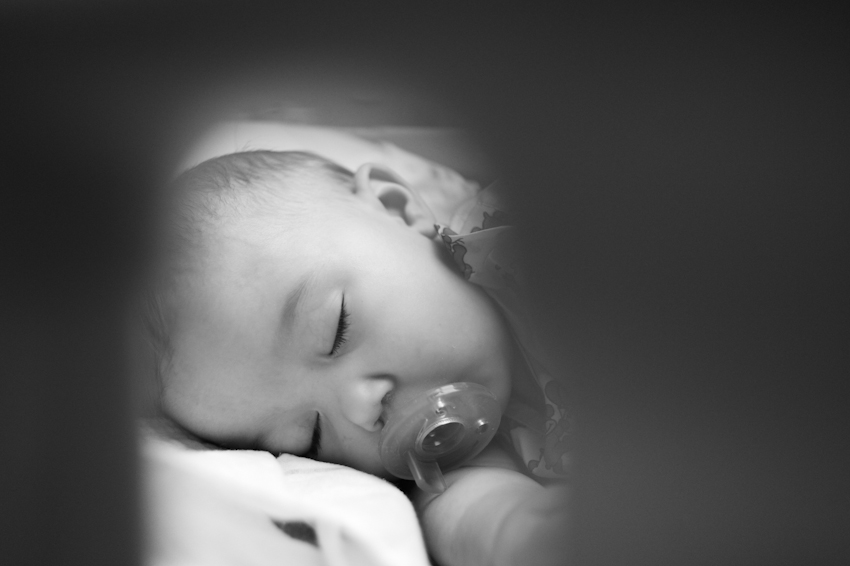 Today the nurses were asked to draw 10cc's of blood from Chance in order to do some tests. With his shunt clogging due to some blood being in his cerebral spinal fluid they want to be sure there are no other issues with his blood like clotting issues. They came in while he was sound asleep. He was out cold and we feared he'd wake up. For a baby 10cc's of blood is a lot so rather than poking him in the typical places they decided to draw from his femoral artery near the top of his leg. I'm not sure if I was happy to see he wasn't bothered by it or if the spina bifida motherly instincts make me worry about the other challenges like his leg movement and feeling that we may be challenged with in the years ahead. I was surprised to see him not even begin to cry. For now I'll stop worrying about tomorrow and continue to remind myself that we've got to make it through things one day at a time.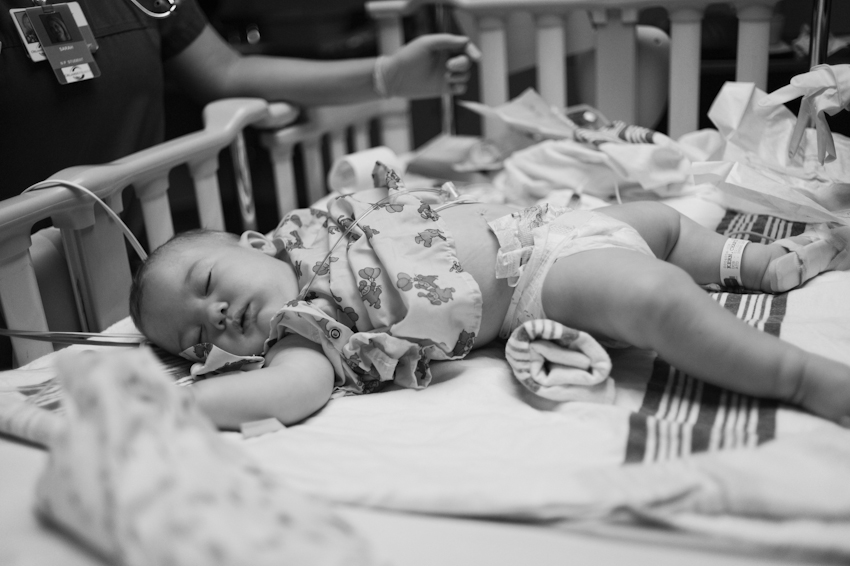 This morning while Hope was in school Jason brought Jaylen to visit Chance. He told me this morning that he missed Chance. He was so excited to see his baby brother. He kept trying to tickle him and make him laugh.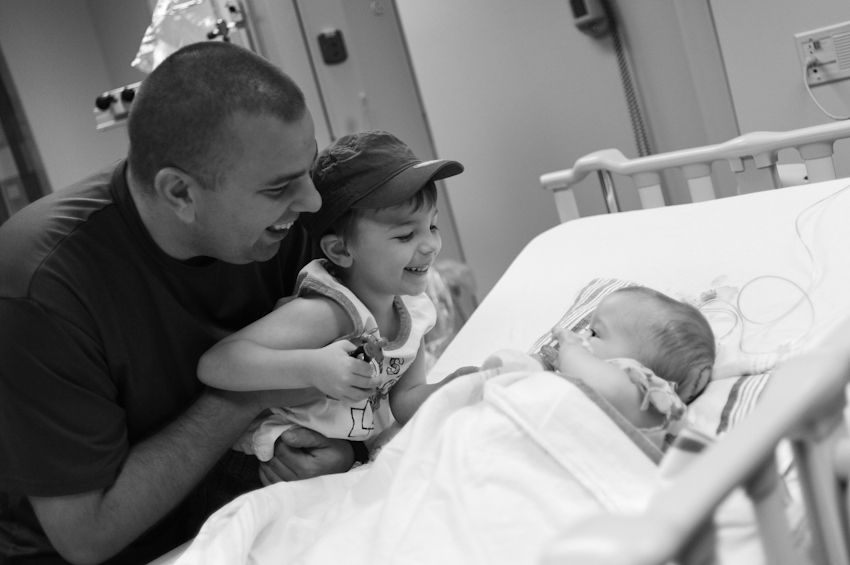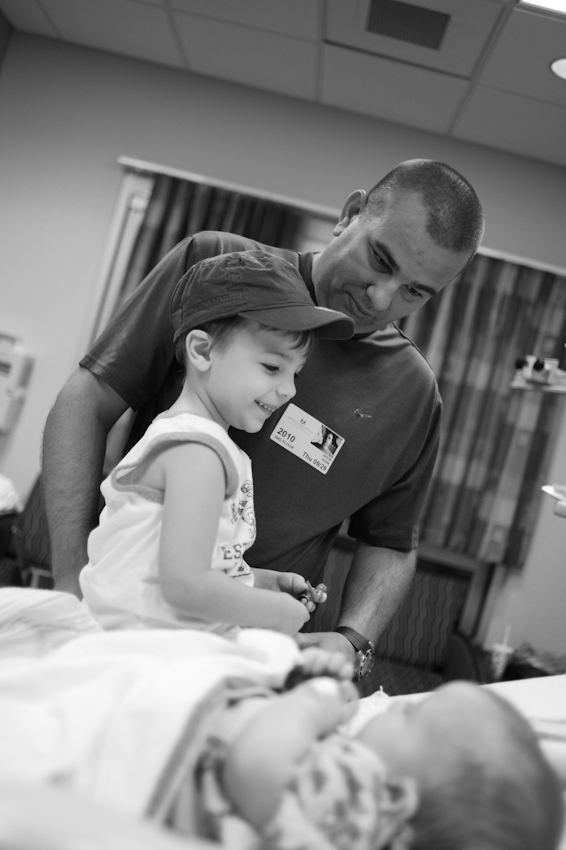 Jason spent a bit of time with Chance. He kept getting him to high five. At one point Jason jokingly pretended to arm wrestle his baby boy. It was a priceless moment that made Chance laugh. Something tells me he's laughing because he knows his daddy already thinks Chance is tougher than us all.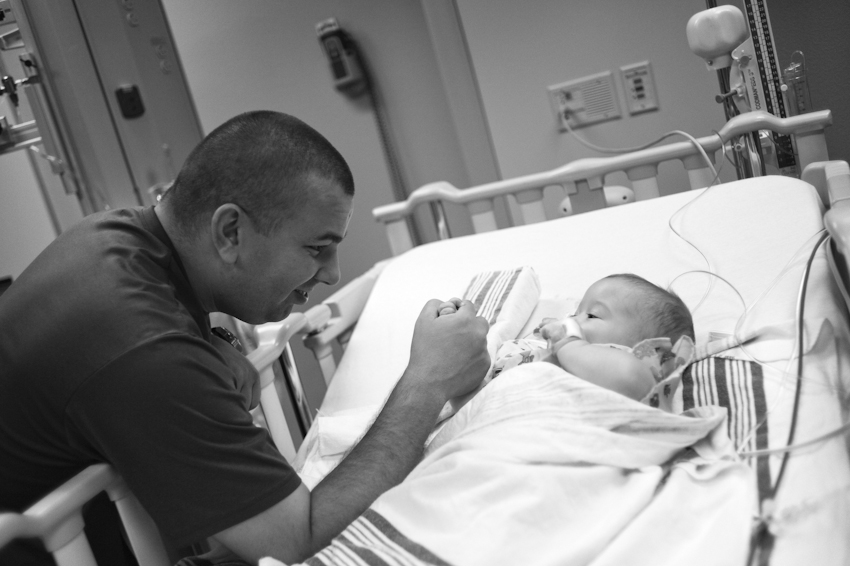 Jason's been spending more time making sure Hope & Jaylen are cared for, taking Hope to school, and running back and forth between the hospital and home when it's been needed. Needless to say moments like these with his baby boy never last as long as either of us would like…and we're quite anxious to bring Chance back home so our family won't feel so divided.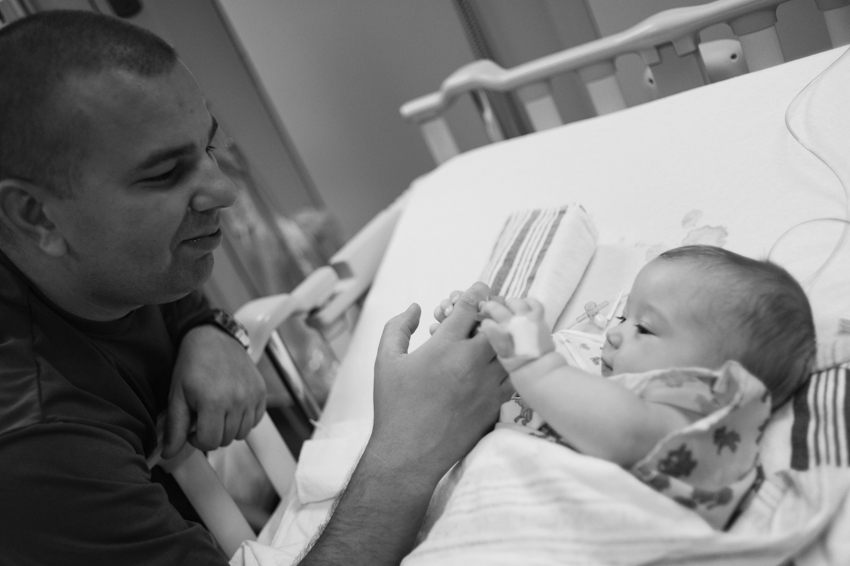 After Hope got out of school she got to come visit her baby brother. She was very worried about him yesterday. At this point I have to admit the numerous surgeries that seem neverending are beginning to wear on our entire family. Hope said yesterday as I dropped her off at a friend's house before I ever knew he'd have another surgery, "Mommy is he going to break a record or something…his surgeries can't beat how old I'll be." She'll be ten in November and didn't want him to have any more surgeries. I think we all are wondering when we'll stop having to have another surgery…unfortunately we can't answer that one…so we'll just have to keep praying.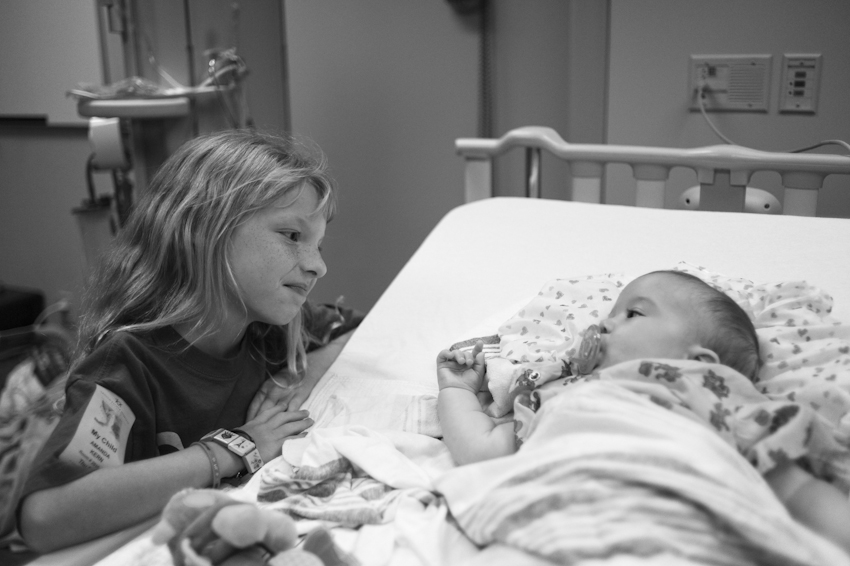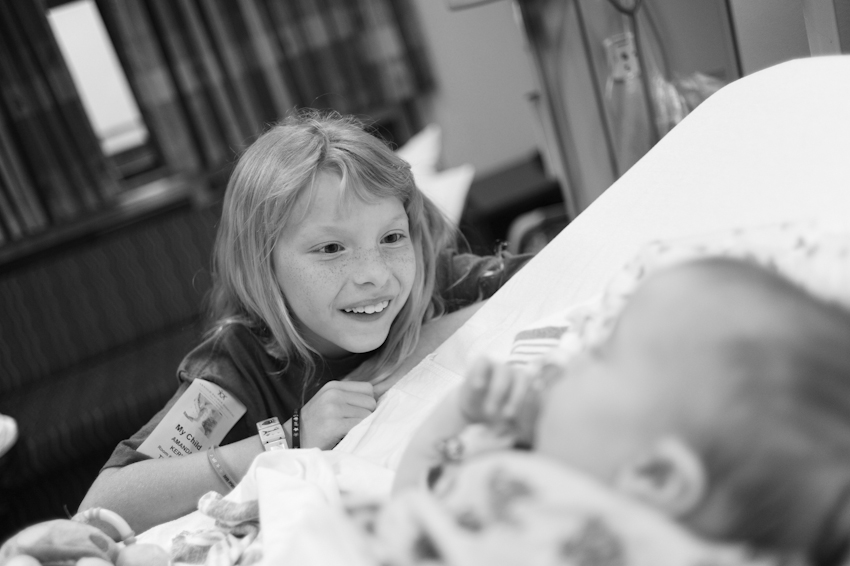 If you keep Hope & Jaylen in a room together for too long…say 10 minutes…they begin to act silly. Of course silly moments give us reason to smile.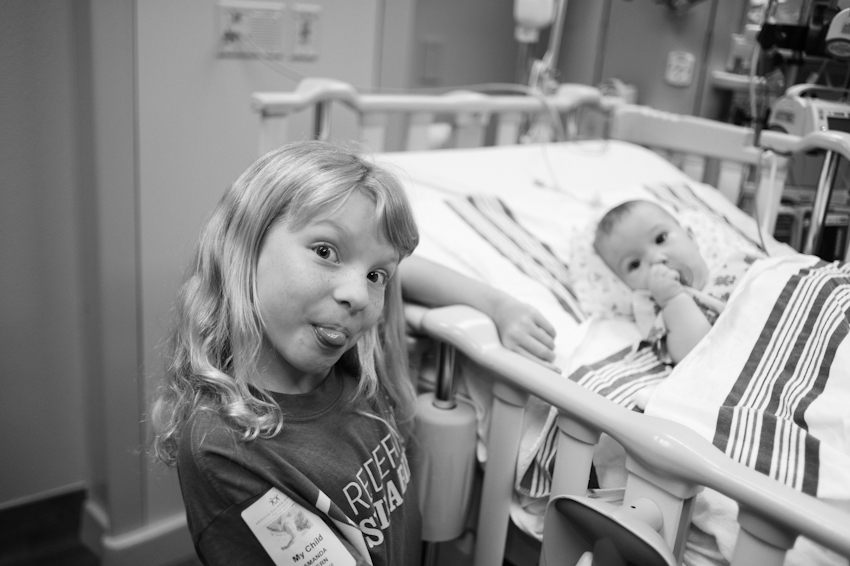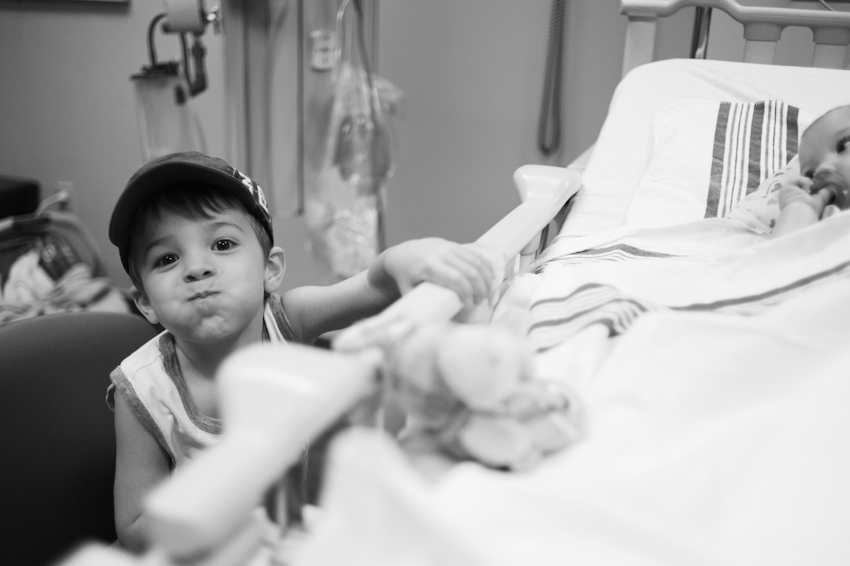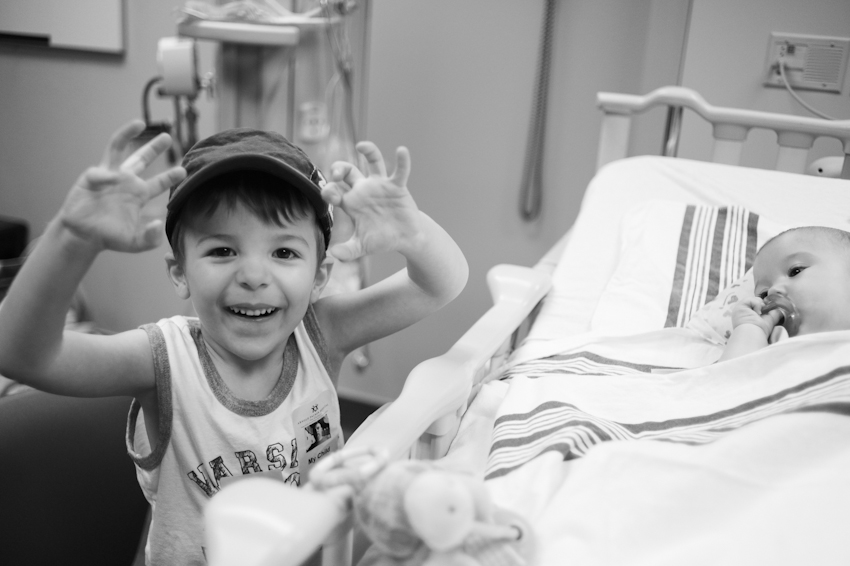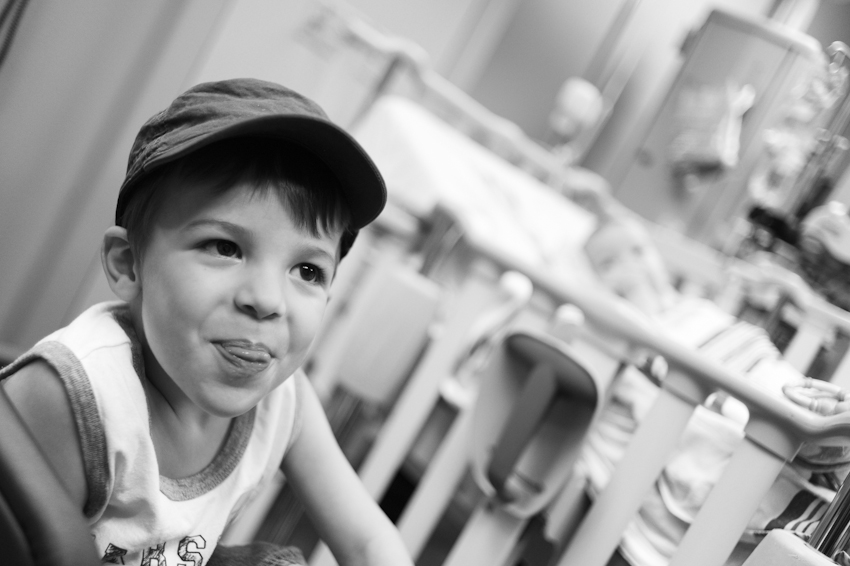 It's been a long day waiting as my baby boy continues to recover. Chance spends most of the day resting or playing contently. When I'm not caring for him I've been getting some work done and trying to catch up to responding to the many messages that have been sent in the last day. You all are amazing and I can't thank you enough for sending all your sweet thoughts and prayers. If you haven't heard a direct response from me please know I am listening…but it's becoming impossible to reply to every message at the rate they're coming in. I have even had kindhearted people in other countries writing in the last day to send their thoughts and prayers to our family…I suppose just another sign of how much my baby boy has touched others in all he's faced.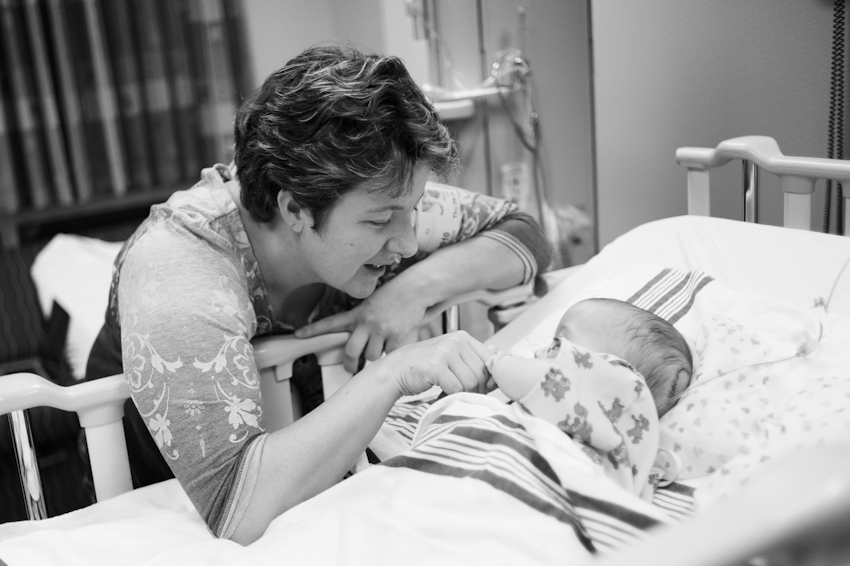 Having Chance recovering from so many surgeries is never easy. I've always hated how many medical wires he has to be connected to and just dealing with trying to handle him with incisions on his head. Well, this surgery has complicated those feelings so much more because he has another wire that is connected within his head in order to drain the cerebral spinal fluid (CSF) externally until they can put in another shunt. In just a day it drained about 135 cc's of CSF from his head that typically would have struggled to drain on it's own with a faulty shunt. If that fluid doesn't drain away from his brain it could cause permanent damage so as awful as it looks…it's what is needed right now. He has two other incisions where they removed the shunt and two catheters that were in place draining fluid before. Needless to say I'm a little nervous handling him but thankfully he doesn't seem too bothered by it. The best news thus far is that the tests so far have come back with no signs of infection. We have about another day to wait for the final results. No infection means we can move forward with his next surgery soon. We continue to wait and monitor his CSF. Originally it was pink due to small amounts of blood but in the last day it's gradually become more clear as time passes and his head has time to heal. More spina bifida/hydrocephalus battle wounds for my baby boy…but in time these incisions will heal and fade and in time it'll all be a distant memory.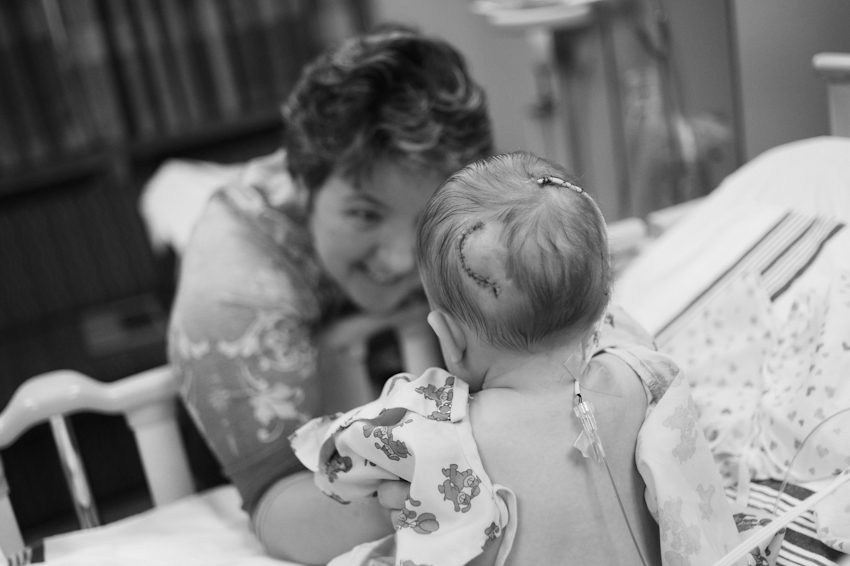 Tonight after Jason and the kids left Chance got a bit fussy. He had just ate the hour prior. He refused to sleep. He didn't care for his pacifier or his toy. And then it hit me…this kid is just tired of laying flat on his back. So I turned him over and let him play for a bit with his toy. He got pretty excited to spend a bit of time on his belly.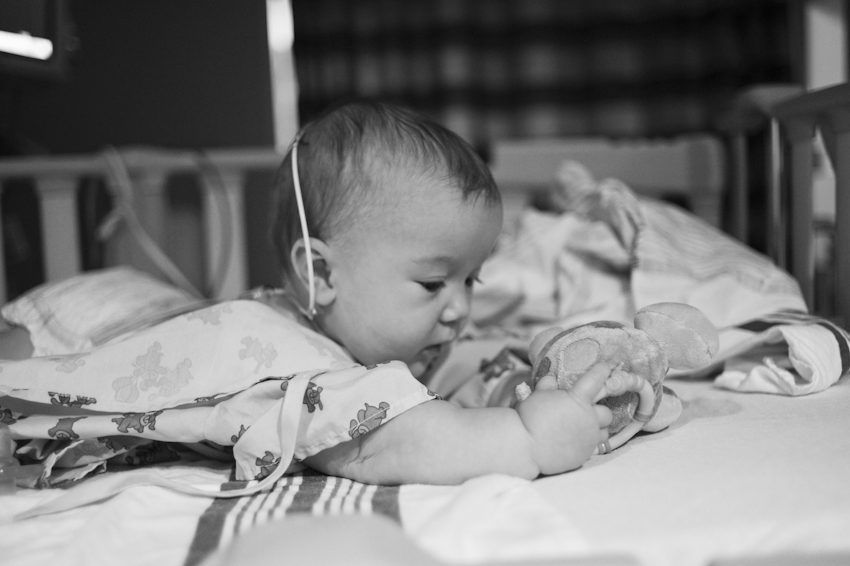 As we wait for the next surgery in the days ahead, we anticipate it'll likely take place Monday. Obviously we have to wait to see how he recovers and for tests to return but thus far he seems to be doing better. I have this feeling the biggest challenge soon might be how to keep him occupied when he gets tired of laying around in this hospital room.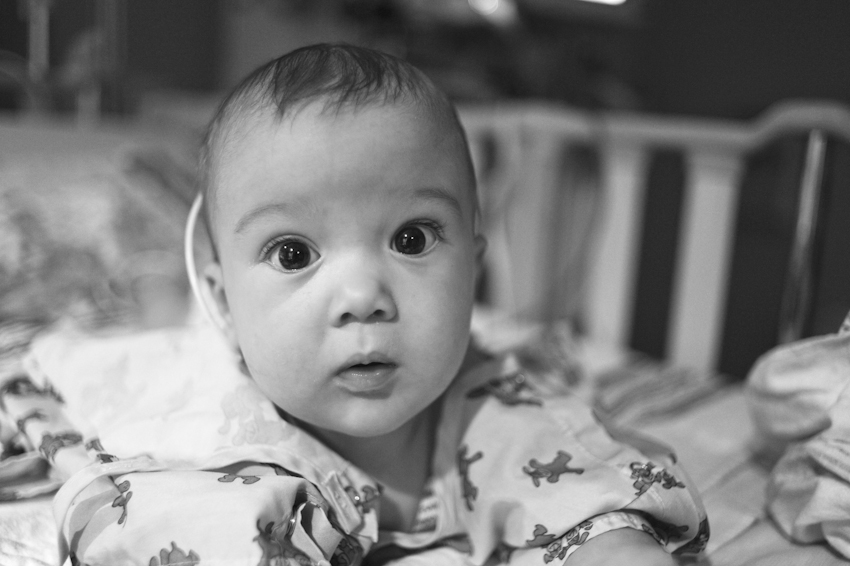 I suppose if that's the biggest problem I have over the next few days I won't complain at all. I suppose I think it's a little hard to believe that this kid has now been through 10 surgeries and he's still smiling.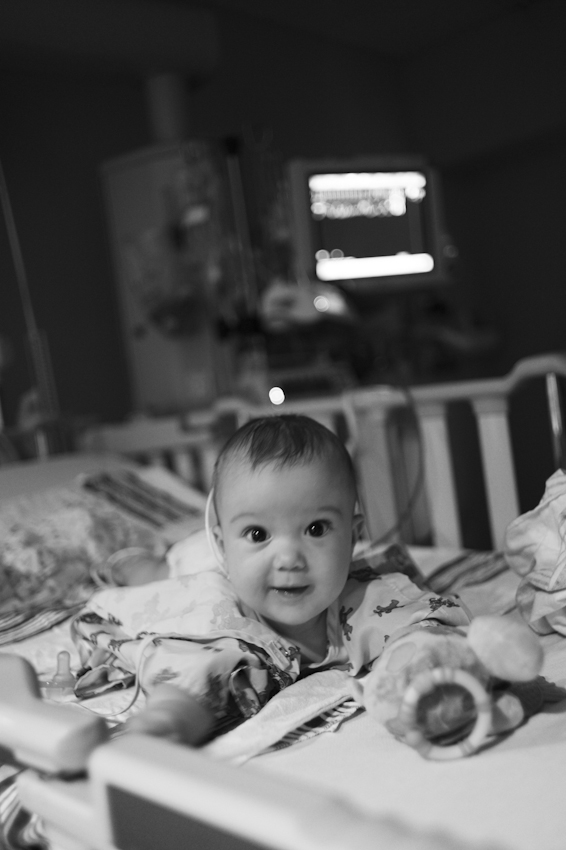 Thank you all again for your support & encouragement.