"What we do for ourselves dies with us. What we do for others and the world remains and is immortal." -Albert Pine
It's about time I do another photo session giveaway. It's time to do something pretty awesome. I sure do love to give when I am able to…especially when it's towards a cause that's worthy. This time it's a cause that has impacted my family heavily and I hope it will be something that you all are interested in helping me with.
A little over five months ago Deputy Brandon Coates lost his life while working protecting our community. It was a night I certainly won't forget. My husband worked directly with Brandon. They were on the same squad working as a part of a tactical high crime unit. My husband was one of the first on scene after Brandon was shot. He and his squadmates now live with the memory of that night. I still recall receiving his phone call that night when he told me Brandon had been shot. He was shaken and wanted me to know that if I watched the news that he was "okay". A moment later I learned Brandon had been shot. As I continue to be so thankful that it was not my husband standing in Brandon's shoes that night, my heart still aches to know that such a good man had to lose his life protecting us all.
Late last month Valencia honored Brandon with a memorial service at its Criminal Justice Institute. Brandon was also a graduate of Valencia's law enforcement academy. At the memorial it was announced that Valencia has established a memorial scholarship fund in honor of Brandon Coates. An initial donation of $500 was made towards the scholarship by students currently in the program. I was informed by the foundation that a $3,000 minimum is needed to officially establish named scholarships.
As you can see…this scholarship is very valuable and means a lot for us to get started. As a faculty member at Valencia I certainly would love to have a scholarship established that will help our students achieve their career goals, especially those brave souls who wish to enter into a career in law enforcement. It's so important that we all do everything we can to help support causes like this that will help train law enforcement officers to serve our community.
Something tells me Brandon is up there rooting for you all to help us get this scholarship going. So once again, I'm ready to give and hopefully you might be too. In honor of Brandon Coates I'll be giving away TWO photo sessions very soon. Check out the details below if you're interested in helping me. I'm not asking you all to give much to help me and to have a chance at winning a photo session with me. And once you're done reviewing the details I've included a slideshow of the photos I took at Brandon's memorial services in December. Perhaps if you take a moment to view the moving moments as so many in central Florida gathered to honor such an honorable man it'll help remind you how important it is to help donate to this scholarship. And even if you're not out to win a free photo session with me, you can still donate to help out however you can. Every little bit counts. You may enter to win the photo session through June 8th, 2011 at 2pm. June 8th marks the six month anniversary of Brandon's passing. I'd love to say on that day, or earlier, that we've met the scholarship goal of $3,000. With your help I know we can do it.
FREE PHOTO SESSION ELIGIBILITY
Here's what you have to do for a chance to win a FREE photo session for those who care to participate.
Go to the Valencia Foundation web site and Make a minimum of a $10 donation to the DFC Brandon Lee Coates Memorial Scholarship. Make sure you select this scholarship as the "designation".
Email me proof of your donation to amanda [at] amandakern.com – to do this either take a screenshot of the confirmation page or proof of payment. Only email proof of your donation if you are entering to win a chance at a free photo session.
When emailing me share with me your name, contact information and the ages and number of people of who you wish to be photographed so that I can get back in touch with you if you are chosen.
You may only enter to win a photo session once, however, you may donate as many times as you'd like.
To be eligible for the free photo session you must donate prior to June 8th at 2pm. The names of those who have helped me give will be put in a hat and I will let my little blessings randomly help pick a winner. Entries will ONLY be accepted until 2pm on June 8th, 2011.

Below is a screenshot of a donation. You may email me this or the email confirmation as confirmation of your donation. Please ensure you have set the designation for the scholarship to the DFC Brandon Lee Coates Memorial Scholarship.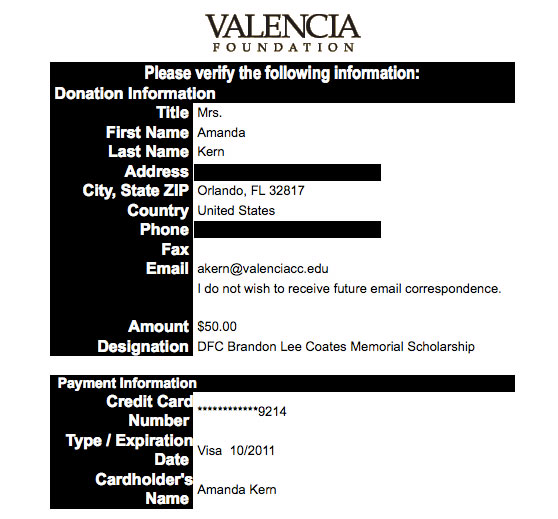 IF YOU'RE THE WINNER…
If you're chosen as the winner you will have two options.
OPTION 1: FREE PHOTO SESSION
A free photo session with me that will last 1-2 hours for you, your family, or someone you wish to give the session to.
The session will be valid through December 31, 2011.
You will receive all unedited and edited photos in HIGH DIGITAL RESOLUTION format. Yes, I said FREE. That means I earn NOTHING from giving.
You will be given permission to print and share online all digital photos for personal use.
*By participating if you win you agree that photos may be used in my portfolio.
**You must be in the immediate Orlando area or willing to travel to Orlando if you win.
***The value of a custom photo session w/high resolution photos is $650.
OPTION 2: PHOTO MENTORING SESSION
I've received a lot of requests and inquiries in the last year or so for me to offer "mentoring" sessions. I've lost count of how many people have asked me "how" to I do something or if they could just spend an hour or two with me to see how my photography and/or editing approach. If you are chosen as the winner you have the option to select the mentoring session and it will be customized to meet your needs.
A free photo mentoring session with me that will last 1-2 hours. This includes the opportunity to sit in and participate in a photo session with me.
The session will be valid through December 31, 2011.
The mentoring session will be customized to meet your needs and could include tips on photography, editing or a combination of both.
*By participating if you win you agree that photos may be used in my portfolio.
**You must be in the immediate Orlando area or willing to travel to Orlando if you win.
***You are suggested to have a digital slr, photoshop and lightroom. If you don't a mentoring session can still be offered but it may make more sense if you have access and/or a little previous experience to these things.
Below are photos taken at the memorial services held for Brandon in December.