"Feed your faith and your fears will starve to death."  ~Author Unknown
In about 10 1/2 days we'll be at the hospital ready to anxiously meet our third little one. Yes, just over 10 days! The anticipation and nervousness has certainly set in this past week. The week has been a pretty busy one filled with a few doctors appointments, which included our last ultrasound before we meet the baby on February 22nd.
It seems the further along we are in the pregnancy, the tougher it is for the ultrasound techs to get really amazing images like they did in the middle of the pregnancy. In fact, none of the images that they saved to a disk for us to share were good enough for me (or you all) to discern anything understandable. But we all did get to see the baby one last time. It was active and thankfully it has turned out of the breech position it had been in the last two ultrasounds. Obviously this isn't a huge factor given that I have to undergo a c-section, however, I have learned of some breech babies having hip issues which was just an additional fear I didn't want to worry about. It's doubtful that the baby will turn in the next 10 days given that it's running out of room. It had a nice strong heartbeat of 142 beats per minute and showed all the signs that it was preparing it's breathing within the womb which the tech said was a very good sign. The opening still seems to be small, so much so that it was tough to locate it with the position the baby was laying in.
During the ultrasound they also measured the ventricles in the head again, which is something they have monitored closely throughout the pregnancy due to the risk spina bifida babies have to develop hydrocephalus (fluid on the brain). The measurements did go up again, I believe they've raised higher than they have the entire pregnancy. I believed one side did measure over the 2 cm level which is about double of where it was before the holidays. Naturally it leaves me overwhelmed and nervous, however, after following many other families who have had little ones with spina bifida I have read many families encounter similar increases in measurements in the final months of the pregnancy so it did not come as a total surprise. The pediatric neurosurgeon reviewed the ultrasound and reassured us that though the measurements went up, right now it's still not so significant for them to be concerned that the baby would need a shunt in the first days, weeks or even in it's life. There's no guarantee, but we've continued to be reassured that now we must wait until the baby is born to see exactly what we're up against and how the baby adjusts. They'll likely be doing many tests to help ensure the baby receives all the appropriate treatment needed to manage it's spina bifida.
With this week came another appointment with my obstetrician. All continues to go as planned and most of the appointment was spent discussing the upcoming c-section. We spent time discussing all the things I needed to know before, during, and after the c-section which definitely leaves me feeling a little nervous. I know so many people have said "it's not that bad", but then again, so many people (including myself) said the same about a D&C and it's tough not to think about getting ready to undergo a more involved surgical procedure without fearing the things that could happen. Of course my doctor has been alongside us through most of what I've been through the last year and a half and though I expressed my fears, I have no doubts he could sense them. He said the fears were perfectly normal and actually perfectly understandable and a good sign. I suppose it's when we think things will go seamlessly perfect that we are often taken by surprise and caught off guard the most. Yes, I'm more than nervous…or scared…I think frightened might be a better word but the doctor reassured me that he'll take great care of me.
We've spent a lot of the last week or more getting more prepared for the baby and doing our best to spend quality time with the kids. Last weekend we had so much fun taking a trip to the beach for family photos. Our friend, and fellow photographer, Gian Brand, met us out at the beach to help capture some very memorable moments. I have to admit it was incredibly tough for me to put down the camera, but I was ordered to do so and well, I'm still a bit speechless with all the amazing photos he took of us all last weekend. For us, it was something we don't do enough of…sure we do things together often but usually I'm the one toting the camera around and so rarely do we end up with photos with all of us together. The weather that day was a bit dreary, in fact, we nearly didn't go in fears that it would storm. We drove about an hour to the Cape Canaveral National Seashore beach and looking back it was worth taking the chance of possibly getting rained on. I thought I'd share just two of us here and to see many more photos visit his blog.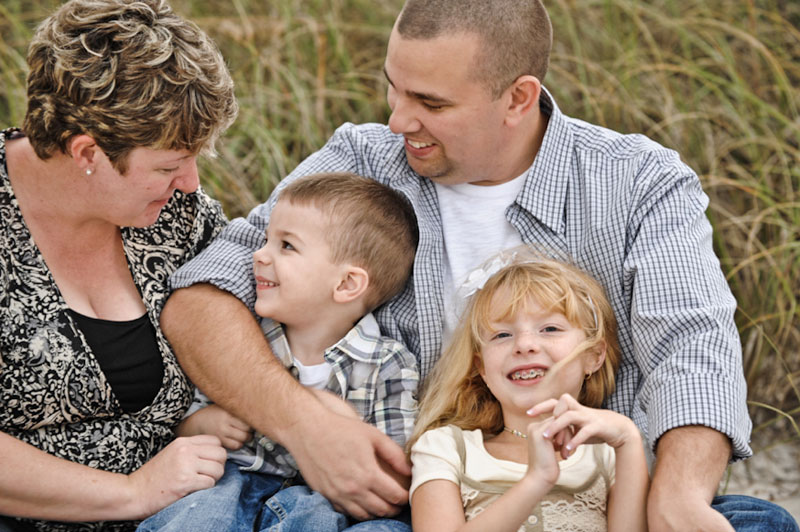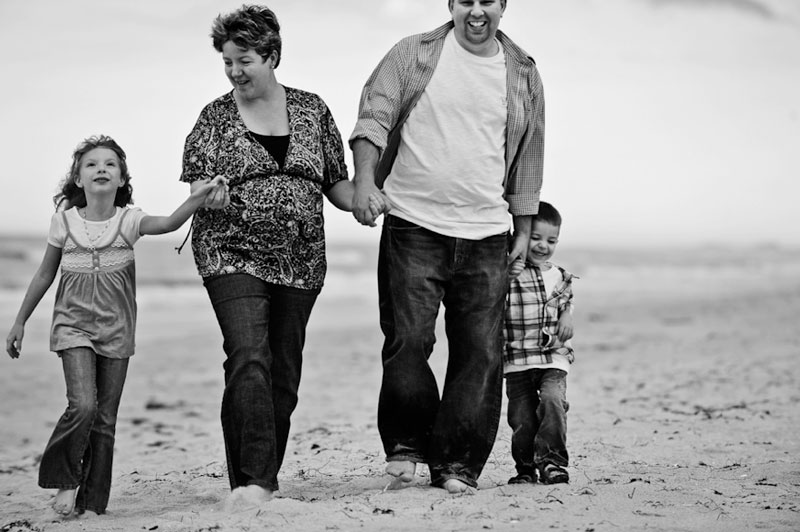 A few more final thoughts…
Like the last update, it's worth noting a few things, more as a memory for myself, but also because I know some of you who care for us most like to receive these updates if we're not on the phone or in email informing you of them.
I'm sure many of you may have heard spina bifida has made the news this week. It seems to have hit most major news networks since the MOMS research study that we were considering participating in ended. The study showed clear benefits to babies who were operated on inutero rather than after birth. I admit the night I heard the news I thought back to when we were seriously considering participating in the study. Despite the benefits, I do still believe we made the best choice for our family. Some of what I've read indicates that the process is so selective that they may not have approved us anyhow given that the baby thus far seems to have a very low and small opening and the signs of hydrocephalus didn't seem to be too extensive. As much as the risk is worth taking to help reduce the issues that come with spina bifida, one of the biggest risks of the surgery inutero is premature birth which could sometimes make things far more challenging, especially in the first few weeks and months, than the actual spina bifida diagnosis. We continue to count our blessings that thus far our diagnosis seems to hold a great deal of optimism. If you missed the news here's one video I found on MSNBC's site.
As much as I am thankful for the optimism we've been given, I think the hardest thing to accept still is that no matter what we have ahead, the baby will always have spina bifida. We're keeping our fingers crossed that it may not be as severe as other cases we've learned of, but regardless, it's something our little one will have to live with for the remainder of it's life. And I think that's probably one of the most misleading things about the recent news stories. Hope had a chance to see some of the news about spina bifida this week and said to me last night, "Mommy when the baby is older we won't even know it has spina bifida, will we?" I wish that was a question I could answer with certainty, but I can't. I suppose the most we can hope for is that it'll only have to endure minimal challenges and that we can help it lead as normal of a life as it possibly can. I imagine I'm not the only mother who has expected a baby with spina bifida wishing there was a cure.
We've had so many of you starting to call or email and ask questions like "how can we help?", "do you know how long you'll be in the hospital?", "do you know what's going to happen after the baby is born?" — Yes, all the questions I'd love to answer…but unfortunately we can't.
We're getting closer to having the house in order before the baby arrives. The nesting phase has certainly taken over. Every closet and room has been cleared out and sifted through. The kids rooms are nearly perfected and we've set up a space in our room for the baby.
Jaylen is just about completely potty trained. I began to wonder if the day would ever come. It's been an huge challenge the last two years as he has went back and forth resisting and showing he wasn't quite ready. But all week long has been a success with our little man while he's been at home. He still fights it a bit but he's growing more and more proud by the day. Now we just have to keep our fingers crossed that he continues to make progress once the baby arrives.
I'm keeping myself equally as busy with work and have a bit more photography remaining in the last week and a half to share. I am teaching all my courses this semester in Valencia's short semester so that means lots more grading and work in a shorter period of time. Needless to say keeping me busy keeps my mind off of all the fears.
Yes, just over 10 days to go…it's still tough to believe that the baby is almost here. As nervous as we are…I think we're more anxious to move onto the next phase of meeting our little one and moving on with life.