"If you focus on what you've left behind you'll never see what lies ahead." – Gusteau (Ratatouille)
As we have been dealt some tough news this week about the baby, I admit the news is only that much more challenging as it came just days before the dreaded month of October. Typically, October has been one of my favorite months. It's filled with Jaylen's birthday, my birthday, and our wedding anniversary. It's when it really begins to gradually start feeling like fall and brings on halloween which also typically brings fond memories. But last year changed all of that. All of the happiness I admit was and still is overpowered by that very tough loss…the 3rd miscarriage which lead to 3 surgeries, additional time in the hospital and more medical concerns which plagued us for months. The entire month of October last year really truly was one I wanted to do nothing but forget and this past year I have feared encountering this month again. Here we are…one year later. One year ago today was when I learned I lost that little one. As trying as I imagine this month ahead may be, I admit it feels so much more trying now that we've learned the baby has spina bifida. But I try so hard to remain positive and so this post, will hopefully be far more uplifting that the vibes you all may feel in this initial paragraph. And as I share these moments…I can tell you that no matter how much we try to surround ourselves with these more uplifting moments this month I am fairly certain this month will leave my heart so heavy with the memories of last year, for I have not forgotten the little one we lost. Thankfully today is the first day since learning the news about the baby having spina bifida that I haven't had tears fall, but it doesn't keep my heart from feeling so heavy.
This morning Hope had her 2nd softball game. So we got up early and arrived at the field at a time when I truly love to be out. The grass was still misty and at first the light was just ideal for the photos I love to take. I admit it's in my nature to get immersed in taking photos and since having Jaylen it's tougher to do when Jason is occupied and unable to help with him. I found myself taking a few photos like this one in the dugout before game.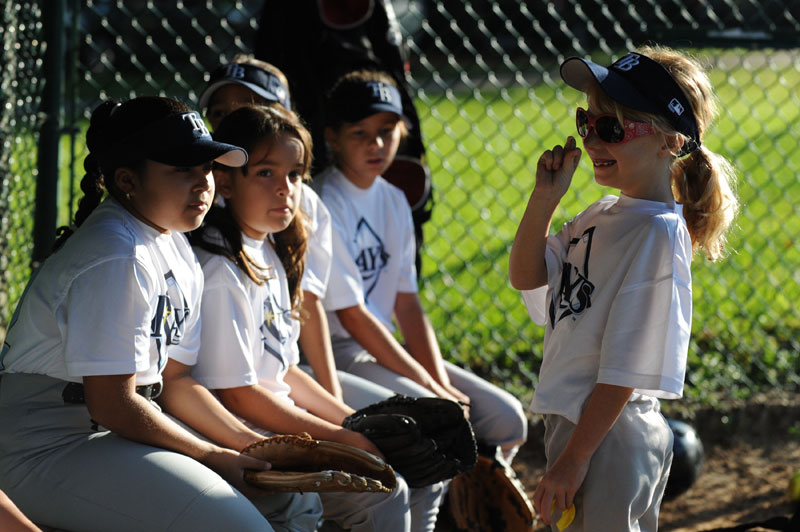 Of course Jaylen is still so young that he is still clingy, even more so when we arrive at places we're unfamiliar with that he doesn't know any of the people around. So I found myself with my little shadow beside & behind me most of the time as I began taking photos. I found myself trying to take the pictures I could but feeling quite limited because of my shadow and of course realizing that this is the first time in a while I've been out since being pregnant, and it's the first time I've really felt as though the pregnancy has limited my ability to take photos. Those that know me know that not much gets in my way of taking the photo and it's not uncommon for me to stand on things, lay on the ground like a sniper, or bend around in the most awkward of positions to take photos of the perfect moments.
I found myself at one point admiring Jason as I took photos. He's now the Vice President of the Union Park Little league and still the lead umpire that coordinates all umpires for our league. He also stepped up to help coach, something I know he really truly enjoys. He's one of the assistant coaches and today he was helping keep the roster and getting the girls prepared for when it was their turn to bat. Before the game I noticed him fully immersed in getting the line up ready and took this one photo before I think I gave myself and nearly everyone around a heart attack as I leaned back to take the perfect photo of my love.
As I took that photo my little man (a.k.a. my shadow) came closer behind me than I realized. I knew he was close but I didn't realize he was literally beneath my feet so as I leaned back I quickly lost my balance. I was close to the fence so I found myself trying to catch myself or at least brace myself. Of course being pregnant I was scared of completely falling and instincts left me trying to fall back rather than to the side. Here I was totally scared I'd first fall on my son…I feared I might crush him because I had lost my balance that much that I felt myself falling totally to the ground if I couldn't catch myself. So I began to try to catch myself and trying to prevent him from being beneath me. I also had my pretty pricey camera in my hands…so adding to the worry of me being hurt, hurting my son, I also feared I'd hurt my "other baby". Lord knows given the circumstances I could never afford to get the darn thing fixed if anything broke in the fall I saw happening. Yes, I fell against the fence then to the ground. My baby fell, thankfully he wasn't directly beneath me. And luckily my camera was spared any damage. Jaylen and I are perfectly fine. We honestly were both more in a bit of shock and scared when it happened. He cried and I held him a bit nervous of how my body would react in the moments after the fall. I have to say since the amnio I've been worried of miscarrying so falling this soon after it worries me more. I have felt much better physically the last two days since the amnio but admit my lower stomach before the fall at times has felt like a muscle has been strained…maybe a better way to help you all relate to the discomfort is that it feels a lot like that not so great discomfort days after getting a shot for a vaccine. So I imagine that is normal, but now I suppose I'll just have to pray that nothing happens these next few days. I have felt okay all day since but admit falling against the fence first to try to brace myself does leave my back a bit sore, but nothing that I can't cope with. I imagine the many around us were nervous to see us fall, and I have this feeling most didn't know I was pregnant which is probably a better thing to decrease the worries of people I don't know. Jason came to help us up and made sure to remind me I had to be careful…yes, that I had to try to remember that I can't quite do all the things I did before I was pregnant quite the same.
Now I can reassure you all that my baby boy is a-okay. In fact, it only took a matter of time before he was having a blast on my iPhone. I of course couldn't resist taking a photo of him. And though he loves to play games and videos on my phone he is growing more fond of taking photos. I got this cute little smile as he was also trying to take photos of me. He thought it was pretty funny…I suppose it's payback for all the photos I take of him.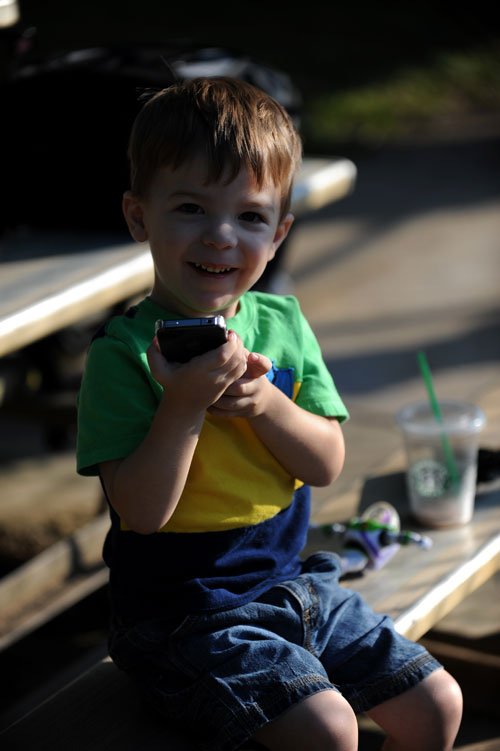 I admit after the fall I felt pretty helpless because it left me feeling as though I'd have to sit on my behind for the 2 hour game and not take a single photo. Yeah, right…we all know that just isn't possible for me to do. Jaylen was more comfortable with where he was and so I stepped away for a minute and let him know I was going to take Hope's photo. He gladly stayed in the bleachers playing on the iPhone while I snuck over to a better spot to take a photo of Hope batting. Check out her awesome batting stance…she sure looks like a pro, eh.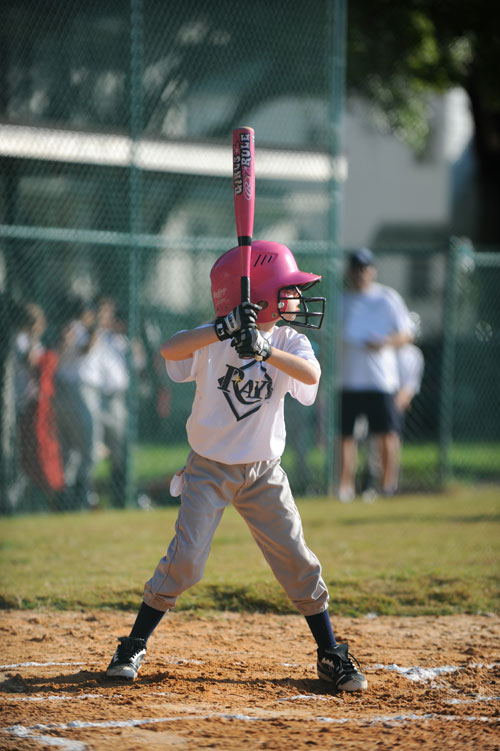 I hear some of you, especially mothers, thinking "you left your son". I couldn't have been too far a way, but it does leave me nervous to walk away from him. I was close enough to see him the entire time and made sure I had my eye split between him and taking the photos of Hope. I returned just a minute or two later to this smiling face…you can just see his expression helps affirm to me what a big boy he was today once he finally got comfortable with where we were.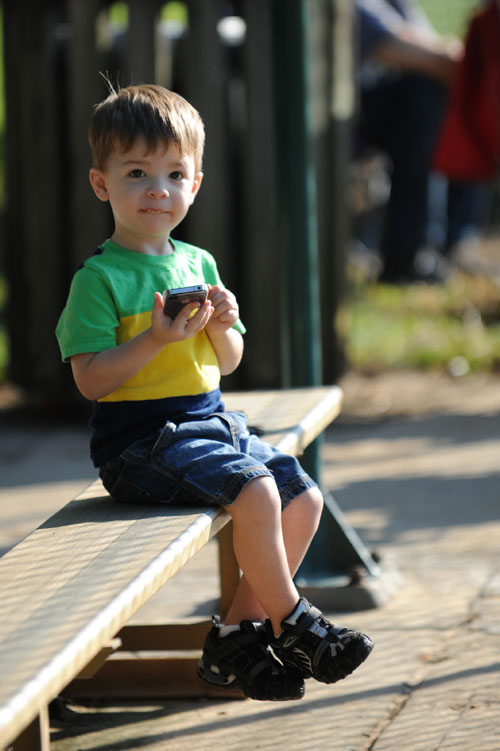 I took a lot of photos of Hope & her teammates today. I think this is one of my favorites of Hope watching the game from he dugout.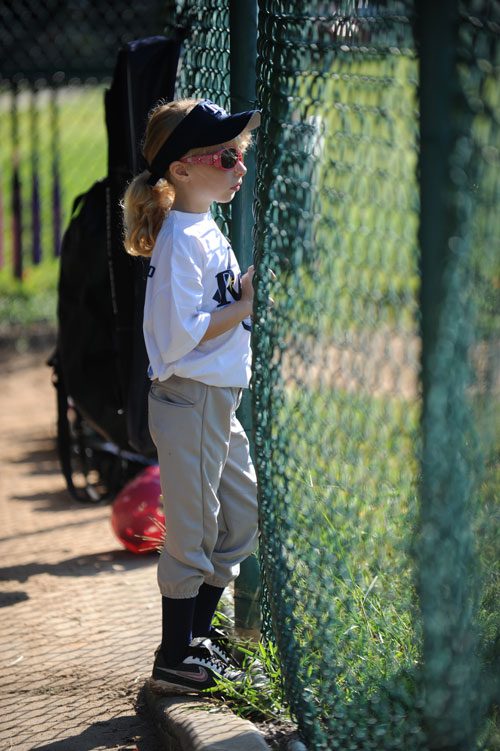 I think one of the biggest tests today for Jaylen was when we took a trip to the concession stands to get a drink. I was nervous to walk such a distance with him on my own knowing that I should not be lifting him now that I'm pregnant. But he seemed to be in the independent mood that left me thinking he may walk without me having to hold him. So I took the chance and he did amazing. In fact, I didn't have to carrying him at all today. As we walked to the concession stand he ran ahead of me and turned back and smiled…yes, every day that passes he keeps reminding me of how quickly he's growing. I admit I still missing him being so little, but seeing this smile as he was such a big boy today really truly helped me feel better about how much he's growing.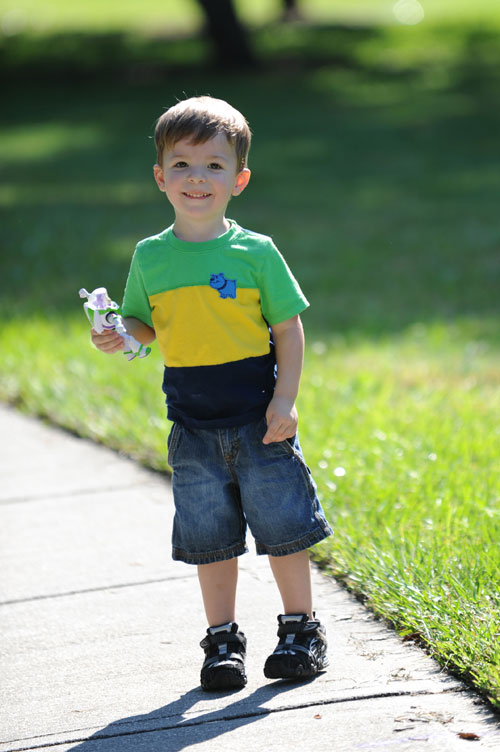 Hope's team did win. I don't recall the score. It was some ridiculous score where her team scored nearly 5 runs every inning. They did awesome and it certainly lead to a memorable morning.
After the game Jason and Hope returned to the field, where they actually still are as I write this. Saturdays usually lead to them being there most or all of the day as Jason umpires and does little league stuff. Sometimes Hope joins him and plays with the friends she has met there. I must admit Jaylen and I have missed her today, but I am very happy she was up to going today because I know it will help her think less about all the things we have had going on and it'll lead to her having more fun. I spent time this afternoon getting much need rest. Jaylen and I both managed to take a nap. I spend most of the rest of the afternoon still trying to wrap my head around all that we having going on with the baby as I've been reading and learning a lot more.
Last night Hope came to me and shared a biography she wrote in school. I was totally touched and thought I'd take a second to share it. I don't feel up to scanning it and perhaps it may be easier to read the typed words so here's what she shared, which obviously when you read it she seems to have written it to share with others.
Hi do you want to know about my life? If you do here is the story. In 2001, I was born in Arnold Palmer Hospital. I was an only child. Meanwhile, I became one years old. It was my first Christmas too! In 2006, I went to kindergarden! At the time I also got a dog during kindergarten. Her name is Bella! In the year 2007, my mom had a baby. It was a boy! His name is Jaylen. I was on the swim team and was in 1st grade. In 2010, I'm in the 3rd grade. I also have a baby on the way. It has spina bifida. Spina bifida is when bad things may happen but let's not that happen. I hope it's healthy! And that's the story of my life.
Did it give you chills down your spine? I know I had them when I read it the first time. I just admire how of all the things she included in her bibliography…the things like her brother and the baby on the way were the highlight. Not all the toys she wants. Or all the things she does. Or her friends. It was all about her and her family. I recall when I was in 3rd grade that my parents were told I was a great writer and I recall it had a big impact on me, which if it isn't obvious…I still love to write. It's just a much easier way to express myself. And now I see Hope is just a tad bit like me.
Now as October has arrived, hopefully you all enjoy the more uplifting moments shared today…despite the little scare I had today. With October comes the reminder of a couple big things…ironically it's infant & pregnancy loss awareness month. What a month to be reminded of this, right?! I've also learned it's spina bifida awareness month. And though this may not be a "planned" thing for the two to fall in the same month…I suppose I now find myself likely making not just myself but many others around me aware of the two because they have become something that have so heavily impacted my life.