"Tears are words the heart can't express" ~Unknown
There's no easy way to express how we're doing after learning yesterday that the baby has spina bifida. The tears cannot be counted nor can they measure the amount of grief and fear we now feel. As I  have reassured you all, I will do my best to keep everyone updated because there simply is no way we can call or email you all personally. There are just simply too many of you who care and it still is so tough for us to talk about.
I suppose the question everyone is probably wondering is "how are you (all) doing?" I wish I could say we're okay and that we've accepted this news. We have not. We are still in a state of shock and disbelief and still trying to wrap our heads around this news and admit we find ourselves at times wondering why and how this could happen. More than anything we fear what is ahead and how we will all handle the news that we will learn in the months ahead along with how we will cope once the baby is born and we learn what extent of severity the baby is faced with.
Beyond the emotional shock of all this news, I personally am still dealing with the discomforts from the amniocentesis which includes cramping and low grade fevers. I would add headaches to the list, but to be honest, I think they are both caused by pregnancy hormones & emotions. I spoke with my doctor today on phone and was offered a lot of support and reassurance. He's still learning the details from the doctors at Winnie Palmer and he said that the weeks and months ahead as we undergo additional ultrasounds are the only way we can begin to understand the challenges the baby is faced with. I discussed my concerns after having the amniocentesis. I do fear the thoughts of miscarrying, even though the chances are only 1-3%…it only reminds me of all these other odds they've told me were "small" chances and entirely too many times I fell into that "small" chance of something bad happening. He said the cramping is perfectly normal for the first 2-3 days after the amniocentesis and that I should continue to take tylenol for the discomfort. I was also very concerned with the low grade fevers. The doctor at Winnie Palmer yesterday told me so long as it stays below 100.4 there is no concern. I've had low grade fevers as high as 99.6 and I continue to keep a close watch on all the possible concerns after the amniocentesis. The doctor says the fevers are normal as long as they stay below 100.4 because it is the body's way of dealing with repairing the fact that my body and uterus were punctured by a pretty big needle in order to get a sample of the amniotic fluid. So now we just continue to pray. He reassured me that he wants to know if I am still feeling these discomforts on Friday morning and he will have me come in to get checked out. Hopefully it won't come to that but hopefully it brings you all the same reassurance that I have that my doctors are watching me closely.
The doctor also briefly discussed the issues we may face before and after the baby is born. He even made it clear that we know they are there to support us even after the baby is born and should we ever consider another child that we have to understand that having a child with spina bifida now increases the chances that it could happen again. To be honest, that is a thought we certainly are not ready to consider regardless of what happens with the baby. However, we were reassured that if we do make that decision to have another child that I would be given a very high dosage of folic acid supplement in addition to prenatal vitamins.
I suppose as the doctor mentioned this to us it reminded me of a few things I have read as well as a few of the things some of you have written us. I've learned that it's not known exactly what causes spina bifida to happen. There is a belief that it could stem from both genetic and environmental issues and there is no way of diagnosing the "cause". However, research studies have shown that folic acid is something that can help prevent spina bifida. And as I'm sure some of you have read this and some of you have even written me this…please I pray you all do not begin to wonder if I was eating the best diet or taking folic acid. We sat here this last year knowing we were hoping to conceive again – so I reassure you all that though I'm typically not one to enjoy the foods that are higher in folic acid such as vegetables…I promise you all that I have come to find it in myself to eat my fair share of salads, beans, broccoli, and more that I know contains a fair level of folic acid. Additionally I have also been taking very high quality prenatal vitamins for more than a year that I know have more than enough folic acid to have helped this little one. However, we still face this concern now. I find myself wondering if maybe missing a day here or there of the perfect diet or a vitamin could have caused this – but it is senseless for me to try to understand or blame myself. I do feel so much guilt, though I know it is something I didn't have control over. I now pray that you all will not question the reason for my baby being challenged with spina bifida…I do not need the added stress  and guilt of feeling as though others feel I could have prevented this.
I think it's important that I update you all on how my baby girl is doing too. When we first told her yesterday we vaguely told her that there were concerns with the baby and that it would need special attention. We did not go into detail but we needed her to know there were concerns that were worrisome for us. We've worried how she'd take the news and knew she'd likely hold a lot of her emotions and worries within. However, she, just like her Momma, has learned to write when things really get the best of her. Last night she came to Jason with this note: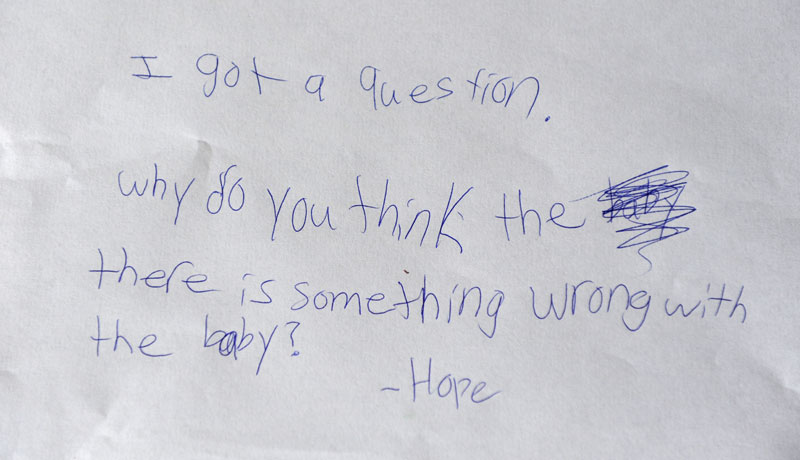 It left our hearts heavy to know it was inevitable that we'd have to tell her more than "something is wrong with the baby". Jason pulled together the papers given to us at the hospital to help us understand spina bifida and we sat down together and he explained to her that the doctors told us the baby had spina bifida. Of course she was totally clueless as to what that meant so he explained it to her in words we felt our baby girl could understand by telling her that the baby had a "hole" in it's back that is causing some thing to go on around it's brain. At school she's learning more about science so we know she knows a lot more about body parts and what they do and he made sure she realized that because of this condition the baby may have problems because the brain controls it's whole body. We didn't go into the detail of all the bad things that could happen and truthfully we do not want to worry her that much. She knows of one or two students who are challenged with learning and physical disabilities and we explained how it's likely the baby may face things like that but that we wouldn't know until after the baby is born.
I sent Hope to school with a card. I just happen to be a little obsessive with hallmark and happen to have a nice collection of cards for moments I need to say something special to special people in my life. So I woke up early and wrote a bit in the card reminding her how much she was loved and explaining to her that though we are all filled with so much worry we must hang onto the hope that this baby will beat the odds, even if it is faced with challenges. I reminded of her how before and while I was pregnant with her that there were so many moments that left us worried and how we feared so much that we might lose her and she is a true sign of hope for our family. She was reminded that now after all those fears we have a little girl who's nearly 9 and is so strong, bright, and sweet. We remain hopeful that this baby will prove it too is just as much of a fighter as the two children I have now. They have both defied the odds and I truly consider them both miracles. The most reassuring thing is that she has such an amazing amount of support at school with her teacher and friends. I've been in touch with her teacher to make sure she was fully informed of everything and she reassures us that she will continue to help comfort our little girl as we all continue to cope with the emotions and uncertainty of all this news. Hope was even able to talk to some of her friends today and I was told one friend reminded her "it's okay, you'll still be a great big sister".
I share with you all a fortune I received last week. I've been meaning to share it but now only seems more fitting that I include it with this update:

Jason and I are absolutely amazed by the out pour of love and support we've received the last two days. It means so much to have so many of you reach out to share your thoughts and prayers with us. I have found myself moved so many times in the last day as I have read each and every comment and email sent. The tears are only reminders of how much we are loved, though they are also a reminder of how much we all wish we could fix all the concerns we now face. As I share the fortune above I am reminded how important it is to make sure you all know that though we are still a bit overwhelmed with this news we know that gradually we will begin to accept what lies ahead and as we do we assure to include you all in all the updates and many things that are ahead for us, for we know that with you all surrounding us it will bring us the happiness that right now we struggle to feel. Please know that as your messages are read we cannot possibly respond to the many messages sent our way. We try to as much as possible, however, it is similar to dealing with phone calls…I can't write these feelings, emotions and concerns over and over and over again. So I pray you all remain understanding as we continue to cope with so many things we never expected to happen.
At work I have received amazing support. They have said I may take the time I need to cope through this most recent news and as much as part of me wishes to hide completely, I cannot allow myself to do that for long. In fact, as I learned the initial concerns Monday I was the one who rather than asking to step away overwhelmed with emotions…instead marched right into class trying so hard not to break down before a class full of students as I informed all of my classes I have taught thus far of the concerns we feared and that were confirmed yesterday. It was incredibly tough for me to do and I know they could sense my emotions, however, I say this publicly because I think it's so important they and everyone hear that they provide me with an amazing amount of energy and inspire me so much more than I tell them every day. It is thanks to them I had a positive distraction on Monday and Tuesday that helped the time pass before the ultrasound when we learned the bad news. And I remain confident that they will be the ones who continue to help me pass the time ahead of us as we face so much uncertainty…even though they may not realize it.
Today I also attended our tenure track luncheon with the President of the college, Dr. Shugart. It was so tough for me to show my face in public but I knew it was something I had to do for myself. Hiding will not help me through these struggles we face and I must find it in myself to accept what God is challenging us with and somehow find a way to keep moving. I admit I remained to myself most of the luncheon, though some colleagues not knowing me did chat with me and helped me think less about the concerns we have for the baby. For a very brief time it helped me think less of my baby and all the concerns I have now. A select few in the room that I know on a more personal level, like Dr. Shugart, did take the time to personally come greet me and offer their support. With each one I felt so moved and it took everything in me not to completely break down in tears as I am still so easily moved thinking, let alone talking about the news we learned yesterday.
I thought I'd also share a few thoughts and things I've learned in the last day since sharing this news with you all publicly:
I have been reminded that only special people have special babies.
One of the former editors at O'Reilly shared with me her cousins blog that shares their son Zach's experiences with spina bifida since birth. The little guy is now two and helps give me hope for my own child. It helps to see the personal experiences rather than just reading medical statistics and facts about spina bifida.
Though we've mostly heard from family, friends, colleagues/co-workers, teachers, students and classmates I have also been completely touched by the number of people now beginning to reach out who do not know us. Many of whom wish to share their concern with us and some, like Kari, who have shared not only sweet thoughts but the story of her own son Toby's experiences with spina bifida. Toby is probably a year or two older than Jaylen and also helps us see the hope there is for our little one. I truthfully do not know how the strangers have discovered my recent news in such a short time, however, I am thankful to begin to receive an out pour of support from those who are struggling with similar challenges we are expected to face once the baby is born.
Kari also shared with us the spina bifida kids blog that was established to help share stories of children with spina bifida. All the news and stories are still a lot for me to take in but as time passes I am confident I will revisit them all and learn more about experiences others have faced. I won't be surprised if I end up in touch with many of the families as I am quickly learning there seems to be amazing support system for families who have children with spina bifida.
I've also learned that only about 166,00 people of the 310+ million people in the United States are affected with spina bifida. Yes, it's only a reminder of how special this baby will be.
I think the biggest fear beyond the concerns we have about the potential severity of the baby's condition are the financial aspects of what spina bifida brings. I share with you all this directly from the Spina Bifida association web site:"The economic and social costs associated with Spina Bifida – for both the affected individuals and their families – can be significant.  The average total lifetime cost to society for each infant born with Spina Bifida is approximately $532,000 per child.  This estimate is only an average and for many children the total cost may be well above $1 million.   Estimated total annual medical care and surgical costs for persons with Spina Bifida in the United States exceed $200 million.   Currently available statistics on the cost of Spina Bifida are estimates based on the average dollar in the mid-1980s.  Therefore, due to inflationary increases over the past two decades, these cost statistics likely are higher."And though we do have insurance, as we all know, insurances lately have seemed to have quickly be out to make more money than they help families who really need their support. I say that after learning that before we learned of these concerns that this baby will cost more than what I had to pay to have both my children and more than all the expenses from the miscarriages combined. Now I fear how in the world we will cope with all the medical needs the baby will have.
As you can see, I am overwhelmed with thoughts but hopefully you all are able to feel a little more connected to our family through the update I have shared. Please know we are so grateful for all the prayers and reassuring messages. We're hoping to have the preliminary results back from the amniocentesis tomorrow and once we learn more we will be sure to share another update.