"Today is the tomorrow you worried about yesterday" —Unknown
Here is the big news. I will not prolong it. Today the doctor confirmed through ultrasound that my baby has spina bifida. As I struggle to find the words to share this most recent update I find it only appropriate to share the only photo I have from today of my sweet little one who we realize will likely face it's life ahead with more challenges than we are able to comprehend.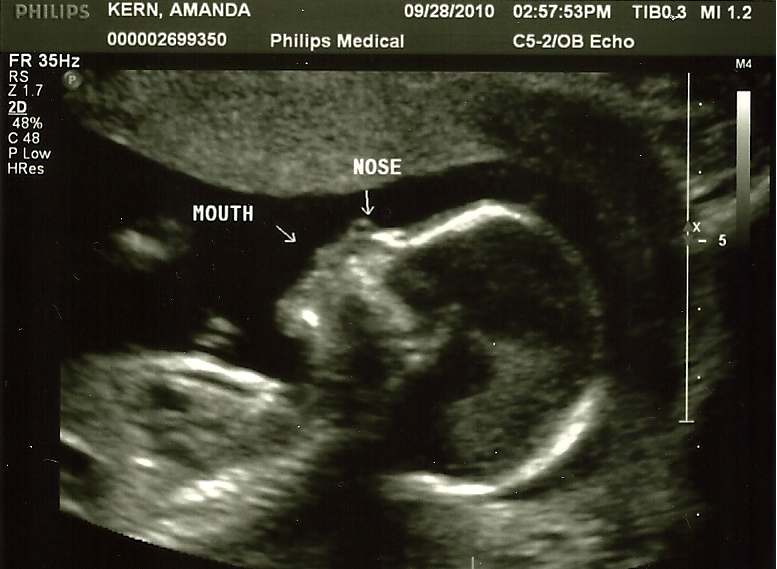 From this image and the many others I have seen in weeks past the baby has seemed so perfect and lively, however, after undergoing such a thorough ultrasound with the absolute best equipment that Winnie Palmer Hospital has to offer we were told the harsh news that the baby does indeed have a neural tube defect. There is no cure or easy way to prepare us for what is ahead for our family and this baby. As perfect as our baby has seemed for the last 17 weeks we have learned our child will be born with imperfections that have great risks that are frightening for us all to still accept.
The ultrasound showed clear indicators for spina bifida and after the ultrasound was over the doctor spoke with us to confirm the condition. My heart stopped and I just prayed I wasn't hearing all the bad news. But there is no avoiding the concerns the doctor spotted on the ultrasound. They shared with us an image of the top of the baby's head that showed a less than symmetrical front of the baby's head. Typically in a healthy baby it is more perfectly round. They showed us the images of the baby's brain and it was evident that there was additional space which is not normal. There was also a curved nerve spotted toward the back of the baby's head, shaped like a banana. Of course I have no medical background, but I trust that the doctor's diagnosis is correct. Apparently this nerve isn't typically shaped in this way which indicates the neural defect the baby has. The last indicator, which is the cause of this defect, is that a spot in the baby's spine never closed. Therefore it has an open spot on the baby's back where it's spine is open and not covered with skin. This is the reason why the AFP hormone levels have been so high in the most recent lab test because this open spot in the spine causes the AFP levels to leak into the amniotic fluid in turn causes my lab results to show this high level. Yes, it all sounds so frightening. The only optimism we received today is that the opening in the baby's spine is in the lower portion of the spine so it may decrease the extent of any potential paralysis.
With neural tube defects there are higher risks for other chromosomal defects and risks that could make the outlook much more uncertain. It was suggested that I undergo an amniocentesis to help give us the 100% certainty of spina bifida as well as help rule out or confirm any other complications the baby may be suffering from. Needless to say we were taken by emotions and the shock of not only understanding all this news that was being thrown at us but we now had a big decision on whether or not to go through with an amniocentesis which does have it's own sets of risks, including potentially miscarrying. At this point we felt it was in our best interest to help learn of any issue the baby may be suffering from now in hopes that they would rule further complications out. As much as we do not want to know this news because it is so heartbreaking for us, it will only help us better prepare for what we have ahead as well as whether or not complications are too severe for this baby to survive. I underwent the amniocentesis today and now we wait 1-2 days for preliminary results and about a week for final results of this test.
I've stopped trying to understand how or why things like this happen. And I have heard so many of you give me the positive reassurance to look at the odds being in my favor. However, if you look at my odds, they have never been in my favor. Odds that I still don't understand:
A risk in a miscarriage is 1 in 5 pregnancies (20%) yet I have miscarried 3 of this six times I've been pregnant and hold so much uncertainty now for this little one. The risks of the amniocentesis are small but they do increases chances of a miscarriage. Also, there is a fear that any additional complications could lead to the suggestion to terminate the pregnancy if the doctor's feel the complications are too severe.
After the last miscarriage and going through the D&C surgery I recall asking the doctor's what was the chances I'd need a second or a third surgery as I was dealing with complications from the surgery. I was told women have a 1 in 100 risk of a second surgery and that a third surgery was unheard of by all the doctor's in the practice. Several of which had 20-30+ years of experience. I am the one patient who has had 3 D&C's for one miscarriage.
And as I heard from the doctor yesterday I was told 1 in 4 were the odds that the baby would have a neural tube defect. This mean that there was a 75% chance that everything would be okay. I prayed and prayed that everything would be okay…but now I am that 1 out of 4 that has to now figure out how we cope with the news that our baby will be born with spina bifida.
I admit yesterday I tried so hard to avoid the thoughts and refused to research the topic at all. It scares me so much. But now that I know the baby has spina bifida it is something we are still trying to comprehend. There are so many risks that we still are struggling to understand. It's likely that the baby will have to have a surgery soon after birth to fix the open spine. They say this is something that can help prevent future issues. The baby will likely have developmental delays and how many other complications depend upon the severity of the condition. We will not know the severity of the baby's spina bifida until after it is born. The baby could potentially suffer from paralysis, bladder and lower extremity issues. Many with spina bifida are able to walk on their own, some require braces, and some require wheelchairs. Many struggle with developmental and learning delays. Regardless of the severity, it all scares me. Even more so because there may be additional issues we are not aware of which only the results of the amniocentesis will tell us. Here I've dreamed of this perfect baby and I now fear how it's imperfections may affect not just the baby but us all.
This pregnancy is officially high risk and now we will likely have more ultrasounds and other appointments to monitor the baby. We return to Winnie Palmer at the end of October for another ultrasound. We will likely undergo genetic counseling that will help us not only cope and prepare for the baby but better inform us of all the risks. And though we pray there are no added risks, if there are, we may be faced with the realization that there may be too many odds against this little one. But for now we are trying to dwell on the little bit of optimism and hopes for our baby, which we admit feels very bleak at the moment.
We did make the decision to tell Hope today. It has to be one of the hardest things for us to have to do. We've had to break the bad news before after I miscarried last year so it wasn't completely new to us – but how do you tell your child that this baby we've all been praying for and watching grow now has such a birth defect that may totally alter not just the baby's life but all of our lives forever? Jason and I have been so taken by this news today and have went through a series of emotions from feeling the shock and disbelief of it all to trying to figure out how in the world we are going to care for a child with such challenging complications. As we realized how hard it was for us both we decided to meet with his aunt Connie so that she could help us as we broke this tough news to our baby girl. Jaylen is still too young to understand but we knew keeping it from Hope would not be wise because we can't even explain the emotional toll this has placed on us. If we waited any longer to tell her she'd have known something was wrong so we told her this evening and I could sense her shock but she remained strong and it was evident that she's held back from expressing own emotions thus far. I sense she too is in such disbelief and trying to hold onto the optimism. We shared the ultrasound image with her and just as she was the many times before, she was such a proud big sister pointing out all the baby's features. Something tells me she's trying to be strong for me because I know my baby girl and I know hearing that her baby brother or sister will be born with concerns is going to weigh heavily on her in the months ahead. Regardless of the complications this baby may be faced with there is no question how much it is still loved by us all.
Right now I am still overwhelmed and now dealing with the cramping discomfort from the amniocentesis which hopefully will subside in the next day or so. We're all still trying to find a way to accept this news and as we do we ask you all please respect the time we need. I recall last October as so many medical issues happened that our phones rang non-stop many days. Even yesterday as I shared the news on my blog and through facebook it only took a matter of minutes before Jason's phone rang and rang and rang. We all appreciate the care and support so much but please allow us the time to cope with this very difficult news. But we are listening..so feel free to write an email or contact us through facebook, twitter or my blog. I promise you we will read every word. But we just can't take the non-stop calls right now. Honestly, talking about this is incredibly difficult and almost always brings us both to tears. I know in time it may become easier for us to talk about but right now we're still trying to wrap our head around exactly what we have ahead. I give you my word we will continue to update you all through my blog as we learn more about all the concerns with the baby.
And now I suppose we pray again, that regardless of what the future holds for this baby, that God continues to look out for our family. I swear I still struggle to understand why God keeps challenging us more than any family should be challenged. I will stop doubting God's reasons and just believe that he has some greater plan, regardless of how little sense it makes at this very moment in time.