Yesterday I had the opportunity to meet Janae & Kyle Britt's little girl, Genevieve for the first time. With Janae being one of my former students I have to admit I am amongst the many who awaited the arrival of Genevieve with much anticipation. I was forewarned that Genevieve was a bit feisty since being born so it's only fitting to share memorable moments like this one. Here's Genevieve at 8 days old.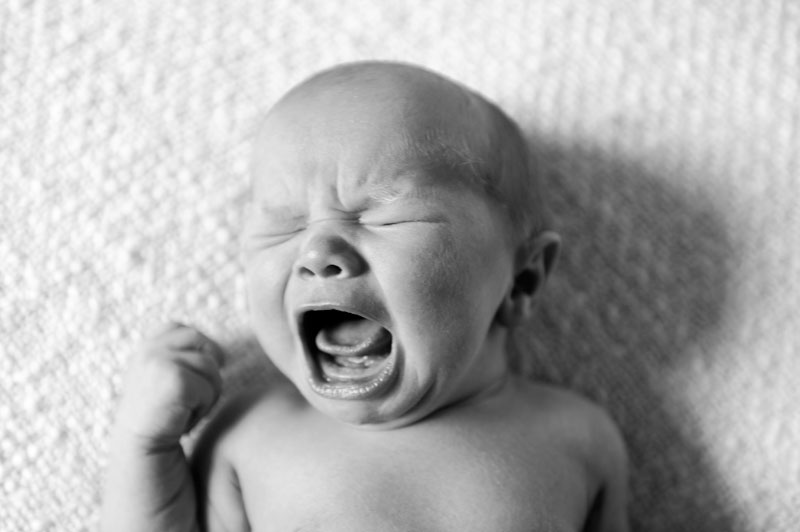 Janae & Kyle drove all the way from the Tampa area so we could take Genevieve's newborns photos. Out of the nearly 60 newborn babies I've photographed in the last 2 1/2 years I have to admit that she certainly was one of the toughest babies to keep calm for photos. She made sure to let us know every moment she wasn't happy with us taking photos of her. Perhaps sharing a few outtakes of these moments may help others relate to how challenging raising a newborn can be in the first week after birth. I suppose it's also valuable to share some of these behind the scenes photos because hopefully it'll help everyone see that newborn photography is certainly not as easy as it looks. Genevieve definitely offered a fun challenge for me. This series of photos were all taken within a few seconds of one another.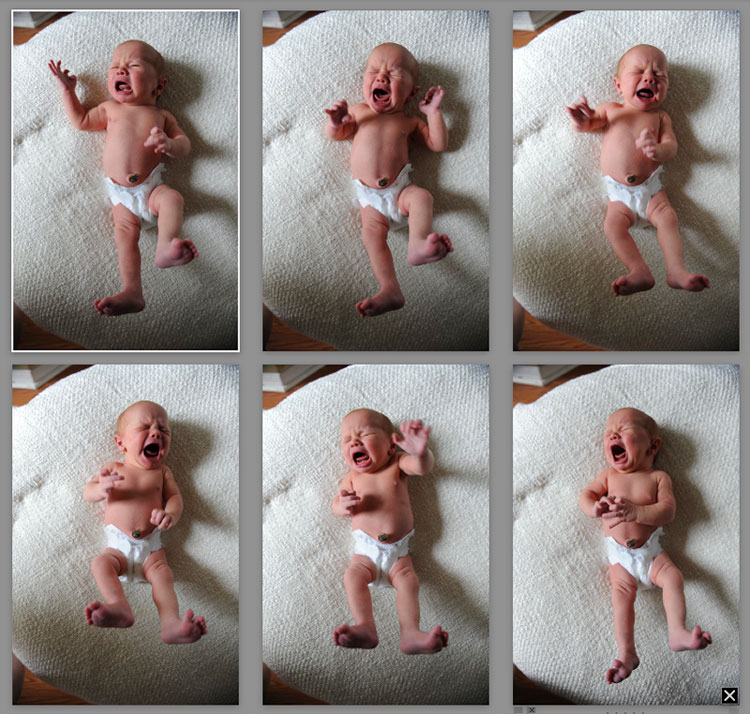 Yes, I admit, in the first half hour I began to worry how long she'd continue these fussy moments.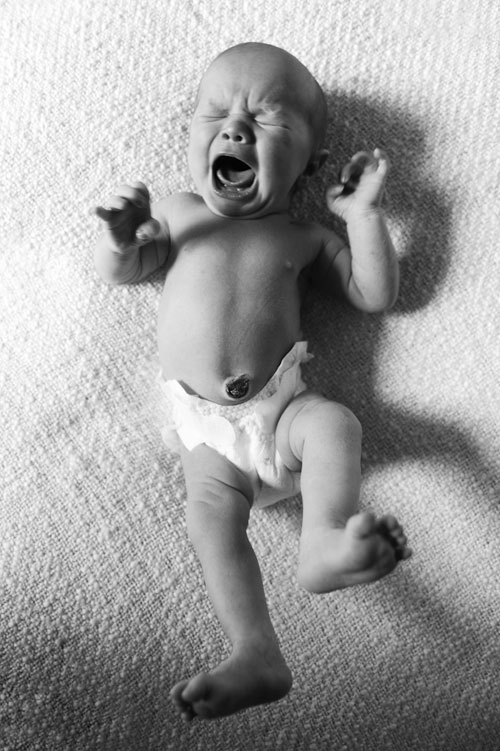 Even though I know Janae & Kyle hoped for the really dreamy newborn photos I knew these moments were important to capture because they certainly did reflect some of those memorable first moments with their little girl.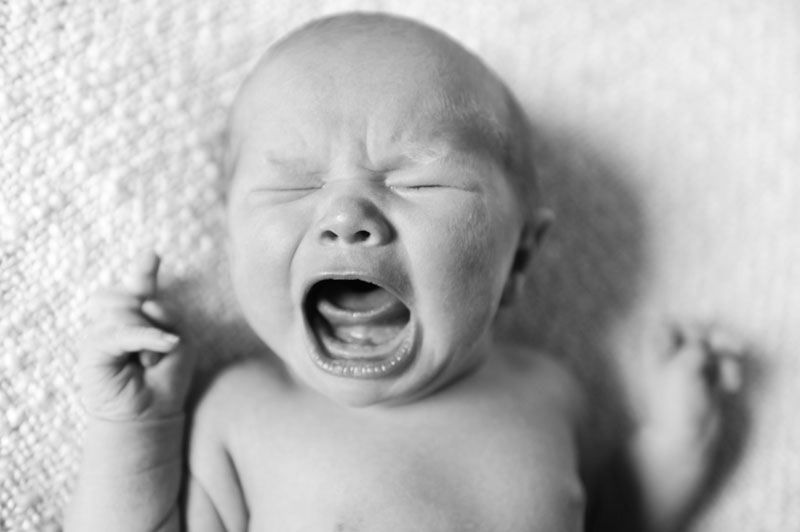 I promise we really didn't let her lay there and scream for long. After comforting her for a few minutes we wrapped her and miraculously she found a comfy spot where she felt content enough for me to capture some amazing shots that reflect just how beautiful this little girl is.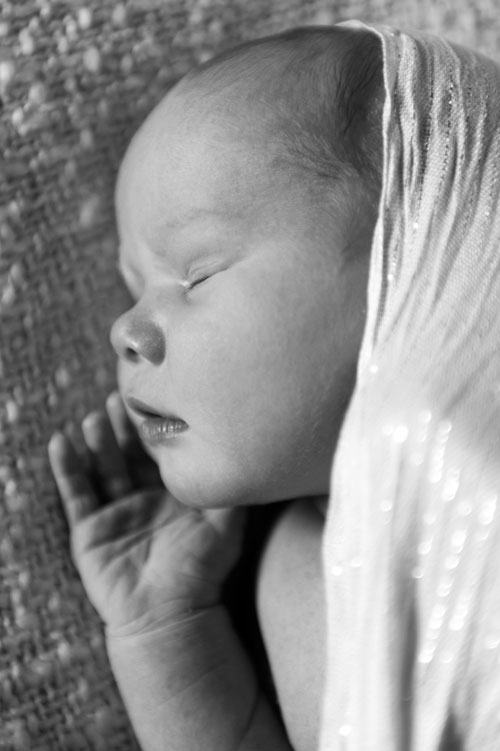 She was so alert and recognized the littlest of noises.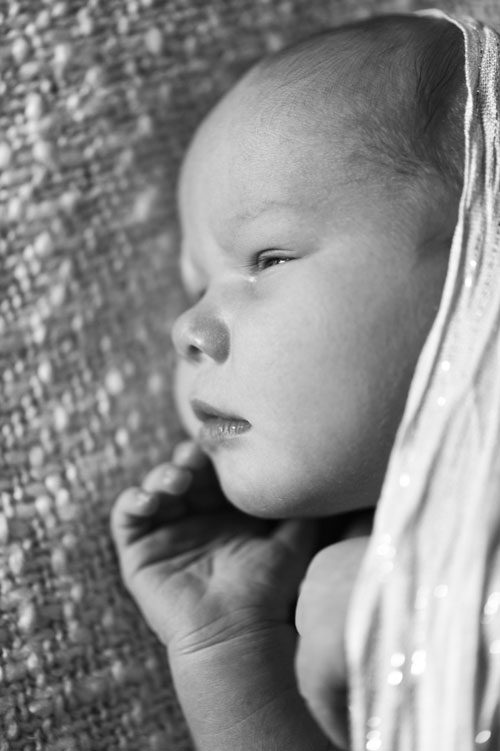 While she laid perfectly still all wrapped up I took a quick macro photo of her feet. You can always spot a newborn's brand new feet by those little prick marks.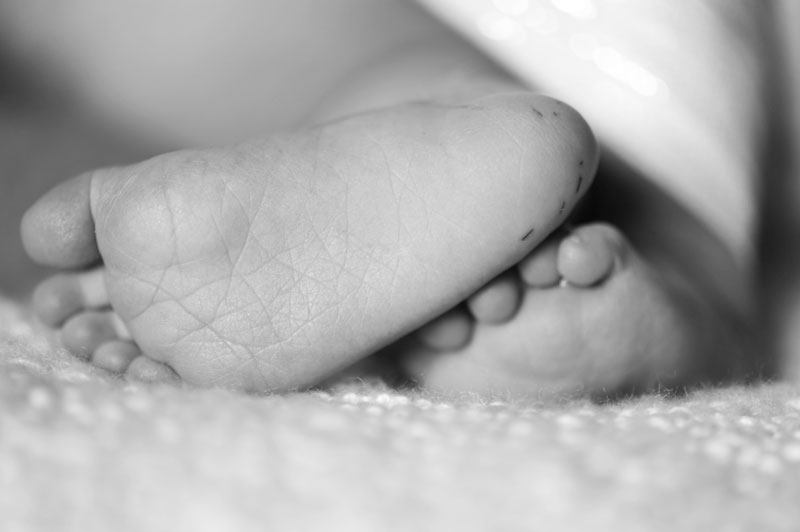 Thankfully we managed to get some priceless sleeping photos yesterday. I have to admit it was a little tricky to keep those sweet little eyes & lips closed perfectly for a shot like this.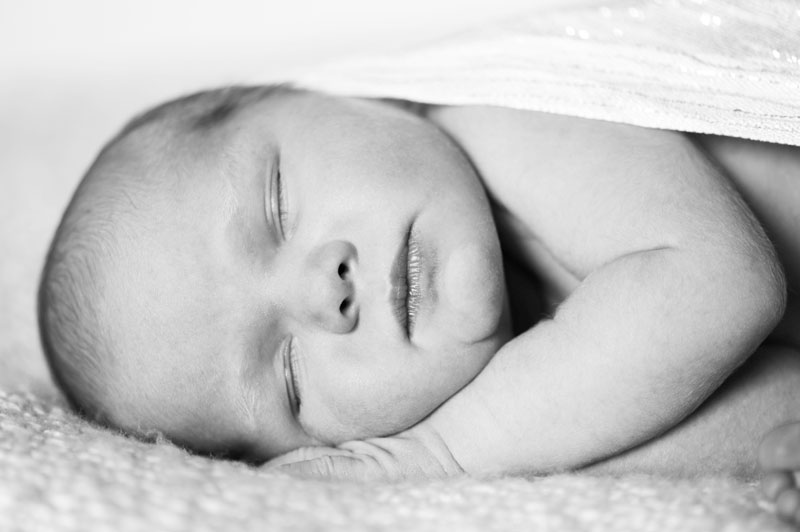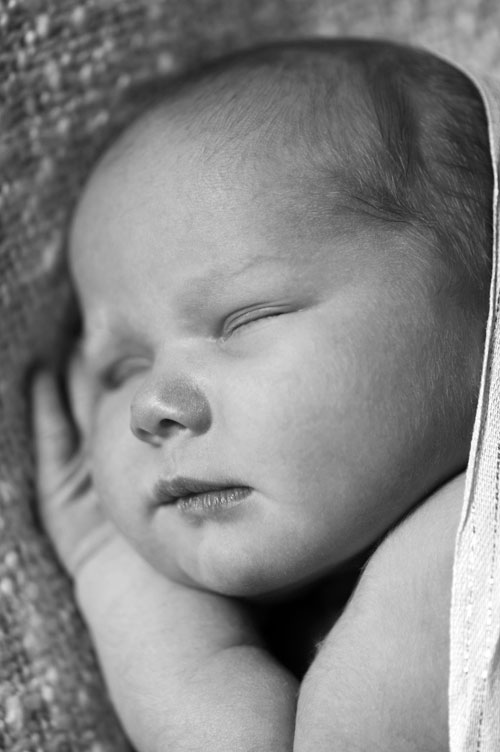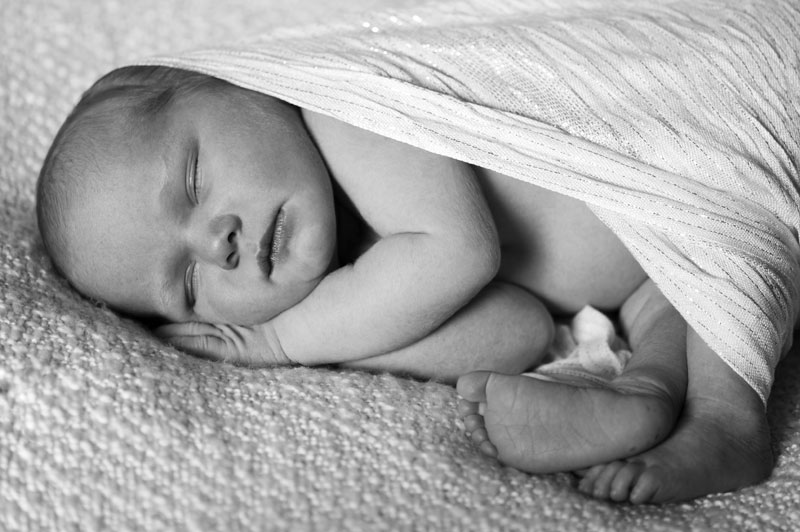 And in a split second she'd wake up.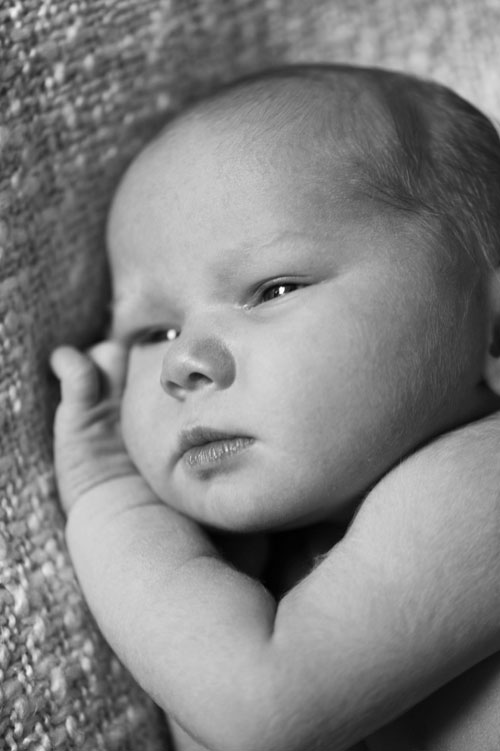 As we tried a few other poses I began to realize she was a little unpredictable and definitely not going into a deep enough sleep to pose her much more so we elected to move onto photos of her with Kyle & Janae. She seemed to be much more comfortable in their arms so it seemed like a smarter transition for photos. She certainly reminded me how important it is to improvise during a photo session. Here she is in her Daddy's hands.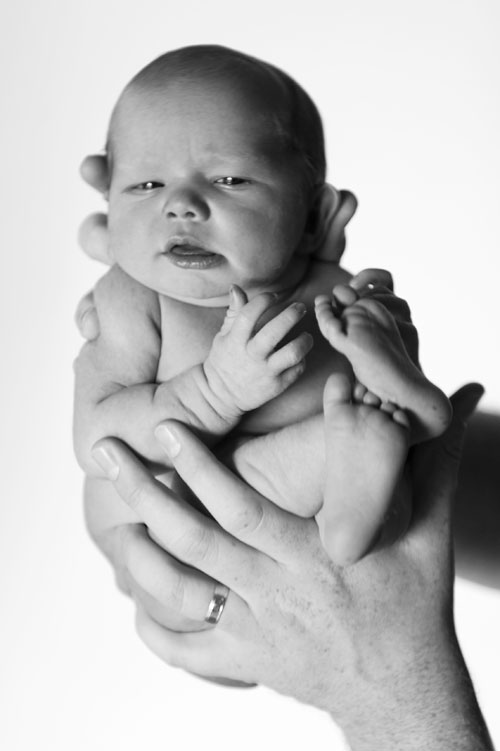 She really seemed attentive to my camera during these photos.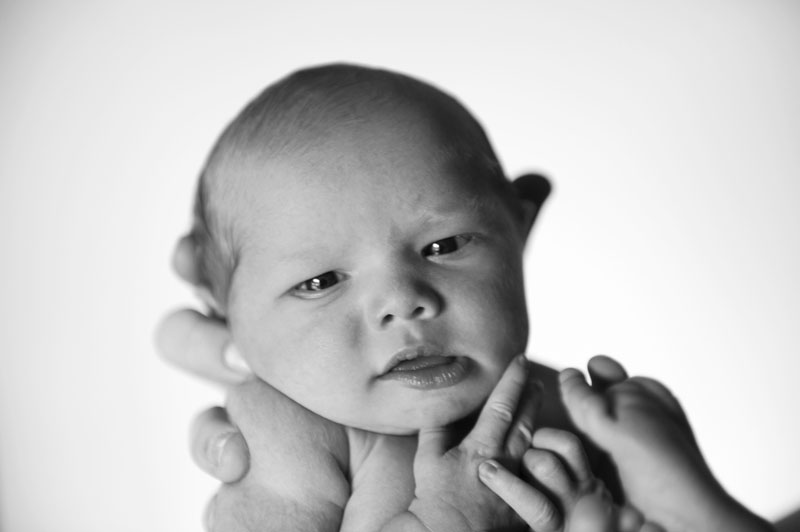 It was so funny because we would go from positioning her for a photo like this and as we tried to perfect the pose…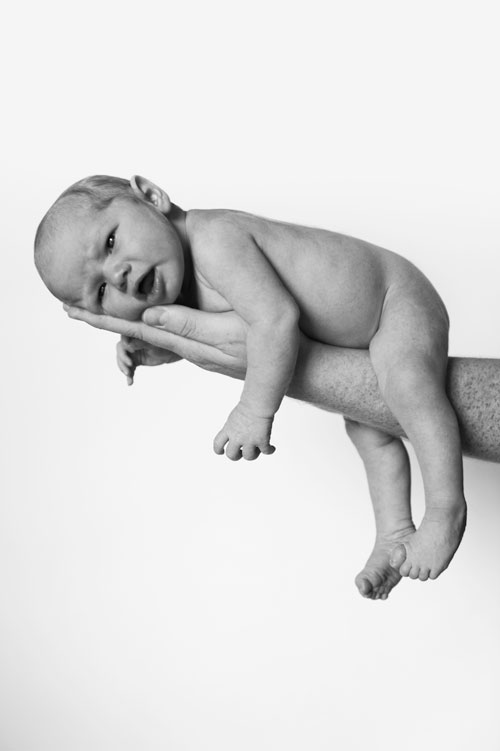 She'd begin screaming. And well, we would take breaks every time she needed it. Kyle was so awesome and helpful with his little girl. He spent a lot of time comforting her yesterday.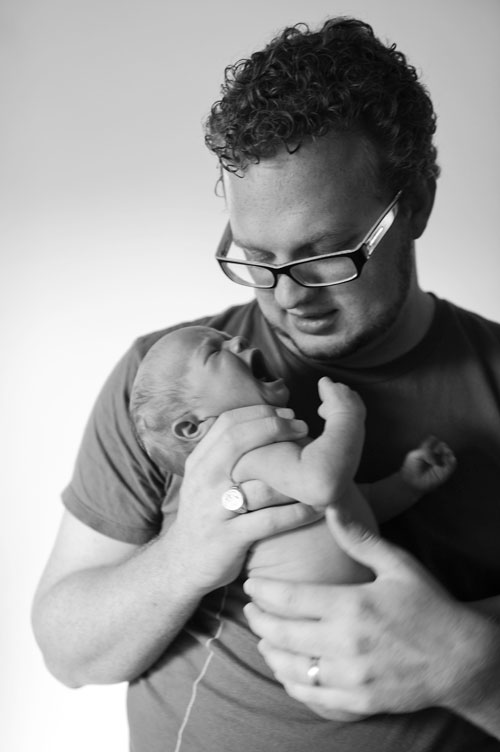 Despite the fussy moments we were dealing with it was great to see how much fun Kyle & Janae managed to have. At times I think all we could do was wait it out and make the most of it which thanks to Kyle there was quite a bit of laughter amidst the crying. I was thankful to have Erin McLain join in to help us with Genevieve's photos. We both took a series of photos but I admit many of the ones I managed to capture are certainly a result of Erin's patience and help in posing Genevieve. Many of the photos were literally taken in a split second before she'd move or cry.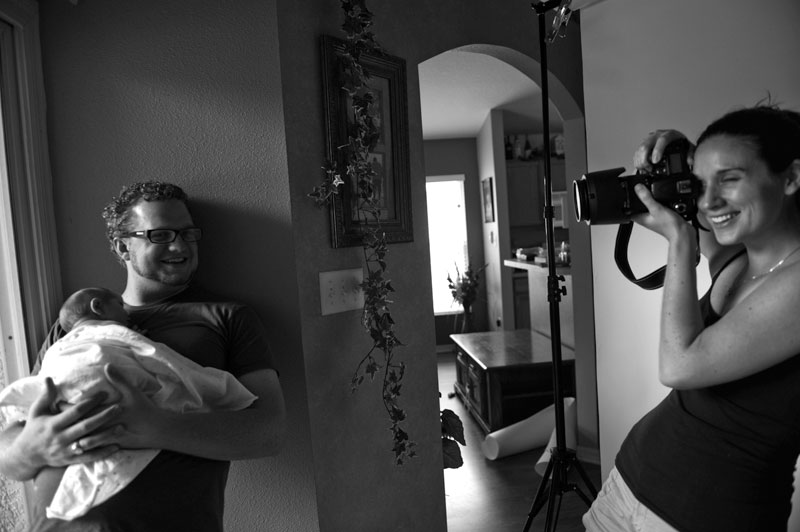 We went on to take a few family photos. Genevieve was a little more settled but definitely still not completely content. Regardless, I have this feeling Janae & Kyle will enjoy the photos of the three of them together.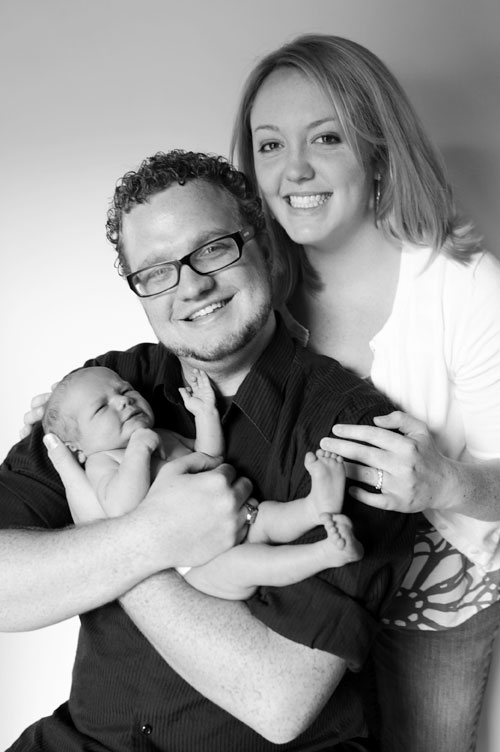 Of course the silly outtakes are almost more priceless to share. Taking family photos are often an awkward feeling for everyone involved, especially if you want to capture the more candid, fun and memorable moments. Thankfully they were great sports. I think we were all almost in tears laughing after these photos were taken.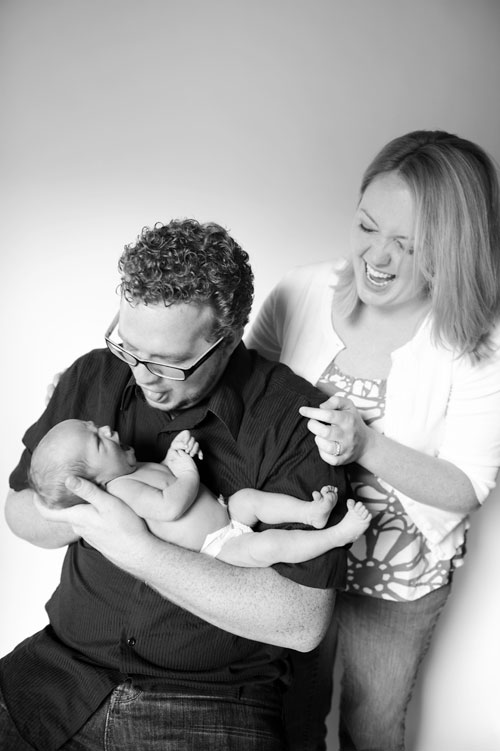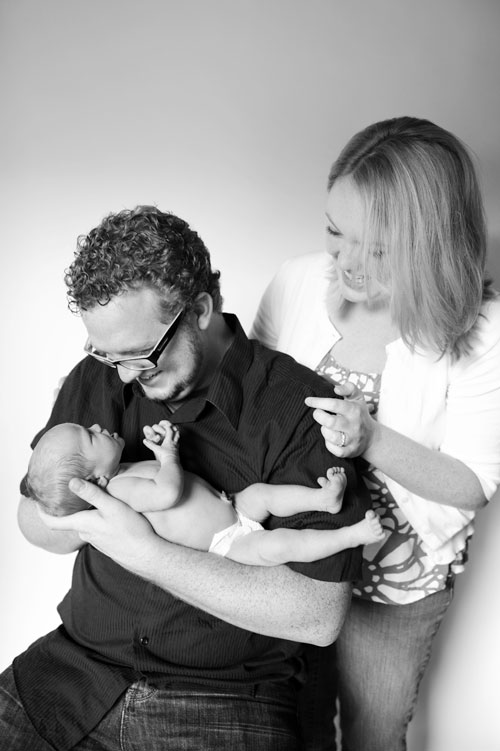 Yes, I think Genevieve knows she has silly parents, or at least she made sure to make a silly face for their family photo.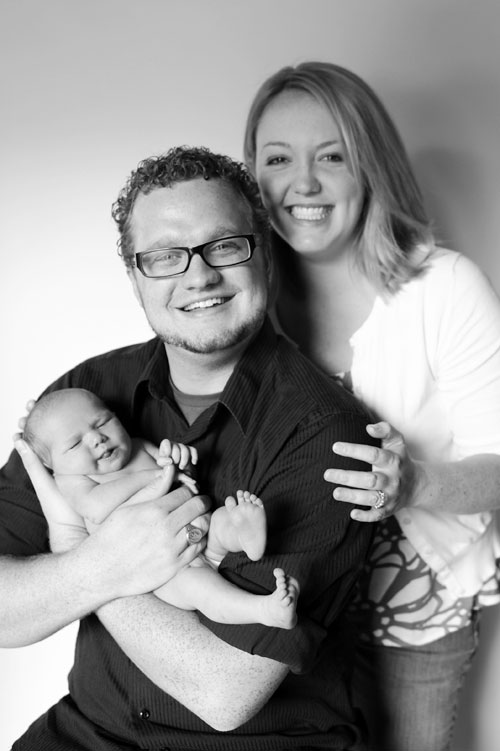 I suppose we just went on from one series of photos to another yesterday. I sensed Genevieve was more comfortable upright and being held so we tried a photo of her on her Daddy's shoulder. Pretty quickly she found her Daddy's ear and we were again all humored by this sweet little girl.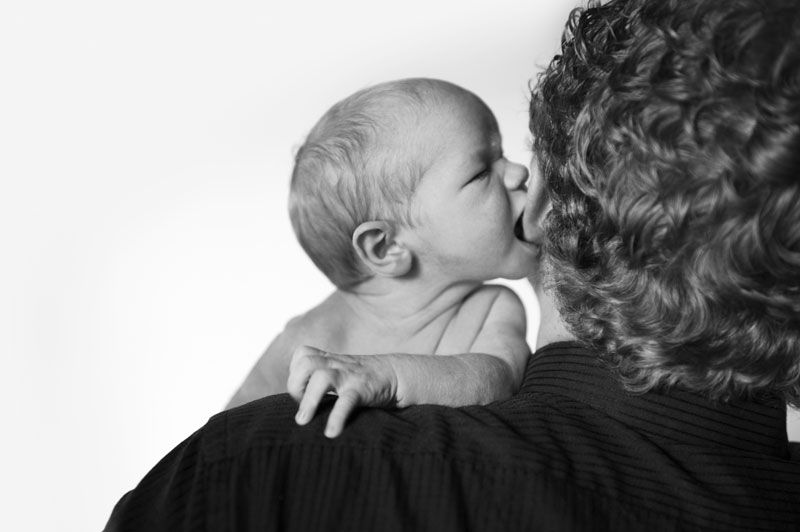 Thankfully she realized her Daddy's ear wasn't all that tasty after all and we got her comfy on his shoulder for a couple shots.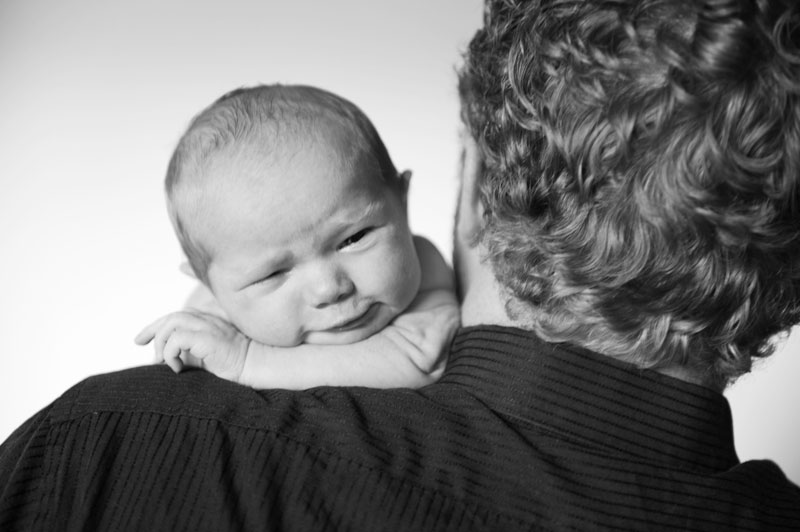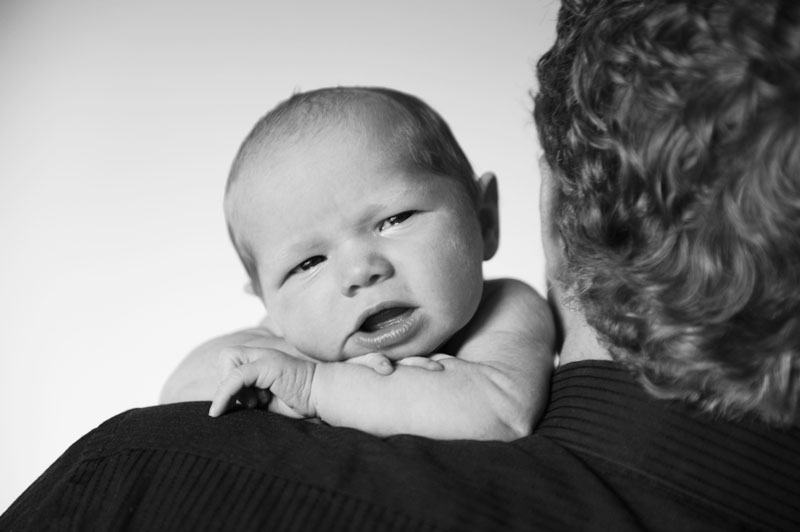 Here's Janae with her little girl.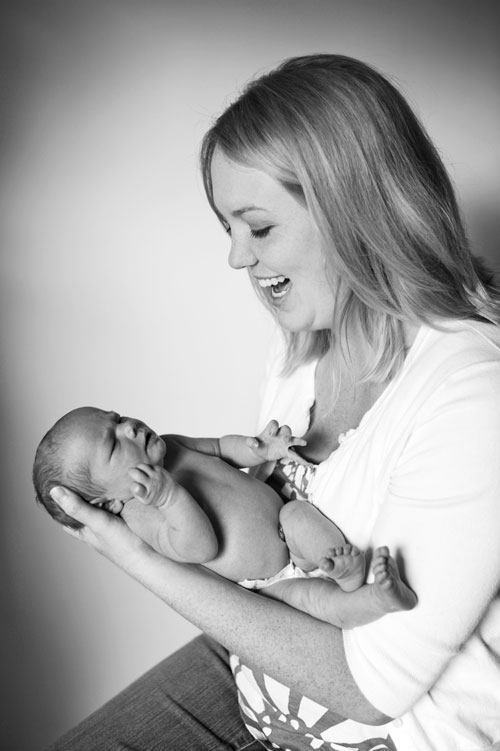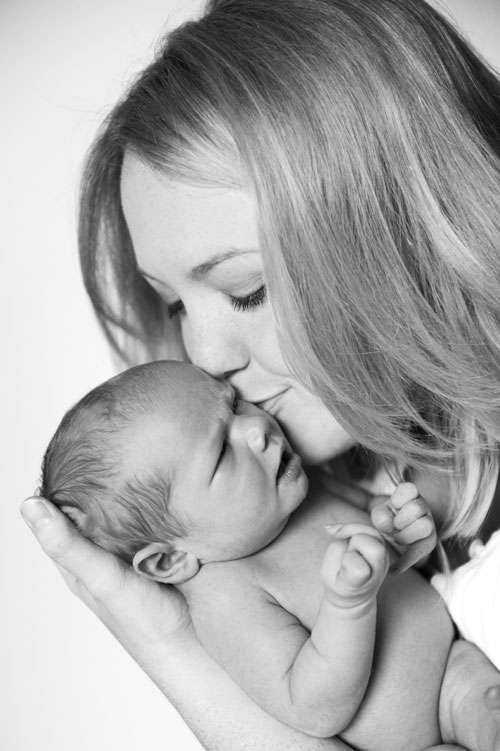 Thankfully we managed to get a few photos of Janae & Genevieve together because in just a moment or two she became fussy again.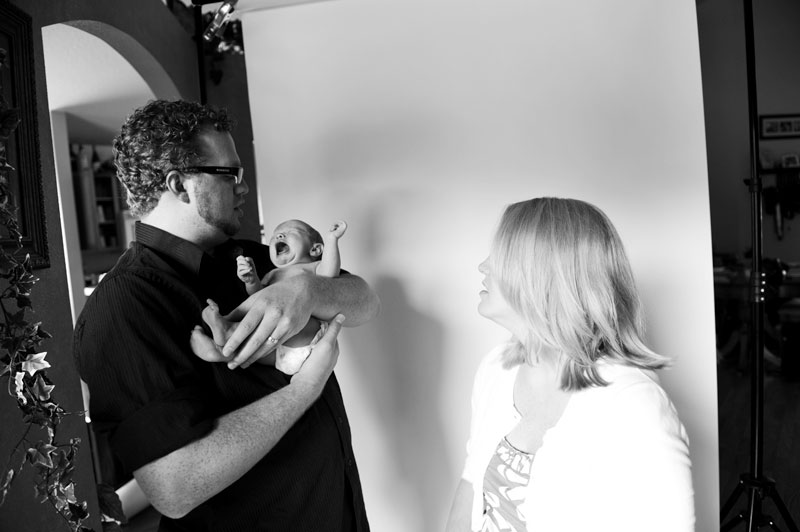 After taking a break to feed Genevieve, she returned to us somewhat content. So we quickly switched to take a few of my favorite and most memorable shots of the day. We placed Genevieve in this bowl and thankfully after working quite a bit to position her comfortably we managed to take some sweet shots of her that I think Janae & Kyle will find years from now to be memorable reflections of some of their first moments with Genevieve.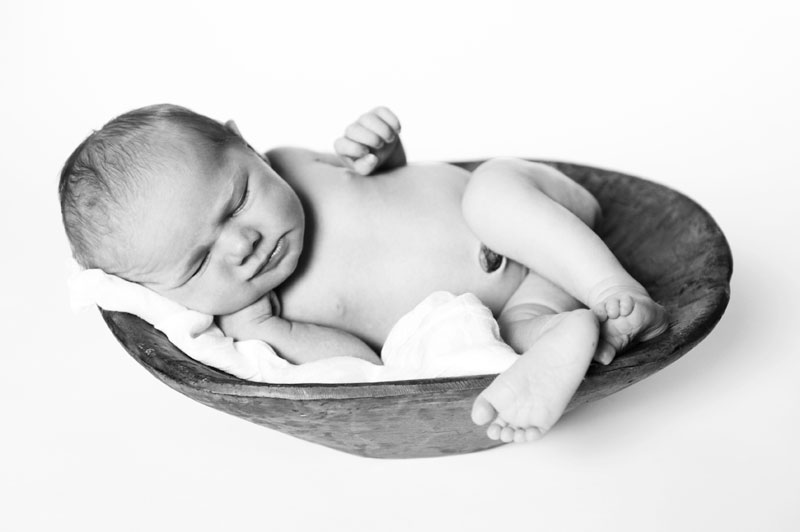 Don't be fooled, she wasn't sleeping. I think the expression on her face was her warning to us that we should hurry up and take the photo, or else.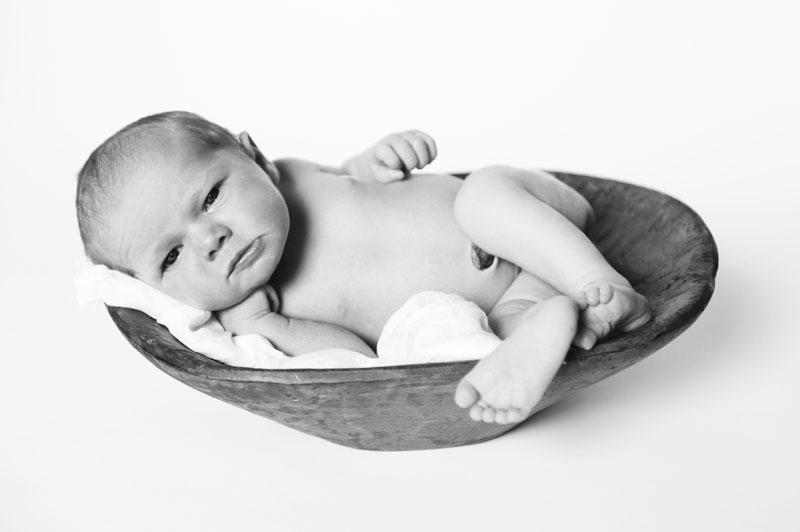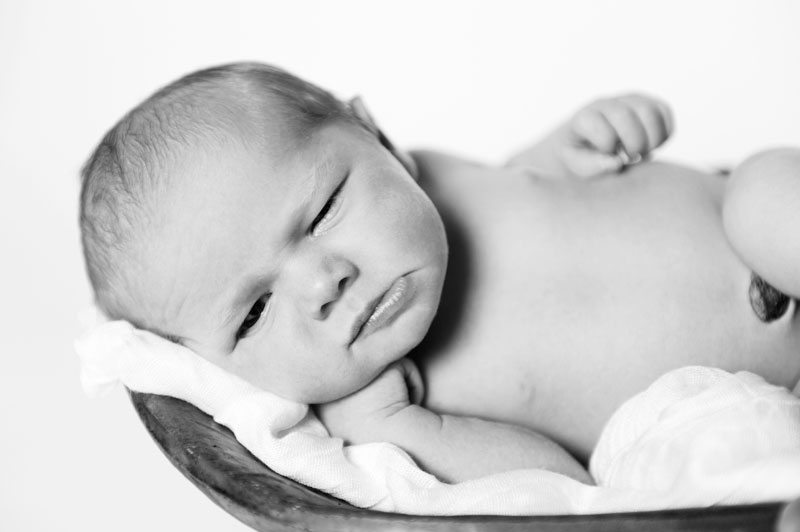 She seems so content and the moment just seemed so perfect. So much so that Kyle was up taking a picture of the paprazzi photographing his daughter.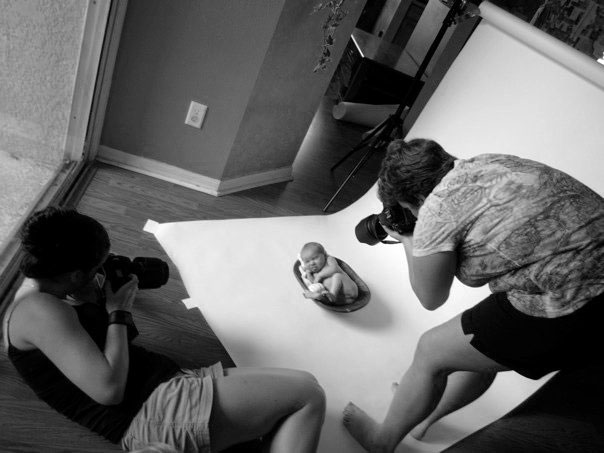 When babies are content I photograph a series of photos from various angles and as I took this photo…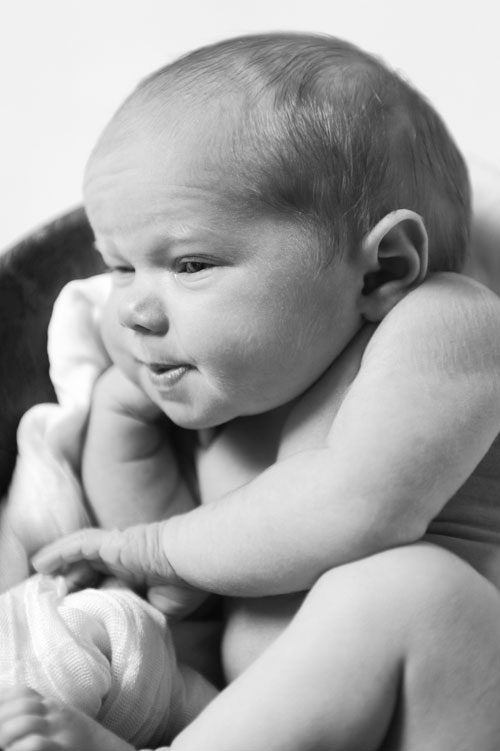 The little stinker pooped twice. It's not the first time, and I doubt it'll be the last time. I certainly am no longer fearful of taking risks like this to take such memorable newborn photos.

We decided to try one more pose, despite the poop experience. We really wanted to try to capture a sweet photo with Genevieve's flower headband.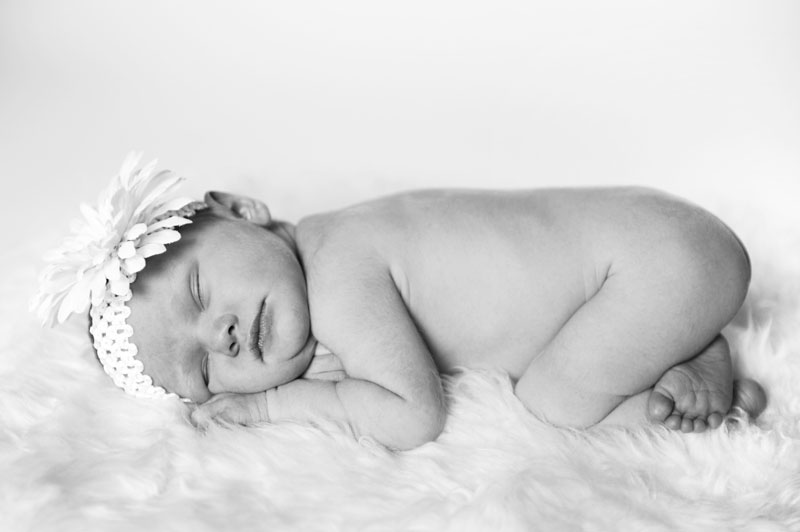 It was certainly a challenge to get her positioned just right, but once she was comfy she was in perfect position for one of the last and most memorable photos of the day.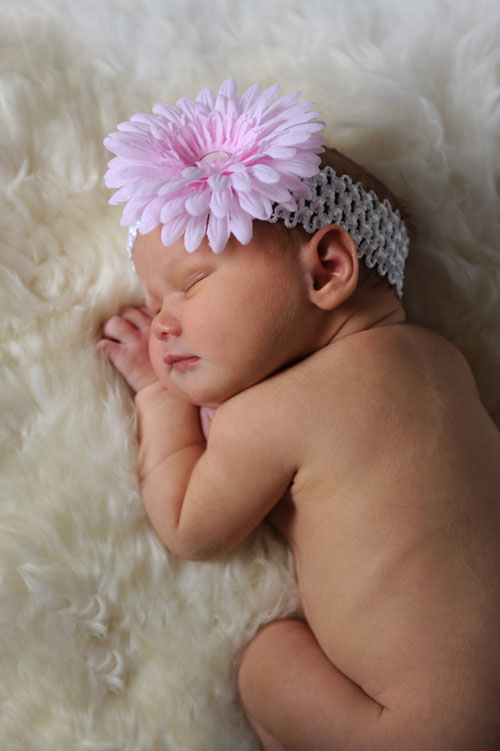 Janae & Kyle I hope your friends and family enjoy the photos of Genevieve. Thanks again for being such great sports. Best wishes…you two have definitely been blessed.