"Really great people make you feel that you, too, can become great." ~ Mark Twain
If it isn't obvious, I've been a bit busy lately. I've been meaning to write a bit about the fun during my time at Photoshop World at the end of March but haven't stopped moving since before the conference began. So hopefully its not too surprising that you all receive a little delay in my wrap up of the conference.
I knew going in that the conference would be awesome. Again this year I nominated several of my students. Thanks again to Scott Kelby and the gang at NAPP for awarding 8 of our students scholarships. We ended up with a handful of other students and alumni present at the conference, which only made the conference that much more fun. They had a "rock" theme and even rocked out during the keynote. Scott Kelby and the guys at NAPP are the only ones that could pull off rockin' out to photoshop songs with a standing room only crowd.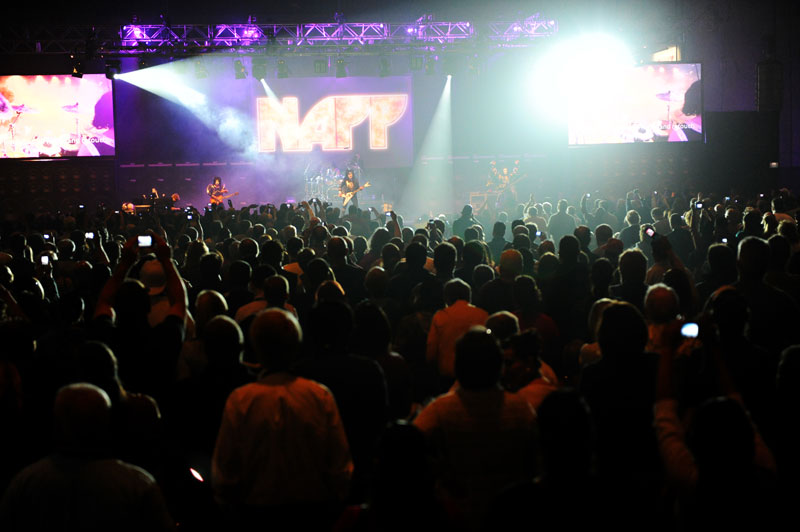 One of the things we heard during the keynote is that Adobe CS5 is on it's way to being released. The official release date will be announced on April 12, 2010 and you can watch it live online! During the keynote Katrin Eismann demo'd a few of the features of Adobe Photoshop CS5 and I think we all were in awe with some of the features. The most memorable one was certainly the content aware fill option. Okay, it's total photoshop geek talk but go check out this youtube video demo'ing the content aware fill feature and you will be ready for CS5! I think we're all wondering what could possibly be next…does photoshop CS5 do magic tricks too!?
For all the Lightroom users, it's worth checking out the Lightroom 3 beta 2 that was released just before Photoshop World. It's still in beta so go grab your free beta copy and take it for a test drive before they release the official version. I've been using it over a week now and totally love it. I don't think I can go back to the old version now because it's a big leap forward.
PHOTOSHOP WORLD SKETCHNOTES!
Of course I was equally excited about the conference because of how much I enjoy sketchnotes. Some of you may recall several us doing them at Photoshop World 2008. I also did them again at Scott Kelby's lightroom workshop. So I had fun again this year. Though I have to admit, it was a little tougher this year trying to juggle sketchnotes, homework, and keeping up with the courses I teach in between moments. But I think you all will still enjoy them. I know for me they are a great reflection of my experiences at the conference. They do give us a pretty hefty workbook with most of the notes and much more but for me I enjoy having a concise reference to the shortcuts and key points that stuck out to me during each session. And of course I truly love jotting down the hilarious things the presenters say during their sessions. Hopefully when you look at my sketchnotes you're able to tell who the humorous speakers were.

Okay, I suppose I should let you all check out my sketchnotes…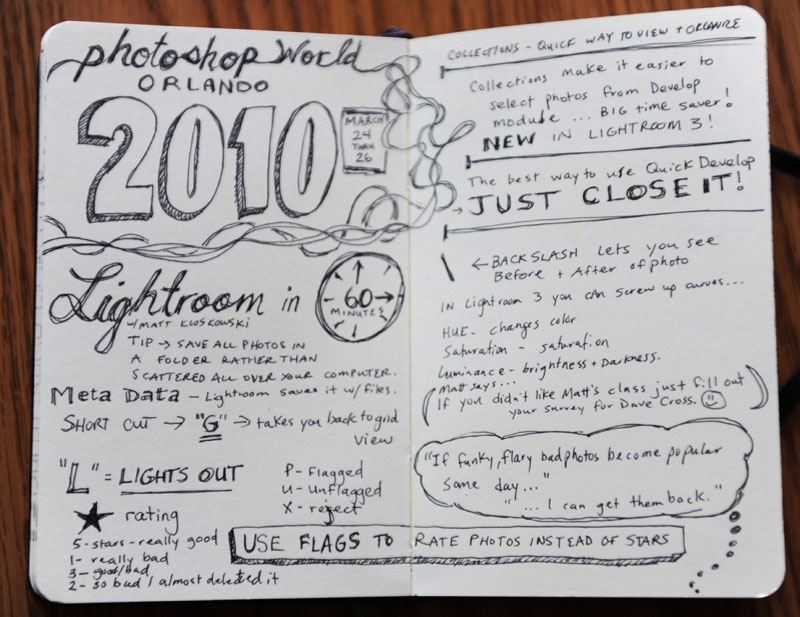 One of my favorite classes was with Zack Arias who is such a passionate photographer. This man is amazing and I've been so inspired by his white seamless background tutorials over the last year or so. Maybe when I have a little more space to work with I'll get to use some of his tips he shared during his session.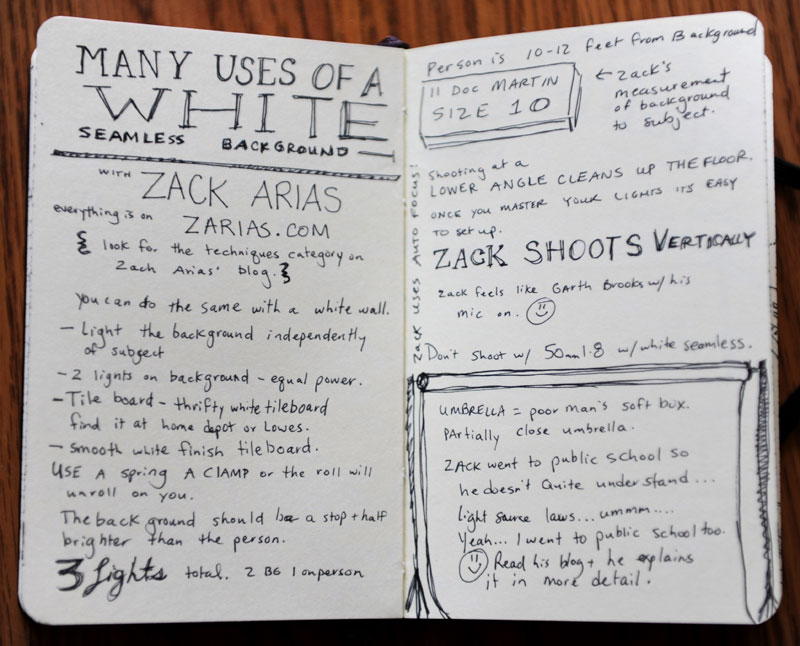 I was thrilled to see that Katrin Eismann and Julianne Kost were presenting Lightroom courses at Photoshop World. They've both been two of the most inspirational NAPP speakers for me. I love their humor in the midst of teaching such highly technical things to groups of hundreds. Of course by day 2 I no longer felt like I was at Photoshop World, for me they might as well have named it "Lightroom World" because all but two of the courses I took at the conference were related to Lightroom.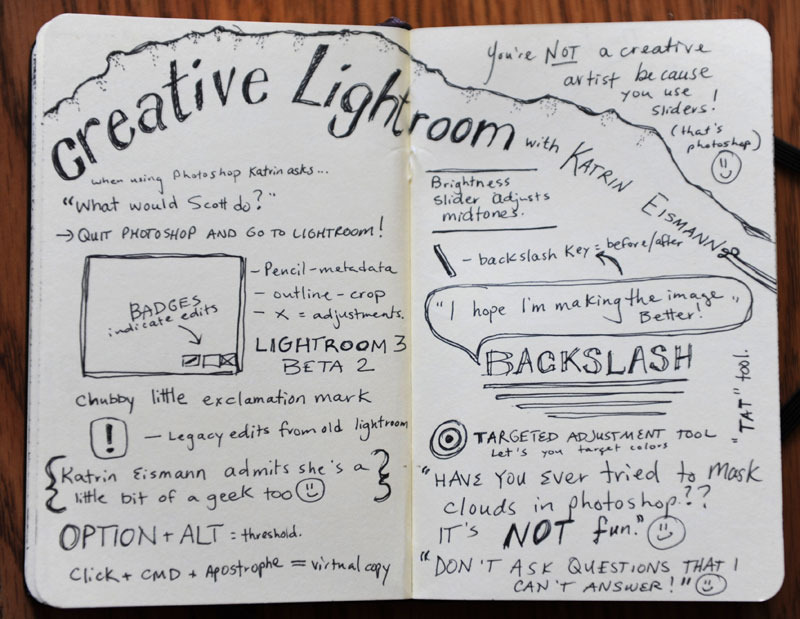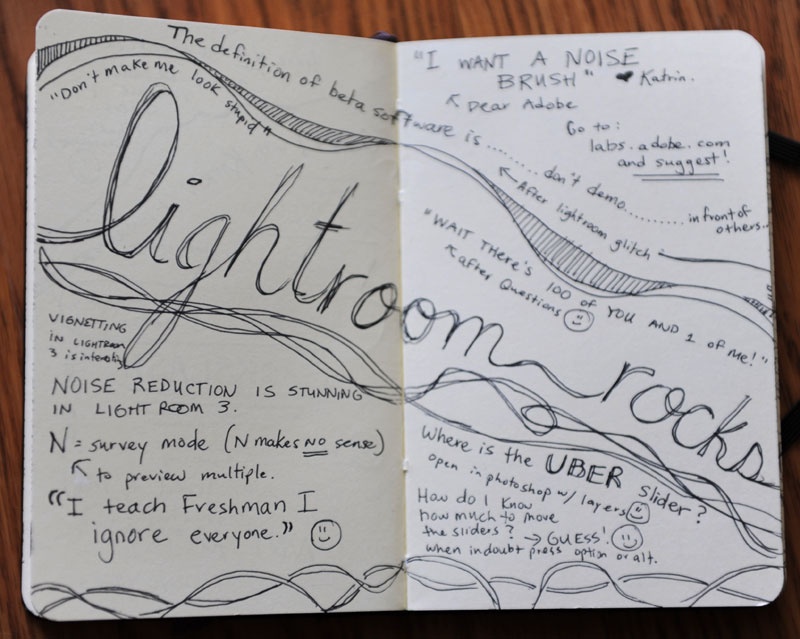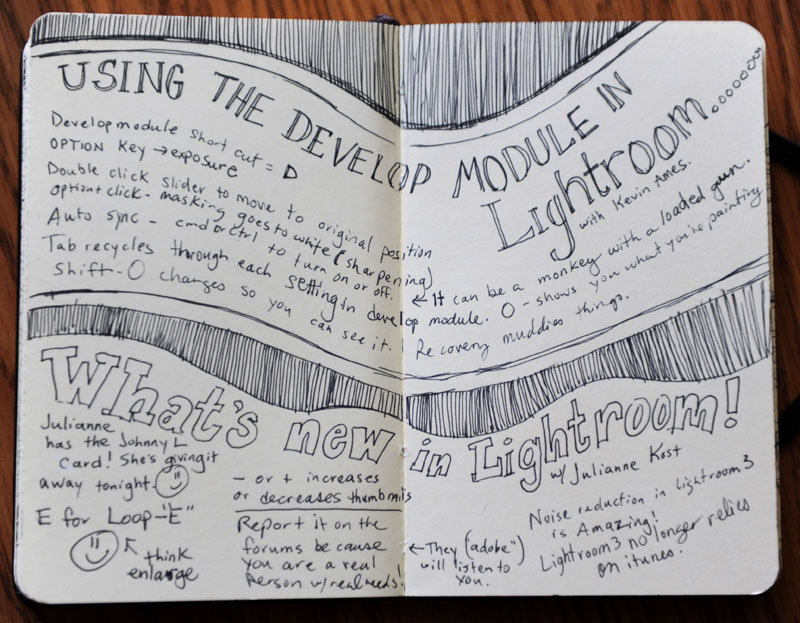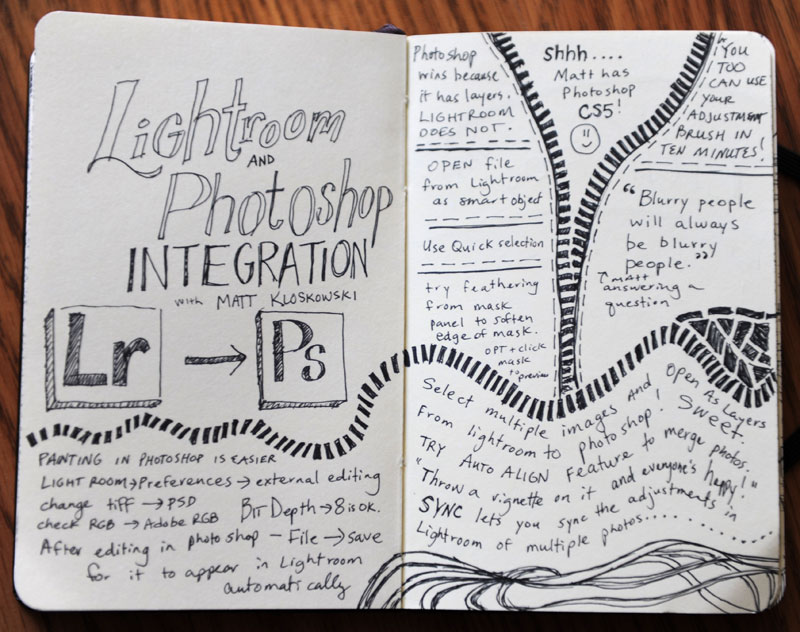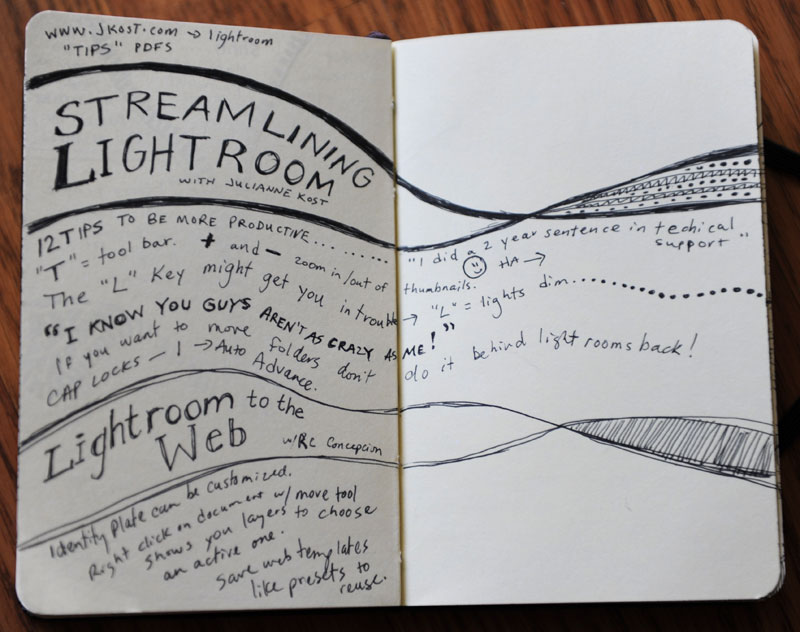 One of my other favorite courses was Light Painting with Ben Wilmore. It was amazing to see the types of effects you could achieve by merely changing a few camera settings and using nothing but a flashlight to light a subject. His web site shares amazing examples that only make me wish for more time to experiment. Maybe someday.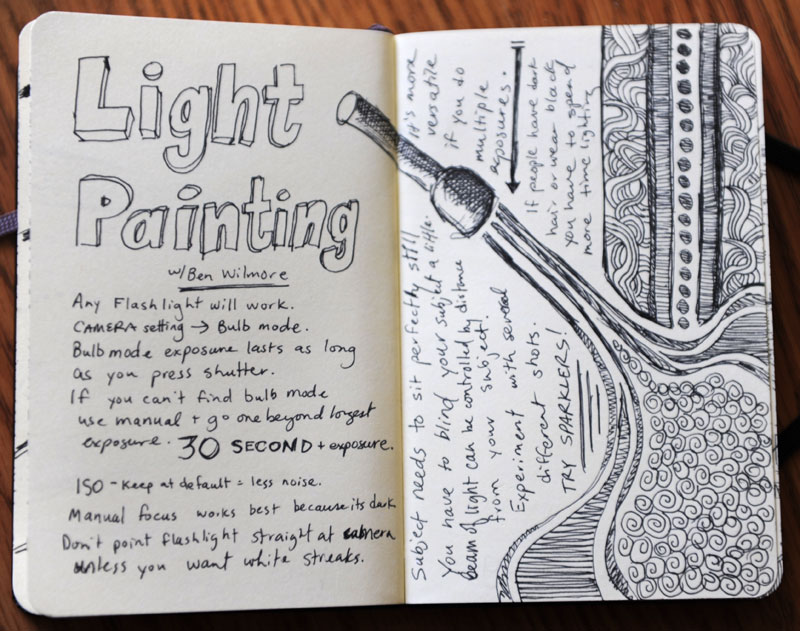 Scott Kelby's killer tips lightroom course was by far one of the most useful. I swear this man is always filled with 101 one tips that I never knew before.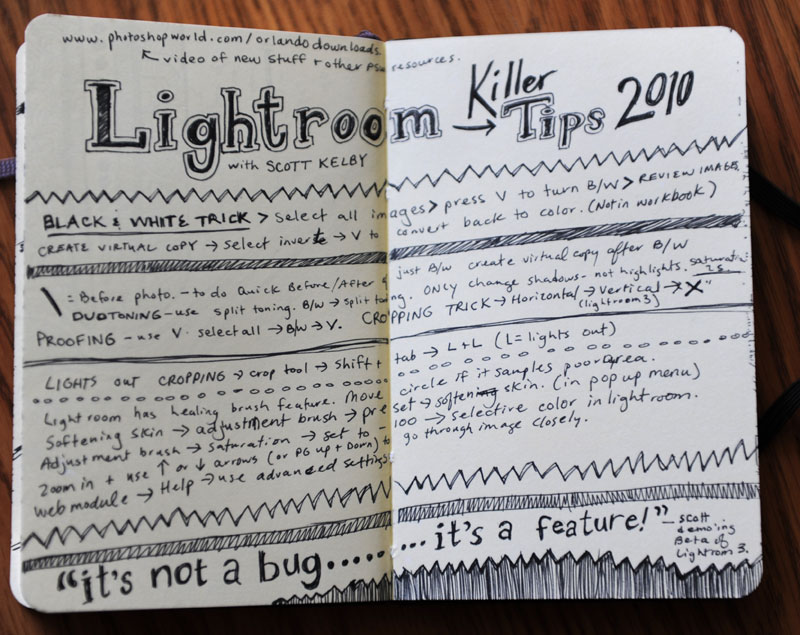 The closing ceremony is always a blast. I truly enjoyed Zack Arias presentation the best of all the presenters. He gave a brief presentation on if he was to start today as a new photographer starting out a business. It was really eye opening considering all his tips were right on par with the things I've been planning with my own photography. It was definitely one of the most inspiring moments of the entire conference for me personally. The rest of the closing ceremony was filled with so many funny moments that I still find myself chuckling reflecting upon the sketchnotes I took as they were giving away prizes to the audience.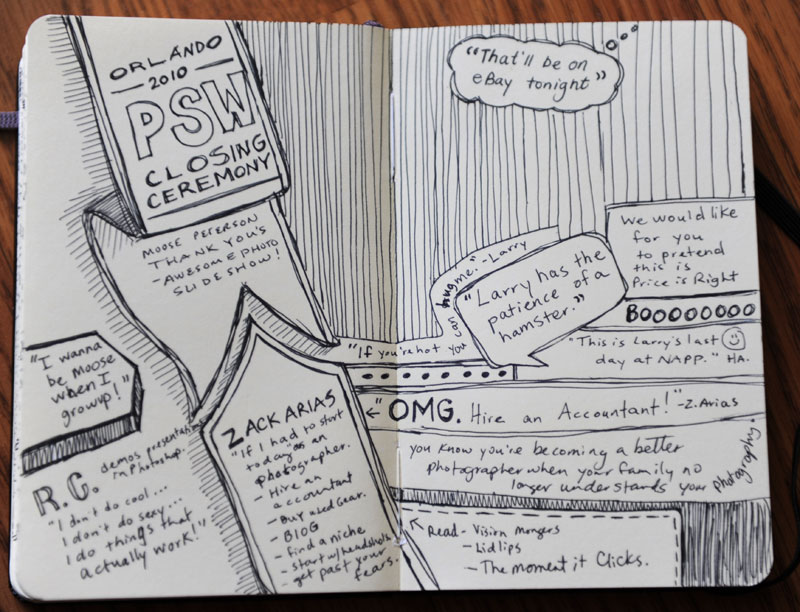 I've added these to my sketchnotes set in flickr in case you all wish to look back at the old sketchnotes too.
Again, thanks to Scott Kelby & NAPP for another amazing Photoshop World and for making sure many of our students had an opportunity to make it to learn from the best. But the biggest thanks goes to my husband. Jason took off the entire week to care for the kids while I was at the conference. I really couldn't do half of the things I have done all these years without his support.