"Kindness is the only service that will stand the storm of life and not wash out."
-Abraham Lincoln
I thought I'd take a moment to update you all as I gear up for the last 9 days of course work towards my masters in the winter quarter at SCAD and the final week before Valencia's spring break. I finally see a little bit of a break ahead, but I know the next week will be insanely busy for me. I often write updates in my twitter account and as I stay busy this next week and I hope you all aren't too shocked to hear my latest update: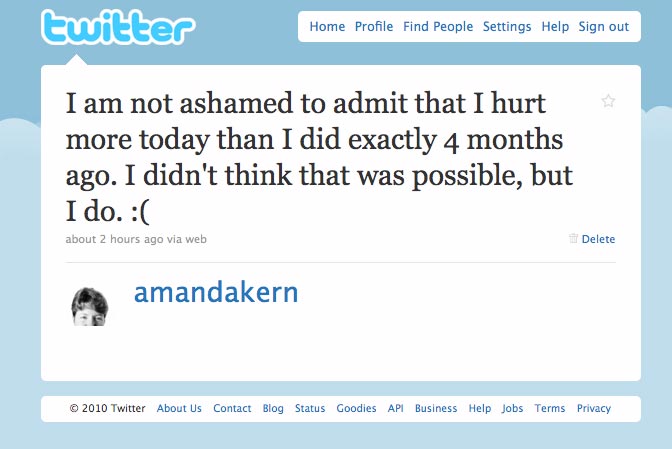 After learning I miscarried exactly four months ago I never would have believed you if you told me I would hurt more today then I did then. But I do. And though it's not necessary to explain the hurt that has come to exceed that pain I felt back then I am not ashamed to speak up and say that my heart aches so much more today. Those that have lost someone or something in their life that was meaningful understand how trying the journey can be to healing a heart that aches. You never forget no matter how hard you try. I suppose I've come to take a lot for granted that now has come to make me a little more emotional than I have been in months.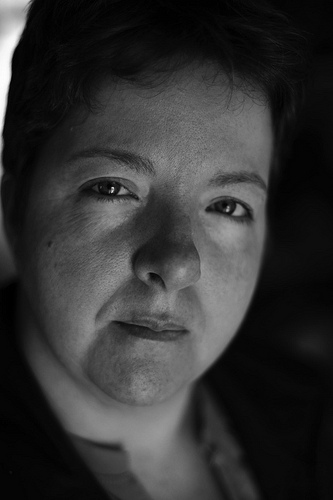 Over the last few months I've been so touched by those of you who reached out to show your sincere care and everytime I find myself emotional the words posted by one of my colleagues, Angelique Smith, posted on my blog four months ago continue to echo through my mind:
"There is healing in tears and allowing yourself this time to grieve. Cry like pouring rain when sadness takes you over. Instead of straining to keep a facade of peace, Cry alone until tears run dry… Cry, cry and cry… Tears are there to protect your heart. When tears finally run dry, your heart will be calm and quiet. Feeling clear inside, You will be left with the transpicuous sense of being blessed with life. So, look for beautiful things around you, And you will find a hope, a hope to move on and remember that you are blessed."
Amidst the busy and emotional moments I find I do what I do best. I reflect. No matter how much hurt surrounds me I realize just how much good I have done just since October. I found myself up early this morning doing just that. It's not uncommon that I find myself busier as I cope with emotions, it is what keeps me going. Reflecting this morning helped me realize:
Just since my recovery in October I have done 24 photoshoots. 20 of those came before the end of 2009.
I have photographed a total of 10 newborns since late October. 8 of those came in a two week span after I recovered physically from the chaotic month of October.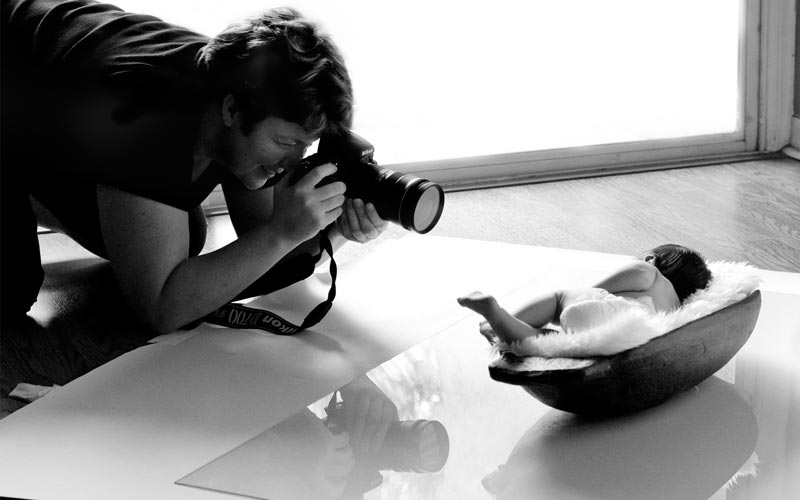 I volunteered and was accepted as a photographer with Now I Lay me Down to sleep. Just since being approved as a volunteer photographer in December 2009 I have photographed 7 babies who passed away. It's something I always hesitated to volunteer to do before miscarrying but it is one of the most moving things I have done, knowing I am helping others families in the healing process as they struggle to find peace in losing their little ones…just like the peace I still search for.
I volunteered with Help-Portrait in December 2009 and worked alongside other inspiring photographers and volunteers to take photos of families who are homeless and could not afford photography.
I continue to teach at a fulltime capacity at Valencia Community College. My students inspire me and lift my spirits every day more than I ever tell them in person.
I continue to pursue my masters at SCAD fulltime. I managed to somehow pull off finish the remaining two courses from last quarter that I initially received an incomplete for due to the miscarriage — all while beginning a new quarter full of classes at SCAD.
I presented two classes at Valencia's Learning day to an amazing group of colleagues who were willing to listen to all the knowledge I had to share.
I continue to remain reminded of the two little blessings I have — and am reminded every time I see them that miracles do happen. They remind me of the good I have brought into this world. And I am equally reminded the amazing strength Jason has been as he has tried so hard to protect me from so much hurt.
HERE'S HOW YOU CAN HELP ME.
"I'm thankful to those who said 'no'. Because of them, I did it myself." ~ Albert Einstein
Those who know me best know that I have a giving soul. Giving lifts my spirits. I can't explain it. It just does. I have given a lot over the years. I'm a little surprised because this past week I attempted to give a free photo session for a silent auction for Relay for Life and for some reason it apparently received absolutely no bids. Not even a dollar. I'm utterly shocked and this has only added to the many disappointing things I have experienced lately. Yes, rarely do I accept "no" – it only drives me to do more and try harder.
So here's how I need you to help me. I want to give. But I need your help giving too. As some of you know, Relay for Life has been a cause I have always supported, even as a student. Both of my husband's parents passed away due to cancer. My own father has had cancer. And so many others I have come to know have somehow been affected by cancer. I have not always been in a position to give like I intend to this year. I have already given. I now need you to give too. And in return I am offering 2 FREE photo sessions this month.
One of my former students, Sakina Zorayq, is helping lead a local Relay for Life team and it is my goal to help her EXCEED the goal she has established to raise funds for Relay for Life. Whether or not you're interested in being put in the drawing for a free photo session, it would mean the world to me if you found it in your heart to help me give.
Everyone likes "FREE" and I've been told so many of you like my photography – so here's what I need you to do if you want a chance to win a free photo session with me this month.
Go to Sakina Zorayq's Relay for life page and donate to Relay for life. The minimum donation is $10.
Donate a minimum of $10 dollars and email me proof of your donation to amanda [at] amandakern.com – to do this either take a screenshot of the confirmation page or proof of payment. Here's an example of my confirmation: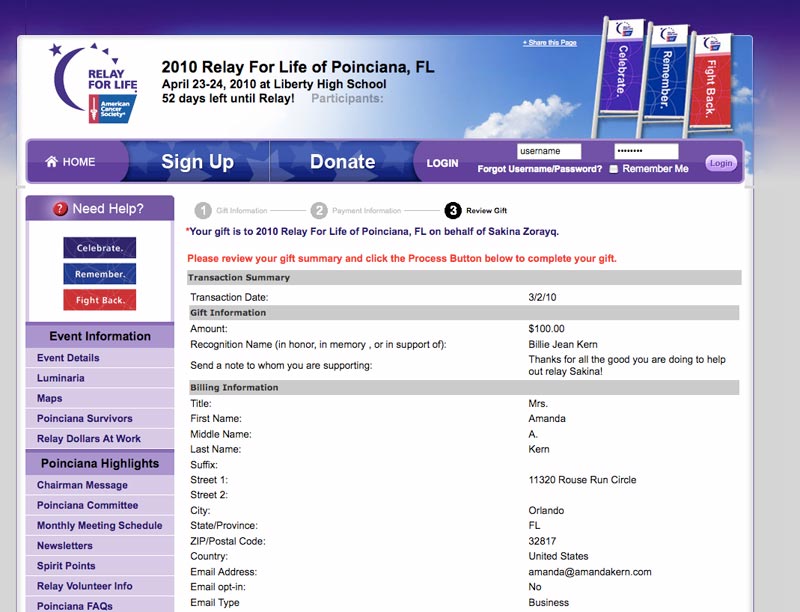 When emailing me share with me your name, contact information and the ages and number of people of who you wish to be photographed so that I can get back in touch with you if you are chosen.
On March 12th I will arise from my coursework and randomly pick 2 winners. The names of those who have helped me give will be put in a hat and I will let my two little blessings randomly help pick 2 winners. Entries for a FREE photo session will be accepted until 3pm on March 12th, 2010.
If you win you will receive:
A free photo session with me that will last 1-2 hours for you, your family, or someone you wish to give the session to.
The photo session will be valid through December 31, 2010.
You will receive all unedited and edited photos in HIGH DIGITAL RESOLUTION format. Yes, I said FREE. That means I earn NOTHING from giving.
You will be given permission to print and share online all digitial photos for personal use.
*By participating if you win you agree that photos may be used in my portfolio.
**You must be in the immediate Orlando area or willing to travel to Orlando if you win.
***The value of a custom photo session w/high resolution photos is $650.
So take a moment to help me give. If you don't have it in yourself to give monetarily, then help me spread the word so that I can give…not just to Relay for life – but families who would value the memories I could capture for them.  Helping me give would warm my heart and lift my spirits.
P.S. If you're not already a fan of my photography in facebook, go join: http://www.facebook.com/amandakernphotography – this likely won't be the last time I give this year and my fan page is a great way to stay updated!