"What you leave behind is not what is engraved in stone monuments, but what is woven into the lives of others." – Pericles
One day a year Valencia Community College holds Learning Day. We cancel all classes, give the students the day off and all full time faculty and staff get a chance to learn. It's a nice break for us all but also a great chance for us enrich our professional careers by taking classes from other faculty and staff. In years past I've always had many colleagues during or at Learning day who tell me "you should teach…(classes on all the things that excite me)…at Learning Day". So this past fall when I received the invitation to teach presentations I jumped at the opportunity and was excited to have both my presentations approved.
My first class "Social Media and online tools for educators" received a great response and turn out. I was a little shocked to see that there was such an interest that a handful of those that attended were willing to sit on the floor because we ran out of seats. It was the second session of the day so I knew everyone was anxious to head to lunch, but I think it turned out to be a fun one for everyone to learn more about how faculty and staff could use social media like twitter, facebook and more to help communicate, collaborate and inspire students and colleagues.
For me social media has become an invaluable tool as an educator so it was exciting to share the ways I was using various outlets online to hopefully inspire others. Before I started class I made sure to twitter as the group gathered.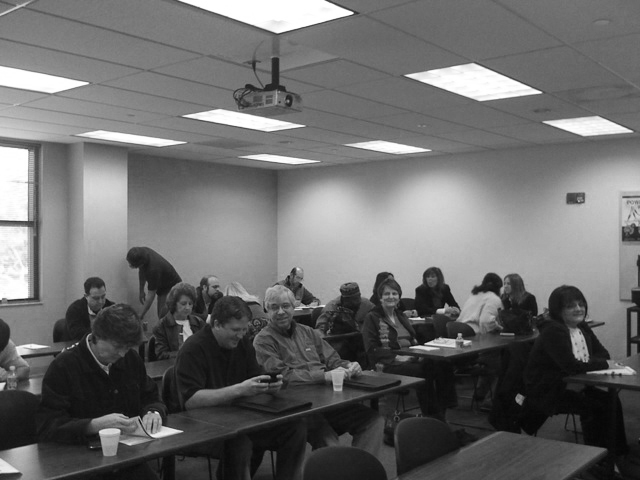 This class was so much fun because many of my colleagues I only knew through twitter and facebook – so while I was presenting…they were twittering. Of course I completely approved. I think for many who may not be using social media that it was eye opening to see the possibilities and benefits. There was definitely a nice response after the presentation and many have expressed interest in more classes in the future to help faculty and staff learn more ways to use social media effectively in education.
I have elected to share my keynote presentations using slideshare for those of you who would like to refer to it again or for any of you who may have missed my presentation. It doesn't share the hilarious youtube video included, but the rest of the main points are present.
After lunch those of us from graphics and the art department headed over to Jason Ellison's office to check out the new screenprinting set up he had going. You may have heard the rumors, but Jason has done an amazing job at setting up a screenprinting set up in his office so that we can use it in the future. This is exciting news and will likely lead to many more fun creative projects for our students and graphics program. I thought I'd share a little sneak peak with you  of his office as we were all checking out his office because it really is that exciting to see how much work he's put into it all. And if you're wondering what all those awesome posters are of – just go check out the Pinup girls, killer robots, and toast event that we're holding next week. Our amazing alumni, Kevin Scarbrough will be back in town to school us on the topics of freelancing as a designer.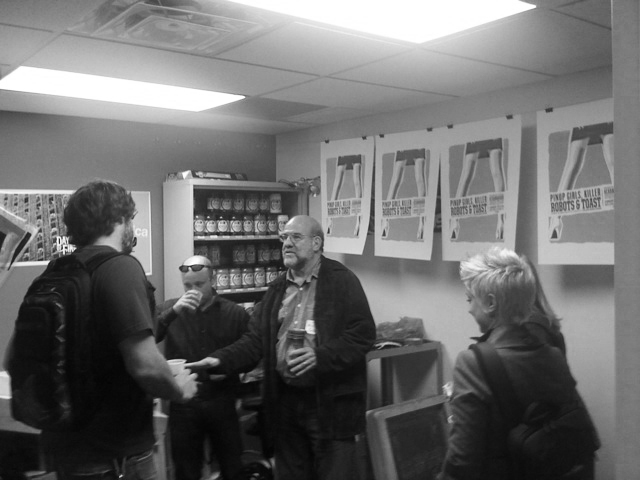 I was most excited about my photography presentation that was held at the end of Learning Day. I think they must purposely put the awesome presentations at the end to excite people to stay for all the sessions but it was pretty clear that crowds began to fade after lunch. I must admit that for me I was a bit nervous because they anticipated a possible large turnout due to the topic and so they put my presentation in the second largest speaking venue on campus. I presented to a reasonable size group for it being the last session of the day.
Thanks to my friend, Giancarlo (a.k.a. Blue) Brand, I have a few photos from the presentation to share. I think as teachers we all don't have enough photos of us doing what we do just about every day…teaching. For me it definitely left me a little more nervous because it was the first time speaking connected to a microphone but once I got use to the echo it was no different than teaching in any other setting. So I feel pretty fortunate that Blue was willing to take time out of his day to help me document a bit of the day to share with you all. (thanks again Blue – you rock!)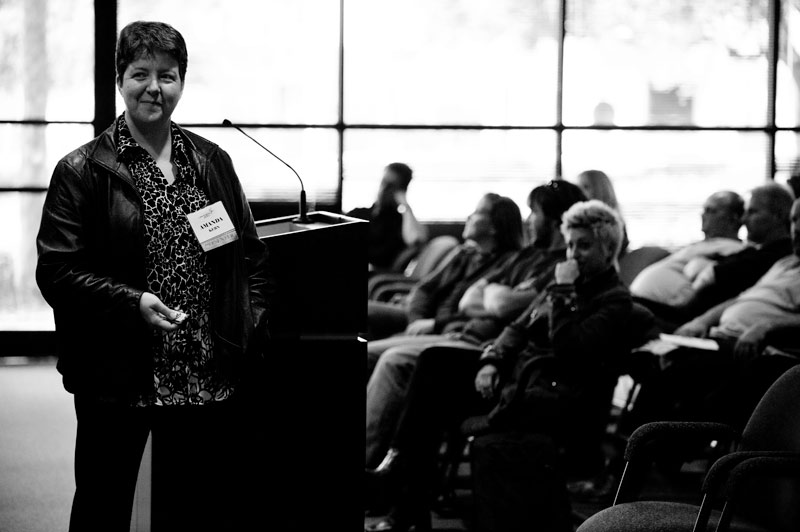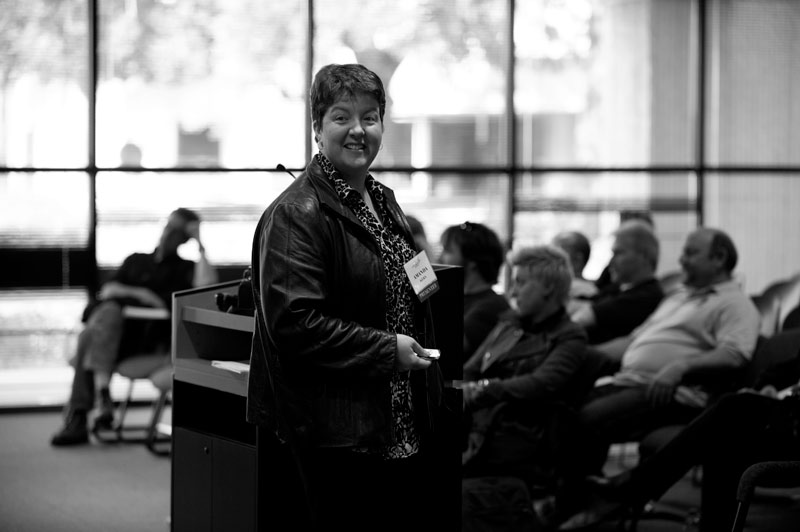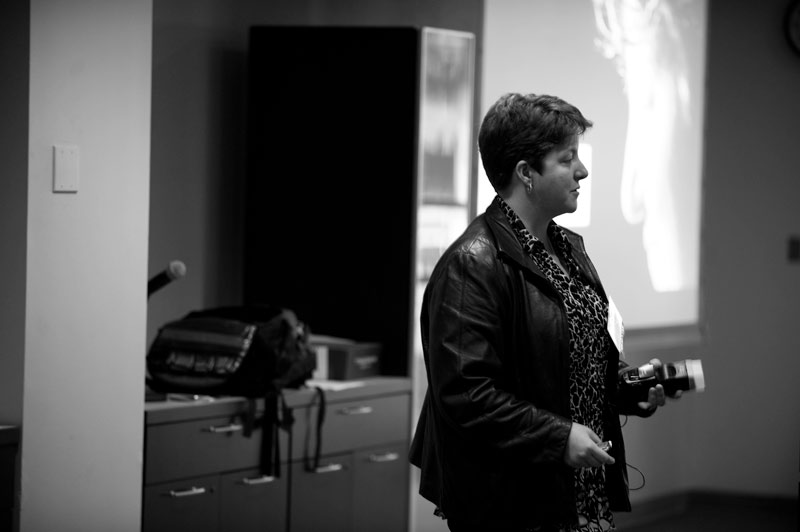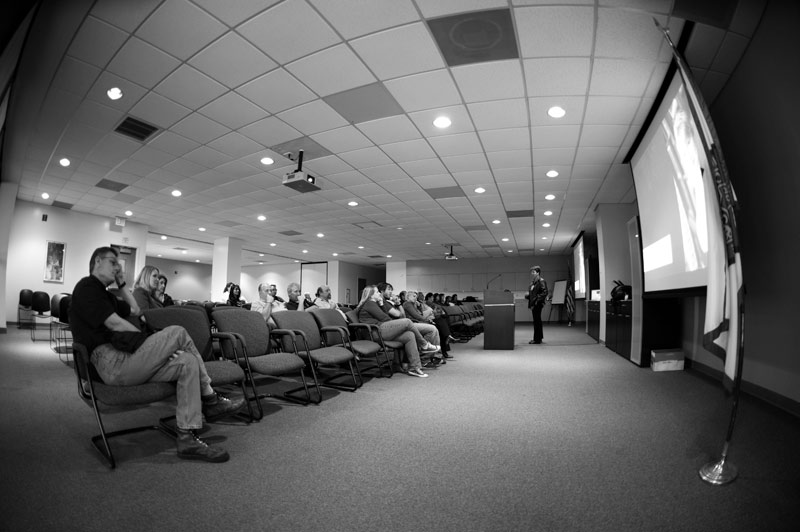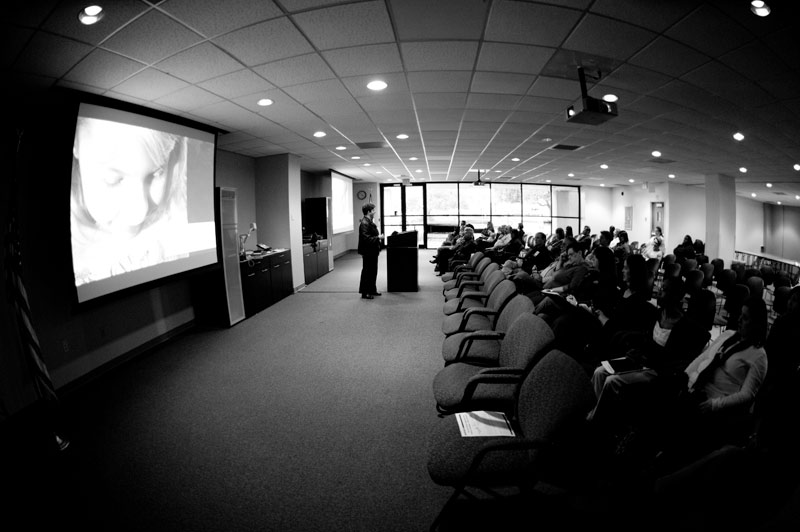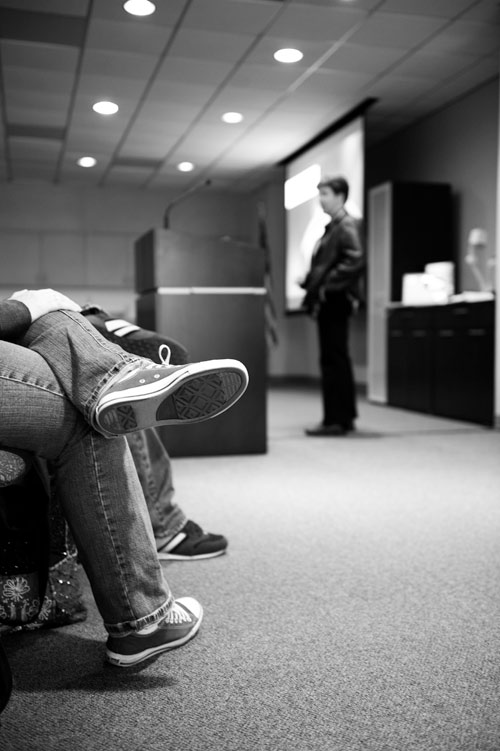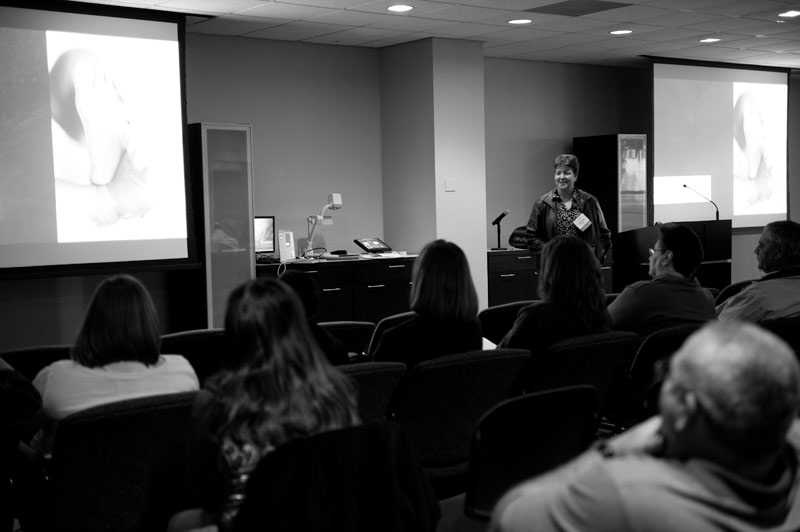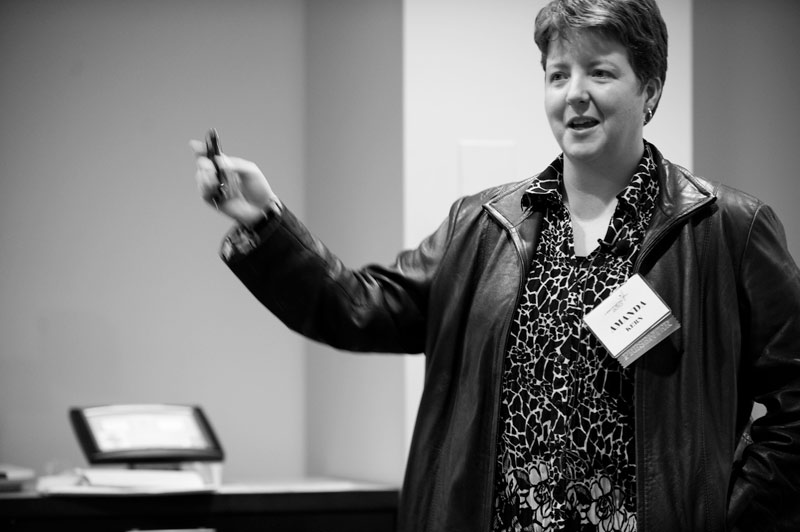 My photography presentation was exciting because it allowed me to not just share my knowledge of photography but to also share my work and offer examples throughout the presentation. Because I knew I'd have a diverse audience I had to make sure not to over teach or under teach the subject matter. I also couldn't teach to a specific camera because the functions on cameras varies so much by brand. So I hope given the time that I was able to inspire everyone with some things that have greatly influenced me in growing as a photographer these last few years.
I think one of the most rewarding parts of the day was the sense of community amongst my colleagues. Teaching a couple sessions definitely connected me to many more colleagues than I typically would interact with. But along the way it was very helpful to also have amazing support from my own colleagues in graphics. Thanks to Kristy Pennino, Jason Ellison, and Meg Curtiss for attending both of my sessions and offering an amazing amount of reassurance and encouragement all day. You guys rock!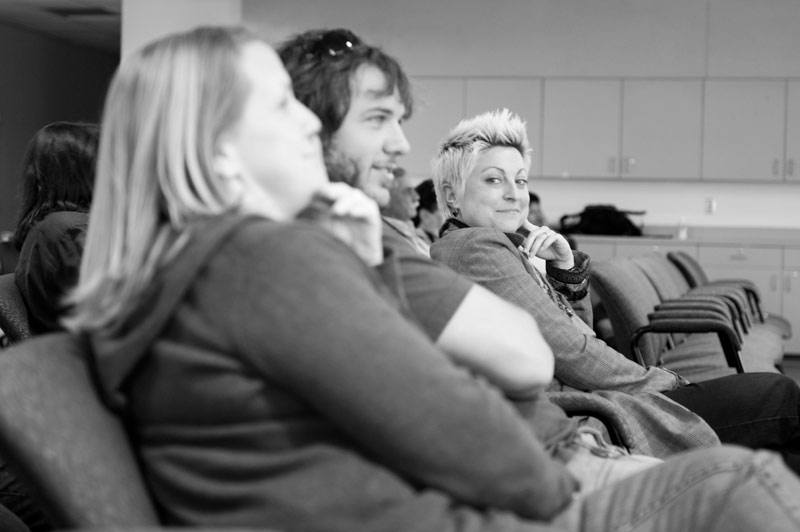 Yes, I have to admit, sometimes I think it's more challenging to teach to a group of people you know. So at first, I wasn't so sure how much I liked the idea of having the colleagues who knew me best in my presentations. But it was great to have their support. I really love this photo Blue took of Kristy as she sat in on my photography presentation. I suppose it's a little odd now that I am the one teaching many of my own former teachers. Thanks again Kristy. I know many of you believe I should say "no" a little more with all I've been doing, but I had fun sharing my knowledge and found it to be a very rewarding experience to inspire my colleagues.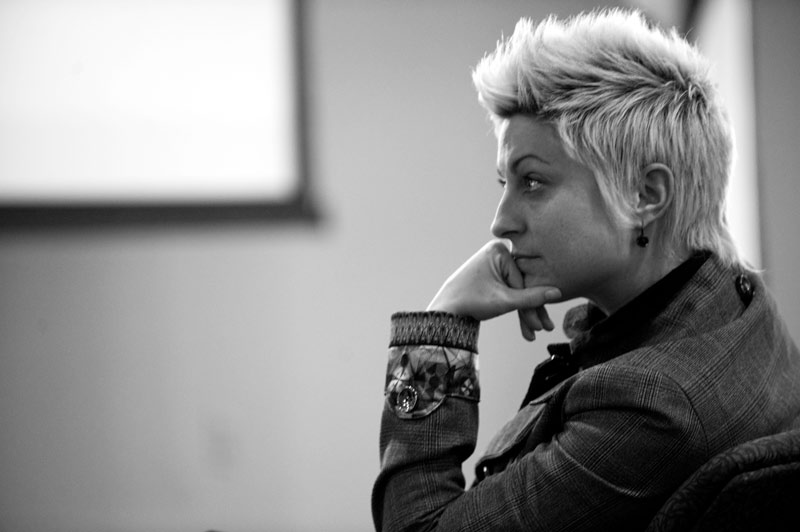 Two of my favorite photos taken by Blue today are of my Dean, Wendy Givoglu as she sat in on my photography class. Just like Kristy, she too use to be one of my favorite teachers when I was a student at Valencia. I think I'm still having a hard time believing that now I'm the one teaching my former teachers.  Thanks for showing your support today Wendy!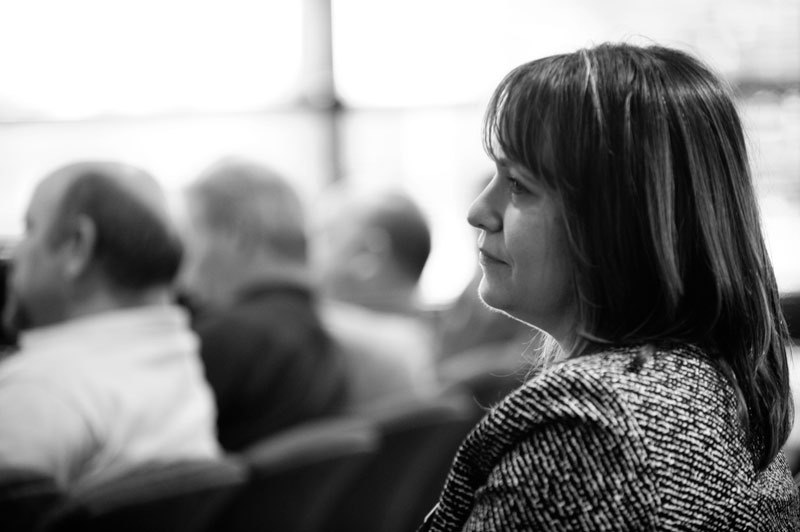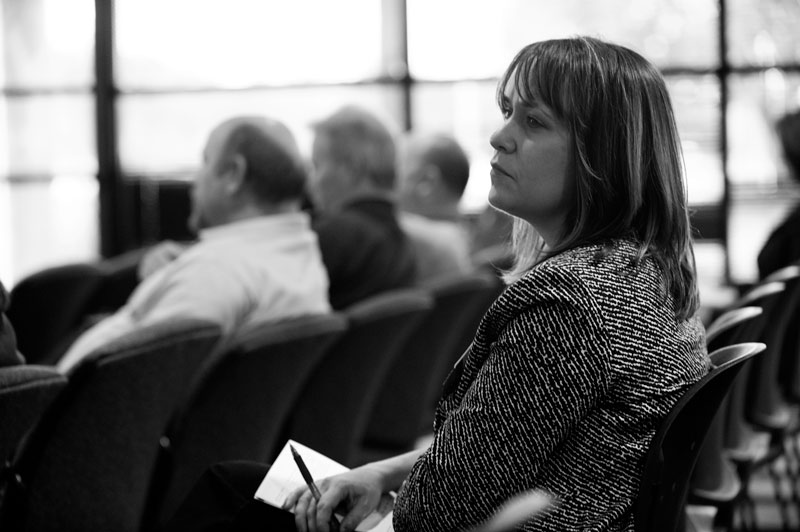 I've also placed my photography presentation online. It also doesn't include the brief video that was shared during the presentation but the slides are there. Not hearing me speak with these may not give you the full experience of actually being in the session but I know there's a lot of interest in seeing the presentations and many who attended are interested in looking back at some of the things presented so I hope you enjoy.
Thanks again to everyone who attended my presentations and to those of you who have put up with me the last two weeks as I've prepared for these two presentations. Finally, I've conquered Learning Day and now it's time to return to a big pile of homework and grading!
If you guys have questions or comments about either presentation feel free to post comments to this post!