"Life's challenges are not supposed to paralyze you, they're supposed to help you discover who you are." -Bernice Johnson Reagon
My first full day at the hospital has passed. The day began with me feeling pretty cruddy. In just the first day I have discovered a few of the things being in the hospital:
The doctor saw me first thing this morning. She said my HCG levels came back and they're down to 91! Yes, that means she's almost certain I'm in the clear from having to take methotrexate. This is a big relief, but I won't feel fully reassured until I hear my levels are at zero.
I was given information about endometritis which is what the doctors suspect I have developed, basically meaning an infection to the inner lining of the uterus from going through the three D&C surgeries. Yes, it's scary to me still but after being here a day getting amazing care from the doctors and nurses I truly feel better knowing how much worse I'd likely have gotten if I didn't come in to the hospital last night.
I'm on fairly strong pain medication which has me feeling comfortable. No need to worry – they're taking very good care of me making sure I will be better soon. I've been on darvocet the last day and after getting headaches this evening I'm back on motrin too.
I've been put on estrogen supplements twice a day, which will likely continue for a few weeks. Of course the thoughts of being on hormones leaves me concerned but the doctor has told us that it will help the lining of my uterus heal from all it's been through. Last night the doctor said all the medicine he's putting me on is the best precaution he can take to ensure he protects my fertility and prevents me from having any further surgeries. Though right now the furthest thoughts from our mind is having more children, we're reassured to know the doctor cares enough to protect the fact that we will be able to make that decision for ourselves some day.
Ambien is awful. I really have no trouble sleeping usually so it was my first time taking sleeping medicine. It really scared me feeling so doozy before finally sleeping. But I did sleep really well last night. Last night I had no option, the doctor required that I take it to rest. Tonight it's optional, and I have no desire to take it.
Being connected to an IV all day and night really sucks. I have to pray that this vein stays strong so they don't have to move the IV. I'm getting use to having it in, though it's no fun feeling so stuck to it – it's definitely no fun trying to go to the bathroom while I'm on this IV! But I'm reassured that it's for the best that I'm connected to the IV with all these meds, though at times the antibiotics really do feel so cold going through my veins and sometimes they burn or sting as the go through my veins. And it's hard to believe, but something going through my veins tastes sooooo awful.
The hospital food isn't too bad. Thank goodness. I really haven't been too hungry, but the nurses remind me to eat. When I don't I begin to feel nauseous so thankfully the hospital food is pretty good.
Having wifi in the hospital rocks. I have been resting a lot today but in between restful moments I have been thankful to have my laptop and iphone handy to pass time.
This morning Jason and the kids stopped by to visit. It was one of the best things that happened all day. Seeing my kids made my day.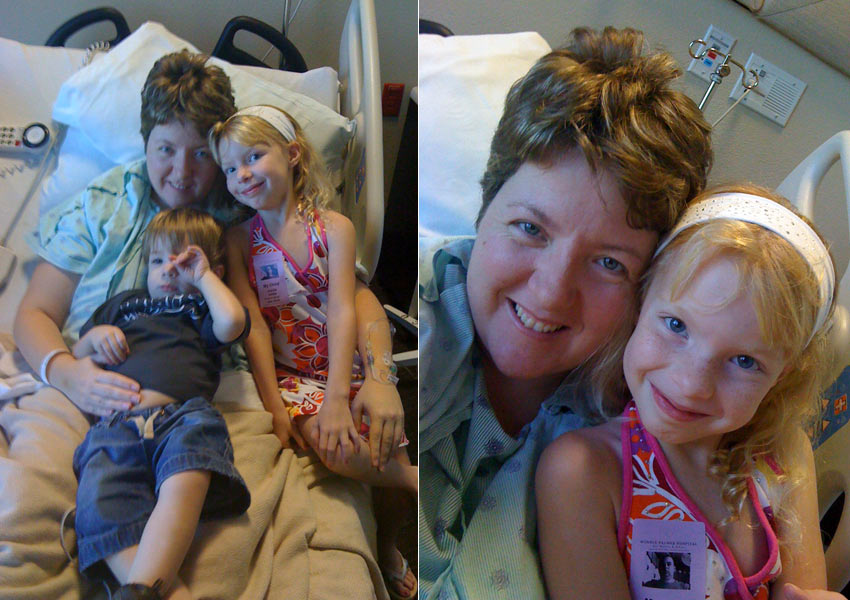 I have to say that I feel so thankful to have so many of you show so much care and concern – it's been reassuring knowing how many are pulling for me to get better. These last few weeks have been very tough for my family and it's been reassuring to be able to step away from things like work and school and have no worries other than getting better. I truly feel lucky to work with such amazing people – I've never had to stress about work through the last few crazy weeks that all now have blurred together. I really feel as though October is one big blur. Today my "boss", Kristy Pennino, stopped by for a bit to visit me in the hospital. As my former teacher, colleague, and now my supervisor – I have to admit that she's just as much of a good friend, especially during times like these. It was good to finally catch up after not seeing her since I was last on campus over three weeks ago. Yes, it's all a blur and I'm finding it hard to believe I've been going through this mess for more than three weeks. Thanks Kristy for helping offer a little distraction today, I definitely appreciated your company and though I know I need to rest right now – I seriously cannot wait to return to work and move on past all these tough moments life has brought lately.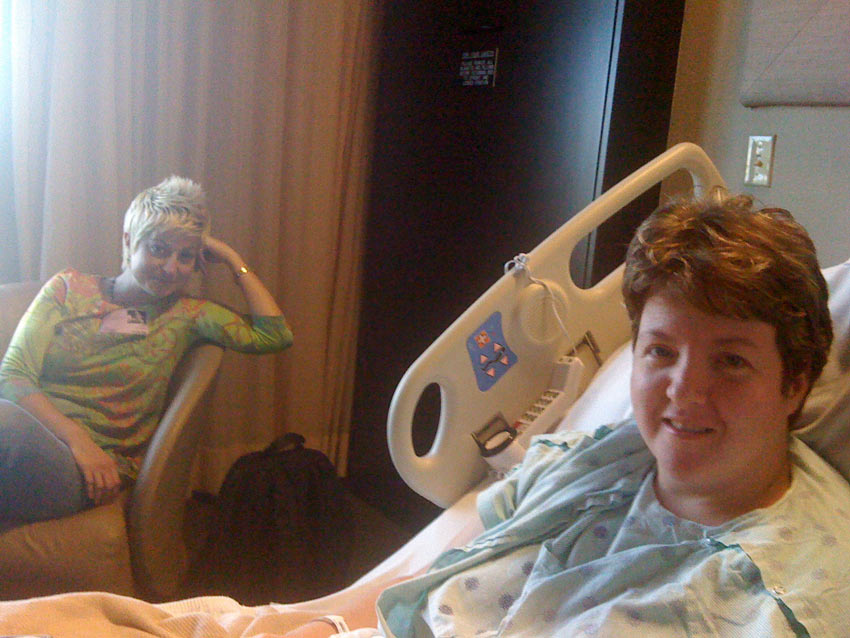 So many of you have touched me with your sincere thoughts and wishes and all the efforts you have made to comfort my family during these tough times. I have to say that I was most moved last night when I heard news that our family pulled together to buy my brother-in-law, Adam, a plane ticket for him to fly down from Chicago. To know that he's willing to drop all his own personal obligations to come down to help us in the coming days means the world to me. I can't deny that just thinking of how much he is sacrificing to be here for us as he has his own challenges life is bringing him definitely leaves me feeling all teary eyed, just knowing he cares that much to be here for us. Tonight Adam, Jason, the kids, and Connie stopped by to visit me.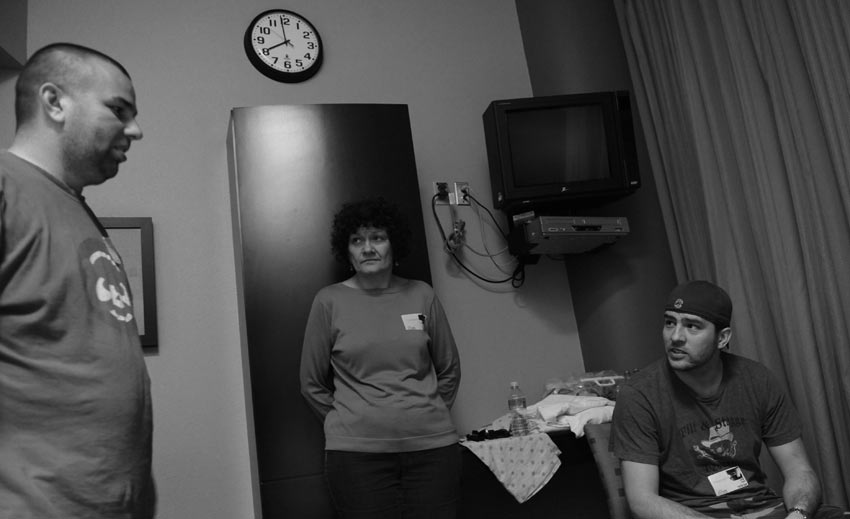 It always stinks to know it takes bad things to help family reunite, but I'm thankful to have family here. Adam has been amazing in just the short time he's been here. I've heard how much fun the kids are having with him. Hope is having a blast having her uncle here to goof around with.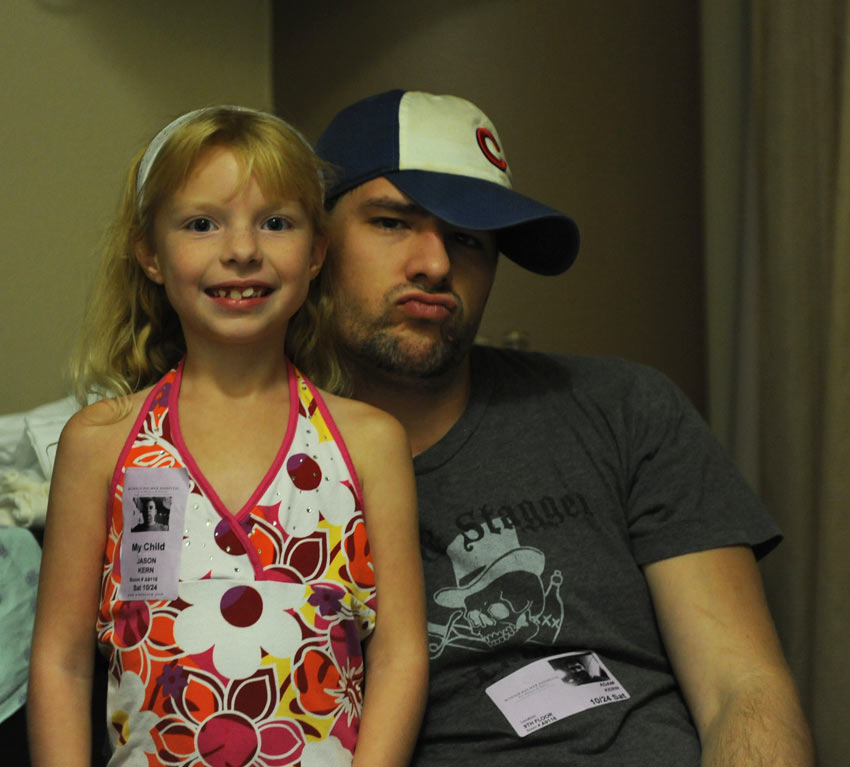 They really are goofballs together, there's no denying both of them are in the Kern family!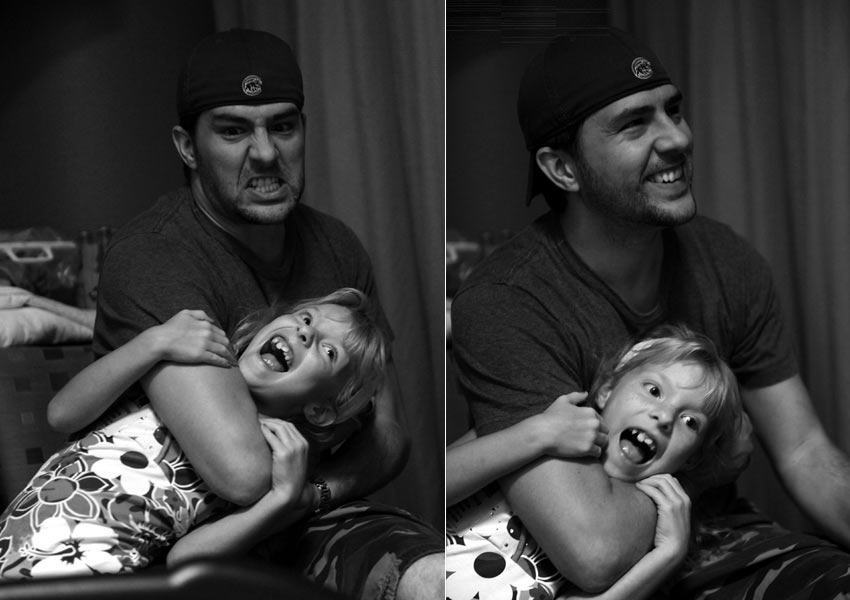 For me it puts my mind at ease having Adam here. I admit I worry so much about how the kids are coping these last few weeks. I know Hope has been challenged with her own emotions, and now that she's seen me in the hospital this many times and now having to stay all weekend I just worry so much about how she is doing. I remember being about the same age when my own mother had been in the hospital a few times and I remember as a kid I always worried about my own mother so much even fearing she might die, even though things weren't really that bad. I imagine Hope is feeling those same fears so I have no doubt that having Adam here is a great distraction for Hope so that she doesn't have to think to much about her worries. Adam it means the world that you're here…thank you.
Tonight the kids were here when I had dinner. Hope insisted on having dinner with me. I was amazed to hear she was willing to pass up a happy meal for a dinner with me. Even Jaylen was excited to sit with me as I took time to eat.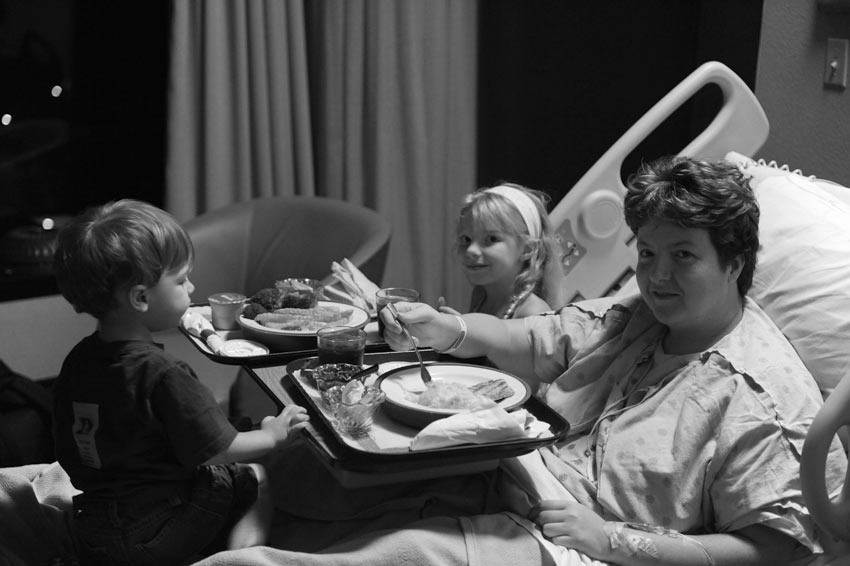 It was a memorable enough dinner that I asked Jason to take photos, despite how cruddy I feel and look.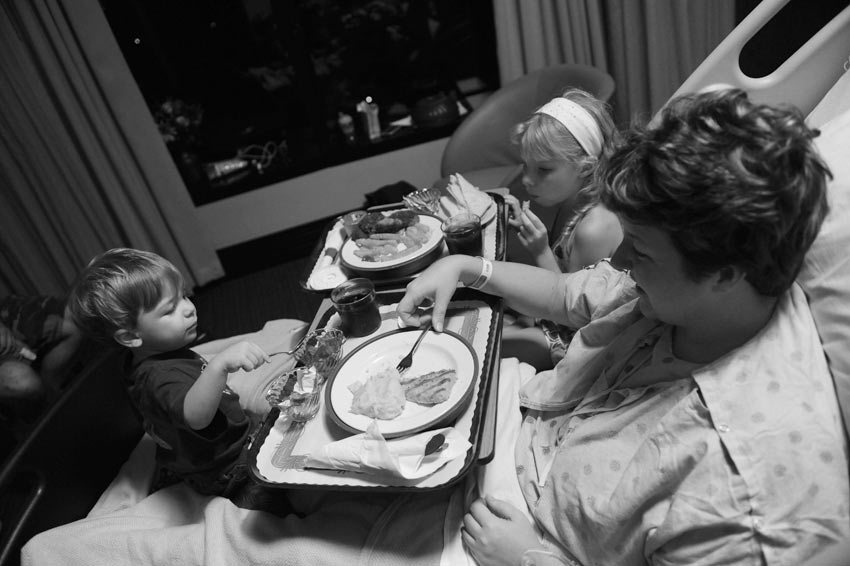 So one day down. I am anxious for the weekend to be over. It's time I rest to hopefully help this nausea go away and yes, to get better.