"Pain is never permanent." – Saint Teresa of Avila
As I near the end of my second day in the hospital I have to tell you all that today has been so much more challenging on many levels. It's been a long day that I'm so glad has nearly passed. Today I've discovered a few more things about being in the hospital that I thought I'd share.
The antibiotics are definitely awful. I know they are helping fight off this infection, but they make me feel super cruddy at times. I'm taking clindamycin, ampicillan, and gentamicin which I've come to learn are definitely strong antibiotics that hopefully will fight off anything that might be going on within me. At times they make me feel much more nauseous, tired, and today they've begun to give me an achy belly.
Being so nauseous they've given me zofran to help curb the nausea. It worked this morning and now that I'm feeling so cruddy again I'll likely take it another time or two before these antibiotics are done.
The antibiotics I'm on still taste sooooo awful. Thankfully Jason brought me life savers. For the first time in my life I truly felt like they really were "life savers".
I really hate being on this IV for this long. I am so eager to go home and finally get to take a REAL shower!
My blood pressure has been low this weekend, which isn't unusual. They have had to wake me up in the middle of the night to move around because it's been that low. The lowest I remember was 77/54. I was told by the nurse today that after undergoing so many surgeries that it's normal for it to be lower than what is considered a "normal" blood pressure.
All my nurses have been Valencia grads, I am so proud to be in the care of some of our own alumni! The nurses really have been awesome!
Today I got to meet the doctor that I called on Friday for the very first time. The practice that has been treating me is pretty large and it's not uncommon to see different doctors when I've had visits to be treated. I've now seen 9 of the 11 doctors in the practice. I joked with the doctor how I felt a little special that they have all come to know me so well because of this complicated situation I'm in. I thanked her for taking the time to really review my concerns when I called Friday enough to discuss my situation more with other doctors which led to them wanting to see me to get me treated right away. I honestly fear now what I'd feel like right now if I had prolonged calling the doctor Friday. As much as I hate being here I'd rather be safe than sorry and at this point I feel as though they've taken all the precautions to help me recover soon from all this mess.
I found myself by midday annoyed with this IV. So much so that I took a picture of it.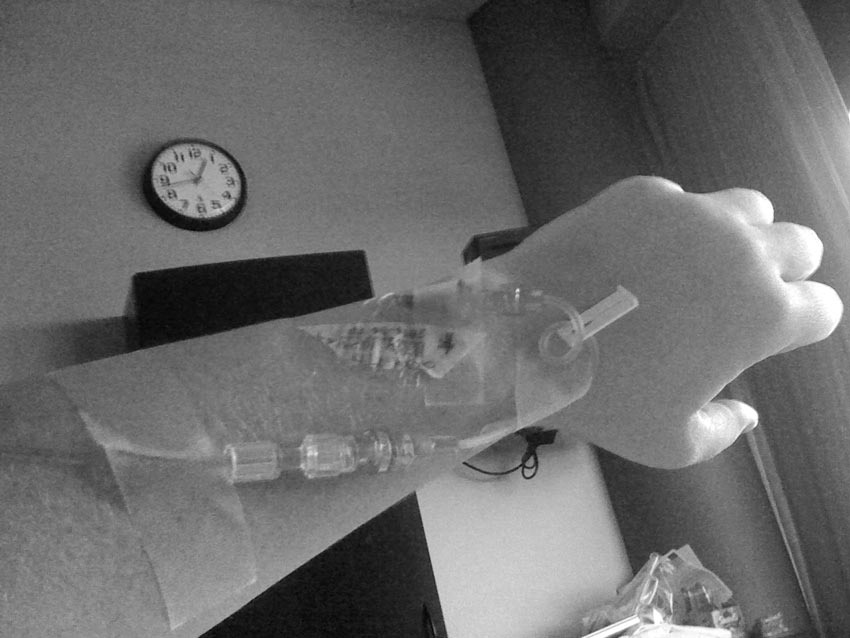 When I took that picture the nurse had just started me on another dose of antibiotics and I could feel it running through my veins. It's so cold and sometimes burns. I told Jason just before taking the picture that I was just so glad that my vein has maintained it's strength and that I haven't had to have a new IV line put in, especially seeing how I really don't have many strong veins left worth sticking. Jason thought it was hilarious that I was taking a picture of my IV, so he in turn took a picture of me taking that picture. Go ahead, you can laugh – I'm on meds and it won't offend me if you giggle at how silly I've been at times.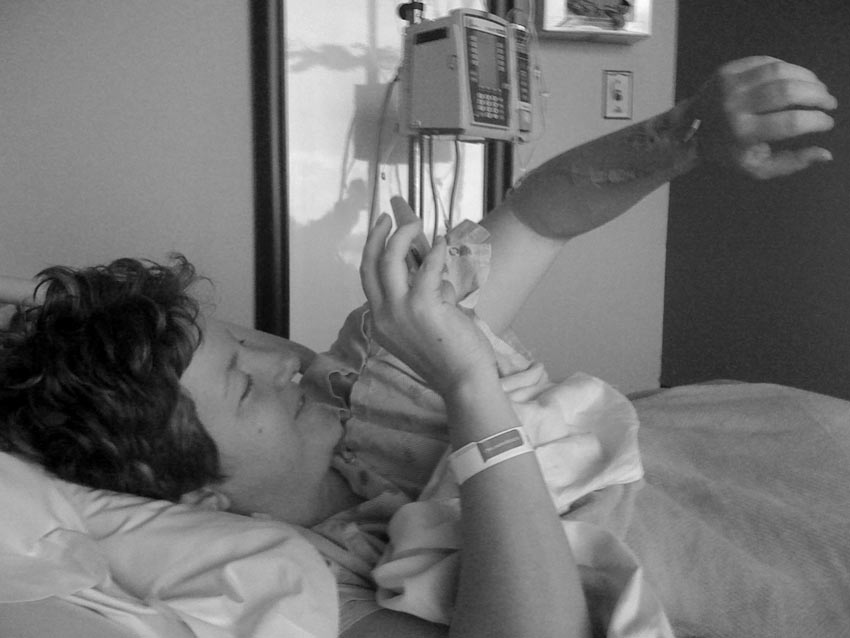 MY THANK YOU EMAIL TO DR. SHUGART
For a couple weeks now I've been contemplating finally sitting down to write the President of Valencia Community College (the college where I work). Though he really hasn't been involved directly in any of the support through work, I felt it was something important for me to do. To thank him directly and let him know how reassuring it was to feel so much support from work. It's helped ease my mind and focus more on recovery knowing how much those I work with care to see me recover soon. So I thought I'd share with you all the email I wrote him late last night. Tonight he made my night by responding and  asking me to take all the time I need to fully recover and that if I need anything to contact him and that there's nothing to small or large and that he'd do his best to help. This note from such an influential man in my career meant quite a bit, especially knowing I'm just one of thousands of people who work at the college. So I share my note to him, just so you all who work with me or even you students know just how much I have appreciated all your support these last few weeks.
Dr. Shugart,
Since the last time we were together, I never would have imagined I'd find myself taking time this late in the evening to write you as I recover at the hospital. I know as the President of the college there are thousands of us working alongside you at the college, and so I wouldn't be surprised if you haven't heard of the challenges I've been facing this last month. On October 2nd I found out I had a miscarriage, my 3rd in ten years. It's been a tough emotional rollercoaster for me and my family, even more so because I have had to undergo three surgeries and now I am battling an not so fun infection from going through three surgeries in just two weeks. I have been told by my doctors who have been practicing for 20-30+ years that my D&C surgeries are by far the most unique and complicated they've ever experienced in all their time practicing. Never have they had to perform 3 surgeries in such a short period of time and now that they suspect an infection they are taking every precaution to ensure I am taken care of. I'll be in the hospital all weekend until at least Monday morning as I undergo receiving IV antibiotics which will hopefully treat this infection and help me recover fully.

Throughout the entire experience I've written on my blog web site to share my experiences, thoughts, and more with all my friends, family, colleagues, teachers, classmates and students because I know how many people over the years have come to care for me and my family. I write in hopes to ensure everyone is fully updated and not hearing rumors, but also so I don't have to repeat this story over and over and over again. To be honest, sharing my story has come to be almost a way of healing through my writing and photography. If you haven't already seen it here's the link to my blog so that you may learn about these challenges I've been facing:

http://www.amandakern.com/blog

Again, I know I'm just one of many that work at the college and I definitely seek no individual attention, but I do hope to send along my sincerest thanks to the college as a whole. I know if I worked for most other jobs by this point I'd likely be stressing about my pay or leave time. Not once have I had to stress – I've been told that it's something that will be taken care of and that I need not worry at this point about the administrative paperwork as I continue to recover.

I cannot tell you enough how thankful I am to work along such amazing colleagues this last month. My dean, Wendy Givoglu has reassured me that she'd take care of whatever administrative processes were necessary and offered her care and concern many times. My supervisor, Kristy Pennino, has been amazing. She's covered several of my classes the last few weeks and has contacted my students when it was needed and I was unable to. She continues to remind me that as I do really long to return to the classroom, that right now my recovery is far more important. She also tells me not to worry and that she'll ensure all my classes are taken care of during my absence. She even took time out of her weekend to come visit me today in the hospital. Jason Ellison has also been amazingly supportive offering to substitute classes for me this coming week. I'm so appreciative to work alongside so many amazing people who though the truly care about learning and our students, they have offered so much care and concern these last few weeks.  So many more at the college have extended such amazing words of care and support to me and my family over the last few weeks that have helped raise my spirits.

I have been equally thankful to have an amazing group of students this semester. I do feel bad having to go over three weeks since seeing them, however, they have all been extremely supportive and understanding these last few weeks. I can't wait to return to the classroom to finish this semester strong. I admit I feel super guilty being away so long. It's been extremely tough because as all this happened I was so full of energy teaching fulltime, just beginning my masters fulltime at savannah college of art and design, and also beginning my own photography business this year. They say that sometimes tough things in life happen to help put life into perspective for you, and now though I feel so far behind in so much due to the circumstances, all these struggles have continued to remind me how blessed and fortunate I am to have amazing family, friends, and colleagues who truly care about me and my family. To me that is far more meaningful than any job or success life could bring.

So I send this email to you in the late hours of the night as I pray that I recover from all this soon. I send my sincerest thanks to you and all those at the college who have shown me such amazing support these last few weeks. It means the world to work along side such amazing individuals.

Sincerely,
Amanda Kern
YES, I EVEN EMAILED DWIGHT HOWARD
So it's okay to smile hearing how much these meds are likely affecting me. I have to say that I've had some pretty intense dreams on all this medicine. So much so that I wake up and sit right up either startled or in deep thought realizing I have something I need to do. Last night just before 4:30 in the morning I woke up just before the nurse came in to check my blood pressure. I sat right up after having the oddest dream. I really barely remember it, but I remember sitting up quite startled thinking "I'm suppose to email Dwight Howard!" They came in and told me I needed to sit up and move around because my blood pressure was so low. So I did, and then I was so wide awake and I didn't stop thinking about the fact that I woke up with that instinct to email Dwight Howard.
So as I share the email with you all I have to tell you all that one of the most exciting things our family has to look forward to in the coming weeks is a Magic game on November 11th when they play the Cleveland Cavaliers. Friday morning I bought tickets to the game because after all we've been through I felt we truly deserved to do something fun and I just know how much Jason has been wanting to go to a game. Out of all the games he wanted to see them play the Cleveland Cavaliers most. I remember Friday morning looking on ticketmaster and stubhub and though I only bought decent upperbowl tickets, I remember wishing we were able to afford courtside tickets or one of the packages where the kids could meet the basketball players. We've always both been huge basketball fans, so just going to the game getting the tickets we have now were something we had come to truly look forward to. I have to admit that in writing Dwight, I really never expected to hear from him. He's a famous athlete with millions of fans and we are just one of so many. However, those of you who really know me know that it's not uncommon for me to contact famous people. I've been known to contact congressmen, famous athletes, and famous designers. I've  learned that despite their status in the world, they are regular people just like us all and most of them do truly care to help however they are able to. So I sent out this email knowing that though I might not ever hear from Dwight, that from what I've seen from his involvement in the community in Orlando he's quite a respectable man and figured the worst that would happen would be that I'd never hear a thing. So I hope you all enjoy what I wrote him, and hopefully you don't laugh too hard at me for waking up dreaming that I had to write a famous basketball player. I imagine I'll never hear the end of writing a famous basketball player in the middle of the night from the hospital!
Hi Dwight,
I am in the hospital and woke up in the middle of the night with the oddest dream that I should write you. I know you have millions of fans so I will not be surprised if you ever see this email – I can't imagine just how many people have come to adore you and all the amazing things you've done for the Orlando Magic and the community in recent years.

Yes, I tell you I woke up in the middle of the night from the hospital. I have been at Winnie Palmer all weekend and hopefully will get to go home Monday. I have learned that I have come down with a concerning infection after having 3 D&C surgeries in the last couple of weeks. I imagine you may not be familiar with the medical terminology, but a D&C was required three times to help me recover from a recent miscarriage, my 3rd in 10 years. It's been a heart breaking few weeks and I'm praying that this is the last of this tough road to physical recovery, though I know it'll likely continue to affect me for much longer physically and emotionally. If you care to learn more about what is going on I have written on my blog the last few weeks:

http://www.amandakern.com/blog

Yes, I find it a little funny that I woke up dreaming that should write you. Honestly, earlier friday before I learned I'd be admitted into the hospital I had broke down and purchased tickets for my family to attend the Magic game vs. the cavs on November 11th. I did so fearing if I'd be fully recovered by then, but knowing how much it would mean to my family for us to have some fun and go to a great game. My husband and I are big basketball fans, both played basketball growing up (though we were never anywhere near as super as you!), and now we've come to really enjoy being magic fans, especially in recent years since you've helped turn the Magic around so much. I surprised my husband with the news Friday and he was so excited. We haven't been to a magic game since 2002 partly because we've been so busy but also because we've always hesitated having to bring the kids to a game with them being so young. Now after all we've been through my husband agree that there aren't many places we'll be going in the near future without our little blessings beside us – we've come to realize how truly blessed we are just to have the two children we have.

So I write you, knowing I may never hear back from you, but something has told me to write you. I could only find upperbowl tickets in the price range our family could afford and to be honest I would truly love to surprise my husband with a way to meet you guys and maybe some of the other magic or even some of the guys on the cavs who I'm sure might be friends – we all know you guys are going to play an awesome game against shaq and lebron! I just know how special it'd be to my husband and my family. Even my kids are big magic and basketball fans. My daughter jumped up and down Friday when she got home from school and I told her we were going to a game in a couple weeks. But we're just one of millions of your fans so if I never hear from you, I definitely would understand. Hopefully you know just how awesome of a job  you've done at revitalizing basketball in Orlando – it's so awesome for us to feel this excited about going to a game again!

But right now, as I write you I honestly am more concerned about recovering fully. I truly have feared if I'll even be well enough to go to the game in a couple weeks. The last few weeks have seems like the worst dream that has never ended. So I smiled tonight waking up from a dream thinking I should take a little time to write you. Going to the game in a couple weeks is definitely one of the biggest things our family is now looking forward to!

Sincerely,
Amanda Kern
And yes, I still laugh at me waking up instinctively writing this email to Dwight. The cool thing is today when I saw him twitter to his followers I asked him if he got my email and he actually responded by twittering to me  "no I didn't little homie". I of course told him I only had his webmaster@dwighthoward.com email which I'm sure is filtered so hopefully someday he gets to read my message. Laugh all you like, but I officially feel like one of Dwight's "homie's" – I LOVE IT!

MY VISIT WITH RAVEN ROSE
I was so thankful to have Erik, Amanda, and my niece Raven come visit me this afternoon. I have to admit that my receptiveness to the thoughts of us having another child so soon after Jaylen definitely came not long after we learned Raven was diagnosed with Down Syndrome. Initially it saddened me so much and honestly scared me with our own thoughts of conceiving a child, knowing the risks for things like that go up as you get older. I am so thankful that she's so healthy and is now 4 1/2 months old. It definitely made my day to get to see and hold her.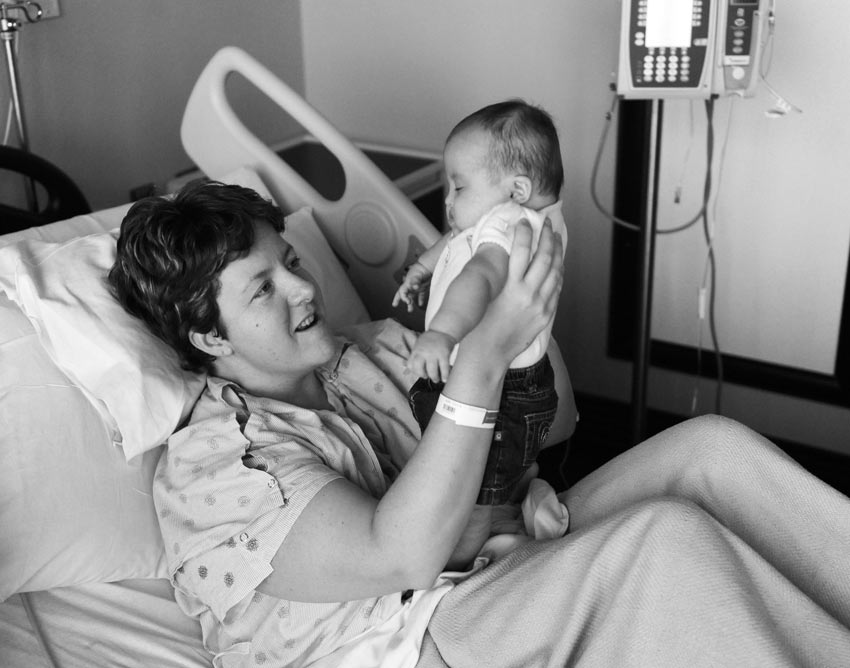 I can't get over how much this little peanut has grown in such a short time. When she was born six weeks early she was only 4lbs. She's now 12 or 13lbs and is growing like a weed! I love how much she's starting to recognize things.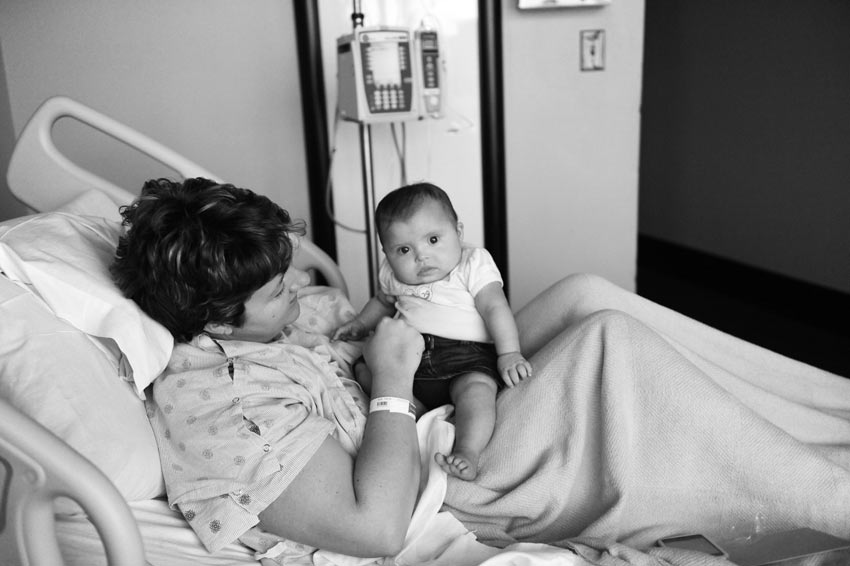 She's definitely grown a lot these last few months. I just love her chubby little cheeks. Something tells me when my mother sees these recent pictures that she may say she has something in common with me. They use to call me the "gerber baby" growing up because I had such chubby cheeks as a baby. I definitely admired those chubby little cheeks today during her visit.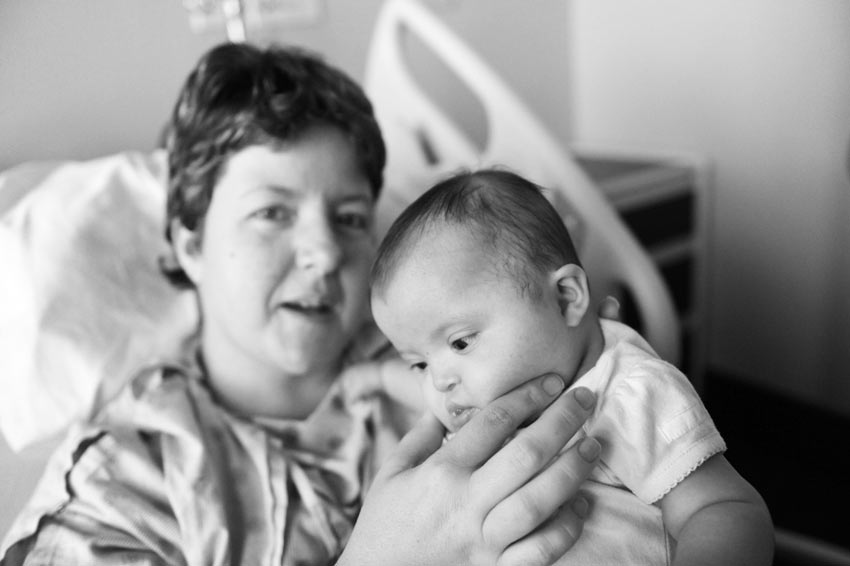 I admired seeing Jason spend a few minutes holding precious little Raven too. He's such an awesome and proud Uncle. If we decide against having any more kids, I just know we'll continue to take great pride in spoiling our super cute little niece just like our own children.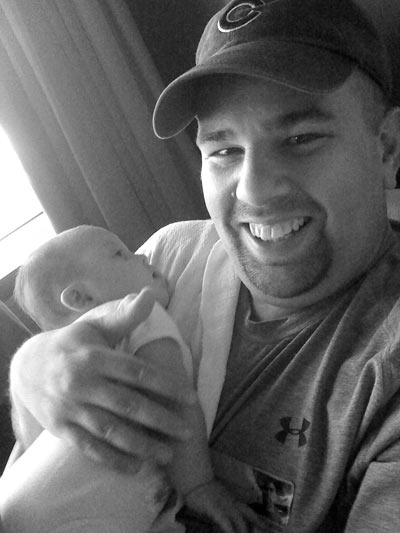 MY SWEET LITTLE GIRL
I have to admit that one of my biggest concerns through the last few weeks is how my baby girl, Hope, is doing. She's nearly eight now and I can tell she sympathizes with me so much. She seems to be in good spirits but yesterday I really began to worry more about her. Jason and I allowed her to chat with me from home using Jason's facebook account. She of course is so young so teaching her some things has been an interesting transition. Jason and I even taught her how to make smiley's in facebook yesterday! She is sooooo much like me it's not even funny. She definitely does such a better job expressing herself through her writing, just like me. And we are both usually good at hiding our emotions publicly. Though she seems to be in great spirits, I can tell by her chats that she is more concerned than she ever tells us in person. She sent me many messages saying she missed me. As many of you know, chatting sometimes in facebook can be buggy and so I felt so bad because if she wasn't able to hear from me right away, even though it'd say I was online, she'd get disappointed and would send me messages saying she was crying and sad. Thankfully I got to see my baby girl tonight and had a great visit with her. I was greeted by her with a huge smile on her face and it warmed my heart to see her along with the card she made me.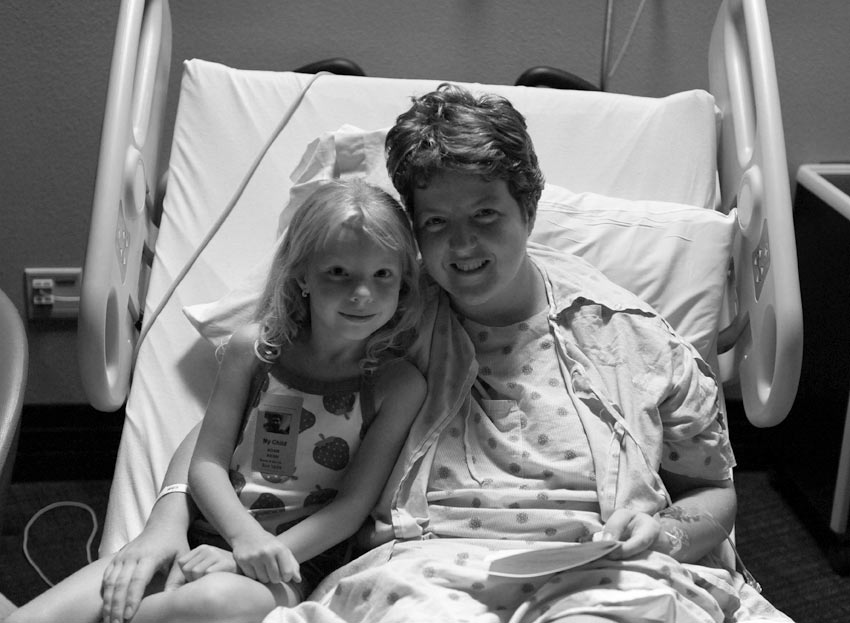 This card she made me was so special. It was all glittery with a heart on the front saying, "I love you Mommy. You are speicel to me. Get well soon." On the inside she drew a picture of her and I saying, "I love you" and then wrote, "I love you so much I want to give you hugs and kisses. Please get well soon. I love you hopefully this does not happen again. Love, Hope" I definitely will never doubt how much my baby girl loves me. My bond with her these last few days and weeks has definitely grown.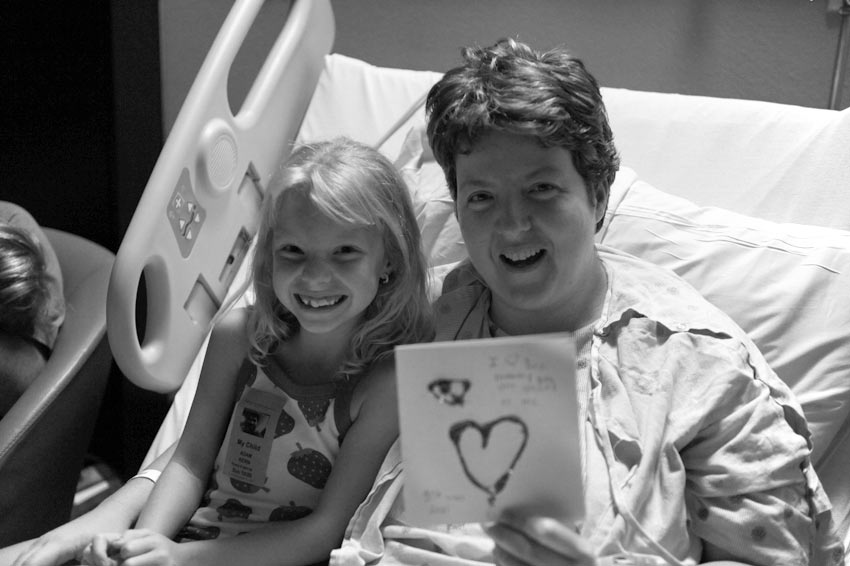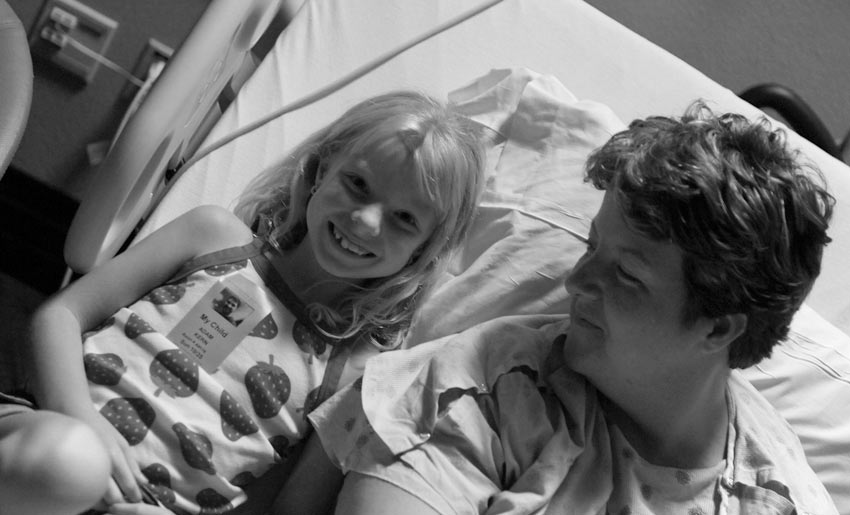 Now I have to tell you that though I've taken pictures this weekend and through this whole experience, I have to thank Jason and his brothers for all their help. It's not unusual to hear the guys complain because I can be just as annoying as the paparazzi sometimes because I rarely have my camera put away. I have asked them all on a few occasions recently if they'd take pictures, something I use to never ask before starting 365 this year. But I've come to really value having pictures of all the moments that are special to me, even the cruddy ones in the hospital. As cruddy as I have felt I have had some good moments visiting with family in the hospital. The kind I don't ever want to forget.
Of course tonight, I was humored asking Jason's brother's Adam and Erik to take a few pictures of Hope and I. Adam recently injured his finger so it was hilarious seeing him try to work my nikon with a cast on his finger. But he was a good sport and took a few photos. Once Erik arrived he picked up my camera asking a few questions about it and then decided to take a few pictures. Normally I'd really be concerned with someone handling my expensive camera without me closer to show them how it worked, but I just enjoyed his humor so much and he quickly figured it out. It was a riot as he took photos of Hope and I. We were all laughing hysterically at how funny of a photographer he was being telling Hope and I to "work it." Now I just hope he wasn't truly trying to mock me.

You just have to see these silly guys in action! They're such great sports.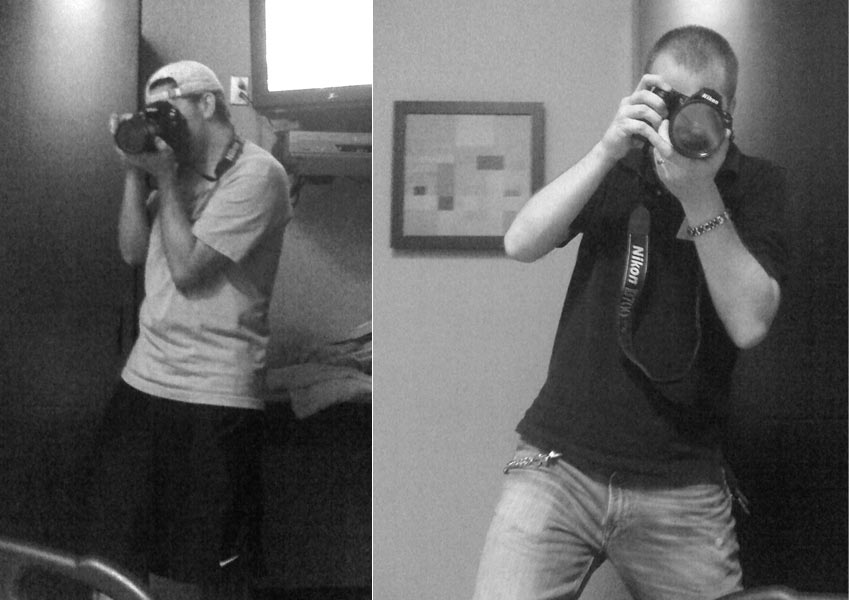 Of course as Erik was acting so silly making us laugh, he took this picture of Hope and I as I took his picture. It was definitely a funny, memorable moment.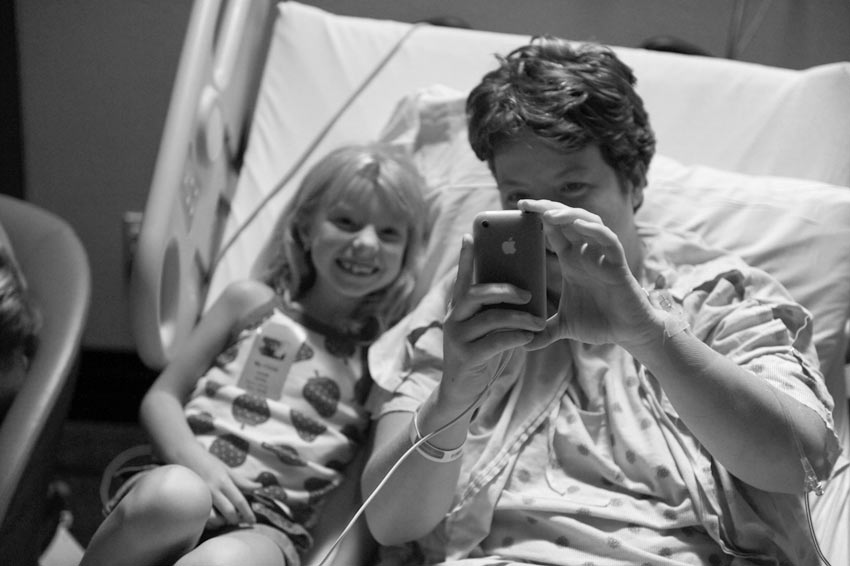 HOPEFULLY IT'S MY LAST NIGHT HERE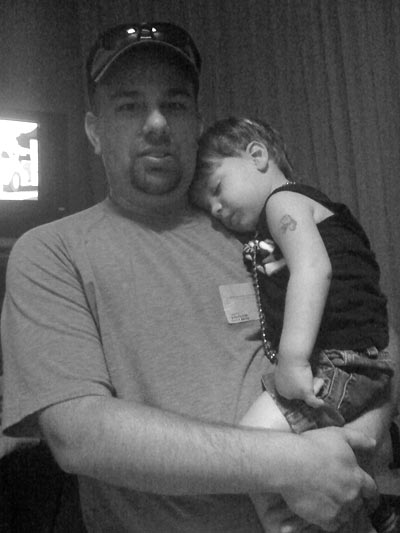 Jason and the kids are now at home. Jaylen slept the entire time he was here. I sure missed him today and can't wait to see him awake and playful soon. I am spending my last night here, like the previous two with Jason and the kids at home and me here recovering. Though I miss them all dearly, I admit that I am so much happier that Jason is home with the kids, they need him there to give them that reassurance and positive parental support to help them know that everything is going to be okay. Jason has felt bad at times because he didn't want to leave me alone, but I told him as much as I'd love to have him with me I know he'd not only be more comfortable sleeping at home but I'd feel better having him there to help reassure the kids. As much as I miss his company dearly, I keep reminding him that though he might think I'm alone – I'm not. I feel the spirit of so many through being able to access facebook, twitter, and my blog. To be honest I feel blessed to have such amazing nurses here caring for me, so even though I'm here alone at night they've been so reassuring and a positive presence during his absence. I'm just so glad my babies have such an awesome Dad. He's definitely proven himself to be such an amazing father these last few weeks. Not that he wasn't already, but he's just that much more amazing helping hold this family of ours together through all these tough moments that have challenged our family so much. I definitely feel very blessed to be married to such an awesome man.

I was so nauseous earlier this evening that I couldn't bear to eat so I finally now have an appetite. After I eat a very late night dinner I hope to rest, to awake in the morning with the good news from the that I get to go home. We won't know for sure until the morning when the doctor visits us. I was told tonight by the nurse that the doctor has ordered that after these last three doses of antibiotics that I be taken off the antibiotics so my fingers are crossed that it won't be long until I get to have this IV taken out.
So I end this blog post, hopefully my last that I write from the hospital, thanking you all once again for all your care and support. I have to admit that as crazy as some of you might thing I am for writing so much and disclosing so many personal moments, to be honest being able to write  through these moments have helped me so much. So thank you all again for just taking the time to listen, read, and continue to care about me and my family. I promise I'm trying so hard to get better fast!