The last two days have seemed to have escaped me quickly and have been filled with the expected roller coaster of emotions that come with all that has happened. But I promised I'd soon have happier moments to share, and though today was certainly not free of the emotions we've been going through the last week, it certainly was filled with many little moments worth sharing.
Jason continues to amaze me with all the support he's given me and our family. This morning he brought me out of the house for the first time since Monday's surgery so we could have breakfast with Jaylen. It was an odd feeling, realizing how much life has changed this past week and how different just escaping the house felt. But it was definitely a memorable morning where I found myself admiring Jason's support and how awesome of a father he is. They were irresistably cute this morning at breakfast coloring.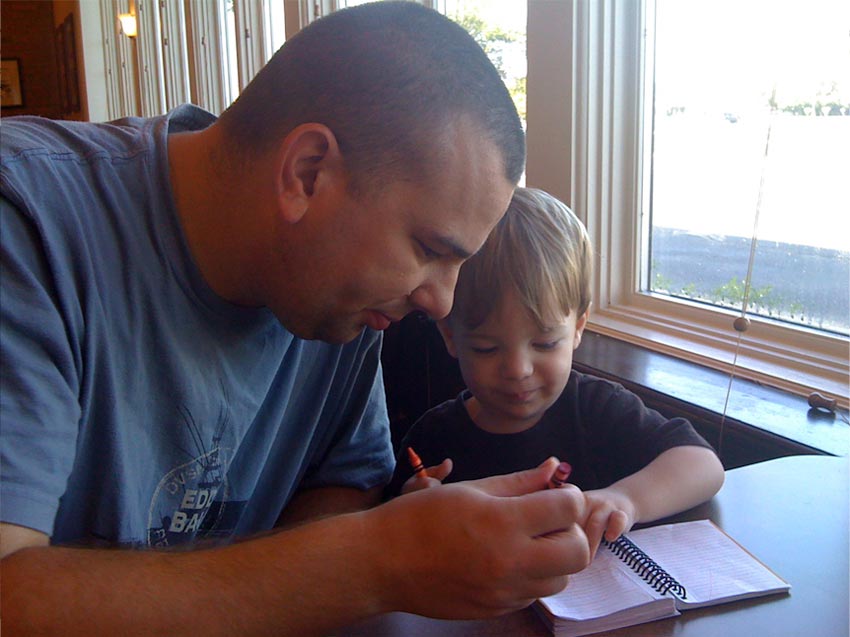 Today was certainly not free of the physical or emotional effects of this past week. I continue to appreciate all the sincere notes, emails and calls. I'm finally beginning to answer the phone again myself and I have to admit that it's especially tough because I know everyone cares and wants to know how I'm doing, but for me talking about it often just brings back the rush of emotions. I spent a good portion of the day resting because though there are times that my energy returns, the physical factors still affect me pretty hard at times during the day and night.
The thing that has helped a lot this time around is having the kids. Jaylen is just too adorable lately. He's gradually becoming more vocal, though he prefers to show off by proudly climbing on things around the house. Seeing his smile every day reminds me how blessed I am despite all that has happened.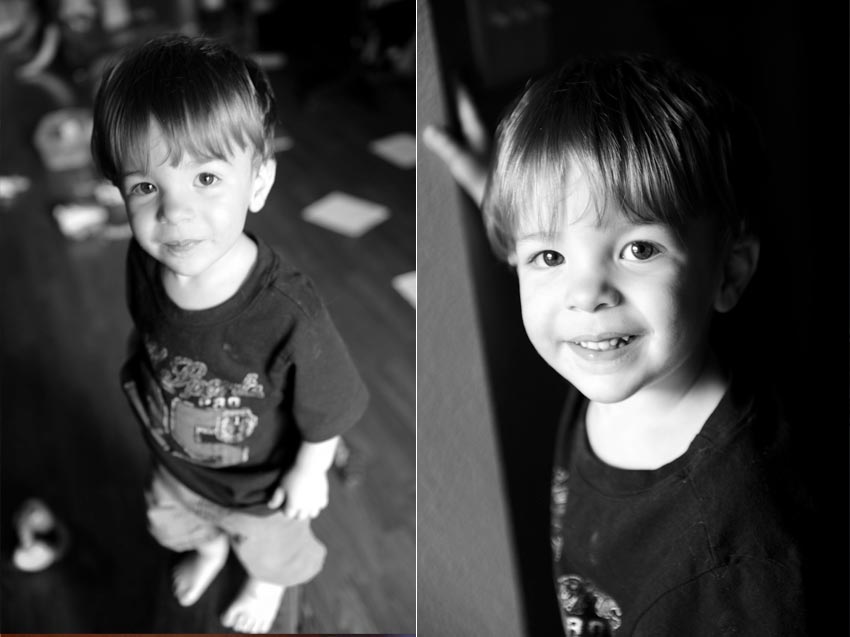 Today Hope returned from school after being out sick yesterday. She returned home with a pile of homework that she spent a good portion of the afternoon doing before she could play. She told me she wanted to get it all done today so she could have fun the rest of the week.
While Hope was doing homework, Jaylen was interested in going in the backyard to play. He quickly brought me the bubbles. He's not quite a pro at blowing bubbles yet, but he loves to try to catch them. Seeing the happiness on his face helped me forget for a short time all the challenges I've been facing and reminded me that it's important to keep moving forward and helping the kids have fun in some of the simplest of moments.

I was helping get things together to make dinner so I gave Jaylen the bubble wand so he could try for himself. He still seems to think it's okay to eat bubbles.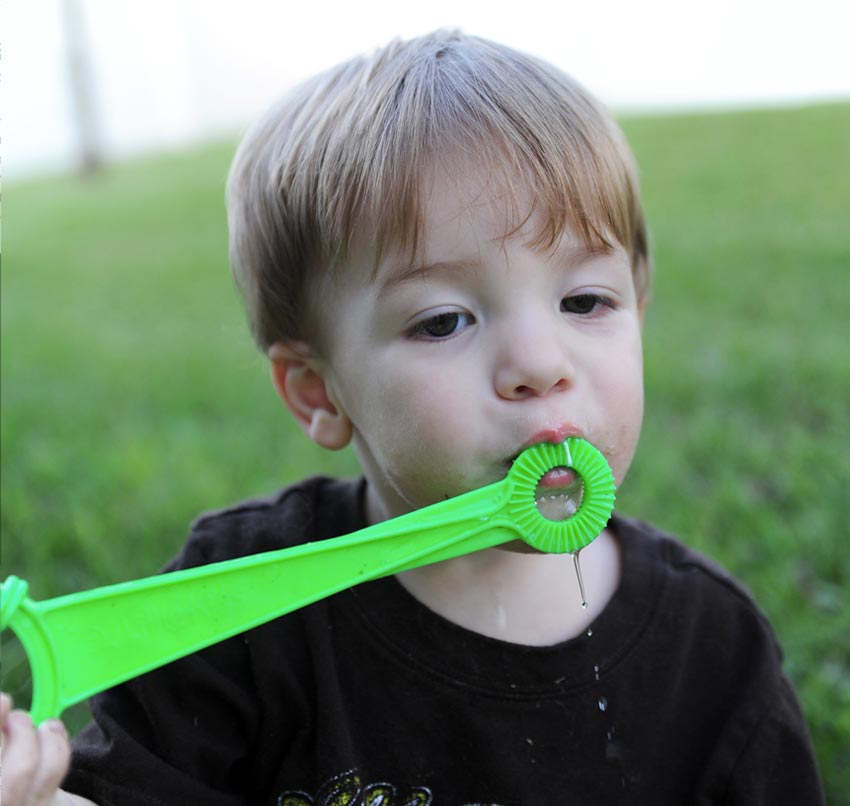 Someday, I just know he'll master the art of blowing bubbles – just as all kids do.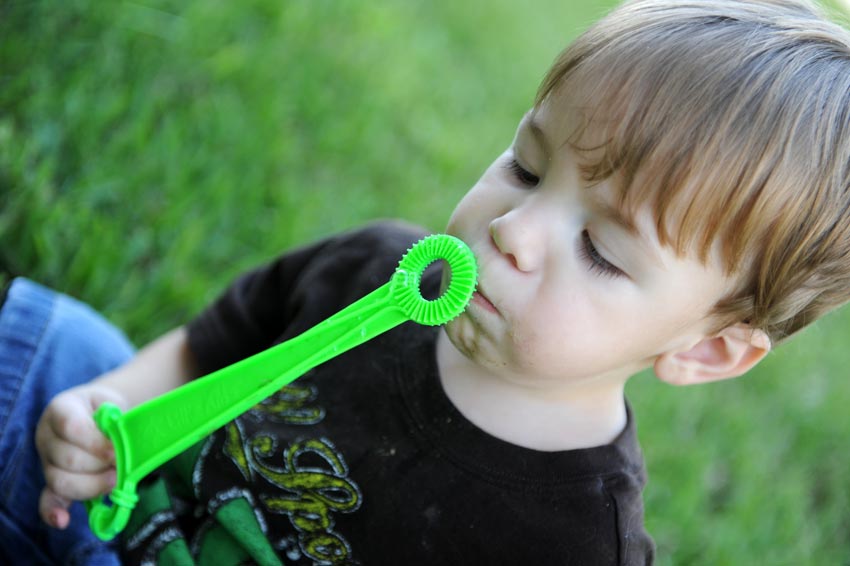 When I returned to the backyard after helping prepare a few things for dinner I found Jaylen had dumped the entire bottle of bubbles out and he was quite giggly because he was having fun splashing the water in Bella's water bowl. The moment was priceless.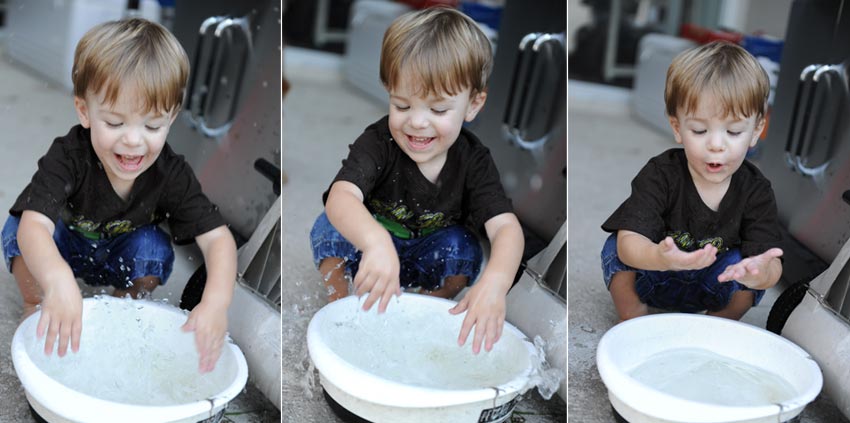 By this point, he was soaking wet and I had to rinse off the back patio to clean the bubbles off the patio and he was eager for me to fill Bella's bowl.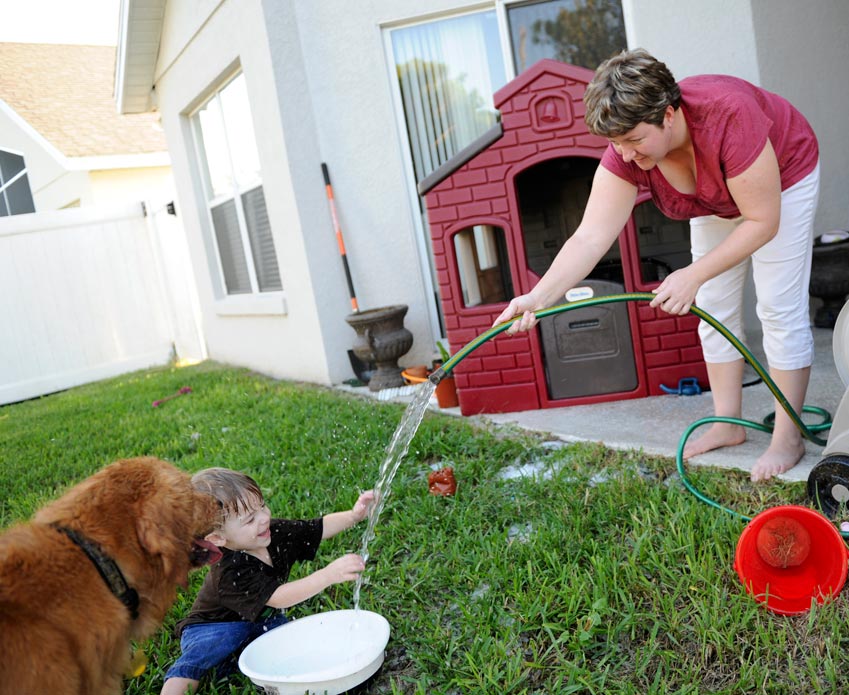 It was only a matter of time before the kids got a hold of the hose and had some real fun. It began when Hope finished her homework and came out eager to play too. She figured her brother was already wet so she thought she'd soak him a little more.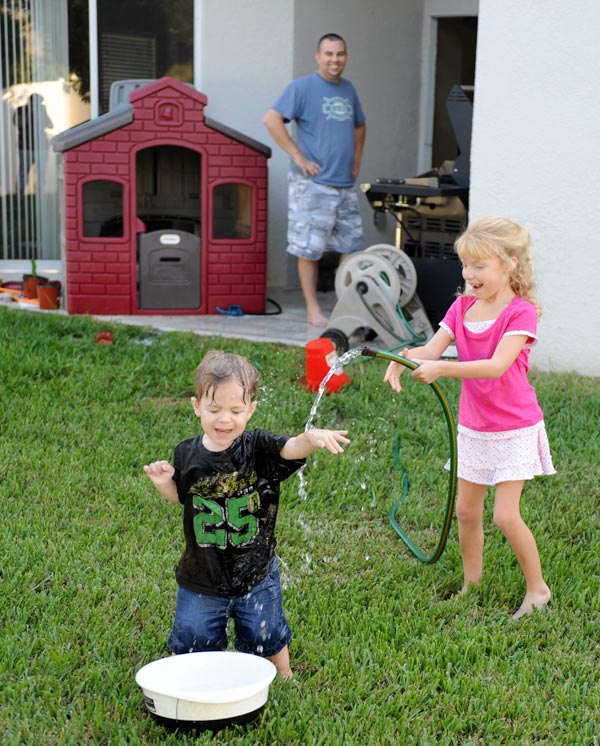 In our home we encourage taking turns and sharing, that of course includes taking turns soaking one another with the water hose! Thankfully Hope was a great sport. Jaylen had a blast chasing her around trying to soak her.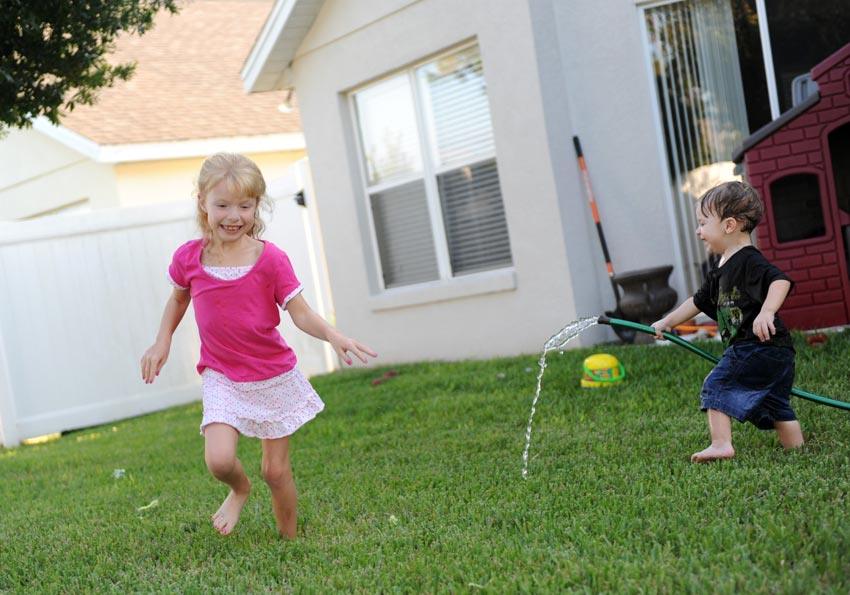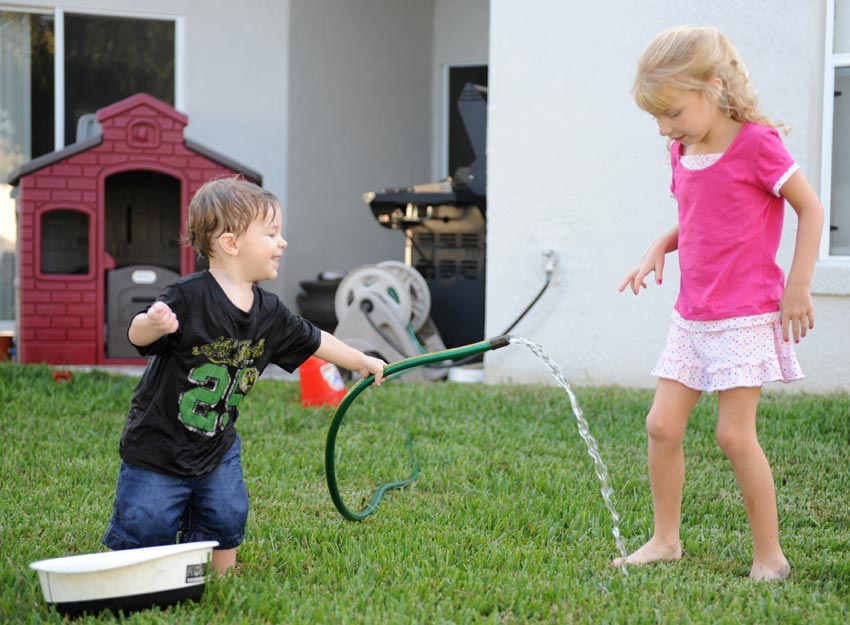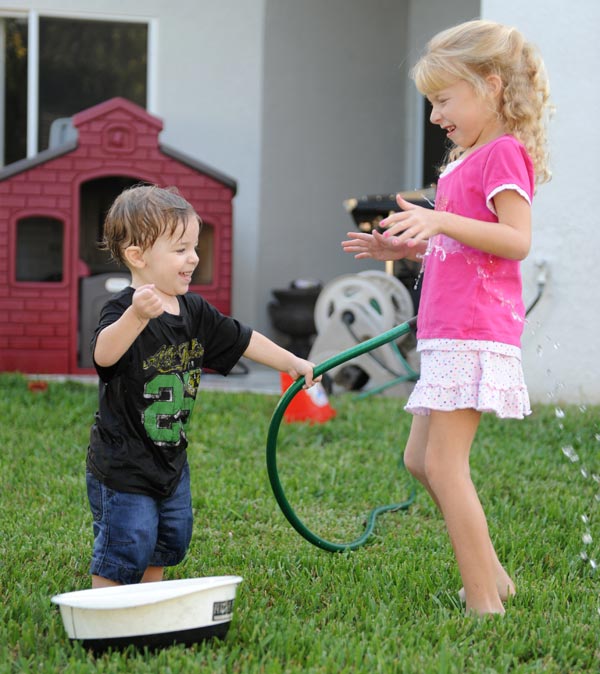 Tonight was the first night we cooked dinner since Monday too. We had yummy cedar plank salmon and Jaylen was so worn out that he once again crashed before he ate.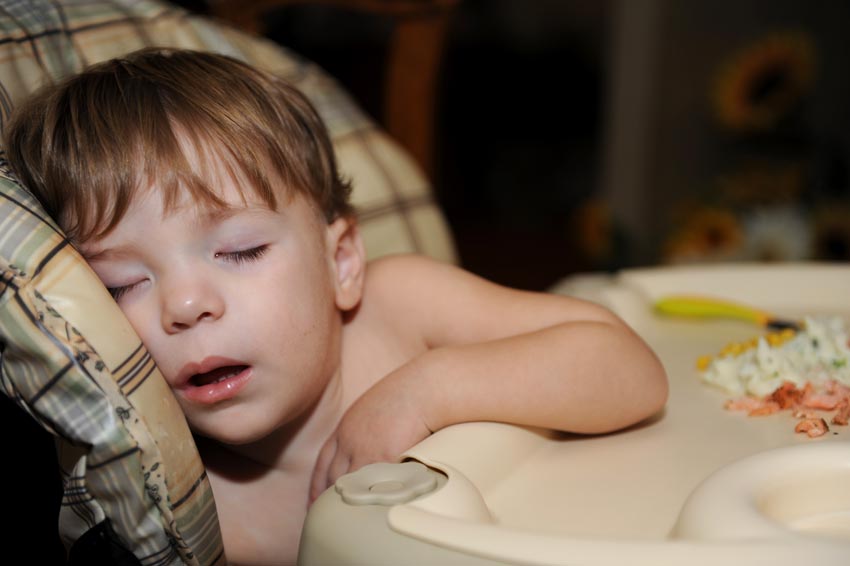 Hope and I had some fun working on a little art project. Her teacher's birthday is tomorrow and she really wanted to paint a picture for her. She's quite excited to bring it to school in the morning along with the heart card she made her.
So just a little update to let you all know how we're doing. I'm sure it'll continue to be a tough road ahead as we gradually begin accepting and moving on past these tough times but we're confident there are definitely happier moments ahead like the little moments we experienced today.