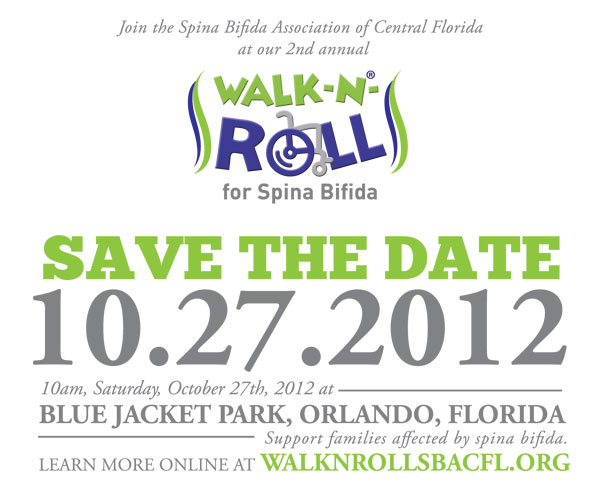 It's hard to believe that in just over a day the Walk-N-Roll for spina bifida here in Central Florida will be here! Because I'm leading Chance's team and I know a lot of others out there who are a part of the spina bifida community may be following my blog, I wanted to share an official update with you all with some last minute information to help prepare you for the walk.
FIRST, if you're planning to attend the walk…be sure you register. Anyone attending should register. Though it's not mandatory, it will save you some time from doing that at the park and if you register you'll be eligible for lunch the day of the event as well as some of the awesome prizes they're giving away at the end of the walk. To register for the walk go online to http://www.walknrollsbacfl.org. If you're planning to join us on Chance's team here's the direct link to join his team. If you can't make it to the event but still wish to support us, you may make a donation online and be considered a "virtual" walker by showing your support through a donation. Any donations are truly appreciated and go right back to support our local spina bifida community. Last year our team raised over 6k. This year we just passed raising 1k. Something tells me we still have a lot more supporters out there…and I know many have told me they planned to attend, but still haven't registered…so be sure to do that soon – we have only about a day left until the walk.
If you are going to the event, here's a map of the park. This year we'll be parking on the opposite side at Glenridge Middle School. Signs will be posted for registration, if you didn't register online you may do so at the park but there may be lines so we encourage you to do that online as soon as possible if you're planning to attend. The walk begins at 10AM, however, the opening ceremony will begin at 945AM and registration begins at 9AM. They are hoping to do a group photo at 945 at the start of the opening ceremonies before the walk begins. Our family will likely be there much earlier to set up and help get things in order.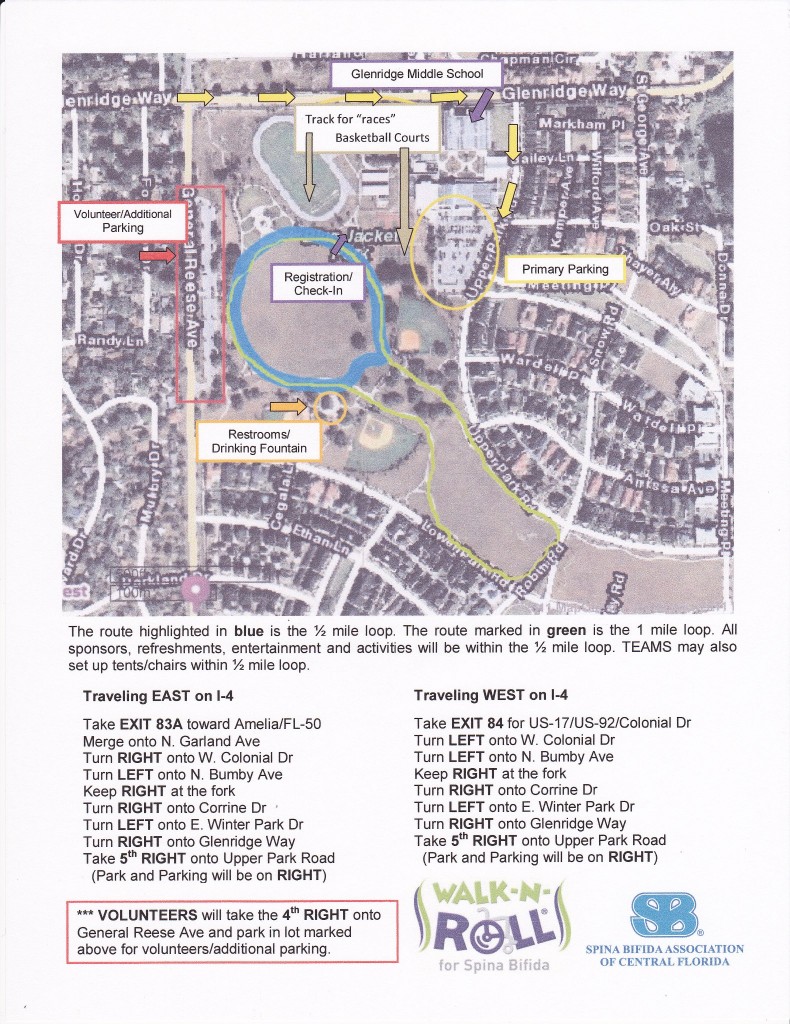 If you're joining Team Chance then you'll arrive at the park and look for our team. We're pretty sure you'll be able to see the superman logos and our Super Chance shirts. We won't find out our exact location at the park until the morning of the walk. I will have the registration packet and tickets for everyone who has registered that will be used for lunch, prize drawings, and for those of you eligible for the official event t-shirt. You must be present at the event to win any of the prizes they are giving away this year.
We have a limited number of Team Chance shirts. If you didn't receive one already we'll be handing them out on a first come first serve basis to those on the team.
Hope to have you all join Team Chance Saturday at the walk!