"I run because I can. When I get tired, I remember those who can't run, what they'd give to have this simple gift I take for granted, and I run harder for them. I know they'd do the same for me." ~unknown

This past New Year's eve I recall sharing with you all that I was vowing to run a half marathon this year in support of my baby boy who has spina bifida. It all began as a crazy idea that I wasn't so sure I'd have the the strength to do but this little boy of mine has motivated me to commit to training knowing that somehow we could make even more of a difference. I have been meaning to share an update for a while now on this blog but life has been busy.
Yes, I've stuck to this goal I set close to three months ago…and I'm just over a month away from heading to Kentucky with our family so that I can run a half marathon for this little guy.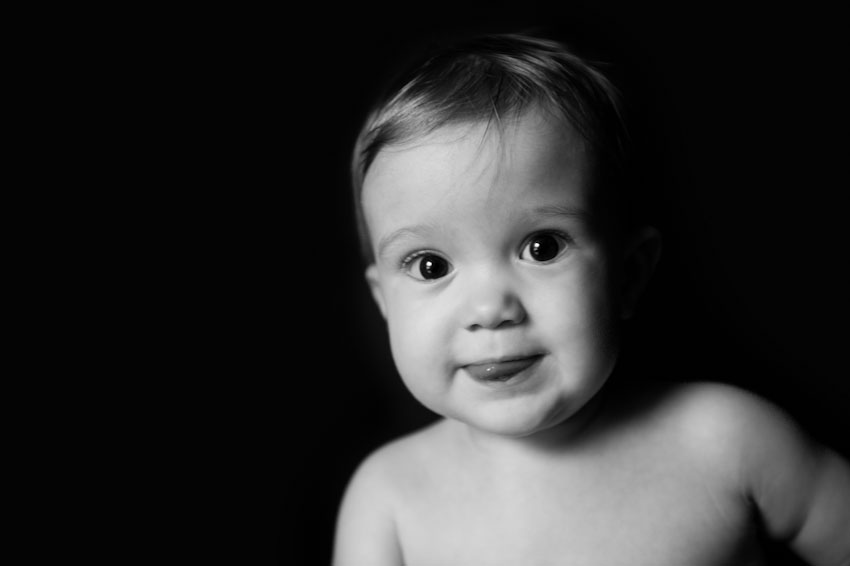 In the last 2 1/2 months I've ran over 150 miles total and cycled over 380 miles. I've joined the triathlon team at our local YMCA and have trained several days of the week running, spinning, swimming and strength training. As I've already ran and cycled hundreds of miles this year and endured my fair share of pain through this process I would do it all over again in a heartbeat. Yes, I'd gladly run hundreds more miles for my baby boy…if it meant I could do something to help create awareness. Perhaps somehow we can educate others so we no longer get the "oh my God" reactions when I tell someone he has spina bifida. Or perhaps we can get enough people to be aware of it to help in the prevention of it. Yes, I've tortured my body a lot this year training…but it seems so small in comparison to what I've seen my baby boy go through in his first year of life. I can't change the fact that Chance has spina bifida but we can continue to make a difference as we live through the uncertainties that come with having spina bifida. Every time I find myself running…I think of my baby boy and all we've already been through. I think of just the mere thought of running…something so many people take for granted. It's still too soon to know if Chance will be able to walk or run…but I sure do find myself dreaming of it more often as I'm out running so many miles. For those of you who are interested in keeping up with my crazy thoughts as I train I've created a separate blog for training for this run.
HELP ME SUPPORT TEAM SPINA BIFIDA & GET A CHANCE TO WIN A PHOTO SESSION
So I'll be heading to Kentucky at the end of April with my family to run in the Kentucky Derby half marathon.  Since beginning my training the Spina Bifida Association has established a fundraising page to help support the cause. I'd like to encourage you all to make a donation and know that in doing so you're not only somehow helping my baby boy…but the thousands of others across the country affected by spina bifida. Perhaps I can encourage you to donate by offering a chance to win a free photo session. It's been nearly a year since I've done a giveaway so I figured it was about time. I'll be giving away ONE FREE photo session to one of the amazing individuals who donates to help Team Spina Bifida.
Check out the details below if you're interested in helping me. And even if you're not out to win a free photo session with me, you can still donate to help out however you can. Every little bit counts. With your help we can help create awareness and offer support to those affected by spina bifida. If you can't donate, please help spread the word.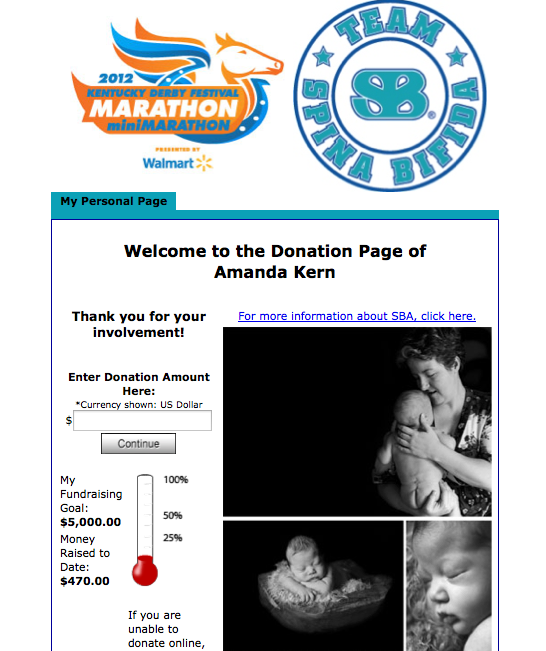 FREE PHOTO SESSION ELIGIBILITY
Here's what you have to do for a chance to win a FREE photo session for those who care to participate.
Go to my fundraising page for Team Spina Bifida and Make a minimum of a $25 donation to the Spina Bifida Association.
Email me proof of your donation to amanda [at] amandakern.com – to do this either take a screenshot of the confirmation page or proof of payment. Only email proof of your donation if you are entering to win a chance at a free photo session.
When emailing me share with me your name, contact information and the ages and number of people of who you wish to be photographed so that I can get back in touch with you if you are chosen. If you've already donated to my fundraising page before this announcement and would like to participate email me so I can still include you. If I don't receive an email from you your name will not be included in the entry.
You may enter as many times as you like. For every $25 you donate your name will be entered into the photo session giveaway if you have emailed me your donation confirmation. (You can make a larger donation and have it counted as multiple entries…for example, a $100 donation would equate to 4 entries).
To be eligible for the free photo session you must donate prior to April 28, 2012 at Midnight (the day I run the half marathon!). The names of those who have helped me will be collected and a winner will be chosen randomly. Entries will ONLY be accepted until Midnight on April 28th, 2012.
IF YOU'RE THE WINNER…
If you're chosen as the winner you will have two options.
OPTION 1: FREE PHOTO SESSION
A free photo session with me that will last 1-2 hours for you, your family, or someone you wish to give the session to.
The session will be valid through December 31, 2012.
You will receive all unedited and edited photos in HIGH DIGITAL RESOLUTION format. Yes, I said FREE. That means I earn NOTHING from giving.
You will be given permission to print and share online all digital photos for personal use.
*By participating if you win you agree that photos may be used in my portfolio.
**You must be in the immediate Orlando area or willing to travel to Orlando if you win.
***The value of a custom photo session w/high resolution photos is $650.
OPTION 2: PHOTO MENTORING SESSION
I've received a lot of requests and inquiries in the last year or so for me to offer "mentoring" sessions. I've lost count of how many people have asked me "how" to I do something or if they could just spend an hour or two with me to see how my photography and/or editing approach. If you are chosen as the winner you have the option to select the mentoring session and it will be customized to meet your needs.
A free photo mentoring session with me that will last 1-2 hours. This includes the opportunity to sit in and participate in a photo session with me.
The session will be valid through December 31, 2012.
The mentoring session will be customized to meet your needs and could include tips on photography, editing or a combination of both.
*By participating if you win you agree that photos may be used in my portfolio.
**You must be in the immediate Orlando area or willing to travel to Orlando if you win.
***You are suggested to have a digital slr, photoshop and lightroom. If you don't a mentoring session can still be offered but it may make more sense if you have access and/or a little previous experience to these things.
Whether you're able to donate or not, perhaps you can help spread the word to others you might know that might be interested in supporting the cause or in my photography. Thanks in advance for everyone's support…you all are helping me do something pretty amazing that I once never imagined I'd do.