"Fear defeats more people than any other one thing in the world." ~ Ralph Waldo Emerson
Since just before Chance left the NICU back in March we've been anticipating this day. Admittedly the anticipation came with a mix of hopes and fears. We are quite fortunate to live in Orlando so close and are able to receive such great medical care for Chance without traveling far. If you haven't already noticed, babies with spina bifida require a great deal of medical attention. There's a long list of specialty doctors who see the kids depending upon their medical needs.
Of course I came to the spina bifida clinic a tad bit overwhelmed with emotions and expecting to hear from several doctors on how Chance has been doing with his spina bifida from a medical stand point. I suppose the one thing I've learned in the last five months since he arrived was to pray for the best but to expect spina bifida to find it's way back into your child's life no matter how great they may seem to be doing. I imagine any parent with a child with spina bifida can relate to the nervousness that comes with the anticipation of going to the clinic, especially the first time. For me my distraction is always my camera…taking photos tends to keep my nerves settled…I really do consider it therapeutic. Today was the first time ever my battery in my camera died and I didn't have a spare packed. I blame it on being so overwhelmed, rushing around getting ready and not feeling my best lately…it certainly left me feeling disappointed most of the morning. Jason reminds me all the time that sometimes moments should be kept just for our memory and not necessarily in a photo…something that isn't something I completely agree with. As hard as it was…most of today remains only in memory with very few of the photos I had envisioned taking. I did manage to take this one photo of my baby boy just a second before my battery died.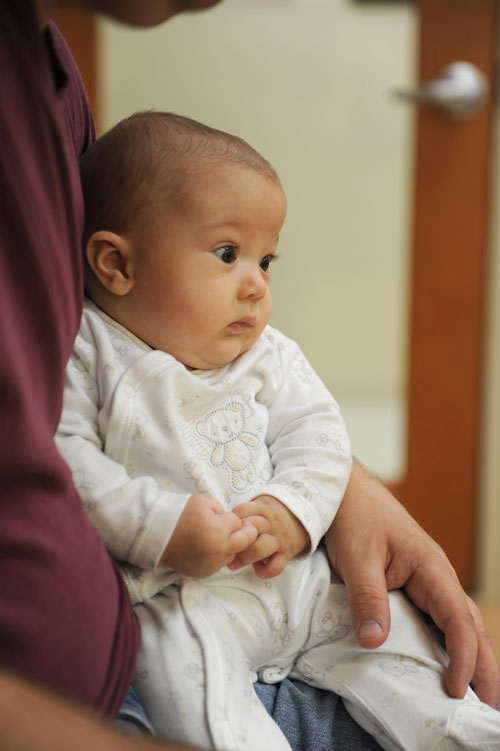 We spent the entire morning at the clinic meeting with a number of doctors. Of course Chance was adorable as could be and rocked his first clinic. I'm fairly certain he won the hearts of all the ladies in the clinic today.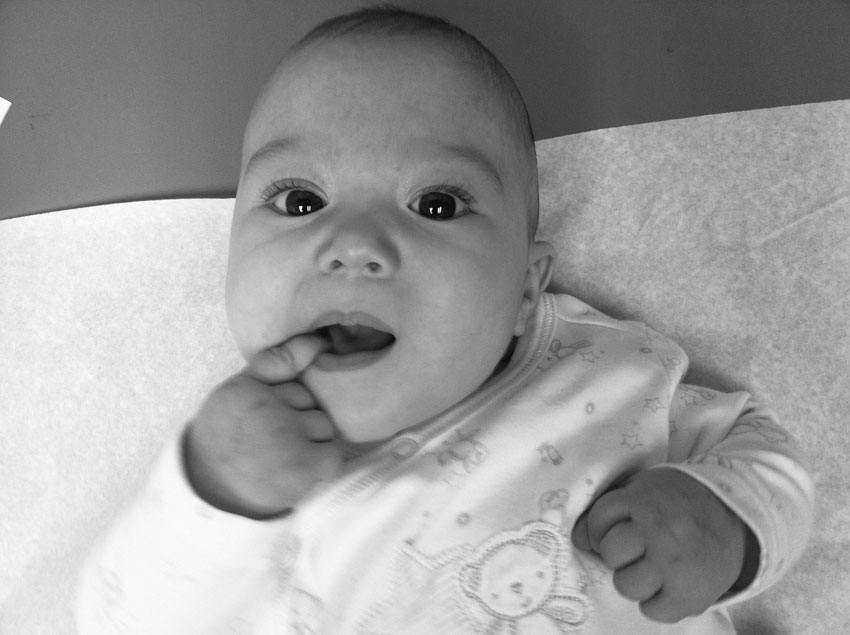 Today I was reminded that my baby boy was still growing well. He's now 15lbs 8oz and 24 1/2″ long.
During the clinic we met with one of Chance's neurosurgeons. He checked out his new shunt and said it looked to be healing great. In the next month or two we'll be returning to the hospital for an MRI test to check to ensure it's working well.
We met with the urologist and nephrologist regarding his kidneys and bladder function. It's been a concern since he was born. As with virtually all spina bifida patients, he has a neurogenic bladder, meaning the nerves that control his bladder were damaged so they don't quite work as well as a healthy baby. Thus far he's doing well but there is a fear that comes with him having spina bifida that he may not be emptying his bladder completely. The ultrasound he had last week showed good results that his kidneys and bladder were still growing as expected. His bladder still seems a bit larger than normal and his kidneys seem a bit smaller than normal but we were told today that they're nothing to be concerned with thus far but that they'll continue to monitor their growth. I've been holding my breath because the first month of life he did at times have borderline or high blood pressure and even in the last week at times his blood pressure showed similar results. Today it was perfect. Often times the blood pressure is a sign that the kidneys are being worked too hard and may be enough reason to begin catheterizing a child to prevent any damage to the bladder or kidneys. So right now they will continue to monitor him and we escaped having to worry about cathing him. We were told that in the years ahead we may need to for social continence, but for now we can continue to enjoy him being a baby and just continue to watch for urinary tract infections that are common in children with spina bifida.
We met with the physical therapist and discussed Chance's abilities thus far. They were impressed with what he's been able to do to date and feel that thus far there's no need for physical therapy but said they'd continue monitoring him at future clinics as he becomes more mobile.
The orthopedic team paid us a visit and check on Chance's physical abilities. Mobility in the lower extremities is often weakened due to spina bifida. The nerve damage can affect muscle strength and the ability to move and feel their lower extremities. Thankfully thus far this is not a major problem with Chance. He's moving his legs and feet and even seems to feel them. The doctor said he's still a bit  young but it's likely he may need braces to support his ankles when he's strong and old enough to begin walking. Yes, walking…he said he anticipates my baby boy will walk. That thought makes me a bit teary eyed, more so right now because it's a mere dream. During his exam the doctor said his leg and hip movement looked great but that he was a bit concerned that his left hip might possibly be dislocated. I've definitely noticed since doing his newborn photos that he was a bit more stiff in his hips than other babies I've photographed. Apparently in spina bifida patients fixing a dislocated hip doesn't necessarily fix the problem because due to the nerve damange and lack of muscle control they'll more than likely dislocate again if corrected. At this age it's nothing for us to stress about but as he becomes more mobile it may influence how we offer him support to become more mobile. Before our next spina bifida clinic in six months he'll under go an x-ray to confirm or rule out if it's an issue for us to worry about.
We learned today that Chance likely has torticollis. Yeah, torticollis…that's what I said…what the heck is that? It sounded a little scary for a split second and thankfully the doctor calmed my fears. It was noticed that Chance has a preference to turn his head much more to one direction and seems a bit weak in trying to do so in the opposite direction. We were told that it could be from when he was in the womb, though it could also be from going through so many surgeries and having a preference in how he lays while sleeping. So we were given a few simple things to do with him to help correct the problem and strengthen the muscles in his neck.
I suppose one of the best things I heard today beyond all the updates about Chance was having one of the orthopedic nurses compliment me for carrying Chance the "right" way in the bjorn. I have used the bjorn religiously for both Jaylen and now Chance. I don't think I could function without it. Over the years I've had some parents who are obsessed with other ways of carrying their babies using wraps, etc. and have even been scrutinized by some who for whatever reason hate the bjorn and are convinced wraps are a better option. Everyone is entitled to their own opinions…I've found what works wonders for me…but having so many scrutinize me over the years I admit it was great to hear the support today. I was told that the bjorn is great for  babies because it allows them to sit freely rather than being balled up in a position that increases the chances for hip problems. Chance remained in the bjorn most of the morning unless doctors were checking him out.
We left today on a great note. Not only did we receive fairly uplifting news Chance decided he would pee and poop all over me. I'm convinced his last shunt surgery must have influenced how his bowels function because suddenly this week he poops just like a breastfed baby…after every feeding and at times right out the diaper. Every day this week I've been pooped on. And yes, I celebrate that knowing how many challenges this has caused him in the last two months. To top it off, as I was changing his diaper he began to pee. With having a neurogenic bladder most times he "dribbles" pee…but today he made sure to show off his ability to pee in a stream…which is a really big deal to me. All I could do was stand back and smile…and be happy that he was peeing just like all other boys.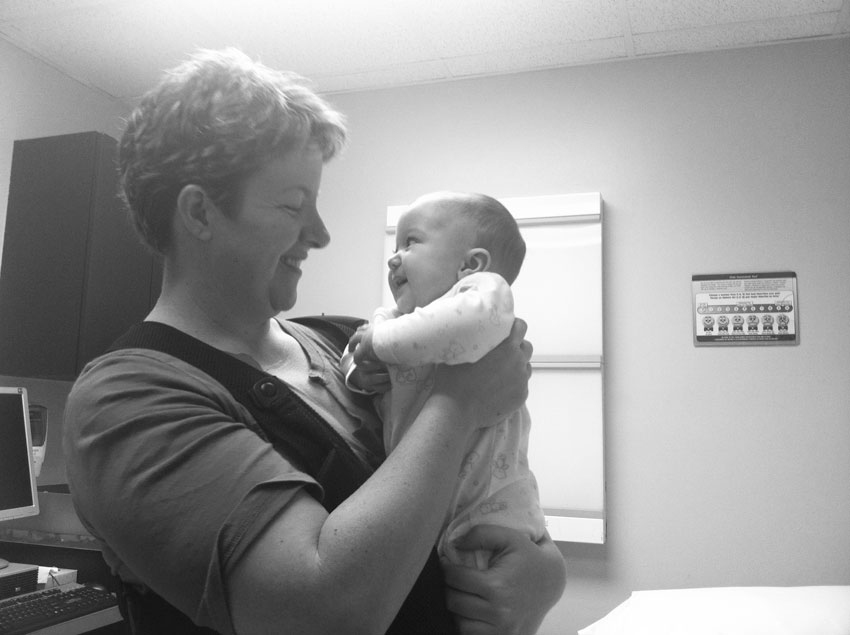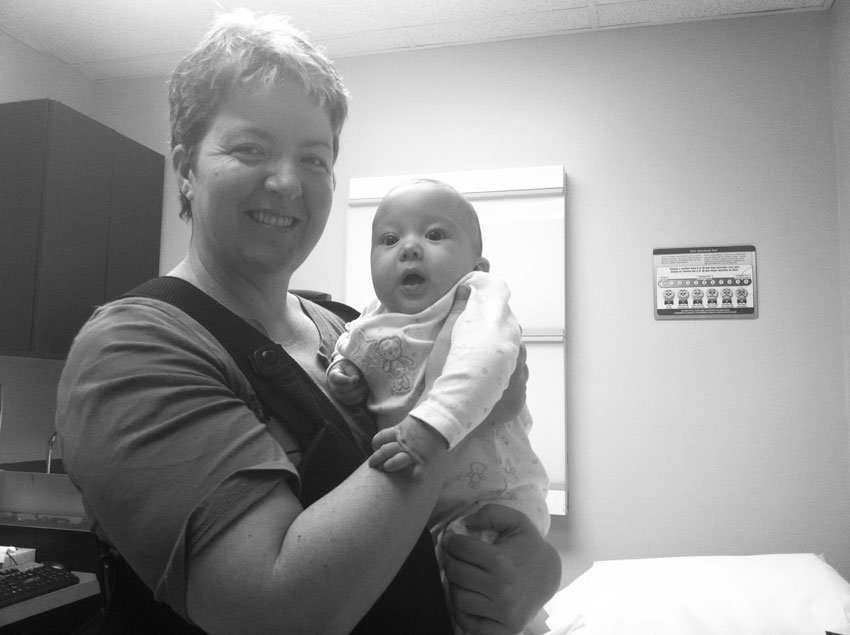 The only thing that would have made today better was if my camera had been working so I could have had more moments in photos. Jaylen and Hope spent most of the morning with our friends in the clinic in the room next to us so I didn't manage to even take an iphone photo of them…until this evening when we ran a few errands. Jaylen was sporting his cool gap batman shirt…with the cape and all. Hope decided to give him a piggy back ride….priceless.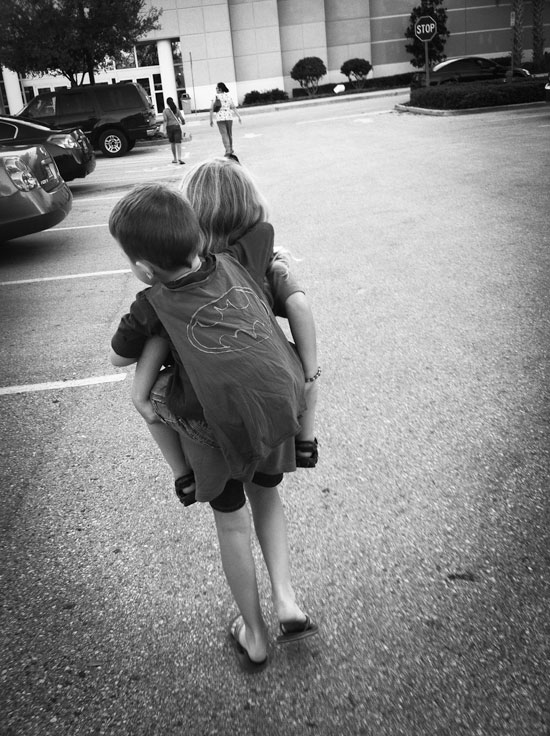 You know…I only raise superheroes. My baby boy decided he wanted to fly around the parking lot like batman today. Hope gladly helped hold his cape as he flew around.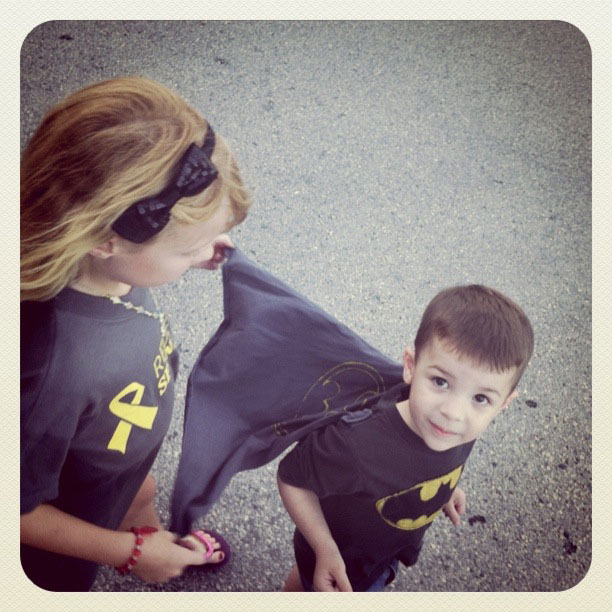 So there you have it…a day I've both anticipated and feared is finally behind us…now we'll keep holding our breath and saying our prayers that spina bifida doesn't try to creep up out of no where and surprise us again like it did this past week. We're definitely overdue for a bit of a break from it all.