"It's not how much you accomplish in life that really counts,
but how much you give to others.
It's not how high you build your dreams that makes a difference,
but how high your faith can climb.
It's not how many goals you reach,
but how many lives you touch.
It's not who you know that matters,
but who you are inside.
Believe in the impossible,
hold tight to the incredible,
and live each day to its fullest potential.
You can make a difference in your world."

by Rebecca Barlow Jordan
Last fall when I was pregnant with Chance and learned he had spina bifida I admit I was devasted and feared all the worst things that could possibly happen. I have and at times still do wonder "why" our sweet baby boy has spina bifida. I know it's something we'll likely never know the answer to. The past year one of the few things that have helped me in justifying all this happening to him, and our family, I am reminded that there must be a greater reason…and in less than a year I've begun to see just what an impact my baby boy has been to so many people. This little guy is only a little over four months old and he's already making a difference. Yes, as much as I hate knowing he has spina bifida…I've come to realize that through all his challenges he's going to help so many…he already has — and I know he will continue to. And if he isn't helping them…something tells me sharing his story is at least touching quite a few people.
So I'm excited to help spread the word about Orlando's 1st Annual Walk-n-Roll for spina bifida. I began Chance's team last night and in less than 24 hours I'm so touched to see so many of you reach out to support my baby boy's team. His team has raised close to $500 in less than a day…that's about a third of the total funds that have been raised thus far. The event isn't until the end of October so something tells me he'll help make a much bigger impact to creating awareness and helping support the spina bifida community in Central Florida.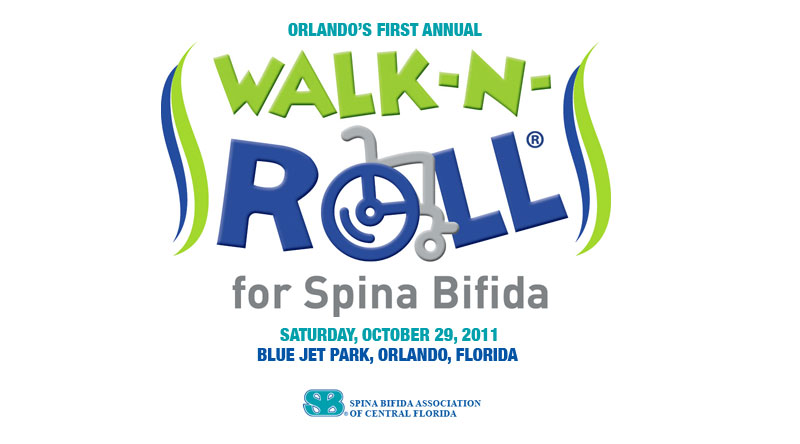 Walk-N-Roll for Spina Bifida is a one day walk dedicated to raising funds for programs and services to benefit those living with Spina Bifida. Participants share an incredible experience and take pride in their efforts to make a difference in the lives of families living with Spina Bifida. As a Walk-N-Roll participant, you are our link to the more than 166,000 Americans estimated to be living with Spina Bifida. Proceeds benefit the Spina Bifida Association of Central Florida.
Something tells me you all may have questions on how you can help support Chance so let me see if I can address them now.
HOW CAN I JOIN CHANCE'S TEAM?
If you'd like to formerly join Chance's team you can visit his team web page on the Spina Bifida Association of Central Florida web site. It is my understanding that the Spina Bifida Association will be giving event t-shirts to team members who join a team and raise $100.
DO I HAVE TO FORMERLY JOIN HIS TEAM OR CAN I JUST DONATE?
If you prefer to just donate you can help me raise funds towards Chance's team by making a donation. You can still attend the event without formerly being a part of a team. Of course the more of you who join our team and help raise funds, the bigger difference we make.
HOW ELSE CAN I HELP?
Help us spread the word. Share this with others you know through email, facebook, or twitter. We'll likely also be holding a few little events to help raise funds for Chance's team and we'll be sure to spread the word in case any of you are interested in joining us. Don't forget to join the "event" page in facebook that we've created in support of Chance's team.
I HEARD YOU'RE MAKING "SUPER CHANCE" T-SHIRTS FOR CHANCE'S TEAM, IS THAT TRUE? AND WHERE CAN I GET ONE?
Heck yeah, we'll be sporting "Super Chance" team shirts. I mentioned it on twitter & facebook earlier today and I quickly got quite a few people asking where they can get them…now.

They haven't been designed yet…but once they are I'll be sure to spread the word and share how you can purchase your own shirt.
Thank you all again for the support. It means the world to me. My family. And my sweet baby boy. You guys totally rock!