"Though at times the story of your life is unsettled, at its center there is the certainty of hope and the promise of good things to come." ~Unknown
I was joking this week a few times at work when people stopped me to tell me they had been reading my blog and how much they had enjoyed reading the updates. Until today it's been more than a week since I've shared anything. Don't go into shock…or withdrawals.

Things have been a little busy and crazy lately and well, after this update, perhaps it'll make sense why I haven't been online quite as much this week on my blog, facebook or twitter. You can joke…I think we all know I'm the one in withdrawals of social media.

One thing that's happened this past week is that I've been contacted by the International Federation for Spina Bifida & Hydrocephalus. They've expressed an interest in sharing a bit about Chance's story on their web site and hoped to direct parents facing similar challenges with a spina bifida diagnosis to the many things I've written during my pregnancy with Chance and after his birth. They were among the many who reached out to me back in the fall when I was so unsure of the decisions we were faced with. I don't think I realized seven months ago that those thoughts following the diagnosis and all the crazy thoughts I've shared since would really make as much of an impact as they have. I've had hundreds of people reach out to me – many offering support and advice and others seeking help for themselves as they've since been faced with the same tough news. I suppose all this time I've felt a little selfish blogging so many personal thoughts assuming people are reading (or should I say "listening")…I've come to learn many are seeking to read my thoughts and that somehow they're helping and hopefully will continue to help others.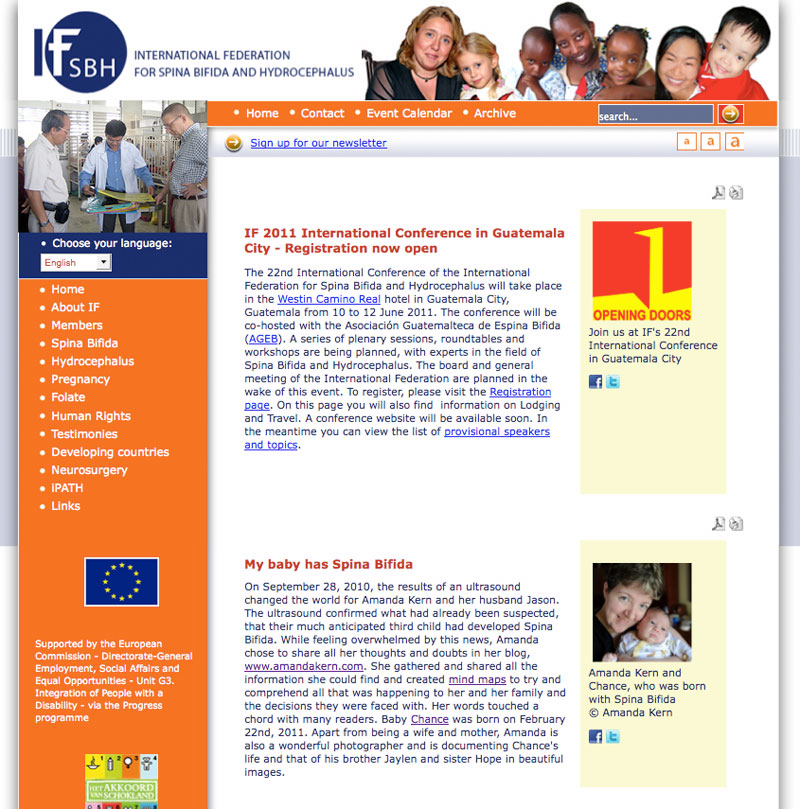 When I was pregnant with Chance and we received his diagnosis I recall thinking that he'd be special and would impact the lives of so many others and felt as though his presence in my life would lead us to finding way to help others somehow. It's kind of crazy this little guy of mine has helped move so many and that long before he was born he was helping others. Yes, there's a promise for "hope" and a certainty that good things will come regardless of how many challenges we may be faced with due to his spina bifida.
In recognizing how challenging and moving his journey was to our family and because I know how important it is to hang on to all these thoughts I have begun designing a book this past month. It'll essentially be a visual and written record of his pregnancy, birth and some moments in the weeks following his birth. I've considered doing this throughout the time I was pregnant with him and now that he's here I know it's important I do this for him and our family…and yes, for the many others out there that it may help. I've already been asked by quite a few people if I was planning to do something with what I've written on my blog…and the answer is…yes, of course. It's far from "done" but here's a quick glimpse of one spread…I'm sure you'll hear more once this thing is finished.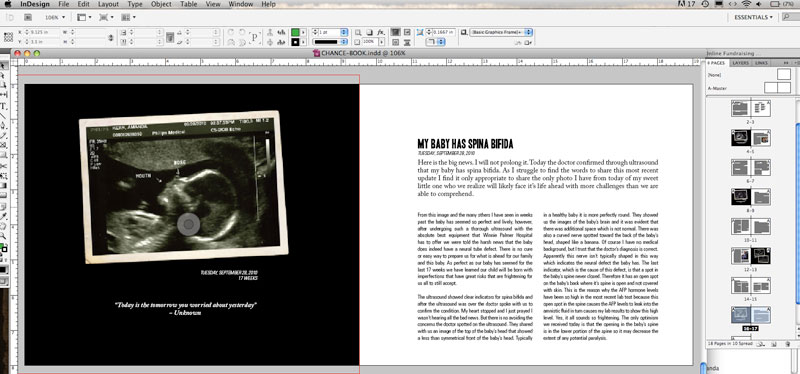 The last week has also been busy with meetings at work and getting geared up to teach in the summer…yes, that's just a few weeks away! I just shared a photoshoot on the blog and though I haven't done any formal photoshoots with the kids I've continued to take tons of candid photos. Now that Jason and I are back at work it's fun juggling the kids. Between Hope in school, piano lessons and softball practice/games we are learning to find balance. I have to admire this moment with Hope and Chance last week just prior to her piano lessons. I was in the midst of getting things together and getting Jaylen ready and looked over and she was practicing piano with Chance. She's a little anxious to someday teach him how to play the piano.
This past week we also had family come in town to visit. Jason's aunt & uncle flew down from Chicago. It's their second visit since Chance was born and he certainly enjoyed his time with them. I really adore this photo during one of his alert moments with Jason's aunt. He's holding his upper body up really well these days.
For those of you who have followed along on my blog since Chance was in the NICU you may recall he had a panda security blanket that we had brought him when he was just a couple days old. When he had to have his first shunt surgery the NICU secured his belonging somewhere and we assumed they were in a safe place. We didn't even think to ask about it because we assumed he couldn't have it when he was being monitored so closely after his second and third surgery. We arrived home and realized it that day and contacted the NICU. Unfortunately they have yet to find it but we've been told everyone will continue to keep an eye out for it. Though it's not the same as the original one he was given in the NICU we went ahead and made sure he had another, more for the sentimental memories that come with seeing it. Perhaps they'll find the original someday, but if not we know just seeing it will bring back special memories with our baby boy.
My older sister also visited us to meet Chance for the first time. It's the first time we've seen her since Jaylen was about Chance's age. Chance was in love with all the attention he received this weekend.
Hope was quite thrilled to have her cousin Ashley visit. On Saturday they celebrated "caturday". Yes, that's what I said…"caturday?!" Apparently Saturday is a good day to get made up like a cat…and if you do I suppose Saturday becomes "caturday". Okay, sure…whatever they call it they're pretty funny celebrating the day.
My niece Ashley was here last summer when we learned we were pregnant. I recall feeling so bad during the time she visited and we got to do very little because I was so fatigued and nauseous. Seeing her holding Chance this past weekend reminded me of that week or so and I'm having a tough time believing how fast time has flown by since then. Ashley is the oldest grandchild in my family and Chance is the youngest…nearly 17 years difference. This weekend we were actually shaking our heads more because it seems like just yesterday that she was the itty bitty baby we were all holding.
Yes, balance is an important thing for me these days. When I'm home most things get done when Chance is sleeping or content or when Jason or Hope are helping. I returned from pumping the other day to find Jason and Chance surfing facebook…a totally priceless moment. Hey, whatever it takes for me to be able to get things done…right. Heck, I'm sure it's only a matter of time before this little guy realizes everyone is talking about him on facebook.

Last night we got to go out grocery shopping as a family. Yes, it's the little things that are important to me. Usually Jason and I work such differing schedules that it's tough too coordinate much time together as a family and  usually errands are ran around what we might have going on so it's rare we all get to go out together and with Chance so little it's definitely one of the very few moments we've had together out and about as a family of five. Before we left I decided to take a quick photo of Chance & I while we waited for the rest of the gang to get ready.
Jaylen ran out beside us and shouted "me too". He wanted to be in the picture too…which certainly makes me smile. And Jaylen tells me this picture is a "good one" of me and my boys. I agree.

Aside from all these busy moments I suppose I'm still settling into the realization that I'm raising a child with spina bifida. Things seem a lot more "normal" these days but I can't say it makes things easier. I'd like to compare this challenge of knowing my baby boy has spina bifida like starting over caring for a baby like it's the "first" baby. I find myself at times just as fearful and worried about the littlest things, though I'm sure things are just fine. I suppose I'm still holding my breath wondering what else could possibly happen. I'm sure reading so much about spina bifida in books, online, and on other families blogs haven't necessarily helped eliminate all my fears…in fact, I almost feel like I know too much and it makes me a little more fearful. However, I know it's incredibly important to know what "could" happen in the event we face additional challenges. So as I pause each time I feel a little worried I'll try to continue to remind myself to enjoy all the moments and pray that his spina bifida doesn't cause too many more worries as our baby boy continues to grow.