"Courage is not the absence of fear, but rather the judgment that something else is more important than fear." – Ambrose Redmoon
Last night I received a call that no spouse of police officer wants to receive, thankfully it was not "the call" I've always feared, but one that has left me moved. Jason called last night sounding a bit overwhelmed telling me that if I watched the news not to worry and that he was okay. I remember him telling me a couple times he was okay and all I could do was wonder what in the world could possibly be going on. That's when he informed me his squad member, Brandon Coates, was shot and had died. He called just moments after it happened and long before the news even had a clue of what was going on. Like most deputies, especially those on his squad, he was moved by the news. He was one of the first deputies on scene to find Brandon. I can't even imagine the things he and his fellow squad members saw first hand last night but I know it has left him quite moved. It's one thing to know a police officer, especially in your own agency has been killed, but to be there moments after wards I know will be something that he'll never be able to erase from his mind.
Jason's doing what I'm sure most deputies are doing. Among the many overwhelming moments surrounding him he and his fellow deputies are remembering and honoring Brandon. Usually when a police officer is killed in the line of duty they cover their badge with a black stripe representing a symbol of respect, honor, and a way of mourning a fallen officer.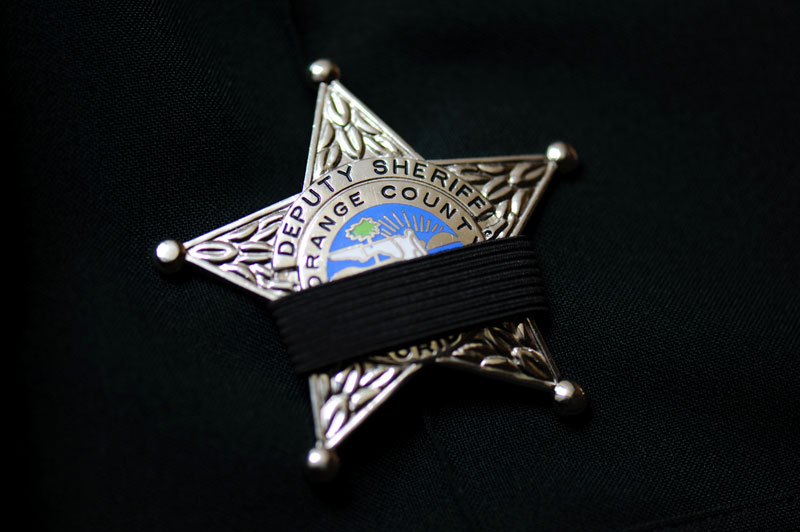 I've heard that Brandon is the first Orange County Deputy to be shot and killed in the line of duty in nearly thirty years. It's a sad day for all law enforcement. Any time any police officer dies in the line of duty it moves everyone in the law enforcement community. Though we've had many Orange County deputies injured over the years, this is the first time in a very long time a deputy in Orange County has died. Brandon was only 27, had been married only one year to another deputy, and was also a marine who has served also in Iraq. He served his country and community selflessly and was respected by many. Yes, like all police officers he was a courageous man who was willing to put his life at risk to serve his community.
I suppose for our family it's hit a little too close to home. I'm sure all the deputies, especially in Jason's squad, feel that way. They put on a uniform every day to protect and defend our community and make the ultimate sacrifice knowing that they put their lives at risk ever single night. Though it's a fear, it's something I've tried to learn to not dwell on. I think we all just pray that it won't happen to us. Last night that was the echo of thoughts I heard last night…in my own mind and also  from Jason once he finally arrived home. He reminded us both, "that could have been me." Needless to say no words or embrace I could provide would ever shelter him from what he and his fellow deputies have already experienced. I know many of them are all still wondering "why" and "what if" as police are still investigating the case.
I'm sure in the days ahead there'll likely be a police funeral and memorial service for Brandon. Jason's squad has been granted time off as they grieve the loss of a man they worked beside every night. After working six hours extra last night I had assumed he'd be home in dire need of rest. He rested briefly and left to meet with his fellow deputies. He, like many other deputies, are up still and together they will take turns to be by Brandon's side until his memorial service. I'm sure the days ahead will leave them remembering Brandon.
Many prayers go out to Brandon's family. And also to all the police officers who serve to protect us all daily. Though it's a risk we all know they take serving as a police officer, I think many of us take for granted how quickly their lives can be taken.